Headliners
-Mt Gox Bitcoin shutdown in Japan on rumored $200 mln theft
-Hong Kong sees 2014 GDP accelerating from 2013 levels
-Oz construction contracts
-EU/USA/Ashton/Turchinov threaten Russia.
-Turchinov intimates violent repression of Crimera secession.
-Dictator Turchynov declares himself  supreme commander-in-chief of Ukrainian Armed Forces

-Russia expedites Passports grants for Ukraine citizens.
-Israel makes move to grab portions of Temple mount in Knesset debate, rocking Muslim world
-Thousands of Turks demonstrate in 11 cities over latest corruption revelation of Erdogan  govt
-Obama admin making moves under Zionist pressure and disinfo to scuttle Iran talks
-Obama admin threatens Karzai with 2014 withdrawal unless he signs terrorist accord of NATO
-Carter makes Emergency trip to Venezuela as London continues to light fuse under Maduro
-More airborne radiation confirmed near New Mexico nuclear waste storage site
-Shanghai Copper hits multi-month lows amid concerns related to China's property market

-Russian Ruble weakens to record low as Ukraine's Central Bank again devalues
UK Q4 Q/Q GDP unrevised
-German worker  confidence hits 7-yr high
-Russian President Vladimir Putin ordered a test of combat readiness for troops stationed in a region that touches Ukraine's northern border.
-China's central bank girds for a wider yuan trading range by crushing longs( and extracting profits) according to insiders in China
-NATO threatens Russia
-UC study shows USE much worse than Anglo-propaganda Show 'Downtown Abbey'
-Ichan exposes Corrupt Anglozionist Ebay BOD, self dealers
-WHO issues smog warning in Capitol City area.
-Oats surge on oil tanker fiasco caused by Keystone environmental extremists and lack of available cars for oats
Markets
-ZGR Website Status
As reader might have experienced the website has been under another DDOS attack from our 'pals' in the global military-industrial complex,  Every time the readership starts to surge it seems we get such attacks. This of course makes it tough to post in a timely manner. As one reader observed 'the ZGR is the most hacked site on the web', it means our aim is true.
-USA Summary-FINAL

I covered a bit of the short on the drop in the morning on the dismal, dismal retail reports, then when the PPT came into recuse the dollar and markets at 10 ET, I covered went long, sold that ahead of this report, and went short again as the SP tries to charge to new records today.
The situation in Ukraine and Russia is heating up with plenty of rhetoric and saber rattling. Russia announced military drills on Ukraine's borders, and NATO responded by pledging to support Ukraine's sovereignty and territorial integrity.
The main beneficiary of all the war talk has been the dollar. EUR/USD has plummeted toward 1.3660, while the collapse of the Ukrainian Hryvna is dragging down the Russian Ruble with it, likely in an attack being coordinated by London. Front month crude has stabilized in the mid-$102 handle while the slide in natural gas futures has slowed, putting the April contract around $4.50.Gold was down 1 % today as the USA tries to fake its military and financial prowess. American citizens have seen how weak and ineffective the USA military has been, unable to restrain the Taliban, run out of Iraq, after destroying the place, and unable to effect regime change in Syria. The USA pentagon are bullies and cowards as they are mercenaries and  are like these spoiled rich kids in the USA whom find it amusing to find bums/drunks and roll them. Their thin veneer has warn off as they accomplish no good for anyone but London and Israel and Wall Street. The Pentagon is little more than a Satanic British-Israel cult that worships the Queen. A hotbed of homosexuality, witchcraft, Masonry and Zionism and war against the weak. Russia is not weak militarily or financially, nor is China.
With the ECB quietly telling the Chinese they could become a new world reserve currency like them, this fake out in the dollar is not going to last with Obama in office and the triple deficit and DOA economy, to say nothing of the USA pentagon becoming the laughing stock of the world for blowing up its own Citizens on 911 to wage war. These evil corrupt people are still living in Pearl Habor days when they they could get away with their lies and false flags. Even the illegal immigrants at the recycling centers know  the Pentagon and USA political establishment carried out 911. WS loves this terrorism as the key people are in on it, and they profit so greatly from war and terrorism like London and are at no physical risk themselves. The USA security organizations are little more than a bunch of Keystone cops, and their weapon systems are expensive and ineffective antiques, other than their geoengineering war systems.
After a raft of poor US housing data, the January new home sales data came in better than expected and saw home buys rise 9.6% y/y to their highest level in more than five years. Sales rose in the Northeast and South, but fell in the Midwest and West. On the other hand, the MBA mortgage applications data for the week ending Feb 21st fell 8.5%, to the lowest level seen in the series since late 2000.
The labor market will have "significant slack" even when it crosses the central bank's 6.5% jobless rate threshold, said Eric Rosengren, the president of the Boston Federal Reserve Bank, on Wednesday. "I believe the elevated number of workers who are part time for economic reasons, the still-high unemployment rate, and the very low inflation rate are all consistent with significant slack in labor markets," Rosengren said in a speech to the Boston Economic Club. Rosengren said Fed officials are also facing a difficult time determining whether recent employment reports are just anomalies because of the weather or reflect a slowing trend. This uncertainty provides another reason for the Fed taking a patient approach. In prior interviews, Rosengren has backed the Fed's plan to slowly reduce its bond-buying program. The Fed has trimmed its bond purchases by $10 billion a month at each of its last two meetings to $65 billion. Rosengren is not a voting member of the Fed's policy committee this year.
Retail stocks are in the spotlight today. Target, TJX Companies and Dollar Tree all barely met or missed consensus expectations in quarterly reports, and Abercrombie & Fitch may have widely topped EPS expectations, but its profits sank nearly 60% y/y. Guidance out of all these firms widely missed expectations. Nevertheless, Abercrombie's beat looks like a catalyst for the beaten-down retail names to move higher, with shares of ANF up 8%, leading the sector higher. TGT and DLTR are up 4.5% or so a piece, while TJX is up only about 1%. The 'weather' pass was used again.
 Shares of Barnes & Noble gained in the premarket and then surged to +8% in cash trading after the firm's third quarter profits crushed expectations. Comps were negative and revenues fell on a y/y basis, but like ANF traders were looking for excuses to buy. Shares gave up much of these gains after executive dismissed the G Asset Management takeout offer from a few days ago as "not worthy of further discussion."
Lowes met expectations in its fourth quarter numbers and guidance. Revenue climbed slightly more than 5% and comps were solidly positive. Lowes executive said that they believe US homeowners are still seeing the value of their homes increase and are less likely to lower spending levels. LOW is up 6% and HD has gained another 2% after yesterday's gains post-HD's report.
Panasonic Corp. could be Tesla Motors Inc. partner in building the electric car maker's 'gigafactory' battery plant.The Japanese company, the primary battery supplier for Tesla , said in a statement late Tuesday it was "considering options" to strengthen ties with Tesla, but has declined to comment further.A Japanese business newspaper reported that Panasonic   is in talks to invest in the factory, according to The Wall Street Journal.Tesla last week hinted at the plans for the lithium-ion battery plant, boosting the stock, but it has only said it will announce further details this week.South Korea's Samsung Electronics Co. Ltd.  has also been shortlisted as a potential partner, and New Mexico and Arizona mentioned as potential sites.The new batteries would be made from raw materials, which would lower their cost, and power Tesla's third-generation electric cars, expected to be on the road in 2017.Tesla shares hit a record $248 a share on Tuesday. It was well on its way to another record Wednesday, up 4.1%.Shares have soared 23% this week alone, and are up 648% in the past 12 months. Recall we were very high on this stock and picked up on the last beat down. If you still own some, it might be a good day to lock profits.
Shares of solar-panel maker First Solar Inc. fell 12% in early trading Wednesday following an earnings miss late Tuesday before rebounding to -9 % as of this report. First Solar reported adjusted fourth-quarter earnings of 89 cents a share, whereas analysts had expected adjusted earnings of 98 cents a share. Wall Street also decried lower sales and considered First Solar's first-quarter guidance weak. "We continue to believe margins may be pressured over time as pricing for new bookings are significantly lower than prior awards, especially for the large-utility scale projects," analysts at Credit Suisse said in a note. Shares of First Solar have lost 6% so far this year, and are up 63% in the past 12 months, under-performing in comparison to most solar stocks. They are heavily dependent on govt approved projects which have run into 'environmentalist' objections and lawsuits.
Ichan is scoring points with investors over Ebay's BOD self dealing. Why the SEC is not on top of this is of course obvious, they only target small time crooks, not the Anglozionist elites and their allies. What Icahn is saying is true from my memory. The named parties he wants to dump are well known illuminati Anglozionists.
http://www.benzinga.com/news/14/02/4346062/icahn-sends-another-open-letter-to-ebay-holders
City of London Wannabe, Markit, the 'CDS' market maker and faker , who puts out these nearly opaque economic summaries may be looking to IPO. Probably a sign the CDS market is going to get shut down and Eurostats is going to take over its function of being the PMI maven. HSBC wants to cash in before markets crash.
The USA is way past 'Downtown Abbey' the Anglo-propaganda show the BBC puts out a recent study shows.
http://www.marketwatch.com/story/welcome-to-downton-abbey-america-2014-02-24
Wells Fargo was revealed as the biggest corporate tax dodger along with FB today. Small to medium sized business and business that cant 'offshore' continue to be punished while the exporters continue to benefit many with near zero taxes as they use offshore tax dodges in the Cayman Island(England-Rothschilds) and Switzerland (Rothchilds) and reimport goods made with slave labor with no tariffs.
http://www.sfgate.com/business/networth/article/Wells-Fargo-gets-big-break-in-federal-income-taxes-5267883.php
The English-Dutch crown makes its beat a dead horse move to try and increase its global hegemony on food production, as GMO is increasingly seen as a dead horse as patents expire and resistance grows. German -American farmers remain weary of giving data to Monsanto/Dow meaning likely they will go to Congress to demand it. Both firms are headed up by unscrupulous Crown operators. The Monsanto CEO is another one of these damnable lowland Scots like Gordon Brown that seem to inflict the world with their madness and ag-terrorism.
http://www.marketwatch.com/story/data-harvesting-worries-farmers-2014-02-25-22449385
Futures

12:47 PM EST 2/26/2014

LAST
CHANGE
% CHG
Crude Oil
102.70
0.87
0.85%
Brent Crude
109.70
0.19
0.17%
Gold
1328.1
-14.6
-1.09%
Silver
21.315
-0.686
-3.12%
E-mini DJIA
16216
29
0.18%
E-mini S&P 500
1849.25
3.00
0.16%
Government Bonds

12:56 PM EST 2/26/2014

PRICE CHG
YIELD
U.S. 10 Year
2/32
2.699
German 10 Year
8/32
1.620
Japan 10 Year
1/32
0.590
-USA Update
 (US) MBA Mortgage Applications w/e Feb 21st: -8.5% v -4.1% pror
(US) Jan New Home Sales: 468K v 400Ke
(US) Weekly DOE Crude Oil Inventories: Crude +68K v +1Me; Gasoline: -2.8M v -1Me; Distillate: +340K v -1Me
-Europe Close
Equity markets open mixed in-line with price action in Asia and then generally moved lower. Swiss Life roses on better than expected results, Airbus reported FY earnings above estimates, Laxness issued profit warning, and tax evasion concerns weighed on shares of Credit Suisse. GFK reported German worker confidence at 7 year high. UK 2nd GDP estimate in-line. We had a very rigged bond auction of short term paper in Italy today and that had poor coverage although record lows. We have seen a lot of 'talk' out of Germany, ECB, at least in the press, of OMTs, but all the 'action' has been with the EU equivalent of the UST, exchange stabilization fund, the European ESM and whoever does their trading for them in the bond and equity markets and manipulating peripheral yields down. The ESM is not audited like the UST's ESF. I suspect as long as the Bundesbank/ECB /ESM can get away with fixing the bond markets without using /extending LTRO's or the OMT's that look like they will be legalized, they will. Italy and Spain despite what is said are under extreme stress. The Greek govt admitted it can't squeeze the people any harder. The Germans their victory in Europe, like in the Ukraine Germany and Russia have but the cost will be enormous for both.

In the Ukraine, the central bank again cut the rate of the Hryvnia to 9.4269 from 9.0377. Last change came on February 6th.NATO will continue helping Ukraine to push ahead with democratic reforms, said Secretary-General Anders Fogh Rasmussen:
"Ukraine is a close and long-standing partner to NATO. And NATO is a sincere friend of Ukraine," he said, AFP reported. "We stand ready to continue assisting Ukraine in its democratic reforms," Rasmussen added, speaking ahead of a regular NATO defense ministers meeting.
Russian President Vladimir Putin used the press conference following the EU-Russia summit in Brussels to warn EU leaders against supporting Ukrainian protesters arguing, "I can only imagine what the reaction would be if in the heat of the crisis in Greece or Cyprus, our foreign minister came to an anti-European rally and began urging people to do something. This would not be good." Separately, of the summit itself, Putin stated, "We have suggested that the EU leadership study the possibility of a free-trade zone between the EU and the Eurasian Economic Union."
In her government declaration to the Bundestag today, German Chancellor Angela Merkel called for EU treaty change saying: "We need to further strengthen the EU institutions to set up a real economic union. In a real economic union we won't get around further commitments and I'm convinced for that we also need to further develop the EU treaties."
Merkel also distinguished between EU free movement and access to benefits, saying: "We must take advantage of the opportunities offered to us by freedom of movement in Europe. But we must not close our eyes to abuse. There needs to be clarification: Who is entitled to what social benefits under which conditions? There cannot be de facto immigration into [other EU] social systems." She added that "it is not foreseeable yet, but cannot be ruled out," that there might have to be "action at the national level" following an upcoming ECJ ruling on access to unemployment benefits in Germany.
German Finance Minister, Wolfgang Schauble, said in Brussels yesterday Germany made the transition to green energy "too well, and now we have to correct it, because otherwise, increasing energy costs will harm jobs in Germany in a serious way in the medium term."
The German cabinet  today approved the Grand Coalition's proposed pension reforms, allowing employees who have contributed to the social-security system for 45 years to retire on a full pension at the age of 63. Former German Chancellor and initiator of substantial labour market reforms, Gerhard Schroder, called it "a completely wrong signal…in particular with the view to our European partners".

In an interview with La Tribune, Greek Europe Minister Dimitris Kourkoulas says of the German idea of 'competitiveness contracts' for eurozone countries, "I'm not sure that changing the [EU] treaties would be the right method to put in place these contracts, which won't be finalised during this [rotating EU] Presidency. I think these contracts should also be given a social dimension."
German Chancellor Angela Merkel is willing to concede some "limited opt-outs" in a revised EU treaty to ensure the UK remains within the bloc, reports The Guardian. "We are not speaking about rewriting the treaties but making targeted changes or submitting an addendum," said one senior German official.
In a letter to the Guardian, a group of academics from British universities responded to German Foreign Minister Frank-Walter Steinmeier's op-ed that appeared in the paper yesterday. They argue, "The 'criticism of Europe' that Steinmeier attributes to nationalist rhetoric should not be so casually dismissed. The institutions of the EU remain opaque and unaccountable. Rather than turning their ire on those who complain about the lack of democracy in the EU, European leaders should accept the need for reform as an immediate priority."
The European Commission will today unveil its much-awaited banking sector reforms, based loosely on the conclusions of the Liikanen report. The proposal is expected to lay out limits to the amount of 'proprietary trading' (trading with their own funds) which large banks can do, and also set out powers for the new single European financial supervisor to split up large banks if deemed necessary. The plan is expected to include a clause which will allow for other structures and separation processes, such as the UK's Vickers report. Little progress is expected on the proposals this year.
Members of the ECB Money Market Contact Group, an advisory body to the central bank, raised concerns in December that the short term interest rates in the eurozone are rising too quickly due to repayment of loans to the ECB as a result of concerns over the upcoming stress tests.
Romania's coalition government broke apart on Tuesday after 14 months of power, reports Bloomberg. The coalition's second largest group, the Liberal party, withdrew its ministers and asked the center-left prime minister Victor Ponta to resign."The current tensions serve as a reminder that Romanian politics are notoriously volatile," said one expert.
In a letter to the Times, the heads of Europe's leading medical research institutions, which include the Wellcome Trust, the Institut Pasteur and the German National Academy of Sciences, warn that medical research into the causes of Alzheimer's disease and cancer would be severely threatened by a European Parliament amendment to the Data Protection Framework.
Dutch Social Affairs Minister Lodewijk Asscher has welcomed a report by Dutch government think tank WRR which warns of significant challenges in integrating Bulgarian and Romanian immigrants into Dutch society. The report calls on the Dutch government to invest further in this area. Separately, Belgian VRT TV reports that the Belgian cities Ghent and Antwerp have seen a 30% to 50% increase in Bulgarians and Romanians registering in January 2014 compared to a year earlier, although this could just be down to people shifting from being self-employed to employed.
Ekathimerini reports that, according to senior finance ministry sources, the Greek government's primary surplus for 2013 will exceed €1bn compared to the forecast of around €800m. Separately, a report by the Greek Parliamentary Budget Office released yesterday argues that taxpayers ability to pay higher taxes in Greece has been exhausted.
===
El País notes that, although Spain looks on course to meet the overall deficit target of 6.5% of GDP agreed with the European Commission for 2013, six Spanish regions – including Catalonia – had already overshot their deficit target for the whole year at the end of November 2013.
EU finance ministers yesterday agreed to place Croatia under Excessive Deficit Procedure, and asked the Croatian government to present a plan to reduce the country's public deficit to 3% of GDP by 2016.
In its first estimates for 2013, released yesterday, the United Nations Conference on Trade and Development (UNCTAD) noted that, while foreign investment in the EU as a whole increased from 2012, inflows to France fell by 77% to $5.7bn.
The Times reports that the UK, with over 1,082 wind turbines, has more than the rest of the EU put together according to a report by the European Wind Energy Association. Separately the Times reports that Treasury officials are working on plans to hold the rate of the UK's carbon tax.
=====
(DE) GERMANY MAR GFK CONSUMER CONFIDENCE: 8.5 V 8.2E
(UK) Q4 PRELIMINARY GDP Q/Q: 0.7% V 0.7%E; Y/Y: 2.7% V 2.8%E
(UK) Q4 PRELIMINARY PRIVATE CONSUMPTION Q/Q: 0.4% V 0.6%E; GOVERNMENT SPENDING Q/Q: 0.3% V 0.5%E
(UK) Q4 PRELIMINARY TOTAL BUSINESS INVESTMENT Q/Q: 2.4% V 1.3%E; Y/Y: 8.5% V -2.4% PRIOR
(CH) SWISS JAN UBS CONSUMPTION INDICATOR: 1.44 V 1.80 PRIOR
(ES) SPAIN DEC TOTAL MORTGAGE LENDING Y/Y: -26.3% V -26.9% PRIOR; HOUSE MORTGAGE APPROVALS Y/Y: -30.1% V -27.4% PRIOR
(IT) ITALY JAN HOURLY WAGES M/M: 0.6% V 0.0% PRIOR; Y/Y: 1.4% V 1.3% PRIOR

Close
Credit Markets
(UK)BOEs Dale: Don't know when bank rate will rise, reiterates not planning to raise rates anytime soon; First hike to be dependent on economic recovery
(DK)Denmark budget office: Guides 2013 budget gap wider to 1.3% of GDP v 0.2% in Dec; Sees lower tax rev hurting public account by DKK22B
(CZ)Czech Deputy Fin Min Gregor: Foreign debt issuance possible starting in Q4
Bank of Spain: Sees continuation of moderate growth in Q1; Data on consumer spending is mixed
(UK) BOEs Broadbent: UK openness will help productivity recover; UK productivity unusually weak since crisis
(EU) ECB sees no consensus for March policy change; March move is possible if the data and Draghi support it; Negative deposit could send problematic signal; New inflation forecasts not likely to surprise. EU press

(EU) ECB official says Yuan could become major reserve currency-WSJ
(DE) German Constitutional Court strikes down 3% of vote threshold required for parties to get into the European Parliament

(IT) ITALY DEBT AGENCY (TESORO) SELLS €8.5B IN 6-MONTH BILLS; AVG YIELD 0.455% (record low) V 0.59% PRIOR; BID-TO-COVER: 1.44X V 1.52X PRIOR
(SE) Sweden sells SEK3.5B in 10-year Bonds; Yield: 2.2071%
Close 2/26/2014

price chg
yield
German 10 Year
8/32
1.620
France 10 Year
11/32
2.199
Italy 10 Year
11/32
3.549
Spain 10 Year
1/32
3.540
U.K. 10 Year
4/32
2.729
U.S. 10 Year
2/32
2.698
-Late Asia
Apparently the PBOC decided (it wanted to make a lot of profit and) clear all the long Yuans out before allowing it to revalue. At least that is what is being reported.
(CH) China State Administration of Foreign Exchange (SAFE): Seeing large net fund inflows currently; Recent Yuan two-way movement is due to readjustment in market trading strategies
(CN) China Ministry of Human Resources and Social Security official: Pension fund has no shortfall in payment; Denies speculation by some economists of CNY13T shortage of pension fund in China in 2013.
(CN) China Ministry of Human Resources and Social Security official: Pension fund has no shortfall in payment
(CN) Some banks in Guangzhou and Shenzhen raise mortgage rates
(CN) China fuel price change window may start on Feb 28th (local time); Analysts estimate to raise approx CNY250/ton for gasoline and CNY200/ton for diesel
(CN) China PBOC official: Current liquidity is excessive and is being driven by inflow
-Europe Pre Opening
(UK) London, gold price fix should not be tampered with. WSJ-EU
http://online.wsj.com/news/articles/SB10001424052702303426304579404740215127858
( U.K. ) unveiled new proposals that would make it more difficult for some foreign banks to operate in the U.K. and easier for others, subject to specific agreements with their home supervisors.
(FR)Airbus Group said it would raise the production rate of its top-selling A320 single-aisle jet, as the company posted a strong improvement in its 2013 earnings thanks to sharply increased aircraft deliveries.
(CH)Credit Suisse Group went to great lengths to assist U.S. customers trying to open Swiss bank accounts and evade federal taxes, a Senate report alleged.
-Asia-final

In the USA after-hours session, solar power house, First Solar  was down in the 13% range in the extended session , missing on top and bottom lines in Q4 and also offering soft revenue guidance. FSLR attributed decline to lower business project revenue.

Japan and China reversed  yesterdays positions in today's Asia trading session with Japan declining on a flat yen on profit taking and China rebounding from the over done selling caused by the weak yuan and credit concerns, despite the Yuan remaining under pressure in onshore trade today. BOJ board member Ishida acknowledges that Apr-June GDP may suffer a contraction due to the start of higher sales tax; Still believes inflation will remain above 1% and overall growth trend will not be derailed which further caused traders to lock gains in the Japan session.

It was a night for the BOJ to put its sun glasses or blinders on depending on who was talking. BOJ Gov Kuroda ReiteratedJapan economy is making steady progress towards 2% price target – addressing parliament-despite a stubborn lack of wage rises despite great govt flagellation of Japan , inc.  BOJ Board member Ishida said Japan continues gradual economic recovery; Growth trend will not be derailed even if economy contracts in Apr-June quarter. BOJ board member Miya0 incredulously said  Japan's recovery was not led by exports, but driven by consumption. 
Japan's chief government spokesman and member of the central bank's policy board said authorities were looking into the regulation of bitcoin, a day after Tokyo-based bitcoin exchange Mt. Gox shut its website and halted trading.

Offshore the Yuan is getting close to where many longs will be forced to sell, further weakening the currency as the currency wars heated up in the South China Sea. The Philippines lodged a formal protest with China after two Philippine fishing boats were sprayed with water cannons by a Chinese law-enforcement vessel in a disputed area of the South China Sea.
Separately, China big four banks reported new loans CNY250B in Feb 1st-23rd. Corporate debt levels in China have reached record highs, expected to accelerate domestic restructuring and more defaults-Shanghai daily. Shanghai Jan FDI rose 10.5% y/y, flat with the pace of 2013 but below 16% y/y rise in Jan – Shanghai Daily .China Ministry of Finance (MoF) researchers: Should expand property tax reform trial. China may purchase rare earth reserves next month . China Shanghai free trade zone to lift term deposit rate cap for foreign deposit less than $3M. National Energy Administration (NEA): China to promote sustainable wind power development – Chinese press
Hong Kong Fin Sec Tsang unveils 2014 budget, and cheered Chinese markets up forecasting GDP in 3-4% range vs the reported 2.9% in 2013 – in contrast to the anticipated slowdown in economic growth on the mainland. Targets an increase in capital flows and also sees inflation rising to 4.6% from 4.3% in 2013.
The World Health Organization called on China to improve its air quality and urged Beijing residents to stay indoors amid hazardous levels of air pollution.
Australia property manager Lend Lease suffers a y/y drop in profits and revenues, initially sending its shares down over 6%; Regionally, Australia is the only area that posts annual decline in sales, falling about 15% y/y.Separately, Australia construction work volume as of Q4 is also down 1% q/q – the biggest decline in 1 year. Despite the low rates, residential construction is the biggest area of weakness, falling 1.7% q/q. NAB economists note the data-point is particularly telling that Australian economy is falling short in making up for a slowdown of mining industry through other sectors.
NAB economist: Latest Australia construction data suggests there will be a lag between slowdown in mining and pick up in other sectors such as housing – Australian press  .New Zealand Fin Min English: Interest rate increase in New Zealand is inevitable; To offer shares in Genesis Energy in March; Expects to sell 30-49% of Genesis. New Zealand Institute of Economic Research (NZIER): Sees 2014 GDP around 3% – NZ press.

Bank of Korea  releases its "Golden Book" report; Sees economy remaining on "recovery trend" amid rising exports and consumption .South Korea Q4 Corporate Loans growth slowed to 2.1% q/q at KRW827.8T. South Korea state-run think tank Korea Development Institute (KDI): South Korea housing market likely to be affected by the start of US Fed taper-press. 
In the Ukraine Turchynov had himself declared not only President but head of the Armed forces of the Ukraine. He had his unelected parliament disband the Berkut, the special police force , which was then invited by the city of Sevastopol, located on the Crimean Peninsula to join the local force there. Russian Foreign Minister Sergey Lavrov has urged a major European watchdog, the Organization for Security and Cooperation in Europe, to "decisively condemn" the increase in "nationalist and neo-fascist" sentiments in western Ukraine. Also, Lavrov stressed that the OSCE should condemn the attempts to ban the Russian language in Ukraine.
(JP) BOJ offers to buy ¥400B in 5-10yr JGB and ¥180B in JGB with maturity over 10-yr
 (CN) PBoC sets yuan mid point at 6.1192 v 6.1184 prior setting (weakest since Dec 19th)
(CN) Daily Shibor fixings: O/N: 1.7500% v 1.7200% prior (2nd consecutive rise); 1-week: 3.0720% v3.2780% prior (5th consecutive decline, lowest since May 15th)
(AU) AUSTRALIA Q4 CONSTRUCTION WORK DONE Q/Q: -1.0% V +0.2%E (1 year low)
(HK) HONG KONG Q4 GDP Q/Q: 1.1% V 1.1%E; Y/Y: 3.0% V 3.0%E
(KR) SOUTH KOREA FEB CONSUMER CONFIDENCE: 108 V 109 PRIOR (first decline in 5 months)
(TW) TAIWAN JAN UNEMPLOYMENT RATE: 4.1% V 4.1%E
(VN) VIETNAM FEB INDUSTRIAL PRODUCTION INDEX Y/Y: 15.2% V 3.0% PRIOR
(VN) Vietnam Feb Trade Balance: -$1.2B v +$0.145Be
Government Bonds

2:29 AM EST 2/26/2014

PRICE CHG
YIELD
Australia 10 Year
10/32
4.137
China 10 Year
-24/32
4.460
India 10 Year
-1/32
8.896
Japan 10 Year
0/32
0.593
German 10 Year
-3/32
1.658
U.S. 10 Year
-1/32
2.70
Futures

2:21 AM EST 2/26/2014

LAST
CHANGE
% CHG
Crude Oil
101.73
-0.10
-0.10%
Brent Crude
109.42
-0.09
-0.08%
Gold
1343.9
1.2
0.09%
-Afterhours mkts
(US)President Obama told Afghan President Hamid Karzai that the U.S. is planning a complete troop pullout by year's end because of the Afghan president's refusal to sign a security pact, but he keeps U.S. options open.
(US) Tesla takes Consumer Report #1  car of the year award
(JP)Bitcoin exchange Mt. Gox shut down after months of technical issues and a rumored multi-hundred million dollar theft, in the biggest blow yet to the virtual currency.
 (EG) Egypt gas pipeline located in the northern city Arish hit by explosion -WSJ
(US) GLD: SPDR Gold Trust ETF daily holdings rise 2.1 tonnes to 803.7 tonnes (3rd consecutive rise; 1-week high)
(US) API PETROLEUM INVENTORIES: CRUDE: +820K v +1Me; GASOLINE: -315K v -1Me; DISTILLATE: -695K v -1Me


 FSLR: Reports Q4 $0.89 v $1.00e, R$768M v $974Me; -13.3% afterhours
RGR: Reports Q4 $1.33 v $1.33e, R$182M v $176Me; Lowers quarterly dividend to $0.54/shr from $0.58/shr; -1.2% afterhours
FRX: AstraZeneca said to have been interested in Forest acquisition, proposed $70/shr before FRX deal with Actavis; -0.5% afterhours
EIX: Reports Q4 $0.81 v $0.65e, R$2.94B v $2.57Be; -0.2% afterhours
PBR: Reports Q4 Net profit BRL6.3B v BRL5.1Be, Rev BRL81B v BRL80Be; +2.8% afterhours
CBI: Reports Q4 $1.80 v $1.16e, R$3.00B v $3.08Be; +2.8% afterhours

Geopolitics
*Rahm Emmanuel sends Marines into to sing Onward Christian Soldier and the Battle Hymn of the Republic to middle schoolers
Fight our wars, fight our wars, die on foreign shores, fight our wars, fight our wars, die on foreign shores., England and Israel forever, forever, forever, fight out wars, fight our wars..forevermore. Onward Christian soldiers, fight our wars, fight our wars Christians forever more.
Criminal  Zionist terrorist and #2 Mossad agent in USA.
http://www.chicagoreader.com/chicago/rahm-turns-ames-school-into-military-academy/Content?oid=12609484
* Crown Patsy Jimmy Carter going for Knighthood in Venezuela
http://abcnews.go.com/International/wireStory/president-carter-planning-trip-venezuela-22672999
*USA lands first shocktroops in Ukraine
http://www.marinecorpstimes.com/article/20140225/NEWS/302250022/Additional-Marines-sent-guard-U-S-Embassy-Ukraine
*Russians offer Blanket Citizenship to Ukrainians seeking protection
http://news.yahoo.com/top-lawmaker-vows-protect-russians-ukraine-154519178.html
*Ralph Nader, Obama the Executioner
http://www.politico.com/story/2014/02/ralph-nader-book-103908.html?ml=po_r
Terms Them 'Threats to Ukraine's Territorial Integrity'
by Jason Ditz, February 25, 2014
Newly installed as the de facto leader of the country, interim president Olexandr Turchinov says that he met with other "key officials" to discuss a full ban on expressing secessionist sentiment, saying the people in Crimea calling for a split are "threats to Ukraine's territorial integrity."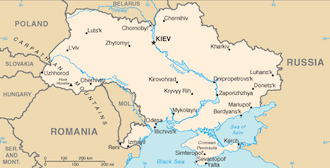 Turchinov was light on the details, but said the discussion included "punishing people guilty of this." In the Russian-speaking Crimea, where a strong majority backed the ousted President Yanukovych, there is growing support for secession and a possible return to being part of Russia, as they historically were.
The Russian government initially downplayed the prospect, but parliament is considering a bill that would allow residents of the Crimea to easily obtain Russian citizenship.
Interestingly, while the pro-West officials are now presenting secessionist sentiment as a crime, pro-Western demonstrators in Lviv spent much of the past two weeks doing the exact same thing, calling for historical Halych-Volyn to secede from the Ukraine and form a new pro-Western state.
*MI6/Mossad gin up another Curveball aparatchik for Iran
http://www.truth-out.org/news/item/22085-obama-pins-fate-of-nuclear-pact-on-documents-from-an-iranian-curveball
| | |
| --- | --- |
| | Updated February 26, 2014 – 12:03 AM EST |