Headliners
-NSA/CIA Boys at GOOG feign 'outrage' their cloud/servers are not secure
-Jack Lew at UST gets Script from London. Says German Exports hurting EZ. Won't name  China as currency manipulator.
-Lavrov in Athens for talk on energy, railways and other partnerships
-Russia moves to secure Major Arms deals for advanced weaponry with Egypt
-Israel launches another Missile Attack against Syria overnight
-JPM and Citi Suspend London heads of Currency trading on USA investigation of currency market manipulation and fraud
- US asked China to enter into agreement to coordinate strategic oil reserve releases (joint oil price manipulation)
- ECB converts existing temporary bilateral liquidity swap arrangements into standing arrangements with Bank of Canada, BOJ, BOE, FED, SNB (Permanent Currency market rigging, crisis mode permanent)
-EU unemployment surges, Italy New High
-Large Italian Bank Hints Italy Should leave EMU
-Syria Destroys all equipment for making Chemical Weapons
-Mkt Reprogarmming taper timing after Fed did not downgrade its economic assessment
-Chicago PMI prints massive 30 year high on 1 %, 5 year loans
-Le Pen calls for new elections in France
-ECB Nowotny:  'must increase EU liquidity provision'
-German American Engineer turned Public Prosecutor Lone attorney driving Mortgage-gate Investigations
Markets
-USA Summary
USA stocks came back from their opening drubbing on strong Chicago PMI and are near flat for the day. If you look at some of the financing deals to get rid of year end inventory you can understand the Chicago PMI print today. I expected a good Chicago PMI today, although not that good, so I made the decision to cover my FB at the market opening at the market.  I reshorted at 52 as funds came in to defend their darling. Analysts were all over themselves calling for a 60 dollar target ex BMO which essentially had a sell and a 42 dollar target. The bottom line is FB which won't give guidance much like Goog warned on revenue for next quarter and slowing growth and no growth in the teenage sector and dead North American markets. Typically these high growth stocks once the acceleration of growth stops, tank and tank hard. If you at this as only an 18 % a year growth stock , it is massively over valued. Likely someone big was i this stock and could not get out so it was probably propped up. Shorts are non existent in this stock.
Exxon's output rose in Q3 for the first time in more than two years, and the firm met to exceeded consensus views. Weaker refining margins due to increased industry capacity  impacted downstream earnings. Conoco's Q3 profits climbed 38% y/y and earnings were in line, however the totals benefited from continuing asset disposals. Production was flat. Shares of both COP and XOM are up slightly. Oil was not boosted by large inventory reports as much as reports Israel hit Syria overnight, probably as their reward for destroying all their Chemical weapons plants. In the most notable development in a long, long time, the Chinese press reported the UST offered to coordinate Strategic Petroleum reserve releases to the markets. There was no report if the offer will be taken up, or what it will cost the London long oil cartel that runs the USA in terms of more lost American jobs to Asia. America is as ascending producer of oil/ng it is in the interest to get the market price, not a rigged lower price. China is a big importer and wants low oil prices.
Bankster Credit Cartels,  Visa and MasterCard offered  solid results in Q3, although Visa's top line fell a little short. MasterCard said that US consumer spending was flat in Q3 due to uncertainty around the fiscal battle in Washington, while Visa said it could not quantify the impact of the government shutdown. Shares of Visa are down 3% while MA is flat on the day.
In the most hated stock of  the day news, Shares of Avon Products (AVP) are down more than 23% as of this report after the firm widely missed expectations in its Q3 report and saw its North American sales decline 19% in the quarter. In addition, the company disclosed that its settlement of a bribery probe with the SEC could cost "a magnitude significantly greater than our earlier offer." Previous reports suggested the penalty could exceed $100M.
In gold, we have the taper on and GS/JPM/HSBC , etc hitting gold on the FOMC statement. In its post-decision statement published yesterday, the FOMC made no mention of the fiscal battles in Washington, DC or its impact on the larger economy, something many investors were expecting. The consensus view was for a dovish statement, which was certainly the tone of the text, however many analysts are uncomfortable with the lack of a reference to the fiscal chaos or its possible repeat in early 2014, in addition to the removal of reference to "tightening financial conditions" and rising mortgage rates. The Fed did acknowledge the slowing housing recovery, dropping language that the "housing sector has been strengthening." With their WSJ putting the taper decision back on the table in December, you have analysts clustered in Jan or June for the taper to start.
As far as politics, budget talks started yesterday but not much to report. It was mainly all political noise and posturing out of DC. I did not see one politico or Drudge headline worth reporting, much less any in the WSJ or Washington Post. It is DC job to make sure everything stays hidden much like the details of Obamacare.
In the 'i hate Americans' Dept the evil USA State Department announced it would be providing free global education (and of course in particular to Obama's birth place in Kenya) in English and other subjects on -line and with tutoring by State Department and other NGOs employees. Since when it is is Americans jobs to educate people in Mexico, Kenya, Trindad, etc then give them Visa to flood the USA. No one hates the American people like the Anglo-Zionist USA State Department employees. We should fire them all, automate their jobs with computers and close our foreign embassies. At best they are spies. At worst they are all Anglo-Zionist communist traitors.
Cory A. Booker of New Jersey, who won his seat in a special election, was the first African-American to be elected to the chamber since Barack Obama in 2004 was sworn in today. Being widely touted as our next Black POTUS. At least he was born in the USA.
Washington State this November votes to label GMO food or not. The CA election was a proven massive fraud so CA was not the first state to require GMO labeling. Monsanto et al are only outspending by 5: 1 probably figuring it was more effective to pay off the vote counters.
Turns out the motive force for prosecuting mortgage -gate was not Holder or the blowhards in NYC , but a German-American engineer near 70 year old turned Public Attorney from Los Angeles. This is why the only Germans to get high office in the USA are German Jews like George Schultz or John Boehner, the 'anglophile' and self confessed 'Zionist'. The Weidmans of America can take a bow.
http://dealbook.nytimes.com/2013/10/30/from-anonymity-to-scourge-of-wall-street/
The flagship company of the Brazilian entrepreneur Eike Batista, who once boasted that he was on his way to becoming the richest man in the world, filed for bankruptcy on Wednesday.The filing by the petroleum company OGX was a stunning fall for Mr. Batista, who was once a symbol of Brazil's rapid rise as a global economic power but more recently has come to represent a Brazilian elite that views itself as above the rules that govern the rest of the country.The company owes $3.6 billion to bondholders, most of them foreigners, with the rest of the debt to suppliers and banks.Pimco, the world's largest bond investor, and Blackrock, the world's largest asset manager, both invested in OGX and stand to lose from the bankruptcy filing. Speaking of PIMCO Bill Gross who has only owned on stock in his entire life wants Capital Gains taxes on equity raised substantially. No mention of all the tax free muni bond funds he owns though.
Eike Batista with President Dilma Rousseff of Brazil in 2012-Now Bust! Consumate insider trader and pump and dump artist. Only Bernie Madoff and Corzine are bigger crooks!
First Snow in Sierras
Futures

1:28 PM EDT 10/31/2013

LAST
CHANGE
% CHG
Crude Oil
96.79
0.02
0.02%
Brent Crude
108.85
-1.01
-0.92%
Gold
1322.6
-26.7
-1.98%
Silver
21.880
-1.103
-4.80%
E-mini DJIA
15556
3
0.02%
E-mini S&P 500
1759.75
-0.75
-0.04%
Government Bonds

1:38 PM EDT 10/31/2013

PRICE CHG
YIELD
U.S. 10 Year
-5/32
2.560
German 10 Year
5/32
1.679
Japan 10 Year
-2/32
0.599
-Europe Close
You have this very incongruent situation in Europe of record high stock prices, spreads and yields near lows pre-Crisis, and these politicians like Rhen saying a broad recovery is taking effect in Europe and yet surging EU unemployment today. Of course a lot of this is caused by fraudulent economic reporting , as well as lying politicians and the greasy , dirty filthy hands of the ECB/ESM rigging market and the EU leadership making back door deals to gut European small industry and hand it to China for debt support. Something has to break or the ECB will have to print. Strangely we have not heard from the German High Court if the OMT is legal yet. Tick tock, tick  tock.
Eurozone unemployment was 12.2pc in September, unchanged from August's upwardly-revised figure (from 12pc to 12.2pc) and up from 11.6pc a year earlier (likely made to make the situation look less dire). Among the Member States, the lowest unemployment rates were recorded in Austria (4.9pc), Germany (5.2pc) and Luxembourg(5.9pc).The highest rates were in Greece (27.6pc ) and Spain(26.6pc).Compared with a year ago, the unemployment rate increased in sixteen Member States, fell in eleven and remained stable in the Czech Republic.The highest increases were registered in Cyprus (12.7pc to 17.1pc) and Greece (25pc to 27.6pc ).The largest decreases were observed in Latvia (15.6pc to 11.3pc between the second quarters of 2012 and 2013) and Estonia (10.0pc to 8.3pc between August 2012 and August 2013).Italy's unemployment rate hit a record high of 12.5pc in September.The figure was the highest since statistics office ISTAT's records began in 1977, and above expectations of 12.3pc.Italy's youth jobless rate also rose to a new record high at 40.4pccompared to 40.2 percent the month before.The overall employment rate fell to 55.4pc from 55.6pc in August.Unemployment has followed an upward trend since early 2011 as Italy has languished in its longest post-war recession.
In the more bad economic news department from Europe, German retail sales declined m/m in Germany as did worker confidence. The headline inflation rate in the EU which is vastly understated is near A 4 year low. Yet on this bad news the EU managed to surge into the close, whereby I added to some DAX short at it closed at a record high. The exception to this was the UK market which behaved more rationally. Additionally the DT exposed massive statistical fraud by the Italian economic Statistical agency. With all the bad news out of Italy, the MIB was up 2.3 %!!! Not hard to figure out the culprit was likely the ECB/ESM rigging the Italian bond market. When a nation has surging unemployment, 130 % debt/gdp and largely monthly/yearly deficits and a political and moral malaise with the Mafia 'in the control' room per one Italian MEP, bond markets should sell off and hard, and not rally!! ECB's Nowotny in a CNBC interview admitted he sees 'further' liquidity provision and said it was important to not walk off a cliff when the LTROs end. A .25 BPS won't help Europe at all, nor will extending LTROs, although extending LTROs will prevent the bankruptcy of some peripheral banks.
Government Bonds

9:55 AM EDT 10/31/2013

PRICE CHG
YIELD
German 10 Year
4/32
1.679
France 10 Year
10/32
2.159
Italy 10 Year
15/32
4.126
Spain 10 Year
4/32
4.040
U.K. 10 Year
-20/32
2.459
Germany has rejected as "incomprehensible" criticism leveled by the US Treasury that Berlin should do more to increase its domestic demand and rely less on exports in order to help boost the global economy, citing 'the demand for german quality', as the reason for its exports bliss. In reality German quality is not very good, it has no minimum wages and imports lots of cheap help, including cheap Russian and Eastern European engineers paid far less than their German counterparts, and has a lowered valued currency within the EU than it would it if it were operating in marks making its goods much cheaper abroad than they would normally be. After all the lowly Cheverolet Impala beat out all those $50,000 dollar German luxury sedans and the Audi is unsafe to drive at any speed. Along these lines ECB/Bundesbank heavyweight Weidmann said Germany should have no minimum wage law today.
—
Handelsblatt reports that eurozone finance ministers are considering an overhaul of the eurozone's bailout fund, the ESM. The plan would involve setting up a subsidiary fund that would be used to help banks located in non-eurozone countries that opt to participate in the banking union. Such an arrangement, however, would require a change to the ESM Treaty.
Another round of coalition talks between Angela Merkel's CDU/CSU and the SPD took place yesterday, but brought no further agreements on EU issues. While the CDU/CSU rejected SPD's demands for a eurozone debt redemption fund, there is also disagreement over banking union plans. Separately, the CSU's main demand for entering a coalition with the CDU and the SPD – the introduction of a toll on foreign cars on German highways, which was thought to breach EU law – has now received backing from the European Commission, which said that such a toll could be introduced under certain conditions. A member of the German Parliament emerged to say the coalition was essentially a done deal between the SPD/CDU/CSU.
Following the French government's U-turn over the introduction of a new 'Ecotax' on large vehicles, Front National leader Marine Le Pen yesterday said the French parliament should be dissolved and new elections should be held. "When there's no-one in charge, then one needs to go back to the people", she argued.
The Sun reports that European Parliament officials are refusing to name a MEP accused of claiming $350,000 in expenses for three fake parliamentary assistants.
EK reports that inspectors from the EU/IMF/ECB Troika will not travel to Athens on Monday to continue the review of the Greek bailout program, as previously scheduled, due to persistent disagreements with the Greek government over the size of the budget gap for 2014 and potential measures to close it.
Reports in the French and Spanish press said their respective intelligence agencies had been horse trading spy data with the NSA.
What was really odd about the European markets is across all sectors there were either disappointing earnings announcements, cut forecasts, cautious forecasts, with the sole exception of the banking sector which merely had EU analysts out pumping and one better than expected but still horrible earnings report out of French bank and gold rigging giant BNP. The most notable misses were RDS, and Total, the French oil/resources giant. At least the USA earnings reports have been better than last quarter and far better that we we are seeing out of Europe. Earnings go down, economics tank,  and European stocks go up. Go figure!!
-Late Europe Releases
(RU) Russia Gold and Forex Reserve w/e Oct 25th: $517.0B v $511.1B prior
(IT) Italy Sept PPI M/M: 0.0% v 0.2%e; Y/Y: -2.2% v -2.0%e
(IE) Ireland Oct Live Register Monthly Change: -3.7K v -1.8K prior; Unemployment Rate: 13.2% (lowest level since Mar 2010) v 13.3% prior
-USA Economic Release
Heretofore the last several months the weekly jobless claims reports have not be tradeable. We at last got a clean report, including CA, out of the BLS, or at least so they say. There is poor correlation between the weekly numbers and the monthly BLS reports when examined on a historical basis. Market programmers tend to adjust and trade off what is 'real' eventually.
(US) Initial Jobless Claims: 340K v 338Ke; Continuing Claims: 2.881M v 2.870Me
(US) Oct Chicago Purchasing Manager: 65.9 v 55.0e
(US) Weekly EIA Natural Gas Inventories: +38 bcf v +35-40 bcf expected
(CA) Canada Aug GDP M/M: 0.3% v 0.1%e; Y/Y: 2.0% v 1.7%e
(CA) Canada Aug Average Weekly Earnings Y/Y: 1.3% v 1.3% prior
(BR) Brazil Sept Nominal Budget Balance (BRL): -22.9B v -19.3Be; Primary Budget Balance: -9.1B v +0.5Be; Net Debt to GDP ratio: 35.0% v 34.5%e
-Every day I look forward to the Eurotrash markets closing. Unfortunately this week their stinking markets intrude another hour into the USA/Canada/Americas  trading day.
-The head of the EZ finance ministers Jeroen Dijsselbloem has said that now is a great time to join the euro.The Dutch Finance Minister is in Latvia selling the the Lats the eurozone dream and says the euro area is picking up. His response to unemployment numbers, which were truly shocking.
-
What a Zionist bull manure artist. I'm so sick of the Eurotrash and their lies. Looks exactly like a Rabbi that used to live down my street. Apparently from him Jews were just as Cheap at Temple as they are in the markets.
The EU is making similar moves on the Ukraine this week to join their crumbling empire. The EU has declared economic war upon Russia. Russia needs to respond in kind. Without the Ukraine, Russia will likely fall back under Zionist control. With the Ukraine the large slavic Majority of Europe will get representation.
-After the record  high EU unemployment and the falling headline  inflation, many analysts say there is now scope for the European Central Bank to cut its main rate further from the already record low of 0.5 %. JPM came out and forecast a 25 bps cut. It won't do a thing, ex help JPM out with their offside trade today in Europe.
-Lew: China's economic transition matters to U.S.
The success of China's economic reforms "matters" to the U.S, Asia and the global economy, said Treasury Secretary Jacob Lew on Thursday. In a speech in Washington, Lew noted that the Chinese government was currently conducting high-level meetings designed to 'inform their reform agenda'. China is seeing to transition toward an economy focused on domestic demand and away from relying on exports for growth. "We look forward to seeing how that plan evolves in coming weeks," he said. The Treasury Department on Wednesday issued a report critical of China's currency policy, saying that the yuan should strengthen at a faster pace. Lew said that China needed to "increase the flexibility of its exchange-rate regime and permit more market-determined access to capital and more open access to markets," Lew said.
Either he does not read the Chinese press, where their govt says it will take 10 more years to float the Yuan and stop the dollar peg, or he's a liar. Likely he traded them rigging oil markets for not labeling them a currency manipulator. He had to say something after the pass again as China's trade balance with the USA continues to grow. Just another lying Rothschilds/Rockefeller Aparatchik. If you think this man ever tells any truth to the public, you're badly mistaken.
- The Federal Aviation Administration said Thursday airline passengers will soon be able to use more portable electronic devices while in flight, but only in airplane mode. That includes the use of e-books, games and videos on devices with limited exceptions, the FAA said. Implementation will depend on the airline but the FAA said it expects most changes to go into effect by year end. The expansion of device use doesn't allow passengers to use their cell phones to make phone calls in flight.
-Not much reaction to important Chicago PMI
Major Stock Indexes

10:35 AM EDT 10/31/2013

LAST
CHANGE
% CHG
 
DJIA
15564.66
-54.10
-0.35%
Nasdaq
3915.28
-15.34
-0.39%
S&P 500
1757.83
-5.48
-0.31%
Russell 2000
1099.84
-5.66
-0.51%
Global Dow
2410.27
-15.29
-0.63%
-Chicago PMI 65.9 Highest in 30 years in October
Year end model deals at under 1 % , five year loans.
The Chicago purchasing managers index rose to 65.9% in October, to mark the best performance since March 2011. The increase was unexpected. Economists surveyed by MarketWatch had expected the Chicago PMI to dip to 54.5% from 55.7% in September. Any reading above 50 indicates expansion. The details were also strong. The production, new orders and order backlog indexes posted double-digit gains. Companies were seemingly unaffected by the government shutdown, according to the release. The gain in the headline index is the biggest in 30 years.
-Europe
Economic Releases
 (EU) Euro Zone Sept Unemployment Rate: 12.2% v 12.0%e
(EU) Euro Zone Oct CPI Estimate Y/Y: 0.7% v 1.1%e; CPI Core Y/Y: 0.8% v 1.0%e 
(DE) Germany Sept Retail Sales M/M: -0.4% v +0.4%e; Y/Y: 0.2% v 1.1%e
(DE) Germany Sept Import Price Index M/M: 0.0% v 0.1%e; Y/Y: -2.8% v -2.8%e
(DE) Germany Nov GfK Consumer Confidence: 7.0 v 7.2e
(FR) France Sept PPI M/M: 0.3 v 0.1% prior; Y/Y: -0.8% v 0.0%e
 (FR) France Sept Consumer Spending M/M: -0.1% v +0.3%e; Y/Y: -0.1% v +0.2%e
(ES) Spain Aug Current Account Balance: €2.5B v 1.6B prior
 (IT) Italy Oct Preliminary CPI NIC incl. tobacco M/M: -0.3% v +0.3%e; Y/Y: 0.7% v 1.2%e
(IT) Italy Oct Preliminary CPI EU Harmonized M/M: 0.0% v 0.5%e; Y/Y: 0.7% v 1.2%e
 (IT) Italy Sept Preliminary Unemployment Rate: 12.5% v 12.3%e; fresh record high 
(GR) Greece Aug Retail Sales Volume Y/Y: -7.8% v -14.0% prior; Retail Sales Value Y/Y: -8.9% v -14.2%
(BE) Belgium Sept Unemployment Rate: 8.9% v 8.8% prior
(HU) Hungary Aug Final Trade Balance: €613.1M v €621.2M prelim
(HU) Hungary Sept PPI M/M: 0.0% v 0.7% prior; Y/Y: 1.61.8%e
(CZ) Czech Sept M2 Money Supply Y/Y: 5.1% v 4.9% prior
(DK) Denmark Sept Unemployment Rate: 4.4% v 4.4%e; Gross Unemployment Rate: 5.7% v 5.6%e
(IS) Iceland Sept Final Trade Balance (ISK): 8.7B v 8.8B prelim
(FI) Finland Aug Final Trade Balance: -€224M v -€190M prior
 (UK) Oct Nationwide House Prices M/M: 1.0% v 0.7%e; Y/Y: 5.8% v 5.1%e
(TR) Turkey Sept Trade Balance: -$7.5B v -$7.3Be
Futures

9:45 AM EDT 10/31/2013

LAST
CHANGE
% CHG
Crude Oil
96.79
0.02
0.02%
Brent Crude
109.47
-0.39
-0.35%
Gold
1325.3
-24.0
-1.78%
Credit Markets
(EU) ECB €45.0M borrowed in overnight loan facility vs. €1.0M prior; €45.1B parked in deposit facility vs. €50.5B prior – Daily Eurosystem Liquidity Conditions
(EU) ECB converts existing temporary bilateral liquidity swap arrangements into standing arrangements with Bank of Canada, BOJ, BOE, Fed, SNB
Government Bonds

9:55 AM EDT 10/31/2013

PRICE CHG
YIELD
German 10 Year
2/32
1.688
France 10 Year
4/32
2.182
Italy 10 Year
7/32
4.156
Spain 10 Year
0/32
4.053
U.K. 10 Year
-9/32
2.417
U.S. 10 Year
-6/32
2.564
-Asia Close
BOJ Gov Kuroda post rate decision press conference noted that overseas economies were weaker than forecasted in July; reiterated ready to adjust policy if there were risks to price goal. Domestic banks were not facing funding problems in foreign currencies. BOJ released its outlook for Economic Activity and Prices: To maintain QE program until needed to stable achieve inflation target. It did raise its FY14/15 GDP target.
China Foreign Ministry responds to US currency report: Problem of obvious undervaluation of yuan did not exist. And obvious false hood and strangely coincident with the request by the USA to rig world oil markets by timing SPR oil releases.
 Bank of Korea (BOK) Gov Kim: Warns of excessive risk-taking due to monetary easing in advanced countries.
(HK) Hong Kong Sept Budget Balance (HKD): -16.1BB v -16.9B prior
(HK) Hong Kong Sept Retail Sales Value Y/Y: 5.1% v 7.7%e; Retail Sales Volume Y/Y: 4.9% v 8.3%e
(JP) Japan Sept Annualized Housing Starts: 1.044M v 983Ke; Housing Starts Y/Y: 19.4% v 12.1%e (13th straight monthly rise); Construction Orders Y/Y: 89.8% v 21.4% prior
(TH) Thailand Sept Current Account Balance: -0.5B v +$1.1Be; Trade Account Balance: $2.6B v $2.2B prior; Overall Trade Balance: -$ v -$3.4B prior; Exports Y/Y: -6.3% v 2.5% prior; Imports Y/Y: -6.1% v -2.4% prior
(TH) Thailand Sept Business Sentiment Index: 47.5 v 47.5 prior
(HK) Hong Kong Sept M2 Money Y/Y: 9.6% v 8.1% prior; M3 Money Supply Y/Y: 9.6% v 8.1% prior; M1 Money Supply Y/Y: 14.5% v 14.7% prior
(HK) Hong Kong Sept Budget Balance (HKD): -16.1BB v -16.9B prior
-Hollande, Obama's Doppelganger
http://www.contrepoints.org/2013/10/29/144271-la-deche-les-francais-fuient-un-pays-en-proie-au-desespoir
In English
http://www.telegraph.co.uk/finance/10390571/france-hollande-taxes-socialist-farrage.html
-Italy Cruising on faked data, for now
UST report right in line with AEP. What a coincidence!!
http://www.telegraph.co.uk/finance/comment/ambroseevans_pritchard/10416038/Mediobanca-hints-at-Italian-euro-exit-unless-Germany-shifts-on-EMU-policy.html
-Asia
US Treasury's semiannual currency report once again declined to name China as  a currency manipulator, instead shifting the focus to Germany and its large current account surplus, supposedly contributing to deflationary pressure in the rest of the EZ. In addition, the Treasury said it would monitor Japan's FX policy and also deemed Korean Won undervalued by 2-8%, when in fact is undervalued by closer to 20 %. The UST was woefully silent on the explicit and implicit currency pegs of Hong Kong, Malaysia, Taiwan, Singapore, and India, and even bigger currency manipulator than China ahead of the TPP trade agreements. Outsourcing to Asia remains firmly 'in' with Jacob Lew and his gang.
Major Asian markets are broadly lower overnight following the down trend in the USA started after the FOMC statement and threats of taper on in December by their  shill at the WSJ to keep gold and commodities under control. Exceptions to the down trend in Asia are India near flat and NZ up on local economic data and CB jawboning of the economy.
BOJ offered a minimal policy statement ahead of the release of semiannual Outlook for Economic Activity and Prices, voting unanimously to increase monetary base at annual pace of 60-70T yen – its standard policy setting and as widely expected. Separately Japan's Markit Manufacturing PMI hit 54.2 , the highest reading since May 2010.  The Markit economist said "October saw operating conditions in the Japanese manufacturing industry improve at the sharpest pace for over three years, driven by a surge in new orders… The data signaled that the latest expansion was largely demand driven and apparently unimpeded by PM Abe's confirmation of sales tax hike".
Prime Minister Shinzo Abe has pledged to boost Japan's efforts to ensure the safety of nuclear power as one of its firms jointly won an order to build an atomic plant in Turkey, the first such order for a Japanese company since the Fukushima crisis started (only Heaven is safe from the Mossad/MI6).
Japan's defence minister says China's behavior over disputed Senkaku islands is jeopardizing peace.
China central bank conducted reverse repo operations again overnight, injecting liquidity in both open market operations. PBOC performed CNY16B in 14-day reverse repos for the day , and CNY29.1B total for the week : the first weekly net injection after 2 weeks of net drain of liquidity from their banking system.
China's big-five banks posted a 9.9 percent annual rise in combined net profit to 222 billion yuan (US$36.4 billion) in the third quarter, but the growth was weaker compared with 14.6 percent in the same period of last year.They are expected to report a combined net profit of 847 billion yuan in 2013, or an on-year growth of 9.4 percent, The Industrial and Commercial Bank of China, the Agricultural Bank of China, the Bank of China and the Bank of Communications announced their third-quarter results yesterday. China Construction Bank released its earnings on Sunday. Net income at ICBC, the nation's largest bank, rose 7.6 percent in the July-September period to 67.2 billion yuan from a year ago.AgBank reported a 15 percent jump in net profit in the third quarter, the highest among the big five, to 45.6 billion yuan.Net profit at BOC climbed 13.6 percent to 39.5 billion yuan.BoCom saw a much weaker rise of 3.4 percent to 13.9 billion yuan during the period, down from 11.7 percent in the same period last year.The five biggest lenders account for more than 70 percent of the total assets of the 16 listed Chinese banks.
RBNZ policy statement was little changed from prior month. RBNZ dropped the passage that it expects OCR to remain unchanged in 2013, potentially paving the way for a rate hike in December on the backs of a potential downgrade by Moodys. RBNZ also no longer saw growth in China and Australia as slowing.  RBNZ noted Q3 GDP would be more than 3% vs prior forecast of 3%.
Economic Releases
(JP) BANK OF JAPAN (BOJ) POLICY STATEMENT: REITERATES TO INCREASE MONETARY BASE AT ANNUAL PACE OF ¥60-70T (as expected)
(JP) JAPAN OCT MARKIT/JMMA MANUFACTURING PMI: 54.2 V 52.5 PRIOR (highest reading since May 2010)
(JP) Japan investors bought net ¥1.04T in foreign bonds last week (3rd straight week of net purchases) vs bought net ¥1.41T in prior week; Foreign Investors sold net ¥8.0B in Japan stocks v bought net ¥297.8B in prior week
(JP) JAPAN SEPT LABOR CASH EARNINGS Y/Y: +0.1% V -0.4%E
(NZ) RESERVE BANK OF NEW ZEALAND (RBNZ) LEAVES OFFICIAL CASH RATE UNCHANGED AT 2.50% (AS EXPECTED)
(NZ) NEW ZEALAND SEPT BUILDING PERMITS M/M: 1.4% V 1.5% PRIOR (2nd consecutive increase)
(NZ) NEW ZEALAND OCT ANZ BUSINESS CONFIDENCE: 53.2 V 54.1 PRIOR; ANZ ACTIVITY OUTLOOK: 47.1 V 45.3 PRIOR
(NZ) NEW ZEALAND SEPT MONEY SUPPLY M3 Y/Y: 7.3% V 6.5% PRIOR
(AU) AUSTRALIA SEPT BUILDING APPROVALS M/M: 14.4% V 2.8%E (16-month high); Y/Y: 18.6% V 1.2%E
(AU) AUSTRALIA Q3 IMPORT PRICE INDEX Q/Q: 6.1% V 3.5%E (19-quarter high); EXPORT PRICE INDEX Q/Q: 4.2% V 3.3%E
(AU) AUSTRALIA SEPT PRIVATE SECTOR CREDIT M/M: 0.3% V 0.4%E; Y/Y: 3.3% V 3.4%E
(TW) TAIWAN Q3 PRELIM GDP Y/Y: 1.6% V 2.6%E 
(SG) SINGAPORE Q3 PRELIMIN UNEMPLOYMENT RATE: 1.8% V 2.1%E
(SG) SINGAPORE SEPT MONEY SUPPLY M1 Y/Y: 15.3% V 15.7% PRIOR; M2 Y/Y: 7.5% V 7.1% PRIOR
(SG) SINGAPORE SEPT BANK LOANS AND ADVANCES Y/Y: 15.7% V 15.4% PRIOR
(SG) SINGAPORE SEPT CREDIT CARD BAD DEBTS (SGD): 19.8M V 19.2M PRIOR; CREDIT CARD BILLINGS: 3.4B V 3.4B PRIOR
(PH) PHILIPPINES SEPT BANK LENDING Y/Y: 14.6% V 13.0% PRIOR; BANK LENDING NET OF RRPS Y/Y: 15.8% V 14.2% PRIOR
(PH) PHILIPPINES SEPT BANK LENDING Y/Y: 14.6% V 13.0% PRIOR; BANK LENDING NET OF RRPS Y/Y: 15.8% V 14.2% PRIOR
Government Bonds

1:56 AM EDT 10/31/2013

PRICE CHG
YIELD
Australia 10 Year
-14/32
4.036
China 10 Year
0/32
4.250
India 10 Year
-9/32
8.597
Japan 10 Year
-1/32
0.596
German 10 Year
0/32
1.695
U.S. 10 Year
2/32
2.531
Futures

1:47 AM EDT 10/31/2013

LAST
CHANGE
% CHG
Crude Oil
96.49
-0.28
-0.29%
Brent Crude
109.50
-0.36
-0.33%
Gold
1338.7
-10.6
-0.79%
-After Hours
(US) US Treasury semi-annual currency report: German nominal current account surplus larger than China in 2012; Does not designate China or any nation as FX manipulator
(UK) UK OCT GFK CONSUMER CONFIDENCE: -11 V -8E (first sequential decline in 6 months)
(UK)Amid a probe over possible manipulation of the foreign-exchange markets, both Citigroup Inc.  and J.P. Morgan Chase & Co.  have placed their top London-based currency traders on leave.
*FB beats Low estimates, but user growth slows among teens, nonexistent in USA and Canada
Good I have been playing the short side.
http://www.marketwatch.com/story/facebook-rallies-as-results-beat-estimates-2013-10-30?dist=tcountdown
WTW: Reports Q3 $1.07 v $0.84e, R$393.9M v $387Me; suspends dividend; -16.0% afterhours
JDSU: Reports Q1 $0.13 v $0.12e, R$429M v $424Me; -7.9% afterhours
SPWR: Reports Q3 $0.44 v $0.24e, R$657.1M v $591Me; -5.0% afterhours
MANT: Reports Q3 $0.48 v $0.52e, R$567M v $587Me; Cuts FY13 guidance; -3.9% afterhours
MET: Reports Q3 $1.34 v $1.36e, R$16.9B v $16.8Be; -3.1% afterhours
V: Reports Q4 $1.85 v $1.85e, R$2.97B v $3.02Be, $5B share buyback program (5% of market cap); -3.0% afterhours
SBUX: Reports Q4 $0.63 v $0.60e, R$3.80B v $3.81Be; Increases dividend; -2.5% afterhours
MAR: Reports Q3 $0.52 v $0.45e, R$3.16B v $3.06Be; -0.9% afterhours
CSC: Reports Q2 $0.93 v $0.82e, R$3.19B v $3.35Be; -0.2% afterhours
ALL: Reports Q3 $1.53 v $1.37e, R$8.47B v $7.38Be; +0.1% afterhours
CYH: Reports Q3 $0.04 (incl $0.65 reserve) v $0.69e, R$3.22B v $3.26Be; +0.1% afterhours
CAR: Reports Q3 $1.48 adj v $1.55e, R$2.40B v $2.35Be; +0.2% afterhours
CROX: Reports Q3 $0.18 v $0.18e, R$288.5M v $292Me; +0.5% afterhours
ATML: Announces $300M stock buyback increase (10.6% of market cap); +1.8% afterhours
HBI: Reports Q3 $1.23 v $1.14e, R$1.19B v $1.24Be; +3.5% afterhours
EXPE: Reports Q3 $1.43 v $1.35e, R$1.4B v $1.38Be; +18.8% afterhours
ZLTQ: Reports Q3 -$0.08 v -$0.21e, R$29.5M v $21.1Me; +37.8% afterhours
Geopolitics 
*Israel Likely Launched another Missile Strike on Syria from Sea
http://www.timesofisrael.com/huge-explosion-reported-at-syrian-air-defense-base/
*John Boehner, Anglophile, part of Druid Winston Churchill Cult
Sick cretins in our govt wasting our time and money honoring a racist committed to the genocide of the German people and a war Criminal. What an evil devil John Boehner is. Looks so queerly demonic I cant stand looking at him on TV when he talks.
http://www.theguardian.com/world/2013/oct/30/churchill-bust-unveiled-kerry-boehner
*Borish Johnson, Turkish Jew?, Prostates himself for Muslim Money
Hamdi, well, well. I wonder what his mothers side of the families real name was. That's typically a given name in Turkey not a surname. At the height of the Turkish/Ottoman Empire, what type of Turk would immigrate to England? It was either slaves on the run, or Turkish Jews.
http://www.dailymail.co.uk/news/article-2480251/Boris-Johnson-Im-London-Mayor-Muslim-extraction.html
Taps Data Centers Worldwide
by Jason Ditz, October 30, 2013
The NSA's PRISM scheme was the first big scandal broken in months of ever more egregious violations of privacy at home and abroad. Google and Yahoo were among a number of major companies implicated in handing over broad swathes of customer's private data, but apparently that was just the tip of the iceberg, even for data on Google and Yahoo's servers.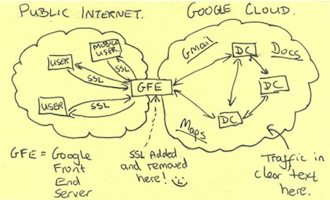 The NSA apparently decided that even PRISM's appalling levels of data collection weren't enough, and the NSA still tapped both companies' data centers on top of that, collecting data and meta-data of Americans and other innocent civilians en masse.
A hand-drawn sketch serves as part of the NSA's presentation on "Google Cloud Exploitation" as part of the MUSCULAR project. The project culled 181 million pieces of data in meta-data in just a single 30 day period.
Google issued a statement saying they were "outraged at the lengths to which the government seems to have gone to intercept data from our private fiber networks," while Yahoo simply denied giving the NSA access to their data centers. Which of course was the whole idea of MUSCULAR – unlike the PRISM cooperation, Yahoo and Google weren't supposed to know.
The 24-hour surveillance of Google and Yahoo's servers, above and beyond the cooperation they were already forced to give them, even shocked former intelligence officials, who worried it was not only ruining the government's working relationship with such companies, but undermining those companies' credibility internationally.
At this point it is apparent that not just personal data explicitly stored on Google's servers, like gmail boxes and Google documents, but also any conceivable meta-data that even touches Google's cloud, like the timing of an individual IP address viewing an individual Youtube video, has potentially been intercepted by the NSA, and is in some database somewhere waiting for some official to decide it might be used against somebody.
The NSA, predictably, issued a blanket denial, insisting it "never happened" despite clear documentation. Such denials and their subsequent refutations have become a defining feature of the past few months, and at this point reek of desperation.
| | |
| --- | --- |
| | Updated October 31, 2013 – 12:15 AM EDT |