Headliners 
-UST finally reports USA Debt over $ 17 Tln
-EMU shows more signs of Cracking up and political instability. ECB attacks Dollar and USE in response.
-German High Court Ruling imminent on OMT Scheme of ECB
-Germans want to claw back power from Brussels. German movement to leave EMU by responsible states gathers momentum.
-Lord Cameron claims he will push EU/USA FTA through
-GS Boy Mario Monti Tosses in Towel and Resigns from head of his Political party
-ECB Talks down Dolllar/USE, Talks up EMU/EU
-Japanese Insurer Sells USTs, buys Italian bonds
-China unhappy with USA Debt Bomb
-London Thugs offer to Show Shanghai's New Free Trade Zone how to rig markets and rip people off like London does as worlds first 'free trade' zone
-Free Phineas. Find Phineas. Throw Anglomasonic  Mayor Gary Brown and Anglomasonic  Chief Steelman in Jail for animal abuse.
-Brit Courts  order WSJ to not release name of Libor Perps
Markets 
-Close
The UST finally updated the USA Debt and the USA went officially over $17 Tln. JPM after the close announced a tentative $4 bln settlement with the FHA over mortgage-gate. I got a price near the close , close enough to 15400 to open a short at.
Futures

3:52 PM EDT 10/18/2013

LAST
CHANGE
% CHG
Crude Oil
100.89
0.22
0.22%
Brent Crude
110.08
0.97
0.89%
Gold
1314.5
-8.5
-0.64%
Silver
21.870
-0.077
-0.35%
E-mini DJIA
15326
30
0.20%
E-mini S&P 500
1737.75
10.00
0.58%
Government Bonds

4:01 PM EDT 10/18/2013

PRICE CHG
YIELD
U.S. 10 Year
0/32
2.592
German 10 Year
11/32
1.835
Japan 10 Year
3/32
0.620
-Typical Brit/Anglosaxon Elite…Michael Souter!!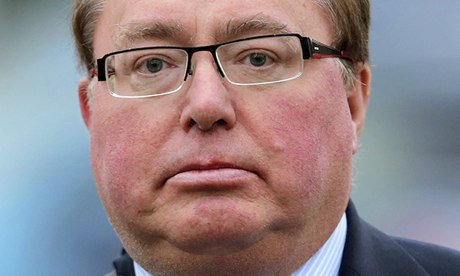 Michael Souter was found guilty of a total of 26 charges. Photograph: Chris Radburn/PA
A former BBC presenter has been found guilty of a string of child sex offences spanning two decades.Ex-BBC Norfolk and former Radio Clyde broadcaster Michael Souter has been convicted of a series of sexual offences against seven boys aged between 11 and 16 between 1979 and 1999.The 60-year-old, of Loddon, Norfolk, has also been found guilty of further counts of making and possessing indecent images of children.A Norwich crown court spokeswoman said the former broadcaster has been found guilty of a total of 26 charges.Jurors have not reached a verdict on one count of indecent assault on a male and have also cleared him of one charge of possessing an indecent photograph of a child, she said.Prosecutors described Souter, who was also involved in the Scouts and a social services youth mentoring scheme, as a "sexual deviant" who was obsessed with young boys in shorts and uniform. Guardian
Any relation to Anglomasonic Queer Supreme Court Justice David Souter who gutted the 4 th amendment? David Souter btw is a Rhodes Scholar and Oxford University grad in Law as well as Harvard Law. A complete Crown stooge, and Anglosaxon Traitor.
-Out with the Old Anglosaxon Spook at the NSA, in with the New Black-Jewish  Spook At DHS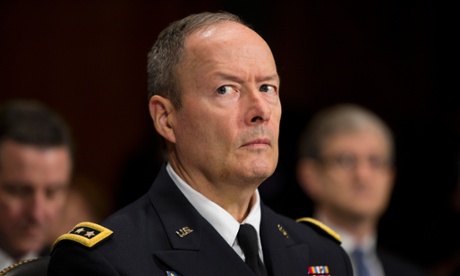 The director of the National Security Agency and his deputy are expected to depart in the coming months, US officials said on Wednesday, in a development that could give President Obama a chance to reshape the eavesdropping agency.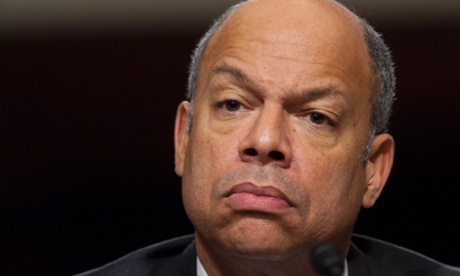 As a lawyer without much management experience, Jeh Johnson is not an obvious choice to lead the sprawling Department of Homeland Security. His appointment, hailed by Barack Obama at a White House ceremony on Friday, may signal a shift for an agency whose value is questioned by many in the US.The senator who will shepherd Johnson's nomination through the upper legislative chamber, Tom Carper of Delaware, called the appointment "welcome news" and praised Johnson's "wealth of experience from the Department of Defense", where he was general counsel.Johnson has an extensive legal background in national security circles. Before spending the first four years of the Obama administration as the Pentagon's top lawyer, he was the air force's senior civilian counsel during much of Bill Clinton's second term. Before that he was a federal prosecutor in New York, one of the premier legal venues for security trials.
-EU to promote HFCS
Glucose is what you want or organic fructose as in from fruit, not HFCS. What England did to the USA they will do to the EU now. Guess who is behind killing the gentiles..
Industry is delighted by the EU ruling. Galam Group, an Israeli fructose manufacturer, called the move "a game-changing step" in comments to the trade journal Nutra Ingredients. It said it expected a surge in sales from 2 January, when the ruling takes effect.
http://www.theguardian.com/society/2013/oct/17/obesity-experts-appalled-eu-fructose-health-claim-approval
-Guardian demands death of Tea Party and Obama Rule
Obama's first election was legitimate, the only way he won the 2nd was with massive voter fraud against two dogs, Romney and Ryan and it looks like Obama lost the 2nd election. The 2012 election was about the economy not health care as that was passed back in 2010. You can tell who runs the USA by reading the English and Jewish press.
http://www.theguardian.com/commentisfree/2013/oct/17/republican-defeat-tea-party-us-shutdown
-The Gold Riggers will eventually be made to pay too.
Britain's biggest bank, HSBC, has been ordered to pay $2.5bn (£1.5bn) by a court in Chicago in the largest class action judgment in legal history.HSBC intends to appeal against the decision in what it sees as the latest stage in an 11-year legal battle sparked by shareholders in Household International, the consumer lending business it bought in 2002.HSBC has been warning its shareholders in its annual report about the potential cost of the legal action for a number of years and its most recent update on the situation – which takes up an entire A4 page in its interim results – had revealed the bill could amount to $3.5bn. It has taken a provision of an unspecified size as a precaution against the judgment but said it has a strong argument against the ruling, first made in April 2009 after a jury trial.
————————-
This is why USA Federal Appeals Appointments are purchased by Anglo-Zionist syndicates of lawyers and bankers for $10 million (mid 90s price) a seat.
-Prince Charles Moles Come Under Fire
This is somewhat of a red herring. All Tory party members are crown moles and many like David Cameron and the Bush family are close cousins as well. The Tory party is allowed to invoke the Royal prerogative and over rule Parliament at any time. His Mole at the EU is Baroness Ashton, a House of Lord member and any Zionist Jew or Anglosaxon of which the EP has no shortage thereof. Prince Charles Moles run the USA. Be it Diane Feinstein, Barbara Boxer, John McCain, John Kerry (Cousin) , Al Gore (Cousin) Lindsay Graham, Jeb Bush (cousin) or the Royal Butler Barry. Look the Windsors and Rothschilds are such close blood and together are worth over  $300 tln, do you think Charles can't buy the Entire USA Congress and Parliament of the EU and UK. Arresting the Royal Dutch and English families and all the Rothschilds and their confederates and kin in the USA is the key to freedom. It is all about them and their kin against the rest of us. Prince Charles dreams of killing us all. He wants a sustainable world and that does not include a cancer cure for you, or an 800 year life for you, or fusion energy for you or any wealth for you. Wake up sheep. Smell the coffee, either we depose the Royals of Europe and their bankers or they will murder virtually all of us. We need to confiscate the wealth of all the EU royals and all the Rothschilds wealth and their cronies and redistribute it, if only in the form of debt forgiveness. Think big. Down with the foul, satanic English and Dutch and Spanish Crowns. Grab that $300 Tln, set mankind free.
http://www.theguardian.com/uk-news/2013/aug/18/prince-charles-moles-government-departments
-USA Summary
The Tea Party has come under relentless attack by the MSM with the Globalist and satanic Jew Michael Bloomberg leading the way with front page cover and articles in all his publications trying to demonize them and marginalize their political influence. Given the distrust of Mayor Bloomberg his heavy hand is likely to backfire upon him. Notably traitor Boehner said to Obama he was 'over run', and there can be no mistaking whom he was targeting, and likely he will be forced out at some point as he broke the unwritten rule the Speaker never over rules the majority of the party. I doubt the MSM will succeed in marginalizing the Tea Party as they continue to be the only political force that wants govt spending reigned in. Something near 80 % of the USA people want. The 'fail' of the Tea Party people is their unwillingness to attack the Military-Industrial complex or the lavish pensions and health care plans of govt. They are mainly focused on gutting social security. They do remain focused on getting rid of Obamacare, the roll-out which continues to be an utter disaster, and increasingly unpopular with 70 % of the American people opposing it.
Sen. Ted Cruz, the Texas Republican and leader of the conservative effort to tie a curtailment of Obamacare to funding the government, is coming under MSM attack for failing to disclose ties to a Caribbean-based private equity fund. A Time Magazine article posted Friday suggests that Cruz may have violated ethics rules by failing to disclose during the 2012 campaign.his relationship with a holding company based in the British Virgin Islands, the surviving entity of a private equity firm founded by his college roommate in 1998.Cruz told Time that the omission was inadvertent and that he is in the process of making corrections to his Senate financial disclosure form.There are no Senate rules against holding shares in private equity firms or a holding company. Caribbean private equity funds became a political football during the 2012 presidential campaign due to former Bain Capital-founder-turned-Republican-presidential nominee Mitt Romney. There ought to be rules against Congress and govt employees holding investment in offshore (especially the UK tax dodges) accounts. Likely if Diane Feinstein's husband was investigated we would find the same thing. But as a close cousin of the Rothschild's family she is 'golden'.
Morgan Stanley reported very strong Q3 results, with earnings and revenue topping expectations on very strong growth in trading revenues at the firm. Note that the gains in stock trading revenue more than offset most of the decline in fixed-income, FX and commodity trading, where revenue fell 44%, in line with the slump seen across the industry. Shares of MS are up 2%.
Oil Exploration and Drilling Svs  giant Schlumberger and smaller rival Baker Hughes both saw ~20% y/y earnings growth. Schlumberger's grow was evenly distributed across its broad global footprint. Both firms were very bullish about growth in 2014, with steady gains in North America drilling and an even better outlook overseas. SLB is up 2.5% and BHI is up 8%.
AMD is one of the biggest losers the morning session, with shares down more than 12% despite the chipmaker's relative good Q3 numbers. Investors appear to be disappointed with the firm's weak Q4 revenue guidance. In addition, on the conference call executives warned that consumer notebook softness expected to continue and industry PC unit shipments to decline 10% this year.

We have no less than four FED heads speaking today with 2 more scheduled for later in the day. As the FED looks to whipsaw markets off of FED head George's cruel comments earlier that a cacophony of voices and opinions at the FED was wonderful. Maybe for GS/JPM/MS, etc. Dudley of the all powerful NY FED will probably be the barometer for the taper and he speaks at 1540 today EDT. The FED is playing the taper game on/off to keep the gold markets off balance. Evans was cooing today in line with his dovish comments yesterday and Fisher was growling.
In gold the Anglo-Zionist-America Credit agencies and CPM want you to believe the USA has 2 more years to get its act together before downgrades and a dollar crisis. CPM said silver would hit a new high but only after grinding lower for 2 more years. CPM is a front for the bullion banks. GS looks desperate for more marks to sell gold and silver to cover into here as well. I doubt it is going to take 2 years, especially if Obama and congress jam through TAPA and TPP   FTA's. Can  they fake the jobs data for 2 more years? They will need a lot more QE for that , jimo and to apply some of that QE to small-medium sized business and just not USTs and MBS!! One has to wonder who 'panicked' this week and took a big physical delivery 75-100K ton delivery and forced GS/JPM/HSBC, etc to have to cover in gold. Could be China, could even be Japan or Korea , which we know has panicked and been a buyer. It can take a year or more before a physical gold delivery is actually put on the books of the Central banks . Was it the Bundesbank that finally woke up to the fact if it has no gold it has no power to influence the ECB? Hard to say who the buyer was this week in physical gold that thwarted the BOE/ECB/FED/UST gold rigging gang.
Futures

11:58 AM EDT 10/18/2013

LAST
CHANGE
% CHG
Crude Oil
100.88
0.21
0.21%
Brent Crude
109.45
0.34
0.31%
Gold
1315.4
-7.6
-0.57%
Silver
21.935
-0.012
-0.05%
E-mini DJIA
15285
-11
-0.07%
E-mini S&P 500
1733.25
5.50
0.32%
Government Bonds

12:08 PM EDT 10/18/2013

PRICE CHG
YIELD
U.S. 10 Year
4/32
2.580
German 10 Year
11/32
1.835
Japan 10 Year
3/32
0.620
-USA Releases
NFP release for last month, Oct 22 per the BLS website. UST has not announced when TIC report will be released. 
(CA) Canada Sept CPI M/M: 0.2% v 0.1%e; Y/Y: 1.1% v 1.0%e; Consumer Price Index: 123.3 v 123.3e
(CA) Canada Sept CPI Core M/M: 0.2% v 0.3%e; Y/Y: 1.4% v 1.4%e
(BR) Brazil Oct Final IGP-M Inflation: 0.9% v 0.9%e
(BR) Brazil Oct IBGE Inflation IPCA-15 M/M: 0.5% v 0.4%e; Y/Y: 5.8% v 5.7%e
(MX) Mexico Sept Unemployment Rate: 5.3% v 5.1%e
-EU Summary 
We had the very unusual situation of the ECB talking head from Austria talking down the dollar and talking up his own toilet paper currency. I think he is wrong by the time oil is not priced in dollars, the dollar won't be in trouble then,  it will be dead. The Euro and dollar should trade at about parity at some point, if the Euro survives as a currency. Both have similar debt loads. Prior to Obamacare the USA was far more dynamic economically and Obamacare was as much about Europe wanting to 'equalize' the USA competitively with themselves as anything. Another Burden for the American working man so the satanic/Socialist United states of Holland/UK/Rothschilds can persist and grow. The EU press and certainly not the American press, would not carry LePen's comments that the EMU will disintegrate like the Soviet Union. Something I think is inevitable as well. Merkel fears and honest election as the AfD would gain the foothold it was entitled to in German Parliament. Shes and Cameron are the key bagmen or Bag Jews since they are both satanic Jews for the Windsors-Rothschilds to stitch up the EU as a total , Anglo-Zionist controlled from cradle to grave state with complete enslavement.
Japanese pension funds have met  a good part of their obligations by carrying high yield UST as 10 year JGBs have been at 1 % for decades. And we saw a real chink in the dollar emerge over night as Mitsui life announced they rolled $300-400 mln into short term Italian paper and hedged the currency risk. It is not much nor is it enough to explain the massive hammer down we have seen in 10 year Italian and Spanish debt, like we saw again today,  but its the beginning of the End for the dollar. A UST 10 year at 3 % is a much safer bet than an Italian 10 year at 4 %.  After all you have literally crazy, satanic Jews running Europe. Can anything good come of their leadership? At least in the latest poll, 73 % of Americans say they intend to vote against the incumbent politician and Congress scores less than a 10 % approval rating. Obama and Hollande have about the same poll numbers. So the French and American public are equally 'hip' about the destroyer of their national govts.
I went ahead and increased my DAX short positioned. I'm prepared for a sprint to 9000 or 9100 even. The German economy is the most over rated in the world and most expensive, much like their cars, a bad deal for the money, but they look nice on the outside. Since Germans gave up on Christianity there is a certain dishonesty to their products I don't like. Expensive , over advertised, and under performing.
In the European woes and political instability Dept, no less than Mario Monti of GS fame tossed in the towel and we had another key resignation. Italy's center-left Deputy Finance Minister Stefano Fassina is reportedly about to resign because he disagrees with the 2014 draft budget unveiled by the Italian government earlier this week. Former Prime Minister Mario Monti yesterday quit the party he founded, due to divergences with other senior members on whether to support the draft budget in parliament. Probably explains why the ESM has been so active this week in hammering down the Italians yields to thwart shorts.
Spanish bank bad loans pushed to a new record in August.
In a letter to German MPs seen by FAZ, the German Association of Family Businesses (Die Familienunternehmer) has called for "a fundamental re-calibration of the EU Treaties" which would include returning some competences back to member states from Brussels. The letter argues, "A key element for the sustainable improvement of the situation [in the EU] is the principle of liability. The future of Europe cannot be jeopardized through the progressive pooling of debts with foreseeable cuts to the German budget or the disempowerment of national parliaments in favor of centralization in Brussels." (It is just these family business that the Chinacoms are targeting in Italy now, and in Germany next). Separately, in a joint piece on the Spectator's Coffee House blog, Conservative MP Alok Sharma and German CDU MP Ralph Brinkhaus argue, "There's a historic opportunity for Britain and Germany to lead the work of improving the structures of the European Union, together with other like-minded countries. There are areas of common ground for discussion on budget discipline, free trade and efficiency in the public sector to name but a few…The consensus view in Germany, across the political spectrum, is that the EU is a better place with Britain in it."

Angela Merkel's CDU/CSU and the SPD yesterday agreed to start formal negotiations to form a 'grand coalition'. Talks will start next week subject to approval by a SPD party convention on Sunday. Meanwhile, speaking on Deutschlandfunk radio this morning, SPD General Secretary, Andrea Nahles, dismissed reports in Die Welt that the party is aiming to secure the Finance and Labor Ministries instead of the Foreign Ministry.
EUobserver reports that MEPs negotiating new EU regulations on data protection have agreed to reinsert the so-called anti-FISA clause, removed by the Commission from the draft proposal following pressure from the US. The proposed rules would ban the transfer of online data unless it is specified by EU law or the new EU-US trade pact and make it harder for US internet servers and social media sites to transfer European data to outside countries. The rules will go to a full plenary vote and are yet to be approved by national ministers.
The WSJ reports that France is considering softening its support for a European Financial Transaction Tax (FTT) and may settle for a watered down version in order to maintain Paris's position as a financial center and encourage domestic investment in Euronext.
EU Internal Market Commissioner Michel Barnier insisted yesterday that proposed EU rules to cap bankers' bonuses are legal, despite the UK's decision to take a challenge to the European Court of Justice. "We continue to believe the legal basis which was chosen was correct," he said. Meanwhile, he warned of tit-for-tat action if the US pushes ahead with plans to impose extra capital requirements on foreign banks.
In their joint autumn economic forecast, four of Germany's leading economic institutes – Munich's IFO, Berlin's DIW, the IWH in Halle and Essen's RWI – argued that banks and national governments should be responsible for cleaning up bank balance sheets with limited use of European funds only as a last resort.
Former EU Internal Market and Services Commissioner Frits Bolkestein has added his name to the European Solidarity Manifesto which calls for a "controlled dismantlement of the Eurozone via the exit of the most competitive countries and an agreement on a new currency coordination system in Europe."
The Troika and Greeks are back to their daily squabble over funding gaps. There is a 1.5 bln euro difference. Greeks sure know how to cook the books.
ECJ ruling yesterday: Fingerprints in passports are legal as German challenge was struck down. The mark of the beast grows closer every day in the EU. Prince Charles gloats.
Cameron on EU/Canada FTA claimed it  "will inject GBP1.3 billion to the UK economy, boost exports by almost a third and create thousands of new jobs" as it awaits approval by UK and Canadian parliaments now. Said he would make it a priority to jam the EU/USA FTA agreement through. I guess its pretty clear who runs Europe and the USA.
British prosecutors on Thursday obtained a court order prohibiting The Wall Street Journal from publishing names of individuals the government planned to implicate in a criminal-fraud case alleging a scheme to manipulate benchmark interest rates.A British judge ordered the Journal and David Enrich, the newspaper's European banking editor, to comply with a request by the U.K.'s Serious Fraud Office prohibiting the newspaper from publishing names of individuals not yet made public in the government's ongoing investigation into alleged manipulation of the London interbank offered rate, or Libor.
On the backs of Prince Charles speech of 'sustainability' we are seeing massive utility rate increases of near 20 % (but no inflation in the EU, right), from the UK to Germany, largely as the EU won't play ball with Russia, and as EU Royals love regressive taxes like utilities. The hyper-evil English Queen got a big fat 20+ % type of raise to cover her utility bill  this winter, will the Eurotrash get it? I doubt it.
EU Close
-Govt Employees in Monopoly govt franchise like Air Traffic Control and Trans should not be allowed to strike (these people have an avg salary of close to $100,000 currently)
Union employees at Bay Area Rapid Transit walked out on strike Friday, shutting down trains on the San Francisco Bay Area rail system. The walkout at midnight came after marathon talks between BART management and its two largest unions broke down, with wage increases the sticking point. "I am very disappointed that even after six months of day after day, night after night intense negotiations we are still unable to reach a deal. It hasn't been all for nothing, we were able to make progress, but a large gap remains," BART's general manager, Grace Crunican, said in a statement. The industrial action is likely to hit hundreds of thousands of Bay Area commuters, affecting businesses in the region. MW
-Oil Svs, BHI/SLB
Baker Hughes reported a profit of $341 million, or 77 cents a share, up from $279 million, or 63 cents a share, a year earlier. Excluding items severance charges in the latest period and plant-closure costs and charges related to information-technology asset a year earlier, adjusted per-share earnings rose to 81 cents from 73 cents. Revenue rose 8.1% to $5.79 billion.Analysts polled by Thomson Reuters had most recently forecast per-share earnings of 78 cents on revenue of $5.77 billion.In the North American segment–the company's largest geographic business by revenue– profit improved 2.4% while revenue increased 4.1%. Profit and revenue improved in Baker Hughes' other geographic regions from a year earlier, except for Latin America.
Schlumberger Ltd.'s third-quarter profit climbed 20% on particularly strong oil-field services revenue in the Middle East and Asia region, driven by growth in Saudi Arabia and Iraq.Results topped Wall Street's expectations, bolstered by higher revenue across all of the markets Schlumberger serves.The oil-field services company has reported strong revenue growth in recent years as ramped up activity in areas like Canada and the deepwater U.S. Gulf of Mexico helped offset onshore North America revenue weakness.Schlumberger posted a profit of $1.72 billion, or $1.29 a share, up from $1.42 billion, or $1.07 a share, a year earlier. Revenue climbed 11% to $11.61 billion.Analysts surveyed by Thomson Reuters projected a profit of $1.24 a share on $11.58 billion in revenue.Oil-field services revenue from North America climbed 9.1%. The Europe/Commonwealth of Independent States/Africa region's revenue grew 6.5%.Revenue from the Middle East and Asia jumped 25%, and increased 4% in Latin America.
-Obama/Boehner lead the way in Halloween Mask Sales
Halloween costume retailers say that thanks to the dominance of the government shutdown in the news, they're seeing a surge in searches for political costumes. Mark Bietz, the vice president of marketing for HalloweenCostumes.com, says that this year, as compared with last year, he's seen about a 40% increase in searches for political figures, most notably Obama, and that sales of Obama masks are up about 40% over last year.What's more, Boehner is popular (well, at least in the world of Halloween costumes) as well. Dev Mukherjee, the CEO of costume retailer BuyCostumes.com, says that Boehner searches have spiked over the past couple of weeks. "There were more this morning than yesterday even," he says. But Rep. Ted Cruz isn't faring quite as well. "We may have had one or two searches for him, but not many," says Mukherjee. MW
-GOOG trades above $1000
- Moody's reiterates a sovereign rating downgrade for the United States is unlikely within the next two years
- WSJ's Hilsenrath is suggesting that a start to tapering could still be considered in December, but highlights that this is very uncertain.
- US Labor Dept said to release its report on September employment on Tuesday, Oct 22nd
-Europe
(GR) Greece Aug Current Account Balance: €1.2B v €2.7B prior
(RU) Russia Narrow Money Supply Narrow w/e Oct 14th (RUB): 7.85T v 7.72T prior
(UK) Retailer John Lewis reports weekly LFL sales for week ending Oct 11th (y/y): No est v +2.8% prior
(NL) Netherlands Oct Consumer Confidence Index: -27 v -33e
(CN) Shanghai Futures Exchange (SHFE) Weekly Copper Stockpiles: 172.1K v 161.6K tons prior
(ES) Bank of Spain (BOS) Aug Bad Loan Ratio: 12.1% (record level) vs. 12.0% prior
Credit Markets
(EU) ECB €0.0M borrowed in overnight loan facility vs. €0.0M prior; €44.8B parked in deposit facility vs. €46.8B prior – Daily Eurosystem Liquidity Conditions
(EU) Mitsui Life: Shifted ¥30-40B of funds to Euro denominated bonds from US bonds in April-Sept; purchased short-term Italian bonds with currency hedging; Plans to focus on Euro bonds for foreign debt holdings.
(EU/US) ECB's Nowotny (Austria) commented that US budget deal was only a short term measure and that longer term uncertainty continued. He added that a certain mistrust remained in USD currency but the greenback was most important currency and would be for a long time. The alarm signal for the currency would be when oil was not priced in USD. Euro to play an increasing role as a reserve currency. US clearly doing better than EMU in economic terms. The fear was not over US debt service but concerns over its growth
(UK) EU Commission Libor settlement seen by Dec
Government Bonds

10:14 AM EDT 10/18/2013

PRICE CHG
YIELD
German 10 Year
9/32
1.841
France 10 Year
9/32
2.352
Italy 10 Year
3/32
4.186
Spain 10 Year
7/32
4.271
U.K. 10 Year
8/32
2.550
U.S. 10 Year
1/32
2.589
-Late Asia
 Bank of Japan (BoJ) Gov Kuroda reiterated the view that effects of BoJ policy were starting to show effects on economy and have made progress in correction of Yen strength.BoJ Deputy Gov Iwata: BoJ aimed to achieve price target as soon as possible and would not stop easing even when 2% inflation came closer (BOJ promised not to weaken easing until prices were stable). Reiterated view that BOJ to ease more if believes it would be difficult to hit 2% inflation target.
Bank of Korea (BOK) Gov Kim: Not considering additional steps to control capital flows
India Central Bank (RBI) said to be considering closing Fx swap line for oil refiners and looking at possible impact on spot rupee currency if window was closed ( Swap window was announced back on Aug 28th after USD/INR hot 68.85 (record low for rupee)
(JP) S&P affirms Japan's Sovereign Rating at AA-; negative outlook
(JP) Japan Sept Nationwide Dept Sales Y/Y: 2.8% v 2.7% prior; Tokyo Dept Sales Y/Y: 3.6% v 5.6% prior
(IN) India Forex Reserves w/e Oct 11th: $279.0B v $277.7B prior
Asia Close
-Australia's Anglo-Masonic Crown Govt
Cess pool of criminals down under. Aussies need guns.
http://www.youtube.com/watch?v=OyS3CEIbpJo
-Wow an Honest SS Agent Blows the Whistle on Obama
Could not stand the corruption so quit short of his pension. A gentile. Go figure.
http://www.youtube.com/watch?v=TUB6zdgSzio
-CA Girls
Lol. It's Friday. TGIF!!
http://www.youtube.com/watch?v=0iyeUcFKRv4
-Evil USA Cops, Love to Kill Dogs-How America is governed from England-The Anglo-Zionist Microcosm of ALL small towns in the USA!
Poor Phineas. Nutty power mad Evil Anglosaxon mayor and Anglosaxon police chief scheme to  murder Irish American's  gentle dog.  Masonic Town!! Anglosaxon rule and oppress!! USA Cops=Anglomasonic/Satanic Cult!!! Jewish Judge condemns Phineas!! Right out of the Bible. Just like Jesus!!
Phineas and his family. No beaked noses!!! Does Prince Charles want the dog executed for being a useless eater and because he has an Irish name?
Dog Murderer , Beak Nosed Anglosaxon Mayor Gary Brown
Dog Murder Sheriff Anglosaxon  Keith Steelman
Coward has removed his photo from the Web!!!
http://shine.yahoo.com/pets/dog-center-legal-dispute-goes-missing-192200082.html
Family thinks Pig Steelman ordered his dog executed
Likely the case as he recently removed his photos from the City Website!
http://www.stltoday.com/news/local/crime-and-courts/on-dog-s-day-in-court-questions-about-who-took/article_3b99f175-17cc-5a4d-b517-097025ea73a6.html
-Asia
Asian bourses , ex Japan, were broadly higher a day after the US averted a debt default and reopened the government fully. The Nikkei225 is trading down slighlty on a stronger yen; Japan exporters were under selling pressure as the yen strengthened slightly against the USD. There were no surprises after the release of China economic data, with growth coming in line at 7.8% for the third quarter supported by strong domestic and foreign demand. The GDP data continues to place China on path to achieve the government annual growth forecast of 7.5% though the uncertainty of whether or not the current recovery is sustainable continues to be debated.China Stats Bureau (NBS) said China economy had good momentum in Jan-Sept; domestic economy is generally stable . Other China official data were within expectations with industrial production up 10.2% from the prior year, and retail data easing slightly to 13.3% on the year missing expectations by 0.2%. The Shanghai Composite is up .6 % on the economic news.
China yesterday welcomed the resolution of the US debt ceiling deadlock, saying it will contribute to global economic stability, but Xinhua poured scorn on Washington's politicians."The US is the largest economy in the world and the proper resolution of this issue serves not only its own interest but also world economic stability and development," Foreign Ministry spokeswoman Hua Chunying said during a regular press briefing.Her comments came as Xinhua said in a bylined commentary that despite the deal, "such move of passing a transient bill was no more than prolonging the fuse of the US debt bomb one inch longer".
The estimated 2.9 million people in modern slavery in China "includes the forced labour of men, women and children in many parts of the economy, including domestic servitude and forced begging, the sexual exploitation of women and children, and forced marriage", said a report by the Walk Free Foundation.
London has given the thumbs-up to the newly launched free trade zone in Shanghai with promises of investment and strengthening of business ties."London and Shanghai are twin cities, both with a huge river and huge financial sector united by our dedication to free trade, openness, and an international approach for businesses," London Mayor Boris Johnson told a forum in Shanghai yesterday.The establishment of Shanghai's free trade zone last month was the most exciting reform that will benefit bilateral exchange, senior London officials said."The free trade zone has a focus on financial services and that's where we are experts. We can work together to make it a success," Kit Malthouse, deputy mayor of London, told Shanghai Daily. "I hope it will spread to the rest of Shanghai and then the rest of China."The zone needs to maintain a high business ethics and implement a stable dispute resolution system to ensure success, he said."On meeting with Shanghai's policy-makers we agreed that the best way to develop the two cities' economy is to let businesses find partners in each other's territories," Malthouse said."You can expect a lot of British visitors, especially from London, to talk about that."
Japan PM Abe said Decided on regulatory reform for the special economic zones. Japan Econ Min Amari: Wants special zone bills  submitted to Diet soon;  Japan considers broadening scope of TPP tariff removal exceptions.
Why you don't outsource your nuclear engineering if you have an industry. Mitsubishi Heavy Industries Ltd. plans to bring a counterclaim against a U.S. utility seeking compensation for damage linked to equipment supplied by the Japanese firm.Mitsubishi Heavy sold steam generators to Southern California Edison in 2009-10, which were installed at the San Onofre nuclear power plant. After radioactive water was found leaking from the generator in 2012, the utility decided to decommission the plant.Southern California Edison has requested arbitration from the International Chamber of Commerce, seeking 4 billion dollars in damages from Mitsubishi Heavy. The Japanese company, which has retained a U.S. law firm for its defense, maintains that its liability is limited to the 137 million dollars specified in the contract. It also claims damages from Southern California Edison's inappropriate handling of the repair and reopening of the San Onofre facility, and is looking for compensation from the utility.
Toyota Motor Corp. said Thursday it is voluntarily recalling about 885,000, vehicles, mainly in North America. Of the cars subject to the recall 803,000 are in the U.S., 44,000 are in Canada, and slightly more than 10,000 are in Mexico.The automaker announced the recall to fix possible water leaks in air conditioners and airbag malfunctions. Toyota's 2012-2013 Camry, Avalon and Venza models are covered by the recall.
Kobe Steel Ltd.  announced Thursday that it will build a plant in China to make high-performance automotive steel plate as part of a joint venture with China's Anshan Iron and Steel Group Corp.This is the latest in a series of moves in China by Japan's big three steelmakers to produce high-tensile steel sheet — a strong but supple material that can withstand great strain without breaking — in cooperation with major local steel groups.China's car market is projected to grow from 19 million vehicles in 2012 to 30 million in 2020. Moreover, the amount of high-tensile steel used in each vehicle will sharply increase, from 10-20kg today, "to a level comparable to Japanese cars — which use about 70kg" as China tightens environmental regulations, says Ikuhiro Yamaguchi, Kobe Steel's executive vice president. Beijing drivers will soon be restricted to using their cars every other day during periods of heavy pollution, Chinese state media reported on Thursday.
Bank of Korea (BOK) official Kim said the BOK/Govt is studying currency integration with North Korea. Bank of Korea said domestic economy shows moderate improvement.
RBA Gov Stevens said US shutdown effect will not likely linger; debt debate in the US risked big hit to the US economy.
Philippine Central Bank Gov Tetangco: sees market volatility to continue as markets looking for durable solution.
(CN) CHINA Q3 REAL GDP Q/Q: 2.2% V 2.1%E; Y/Y: 7.8% V 7.8%E; YTD Y/Y: 7.7% V 7.7%E – financial press
(CN) CHINA SEPT INDUSTRIAL PRODUCTION Y/Y: 10.2% V 10.2%E; INDUSTRIAL PRODUCTION YTD Y/Y: 9.6% V 9.6%E
(CN) CHINA SEPT URBAN FIXED ASSETS YTD Y/Y: 20.2% V 20.3% PRIOR
(CN) CHINA SEPT RETAIL SALES Y/Y: 13.3% V 13.5%E; RETAIL SALES YTD Y/Y: 12.9% V 12.9%E
(CN) CHINA Q3 BUSINESS CLIMATE INDEX: 121.5 V 120.6 PRIOR
(JP) Japan investors bought ¥380.7B in foreign bonds last week vs sold net ¥2.22T in prior week; Foreign Investors bought ¥143.6B in Japan stocks v sold net ¥27.1B in prior week
(KR) South Korea Aug Conference Board Leading Economic Index m/m: +0.3% v 0.0% prior
(PH) Philippines Sept Overall Balance of payment (BOP): +$465M v -$318B prior
Government Bonds

1:52 AM EDT 10/18/2013

PRICE CHG
YIELD
Australia 10 Year
4/32
4.127
China 10 Year
0/32
4.160
India 10 Year
2/32
8.578
Japan 10 Year
2/32
0.624
German 10 Year
0/32
1.872
U.S. 10 Year
-1/32
2.598
Futures

1:42 AM EDT 10/18/2013

LAST
CHANGE
% CHG
Crude Oil
100.95
0.28
0.28%
Brent Crude
109.34
0.23
0.21%
Gold
1317.5
-5.5
-0.42%
-After Hours
(US) FED'S Evans: Too early to start to taper, data inconlcusive
 (US) Weekly Fed Balance Sheet Assets Week ending Oct 9th: $3.770T v $3.715T prior; M1: -$48.9B v +$29.6B prior; M2: +25.7B v +$50.4B prior
(CL) CHILE CENTRAL BANK CUTS OVERNIGHT RATE TARGET 25BPS TO 4.75% (NOT EXPECTED)
-(MX) Mexico Lower House said to have approved tax Bill
(DE) German Bundesbank's Dombret: EMU fiscal situation improved significantly; euro zone fiscal union is still a long way off
(IT) Italy PM Letta: reiterates UK must be included in the EU; sees issues with some countries regarding the banking union
GOOG: Reports Q3 $10.74 v $10.35e, R$11.92B (ex-TAC) v $11.7Be; +8.2% afterhours
CMG: Reports Q3 $2.66 v $2.77e, R$827M v $818Me; raises FY13 SSS guidance to up in mid single-digit; +5.3% afterhours
ISRG: Reports Q3 $3.99 v $3.38e, R$499M v $527Me; Guides FY13 Rev in lower end of prior "flat to +7%" range; -6.1% afterhours
AMD: Reports Q3 $0.06 v $0.02e, R$1.46B v $1.42Be; -6.6% afterhours
WDFC: Reports Q4 $0.53 v $0.45e, R$93.5M v $90.1Me; +4.1% afterhours
COF: Reports Q3 $1.86 v $1.79e, R$5.65B v $5.57Be; +1.8% afterhours
LVS: Reports Q3 $0.82 v $0.75e, R$3.57B v $3.46Be; to raise quarterly dividend 43% to $0.50 from $0.35 in Q1; +0.3% afterhours
HCA: Guides Q3 $0.79 v $0.71e, $8.46B v $8.38Be; +3.5% afterhours
BAC: Said to be considering plans to prohibit overdrafts –  +0.2% afterhours
NPD: Sept total video game sales $1.08B v $521.0M m/m, +27% y/y
Geopolitics 
 *911 Was no Surprise anymore than Pearl Harbor 
* 1.8 million year old Central Asiatic man
I really despise this when they never tell you what dating method they used. Probably K-Ar.  There is so, so much variance in dating in these methods and a lot of uncertainty and conditions you need for them to be accurate within a wide variance. Beginning to look like there was only one man and a  few apes, blowing another hole in Darwin's theory and the busy tree of evolutionary life they try and teach you. Of course this does not fit in with what Mitochondrial DNA studies have shown either. They never find more than one it ever seems. But of course of ancient snakes and other life forms they always get dozens of specimens often in the same area. To quote Dr. Ed Teller 'how man really got here from a scientific perspective is still the greatest mystery in science'. It will send these clown Darwinian biologists back to revise their cartoons. Maybe the first Jew, eh. Too bad the nose is not intact. It does look like it was enormous though.
*Michael Jackson's imported English Witch dies on her own call
Well he knew where to go for satan's prophets did he not? The 666 pose of Rothschilds and Prince Charles Team England!!
http://www.dailymail.co.uk/news/article-2464718/Michael-Jacksons-personal-psychic-dies-aged-53-predicting-death.html
*Obama Opposes Supreme Court Review of NSA Surveillance
Justice Dept Says Court Lacks Jurisdiction
by Jason Ditz, October 16, 2013
The Obama Administration is fighting hard against an effort by the Electronic Privacy Information Center (EPIC) to ask the Supreme Court to weigh in on the issue of NSA surveillance of Americans' telephone calls, insisting the court lacks jurisdiction and the issue should be left to lower courts.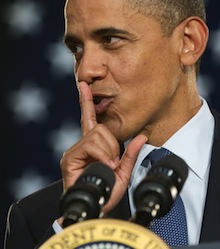 EPIC has sought (PDF) a Supreme Court answer on whether the FISA courts were exceeding their authority by ordering telephone companies like Verizon to disclose information on every single phone call made by every single customer they have.
Under US law, the Supreme Court can only issue such an extraordinary writ if the aggrieved have no other avenue available, and EPIC argues that since the Justice Department has said the lower courts don't have jurisdiction, the Supreme Court must.
The Obama Administration seems to be trying to have its cake and eat it too here, arguing that the Supreme Court also lacks jurisdiction, and that the issue should simply be allowed to "percolate" in lower courts for the time being.
Yet it clearly opposes letting those lower courts weigh in either, so the "lacks jurisdiction" argument in this case seems simply to be an effort to stall for time. Moreover, the argument that EPIC can't prove its members were targeted by the FISA order because the FISA court limits access to the data collected seems to be made in extremely bad faith, since it has already been established that the NSA is collecting data on literally everybody with a telephone.
| | |
| --- | --- |
| | Updated October 17, 2013 – 7:12 PM EDT |