-Headliners
-"The poor man starves while they are grassing their royal mountain stags or shooting peasants and partridges in their purblind pomp of pelf and power"
James Joyce
-Bibi Vows Israel to attack Iran Alone if USA/NATO won't
-ECB Holds
-ESM Regling Brags he has 'intervention capacity'  left to hold Italy and Spain up (probably a lie)
-Berlusconi regroups, decides to back Letta in today's confidence vote after defections
- President Obama reiterated no negotiation over debt ceiling and urged Republicans to reopen US govt
- Asia Development Bank (ADB) cuts Asia GDP growth forecasts for 2013 and 2014 (China, India and Developing countries in region)
- US Treasury Sec Lew: now using the final extraordinary debt measures; reiterates measures will not last beyond Oct 17th
-ADP data misses in Sept, August revised lower. No NFP on Friday due to Shut down
Markets 
-The Jews latest Scam- $1000 Jeans
They don't call our people 'cattle' for nothing.
http://www.dailymail.co.uk/femail/article-2442106/Custom-jeans-offered-denim-labels.html
-The American Anglosaxon
Great example to this country you WASPs are. Shame on you the American-Anglosaxons. Your women are as big of slags as the English girls.
Not afraid to fly the flag of England is she? Same flag as Satan's. Tells you a lot about the Anglosaxon tribe. They are Satanists!! She was committed shortly after this photo. Complete Demonic animation.
http://www.dailymail.co.uk/tvshowbiz/article-2441255/Britney-Spears-Work-B—singer-dons-leather-underwear-bondage-inspired-video.html
How about this latest Billionaire to be Slut Kate Upton..Boy I want a used slag like her…so classy. Anglosaxons typically can always pass for Gentiles when they are young. This is what makes them so toxic to debasing Gentile/Christian culture.
Anglosaxons, a small minority of the USA but a large part of the 'destroyer' clan
http://www.dailymail.co.uk/tvshowbiz/article-2442174/Kate-Uptons-Sport-Illustrated-cover-world-first.html#ixzz2gcf5g3qm
-Effeminate Eurotrash finally gets a useful job cleaning London Toilets
Looks queer. Should do well in London. Let's see he gets 3 degrees in 'govt' and 'govt' lets him down. Sorry Spain can't afford anymore govt employees bro. Maybe you should have taken German and engineering and you would be working. Some how I imagine you're used to your current medium.
You voted for socialism and the EU,  and you got what socialism always yields, very, very high unemployment. Well at least he will work unlike the English youth. Get rid of the gay hairdo, tats and piercings and shave and you might get  a better job.
I'm really sick of all these soft, effeminate , whining men . Join the French Foreign Legion. They are always hiring or the USA Marines.
This is a radical Marxist or one in the making.
'I demand a job in the govt telling others what to do. I got three degrees in learning to lie and telling others what to do. I demand someone support me in my marxist lifestyle. I demand the hoi polloi to shove around. I demand to be in charge of the young boys'.
Involuntary hero: Triple graduate Benjamin Serra Bosch has become the poster boy for Spain's 'Lost generation' after his post about 'cleaning s***' in London
http://www.dailymail.co.uk/news/article-2441322/Spanish-graduate-25-THREE-degrees–job-cleaning-toilets-London-cafe.html
-Summary
Gold is retaking a good chunk of the losses seen in yesterday's session. Spot gold rose from the $1,290 level seen overnight to $1,320 a up 2.6% . With the shutdown and now the disappointing ADP data, many guess there's no way the Fed can launch the taper this year, supporting gold.
The September ADP jobs data missed expectations and August's gains were revised lower to 159K from 176K. The ADP report gains added significance this week as the shutdown may likely prevent the release of September Labor Department reports, including the NFP, previously scheduled for this Friday.  In the wake of the weak data, the yield on the 10-year UST fell back below 2.6%.
President Barack Obama invited leaders from both parties to the White House on Wednesday to discuss the partial government shutdown and looming debt-limit crisis, a White House official said. The House will try to pass piecemeal spending bills to reopen slices of the federal government as the shutdown enters its second day. The Democrats would like to use a procedural maneuver – called a motion to recommit – to force a vote on a clean CR funding bill. If given the opportunity to bring that bill up, just 16 GOP members would have to join with 200 Democrats to pass the bill. Traders watching the carnage say that in a sign of jitters ahead of the debt ceiling fight, the one-to-five year CDS curve has inverted for the first time since July 2011.
There were no surprises at the ECB rate decision. The euro caught a bid and EUR/USD moved out to eight-month highs above 1.3600 after Draghi spoke, where I sold it short . Draghi reiterated that the euro exchange rate was not a policy target and repeated several times that the ECB had a wide variety of available tools to support liquidity, including another LTRO. Dollar weakness was reinforced by the disappointing ADP data and Obama administration intransigence and unwillingness to deal so far.
Italian PM Letta won a Senate confidence vote with a crushing majority after Berlusconi abandoned his bid to topple the government in a stunning turnabout. The vote was 235 in favor of the government and 70 against, far higher than the majority required of 153 senators. This result followed Berlusconi's move to abandon his plan to withdraw the PdL's support for the government. Letta's father is on the Intl BOD of GS.
Shares of Monsanto were down as much as 3% as of the first minutes of cash trading this morning after reporting a larger-than-expected quarterly loss in its Q4. The firm's FY14 outlook was also well below expectations thanks to dilution related to the acquisition of Climate Corporation, which was also announced this morning. Global Payments topped expectations in its Q1 report and added to its share buyback program, sending shares of GPN up 11%.
Pandora is up nearly 5% after disclosing solid September operating metrics, which were enhanced by the firm's decision to lift mobile usage cap. Rare-earths name Molycorp is up 9.3% after offering a positive update on its Mountain Pass project.
USA markets are down on the pre-market news but as a wire hit that Obama was calling a meeting of Congress leaders, equity markets started their upturn.
(US) MBA Mortgage Applications w/e Sept 27th: -0.4% v +5.5% prior
(US) Sept ADP Employment Change: +166K v +180Ke
(SG) Singapore Sept Purchasing Managers Index: 50.5 v 50.7e; Electronics Sector Index: 50.3 v 51.2e
(US) Sept ISM New York: 53.6 v 60.5 prior
(US) DOE Crude: +5.47M v +2Me; Gasoline: +3.5M v -0.5Me; Distillate: -1.7M v -0.5Me; Utilization: 89% v 89.3%
(BR) Brazil Aug Industrial Production M/M: 0.0% v 0.2%e; Y/Y: -1.2% v -0.6%e
(IE) Ireland Sept Live Register Monthly Change: -1.8K v -3.1K prior; Unemployment Rate: 13.3% v 13.4% prior
Poland Central Bank (NBP) leaves Base Rate unchanged at 2.50%, as expected
 ECB leaves Main Refi Rate unchanged at 0.50%, as expected
Currencies

11:42 AM EDT 10/02/2013

LAST(MID)
CHANGE
Euro (EUR/USD)
1.3594
0.0068
Yen (USD/JPY)
97.35
-0.66
Pound (GBP/USD)
1.6228
0.0031
Australia $ (AUD/USD)
0.9362
-0.0036
Swiss Franc (USD/CHF)
0.9016
-0.0040
WSJ Dollar Index
72.32
-0.26
Futures

11:32 AM EDT 10/02/2013

LAST
CHANGE
% CHG
Crude Oil
103.66
1.62
1.59%
Brent Crude
108.05
0.94
0.88%
Gold
1316.6
30.5
2.37%
Silver
21.735
0.560
2.64%
E-mini DJIA
15037
-83
-0.55%
E-mini S&P 500
1682.00
-7.50
-0.44%
Government Bonds

11:42 AM EDT 10/02/2013

PRICE CHG
YIELD
U.S. 10 Year
14/32
2.603
German 10 Year
-1/32
1.814
Japan 10 Year
4/32
0.648
-Geez, Even Letta's dad is on the BOD of GS
No wonder Berlusconi had to back off. Enrico Letta, Goldman Sachs and London's Whore and one dirty Jew. Like the Dirty Jew below. I don't think they would admit to being Zionists, so dirty money grubbing, corrupt Jew is an adequate descriptor, aka Shylocks. Italy is so controlled by Goldmans Sachs men, whom all happen to be Sephardic Jews  . Justus Jews and Anglosaxons run the EU, just like the USA!!
"Justus Jews and Anglosaxons, please. No Europeans allowed!!"
-European Royals Behind USA Freak Show of Anglosaxon and Jewish satanists
-The MEPs
-
-Obamacare Is Another Private Sector Rip-Off Of Americans
Forward this to your Congress People Today. Thanks.
Down with Obama. Down with  Obamacare. Down with anyone that voted for this looting.
Paul Craig Roberts
Infowars.com
October 2, 2013
The government of the "world's only superpower," the "exceptional," the "indispensable" country, claims to know what is best for Syria, Iraq, Afghanistan, Libya, Yemen, Pakistan, Somalia, Mali, Russia, Venezuela, Bolivia, Ecuador, Brazil, China, indeed for the entire world. However, the "indispensable" country cannot even govern itself, much less the world over which the "superpower" desires hegemony. The government of the "world's only superpower" has shut itself down.
Image: Obamacare rip-off.
The government has shut itself down, because it cannot deal with the budget deficit and mounting public debt caused by twelve years of wars, by financial deregulation that allows "banks too big to fail" to loot the taxpayers, and by the loss of jobs, GDP, and tax base that jobs offshoring forced by Wall Street caused.
The Republicans are using the fight over the limit on new public debt to block Obamacare. The Republicans are right to oppose Obamacare, but they are opposing Obamacare largely for ideological reasons when there are very good sound reasons to oppose Obamacare.
Last February 3, I posted on this website a column, "Obamacare: A Deception," written by an expert on the subject. http://www.paulcraigroberts.org/2013/02/03/obamacare-a-primer/
When Republicans for ideological reasons blocked a single-payer health system like the rest of the developed world has and, indeed, even some developing countries have, the Obama regime, needing a victory, went to the insurance companies and told them to come up with a health care plan that the insurance lobby could get passed by Congress. Obamacare was written by the private insurance industry with the goal of raising its profits with 50 million mandated new customers.
Obamacare works for the insurance companies, but not for the uninsured. The cost of using Obamacare is prohibitive for those who most need the health coverage. The cost of the premiums net of the government subsidy is large. It amounts to a substantial pay cut for people struggling to pay their bills. In addition to the premium cost, it is prohibitive for hard pressed Americans to use the policies because of the deductibles and co-pays. For the very poor, who are thrown into Medicaid systems, any assets they might have, such as a home, are subject to confiscation to cover their Medicaid bills. The only people other than the insurance companies who benefit from Obamacare are the down and out who are devoid of all assets.
This might prove to be a growing percentage of Americans. On September 19 the New York Times on the front page of the business section reported what I have reported for years: that real median family incomes in the US are where they were a quarter of a century ago. In other words, in a quarter of a century there has been no income growth for the median American family.
In 2013 payroll employment is below where it was six years ago. During 2013 most of the new jobs, barely sufficient to stay even with population growth and insufficient to recover the job loss from the recession, have been part-time jobs that do not provide any discretionary income with which to drive a consumer economy.
Obamacare has resulted in the health insurance companies, who thought that they would be living in high profits from the mandated health coverage, being outsmarted by employers, who have reduced their full-time workers to part-time in order to avoid Omamacare's requirement to provide health coverage to those employees who work 30 hours a week or more.
Employers can get away with this, because jobs are hard to find. The lack of employment opportunities results in Americans with engineering degrees working as retail sales clerks and as shelf stockers in Walmart and Home Depot. Despite the abundance of unemployed and under-employed American technical and engineering workers, the large corporations lobby Congress for more H-1B visas to bring in lowly paid foreigners with the argument that there is a shortage of qualified Americans for technical work.
As I have pointed out so many times, if there were a shortage of engineering and technical workers, salaries would be rising, not falling.
For millions of employees, Obamacare means cut hours and less take home pay plus out-of-pocket expenses to purchase an Obamacare health policy. For most people covered by Obamacare, this is a lose-lose situation.
It is also a lose-loss situation for the vast majority of the young. Most young people, unless they have jobs that provide health coverage, do without it, because the chances of the young having heart attacks, cancer, and other serious health problems is low.
Obamacare, however, requires the healthy young to pay premiums for coverage or to pay a penalty to the IRS.
In my day this might not have been a problem. However, today there are few jobs for the young that pay enough to have an independent existence. The monthly payroll jobs reports do not show well-paying jobs. The Labor Department's projections of future jobs are not jobs that pay well. For the youth, it seems that the penalty is less than the premium, so youthful penalties paid out of waitress and bartender tips will subsidize the unusable Obamacare health policies for the poor adults who are not thrown into Medicare, which confiscates their assets, if any.
Obamacare benefits only two classes of people. It benefits employers who drop their employees working hours below the hours specified for Obamacare coverage, and it benefits the insurance companies or the IRS who collect the premiums and penalties.
Many of the people who pay the premiums won't be able to use the policies because of co-pays and deductions.
The very poor with no assets might receive health care if they reside in states that accept the Medicaid provisions of Obamacare.
In 21st century America, the few people who have experienced income gains are the executives and shareholders of firms who offshored their production for US markets, Wall Street which makes bets covered by the Federal Reserve, and the military-security complex which has been enriched by the neoconservatives' wars.
Every other American has lost.
Paul Craig Roberts was Assistant Secretary of the Treasury for Economic Policy and associate editor of the Wall Street Journal. He was columnist for Business Week, Scripps Howard News Service, and Creators Syndicate. He has had many university appointments. His internet columns have attracted a worldwide following. His latest book, The Failure of Laissez Faire Capitalism and Economic Dissolution of the West is now available.
-Toasting 911- Zionist War Criminals. Terror Colony of England.
-I think I'm having a bad reaction to Bibi the 911 Perp's  Speech at the UN and Max Keiser and Alex Jones blaming the Sauds (who are Sephardic Jews) and Arabs for 911
-Judging the Goys!!
Ain't that the truth. Hate filled, racist, anti-Gentile, Anti-Constitution, Anti-Christ , Anti-American So called Supreme Court. Thanks for Obamacare you demons!!!
-
-Okay, 100 point drop, time to book some short profit on the DOW/SP
-Was it a Psyop? Nairobi Mall Deceit Abets Israeli-Western Pipeline Wars to Oust Asian Rivals
Big Oil Strikes in Kenya/South Sudan/Somalia. Israel no doubt would like to control that entire horn of africa oil belt with stooges. Its actually a fairly small area to control where the oil is the richest The Chinese pretty much have retreated to Northern Sudan, which is quite rich as well. Both England and Israeli firms are big explorers in the Southern Sudan/Kenya/Somalia. The French and American firms who had the big strikes in the 70-90s,  and who were driven out by IDF generated civil wars certainly don't have any of the business there.
http://www.globalresearch.ca/was-is-a-psyop-nairobi-mall-deceit-abets-israeli-western-pipeline-wars-to-oust-asian-rivals/5351985
-Israel's Secret Nuclear Biological and Chemical Weapons
What a hypocrite Bibi. Nasty, foul, evil Israel and its husband England and its bloody redcoats in the Pentagram.
http://www.globalresearch.ca/israels-secret-nuclear-biological-and-chemical-weapons-nbc/5352454
-Off to the races, eh, shorted more at the opening. Lets see what Jacob Jew has to throw at the market today.
-WFC/BAC back in the docket for welching on settlements
New York's top prosecutor is preparing a lawsuit against Wells Fargo & Co. WFC  over allegedly violating terms of a multibillion-dollar mortgage settlement, DealBook that could be filed as early as Wednesday morning. A spokeswoman for Wells Fargo told DealBook it had not been served with a copy of the lawsuit. The suit accuses the bank of violating the rules of a deal reached last year between five big U.S. banks and 49 state attorneys general. New York attorney general, Eric T. Schneiderman, warned both Wells Fargo and Bank of America Corp. BAC  in May that they were violating the terms of the mortgage settlement, which led to negotiations between the prosecutor's office and those two banks. The report pointed out that a move against Wells Fargo would be the first time an attorney general has sued one of the five banks that were involved in the settlement
-Investors targeting Bill Genocide-em Gates
Three of the top 20 investors in Microsoft Corp are lobbying the board to press for Bill Gates to step down as chairman of the software company he co-founded 38 years ago, according to people familiar with matter.While Microsoft Chief Executive Steve Ballmer has been under pressure for years to improve the company's performance and share price, this appears to be the first time that major shareholders are taking aim at Gates, who remains one of the most respected and influential figures in technology. Reuters
About time. He kept his college buddy whom as a Harvard Lawyer was completely unqualified to lead the company in power for 2 decades. These two were very late to the game , like 98 in thinking the internet would be a big thing and 10 years late on cell phones. Clearly they wait for the CIA/Mossad/NSA/MI6 instructions. I never got Steve Ballmer as CEO, at best he was a poor CFO. Sure turned out a lot of dog software.  Worked well for the CIA/Mossad/NSA/MI6 though. 
-I'm really amazed at how utterly worthless the New York Times is in reporting the news. Ditto with the Wall Street Journal now that the Anglo-Zionist thug Rupert Murdoch has purloined it with the proverbial bankster's line. Both are publications of extreme ethno-centricity and hate and largely propaganda. They are as damned for the lies they print as for what they don't report. Even my parrot is offended from the stench coming from their printed page.
-EU Stocks post Draghi
-GS Blowhard Draghi is up…
Introductory statement to the press conference
Mario Draghi, President of the ECB,
Vítor Constâncio, Vice-President of the ECB,
Paris, 2 October 2013
Ladies and gentlemen, the Vice-President and I are very pleased to welcome you to our press conference. I would like to thank Governor Noyer for his kind hospitality and express our special gratitude to his staff for the excellent organisation of today's meeting of the Governing Council. We will now report on the outcome of today's meeting, which was also attended by the Commission Vice-President, Mr Rehn.
Based on our regular economic and monetary analyses, we decided to keep the key ECB interest rates unchanged. Incoming information and analysis have further underpinned our previous assessment. Underlying price pressures in the euro area are expected to remain subdued over the medium term. In keeping with this picture, monetary and, in particular, credit dynamics remain subdued. Inflation expectations for the euro area continue to be firmly anchored in line with our aim of maintaining inflation rates below, but close to, 2% over the medium term. At the same time, real GDP growth in the second quarter was positive, after six quarters of negative output growth, and confidence indicators up to September confirm the expected gradual improvement in economic activity from low levels. Our monetary policy stance continues to be geared towards maintaining the degree of monetary accommodation warranted by the outlook for price stability and promoting stable money market conditions. It thereby provides support to a gradual recovery in economic activity. Looking ahead, our monetary policy stance will remain accommodative for as long as necessary, in line with the forward guidance provided in July. The Governing Council confirms that it expects the key ECB interest rates to remain at present or lower levels for an extended period of time. This expectation continues to be based on an unchanged overall subdued outlook for inflation extending into the medium term, given the broad-based weakness in the economy and subdued monetary dynamics. In the period ahead, we will monitor all incoming information on economic and monetary developments and assess any impact on the medium-term outlook for price stability. With regard to money market conditions, we will remain particularly attentive to developments which may have implications for the stance of monetary policy and are ready to consider all available instruments.
Let me now explain our assessment in greater detail, starting with the economic analysis. Following six quarters of negative output growth, euro area real GDP rose, quarter on quarter, by 0.3% in the second quarter of 2013, also supported by temporary factors related to unusually adverse weather conditions in some euro area countries earlier this year. Developments in industrial production data point to somewhat weaker growth at the beginning of the third quarter, while survey-based confidence indicators up to September have improved further from low levels, overall confirming our previous expectations of a gradual recovery in economic activity. Looking ahead, output is expected to recover at a slow pace, in particular owing to a gradual improvement in domestic demand supported by the accommodative monetary policy stance. Euro area economic activity should, in addition, benefit from a gradual strengthening of external demand for exports. Furthermore, the overall improvements in financial markets seen since last summer appear to be gradually working their way through to the real economy, as should the progress made in fiscal consolidation. In addition, real incomes have benefited recently from generally lower inflation. This being said, unemployment in the euro area remains high, and the necessary balance sheet adjustments in the public and private sectors will continue to weigh on economic activity.
The risks surrounding the economic outlook for the euro area continue to be on the downside. Developments in global money and financial market conditions and related uncertainties may have the potential to negatively affect economic conditions. Other downside risks include higher commodity prices in the context of renewed geopolitical tensions, weaker than expected global demand and slow or insufficient implementation of structural reforms in euro area countries.
According to Eurostat's flash estimate, and broadly in line with expectations, euro area annual HICP inflation decreased in September 2013 to 1.1%, from 1.3% in August. On the basis of current futures prices for energy, annual inflation rates are expected to remain at such low levels in the coming months. Taking the appropriate medium-term perspective, underlying price pressures are expected to remain subdued, reflecting the broad-based weakness in aggregate demand and the modest pace of the recovery. Medium to long-term inflation expectations continue to be firmly anchored in line with price stability.
The risks to the outlook for price developments are expected to be still broadly balanced over the medium term, with upside risks relating in particular to higher commodity prices as well as stronger than expected increases in administered prices and indirect taxes, and downside risks stemming from weaker than expected economic activity.
Turning to the monetary analysis, data for August indicate that the underlying growth of broad money (M3) and, in particular, credit remained subdued. Annual growth in M3 continued to be broadly stable at 2.3% in August, compared with 2.2% in July. Annual growth in M1 remained strong but decreased to 6.8% in August, from 7.1% in July. Net capital inflows into the euro area continued to be the main factor supporting annual M3 growth, while the annual rate of change of loans to the private sector remained weak. The annual growth rate of loans to households (adjusted for loan sales and securitisation) stood at 0.4% in August, broadly unchanged since the turn of the year. The annual rate of change of loans to non-financial corporations (adjusted for loan sales and securitisation) was -2.9% in August, compared with -2.8% in July. Weak loan dynamics for non-financial corporations continue to reflect primarily their lagged relationship with the business cycle, credit risk and the ongoing adjustment of financial and non-financial sector balance sheets.
Since the summer of 2012 substantial progress has been made in improving the funding situation of banks and, in particular, in strengthening the domestic deposit base in a number of stressed countries. In order to ensure an adequate transmission of monetary policy to the financing conditions in euro area countries, it is essential that the fragmentation of euro area credit markets declines further and that the resilience of banks is strengthened where needed. Further decisive steps to establish a banking union will help to accomplish this objective.
To sum up, the economic analysis indicates that price developments should remain in line with price stability over the medium term. A cross-check with the signals from the monetary analysis confirms this picture.
As regards fiscal policies, euro area countries should not unravel their efforts to reduce deficits and put high government debt ratios on a downward path. The draft budgetary plans that countries will now deliver for the first time under the "two-pack" regulations need to provide for sufficiently far-reaching measures to achieve the fiscal targets for 2014. Governments must also decisively strengthen efforts to implement the needed structural reforms in product and labour markets. These reforms are required not only to help countries to regain competitiveness and to rebalance within the euro area, but also to create more flexible and dynamic economies that generate sustainable economic growth and employment.
We are now at your disposal for questions.
http://www.ecb.europa.eu/press/tvservices/webcast/html/webcast_131002.en.html
-Private-sector employment gains slightly picked up in September, as employers added 166,000 jobs, Automatic Data Processing Inc. reported Wednesday. Analysts polled by MarketWatch had expected a September gain of 180,000, compared with an originally estimated increase of 176,000 in August. On Wednesday ADP revised August's gain to 159,000 (large downward revision). Some analysts use ADP's data to provide guidance on the Labor Department's employment report, which was scheduled to be released Friday and covers government jobs in addition to the private sector. However, a closed government won't release these data, and, as a result, markets may pay greater-than-usual attention to ADP's report. MW
-Italian Prime Minister  Letta has managed to survive a vote of confidence in the Senate – where his Democratic Party doesn't hold a majority. In a last-minute u-turn, Berlusconi has decided that his party would support the government after all , turning a potential showdown into a formality.
-Goldman Sachs Thug Fabrice Tourre Demands new trial
http://dealbook.nytimes.com/2013/10/01/fabrice-tourre-seeks-a-new-trial/?src=dlbksb
This guy has to be a French Jew. He has the requiste 3 kids Jews typically have. Hard to think of anyone else who can engage in a  billion dollar fraud and walk unless they are Anglosaxon-Bluebloods. He's going for his PHD in economics from University of Chicago, aka Jew U. He belongs in jail. He should at the least be banned for life from the securities industry. Granted he is a little fish. But we have to start somewhere. The man is a crass and shameless liar.
-ECB Holds
2 October 2013 – Monetary policy decisions
At today's meeting, which was held in Paris, the Governing Council of the ECB decided that the interest rate on the main refinancing operations and the interest rates on the marginal lending facility and the deposit facility will remain unchanged at 0.50%, 1.00% and 0.00% respectively.The President of the ECB will comment on the considerations underlying these decisions at a press conference starting at 2.30 p.m. CET today.
-USA Premarkets
Fitch said US debt ceiling is not itself a downgrade trigger, but a formal ratings review with potentially negative implications would be triggered if govt does not raise debt ceiling in a timely manner . US Treasury triggered the last available measures to avoid debt limit; Restates measures will be exhausted by Oct 17th; Measures include debt swap with Federal financing bank, civil service retirement and disability fund. Senate Majority Leader Reid (D-NV): Democrats open to discussions on long term fiscal situation and spending bills for the FY14; Boehner's request for budget discussions are not genuine; Democrats are prepared to enter budget discussions after the Govt reopens. President Obama is shortening his trip to Asia amid the government shutdown, canceling stops in Malaysia and the Philippines. The Press is on a full on assault to blame the Republican party for refusing to give Obama a blank check.
-Euro-trashed markets
http://www.marketwatch.com/story/euro-zone-turns-from-financial-to-political-crisis-2013-10-02
Italian Prime Minister Enrico Letta is to face a confidence vote in the Italian Senate later today. In his keynote speech, he warned that Italy would face "fatal risks" if his government were to fall, and added that going to new elections with the existing electoral law could lead to another inconclusive outcome. Meanwhile, Roberto Formigoni, a senior member of Silvio Berlusconi's party, has this morning announced that at least 25 centre-right senators will support Letta in today's confidence vote – and will then form a breakaway group in the Italian Senate. This could already be enough for Letta to survive today's vote and stay in power. Reports in the Italian media suggest Berlusconi himself is considering a U-turn and may ask all his senators to vote to support Letta's government in the confidence vote today.
Süddeutsche cites Axel Schäfer, deputy chair of the SPD's parliamentary faction as warning that until a new government is formed, Angela Merkel "no longer has the legitimacy to make decisions over fundamental questions of European policy", referring to the European Council summit on October 22, during which issues like improving the EU's competitiveness are due to be discussed. German Fin Ministry: Germany sees nearly balanced budget in 2013 with budget deficit seen at 0.2% of GDP.German car production jumped 14 percent to 515,200 vehicles in September, driven by strong demand from Asia and abroad, the country's auto industry association VDA said on Wednesday.The strong growth in production, driven by a 15 percent increase in exports to 389,000 cars, meant that output in the first three quarters of 2013 returned to the 4.1 million vehicle level from the year-ago period.
Die Welt reports that the Commission will today present a list of EU directives and legislative proposals Commission President Jose Manuel Barroso wants to withdraw or to subject to a 'fitness check'. The list has been the subject of a behind-the-scenes power struggle between Barroso and his supporters who want to reduce some of the EU's regulatory burden and other Commissioners, high ranking EU bureaucrats and MEPs keen to preserve their power.
ECB Vice-President Vítor Constâncio, who is in charge of the upcoming ECB stress test of European banks, said yesterday that he believes banks in Europe are undervalued and may in fact be better capitalized than their US counterparts.(liar). The European Commission has admitted that during an antitrust investigation into credit derivatives, some of its officials inadvertently sent some banks' confidential information to their rivals, reports Die Welt. ESM's Regling: ESM has enough intervention capacity for Italy or Spain ; 90% of ESM intervention capacity is unused.
ECB policy makers meeting in Paris today will keep the benchmark main refinancing rate unchanged at a record low of 0.5 percent, according to all 52 economists in a Bloomberg News survey. The central bank will announce its interest-rate decision at 1:45 p.m local time. and Draghi will hold a press conference 45 minutes later. The meeting is being held a day earlier than normal because of a public holiday in Germany tomorrow.
The Dutch coalition government has said it is prepared to modify its 2014 budget in order to get support from opposition parties in the Dutch Senate for its measures to find €6bn to comply with EU rules on deficits.
In an interview with Handelsblatt, the EU Budget Commissioner Janusz Lewandowski reveals that Greece will absorb 24% more of its allocated money from the EU Structural Funds in 2013 compared to what was expected in April this year.Speaking in Washington yesterday, Greek Prime Minister Antonis Samaras said that it is important that his EU partners do not "procrastinate too much for a solution" to Greece's debt problem.
Irish markets rallied yesterday after the Irish debt office announced that it would suspend any further debt auctions this year since it has already issued sufficient debt to cover the country's funding needs for next year. Issuance will start up again after the country has exited its bailout program at the end of the year.The Irish Central Bank has said it is a "serious concern" that Irish banks are holding €9.3bn in mortgage debt on their books where borrowers are over two years behind on repayments.
Rob Wainwright, the Director of Europol, has said it would be an "unmitigated disaster" if Britain were to quit the EU's police agency Europol. Ministers have "serious concerns" that proposed reforms to Europol would undermine national security by compelling Britain to share data with other countries and impair police independence (There is a move afoot in France to try Tony Blair for War Crimes and try him in the Hauge. England is seeking to not have its criminal royals/pols arrested and disengage from policing treaties, etc).
EU's Rehn said  There is a good chance Spain can most likely wrap up its financial assistance program for banks without requiring another successor program.The former trader, Javier Martin-Artajo, appears to be fighting extradition but Spanish authorities are expected to cooperate, a senior prosecutor said.
Major EU equity markets are drifting down ahead of the ECB announcement, ex Italy which is up by .5 % on the hammer down of the 10 year yield curve ahead of the vote of confidence for the Letta Govt later tonight in Italy.
(HU) Hungary July Final Trade Balance: €448.2M v €421.6M prelim
(ES) Spain Sept Net Unemployment M/M: +25.6K v +35Ke, first rise in 7 months
(EU) ECB €25M borrowed in overnight loan facility vs. €689M prior; €52.7B parked in deposit facility vs. €66.9B prior – Daily Eurosystem Liquidity Conditions
(UK) Sept PMI Construction: 58.9 v 59.5e; 5th straight month in expansion territory
(IS) Iceland Central Bank (Sedlabanki) leaves 7-day Lending Rate unchanged at 6.00%, as expected
Currencies

7:13 AM EDT 10/02/2013

LAST(MID)
CHANGE
Euro (EUR/USD)
1.3518
-0.0008
Pound (GBP/USD)
1.6200
0.0003
Swiss Franc (USD/CHF)
0.9051
-0.0004
Yen (USD/JPY)
97.47
-0.54
Australia $ (AUD/USD)
0.9350
-0.0048
WSJ Dollar Index
72.54
-0.04
Government Bonds

7:13 AM EDT 10/02/2013

PRICE CHG
YIELD
German 10 Year
2/32
1.804
France 10 Year
2/32
2.321
Italy 10 Year
16/32
4.223
Spain 10 Year
-10/32
4.222
U.K. 10 Year
1/32
2.531
U.S. 10 Year
5/32
2.637
Futures

7:03 AM EDT 10/02/2013

LAST
CHANGE
% CHG
Crude Oil
101.77
-0.27
-0.26%
Brent Crude
106.98
-0.13
-0.12%
Gold
1293.6
7.5
0.58%
-Asia
US lawmakers remain at odds over the budget as govt shutdown survives its first 24 hours without much market impact thanks to the PPT, and the rally in insurance stocks as Obamacare went into effect.
Asian equity markets are tracking the rebound in US indices with the exception of the Nikkei225, where  traders disappointed by the absence of announcement of corporate tax cut accompanying overnight confirmation of sales tax hike as well as smaller than speculated fiscal stimulus.The Nikkei is down nearly 2.2 %.
ADB cuts China and India GDP forecasts. According to the ADB, Growth in developing Asia will slow to 6.0% in 2013 from 6.1% last year before picking up slightly to 6.2% in 2014, the . Six months ago it saw the region growing 6.6% this year and 6.7% next.It cut expectations for growth in the region's two largest economies. It now sees China expanding 7.6% this year–down from a previous forecast of 8.2%–and 7.4% next year down from 8.0%–as the country shifts its economy away from investment- and export-driven growth.Industrial activity and investment in India will be constrained by poor infrastructure and delays in structural reform along with the country's fiscal and current-account deficits, the ADB said. Growth will be 4.7% in 2013–much lower than the 6.0% predicted previously–and 5.7% next year versus an earlier forecast of 6.5%.
Hang Kong returned  from holiday with a 1% rally in the Hang Seng.
Economic data out of Australia disappoints despite the upbeat RBA statement overnight/ Terms of trade showing 2nd month of deficit, with modest growth in exports overshadowed by strong rise in imports Dwelling approvals fall over 4% on the month after recent data printed record highs in Australian median home prices.
(JP) JAPAN AUG LOANS & DISCOUNTS CORP: 2.4% V 2.2% PRIOR
(JP) JAPAN SEPT MONETARY BASE Y/Y: 46.1% V 42.0% PRIOR (multi-year high)
(AU) AUSTRALIA AUG TRADE BALANCE (A$): -815M V -400ME (2nd consecutive deficit)
(AU) AUSTRALIA AUG BUILDING APPROVALS M/M: -4.7% V -0.5%E; Y/Y: 7.7% V 12.8%E
(NZ) NEW ZEALAND SEPT ANZ COMMODITY PRICE M/M: 0.9% V 0.7% PRIOR (5-month high)
Currencies

1:44 AM EDT 10/02/2013

LAST(MID)
CHANGE
Australia $ (AUD/USD)
0.9368
-0.0030
Yen (USD/JPY)
97.69
-0.32
S. Korean Won (USD/KRW)
1074.40
0.71
Chinese Yuan (USD/CNY)
6.1218
0.0003
Euro (EUR/USD)
1.3522
-0.0004
WSJ Dollar Index
72.58
0.00
Government Bonds

1:43 AM EDT 10/02/2013

PRICE CHG
YIELD
Australia 10 Year
-5/32
3.877
China 10 Year
0/32
4.070
India 10 Year
-2/32
8.733
Japan 10 Year
4/32
0.647
German 10 Year
0/32
1.810
U.S. 10 Year
2/32
2.646
Futures

1:34 AM EDT 10/02/2013

LAST
CHANGE
% CHG
Crude Oil
101.54
-0.50
-0.49%
Brent Crude
106.65
-0.46
-0.43%
Gold
1291.6
5.5
0.43%
-After Hours
(US) UST Jacob Lew sends message to House speaker Boehner; urges congress to immediately extend borrowing authority
(US) API PETROLEUM INVENTORIES: CRUDE: +4.55M (first build in 5 weeks) v +2Me; GASOLINE: +3.26M v -0.5e; DISTILLATE: -1.57M v -0.5Me
 GPN: Reports Q1 $1.00 v $0.94e, R$629.7M v $624Me; to buyback $100M in common stock (2.6% of market cap); +6.8% afterhours
ICPT: Files to sell $115M in shares for holders (approx 7.8% of market cap); -3.5% afterhours
DCTH: Receives FDA orphan drug designation for melphalan; +26.5% afterhours
KRFT: Raises quarterly dividend by 5% to $0.525/shr; -1.0% afterhours
-Geopolitics
*Joseph Stalin (real name Joseph Jewison) and his English sponsors
Red Ed Miliband opened a can of worms, and out jumped MI6 with just the smallest amount of 'truth' about the Jews and Anglosaxons that sponsored and loved Stalin.
http://www.dailymail.co.uk/debate/article-2440732/Ed-Milibands-father-Ralph-MICHAEL-BURLEIGH-Stalins-gulags-Left-wing-British-apologists.html
*Bibi's B-tch!!
Aims to 'Reassure' Israel by Threatening Iran
by Jason Ditz, September 30, 2013
Israeli Prime Minister Benjamin Netanyahu met with President Obama today, and in the interest of keeping up his pro-Israel bonafides, President Obama followed up the meeting with a statement threatening military action against Iran.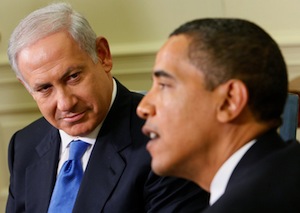 Usually that's nothing to be taken too seriously. threatening Iran is just something a good host does for Israeli officials, who are constantly harping about war with Iran. The timing makes this quite different, however.
President Obama has been just as eager to keep sabotaging international diplomacy with Iran as anybody, but having gotten dragged kicking and screaming into a diplomatic deal in Syria is now finding himself swept up in serious diplomatic efforts with Iran. Peace is seen as a major problem within Israel's ruling parties, and Netanyahu's visit was being trumpeted as an attempt to scare Obama away from the table.
Having gotten a pro forma threat out of Obama, Netanyahu is claiming victory, saying he is "reassured" by Obama's commitment to the go-nowhere status quo of the past several decades, and Israeli outlets are presenting this as Netanyahu having "got what he wanted" out of the talks.
What President Obama says, his true intentions, and what political expediency requires are three very different things, however, and just because he issued the same empty threat of war the US has punctuated its Iranian relations with for the past several decades doesn't mean Netanyahu has successfully killed the diplomatic push.
And even if President Obama sees it that way, strong support for diplomacy among the American public is going to make it hard to quietly go back to a hostile policy toward Iran just because it's what Netanyahu wants.
*Poll: 76 Percent of Americans Favor Direct Talks With Iran
A Strong Majority of Americans Has Long Favored Talks
by Jason Ditz, September 30, 2013
As President Obama backs away from last week's diplomatic overtures from Iran, thelatest CNN/ORC International Poll shows an overwhelming majority of Americans support direct talks with Iran.
The poll showed 76 percent support for diplomacy with 21 percent opposed, and strong majorities of both parties (87 percent of Democrats and 68 percent of Republicans) on the side of negotiations.
CNN Polling Director Keating Holland says the results aren't nearly the shift you'd figure, noting that a 2009 version of the poll similarly showed overwhelming pro-diplomacy sentiment.
The polling wasn't taken nearly so seriously in 2009, however, and direct talks never happened. After the American public forced the Obama Administration away from a war with Syria in the past month, however, there seems to be some recognition that the American public can change foreign policy, and in this case what they want is talks.
*Obama's Angl0-Zionist Police State not effected by Shut down
Like clockwork, we've ticked back to the annual government shutdown scare. It's always an entertaining show, with both Republicans and Democrats doing their best to one-up each other with heartbreaking anecdotes about the millions who will suffer in the event of a government shutdown and showy bravado over the need for greater fiscal stewardship, while conveniently failing to rein in two of the biggest drains on our budget – namely, the military and surveillance industrial complexes.
Indeed, the one area not impacted in the least by a government shutdown will be the police/surveillance state and its various militarized agencies, spying programs and personnel. Take a look at the programs and policies that will not be affected by a government shutdown, and you'll get a clearer sense of the government's priorities – priorities which have, as I point out in my new book, A Government of Wolves: The Emerging American Police State, little to do with serving taxpayers and everything to do with maintaining power and control, while being sold to the public under the guise of national security.
Domestic surveillance. On any given day, whether you're walking through a store, driving your car, checking email, or talking to friends and family on the phone, you can be sure that some government agency, whether the NSA or some other entity, is listening in and tracking your behavior. Police have been outfitted with a litany of surveillance gear, from license plate readers and cell phone tracking devices to biometric data recorders. Coupled with the nation's growing network of real-time surveillance cameras and facial recognition software, soon there really will be nowhere to run and nowhere to hide.
NSA domestic programs. Government shutdown or not, the National Security Agency (NSA), with its $10.8 billion black ops annual budget, will continue to spy on every person in the United States who uses a computer or phone using programs such as PRISM and XKEYSCORE. By cracking the security of all major smartphones, including iPhone, Android, and Blackberry devices, NSA agents harvest such information as contacts, text messages, and location data. And then there are the NSA agents who will continue to use and abuse their surveillance powers for personal means, to spy on girlfriends, lovers and first dates.
Global spying. The NSA's massive surveillance network will continue to span the globe and target every single person on the planet who uses a phone or a computer. The NSA's Echelon program intercepts and analyzes virtually every phone call, fax and email message sent anywhere in the world. In addition to carrying out domestic surveillance on peaceful political groups, Echelon has also been a keystone to the government's attempts at political and corporate espionage.
Roving TSA searches. If there is any absolute maxim by which the federal government seems to operate, it is that the American taxpayer always gets ripped off. Indeed, one of the greatest culprits when it comes to swindling taxpayers has been the Transportation Security Administration (TSA), with its questionable deployment of and complete mismanagement of millions of dollars' worth of airport full-body, X-ray scanners, punitive patdowns by TSA agents and thefts of travelers' valuables. Considered essential to national security, TSA programs will continue, not only in airports but at transportation hubs around the country.
Militarized police state. Thanks to federal grant programs, police forces will continue to be transformed from peace officers into heavily armed extensions of the military, complete with jackboots, helmets, shields, batons, pepper-spray, stun guns, assault rifles, body armor, miniature tanks and weaponized drones. Having been given the green light to probe, poke, pinch, taser, search, seize, strip and generally manhandle anyone they see fit in almost any circumstance, all with the general blessing of the courts, America's law enforcement officials will continue to keep the masses corralled, under control, and treated like suspects and enemies rather than citizens.
Domestic drones. The domestic use of drones will continue unabated. As mandated by Congress, there will be 30,000 drones crisscrossing the skies of America by 2020. These machines will be able to record all activities, using video feeds, heat sensors and radar. A recent Inspector General report revealed that the Dept. of Justice has already spent nearly $4 million on drones domestically, largely for use by the FBI, with grants for another $1.26 million so police departments and nonprofits can acquire their own drones.
Thus, when it comes right down to it, whether or not the shutdown takes place, it will remain business as usual in terms of the government's unceasing pursuit of greater powers and control. These issues are the backbone of an increasingly aggressive authoritarian government.
So where do we go from here? If public opposition, outright challenges, and a government shutdown don't stop or even slow down the police state, what's to be done?
Do what you must to survive. Go to work, take care of your family, pay off your debts. But when you're not doing those things, which allow you to get by day-to-day, consider the future.
Pay attention to the political structure that is being created in the shadows, the economic system that is chaining us down with debt, and the feudal, fascist society borne out of the marriage of government and big business. Avoid the propaganda mills posing as news sources. Express your outrage, loudly and tirelessly, to the government's incursions on our freedoms. Yet act locally – taking issue with any and every encroachment on your rights, no matter how minor, whether it's a ban on goat cheese or installations of red light cameras at intersections and on school buses – because reclaiming our rights from the ground up, starting locally and trickling up, remains our only hope.
Resistance may seem futile, it will be hard, and there will inevitably be a price to pay for resisting the emerging tyranny, but to the extent that you are able, RESIST.
Read more by John W. Whitehead
Insists Spying Is Perfectly Legal Under US Law
by Jason Ditz, September 30, 2013
Every new revelation of NSA surveillance is a new affront to basic privacy, and goes far further than anyone had dared to imagine. Every time, the White House is there to defend it.
So when the New York Times revealed over the weekend that the NSA has for the past 3 years been using its wholesale data collection from American citizens to construct elaborate maps of "social connections," it was only a matter of time before the White House shrugged it off as perfectly legal and reasonable.
The program is about as unreasonable as it gets, with the agency using metadata, GPS locations and voter records from ordinary Americans to figure out who is friends with who, and connecting people indirectly to others of "intelligence interest."
It's sort of a George Orwell meets six degrees of Kevin Bacon program, and is exactly the sort of obscene, grand scale privacy violation that the administration had repeatedly assured Americans the NSA would never think of doing.
But now that the cat is out of the bag, the story has changed, and White House spokesman Jay Carney, while refusing to discuss the specifics of the program, insisted that finding out who you might currently know, or conceivably meet from a friend of a friend, is a vital national security interest.
While the White House has at times expressed support for the "dialogue" ongoing with respect to the NSA's abuse of privacy, they likewise seem outraged by every new leak, saying that informing the public of just how violated they are is itself a major crime.
| | |
| --- | --- |
| | Updated October 1, 2013 – 7:22 PM EDT |