Headliners
"We certainly don't have a dog in the fight ….We should be focused on defending the United States of America. That's why young men and women sign up to join the military, not to, as you know, serve as Al Qaeda's air force."
USA Sen. Ted Cruz
-BOE holds
- BOJ maintains steady policy (as expected) with unanimous vote
-G20 Starts in Russia -Tapering/Syria War Main Topics
-French Mock Hollande as Village Idiot. Americans Mock John Kerry as Liar.
-ECB leaves Rates unchanged , ECB raises 2013 forecast to -.4 % v -.6 prior, lowers 2014 forecast to 1 % v 1.1 % prior
-EU/ESM Regling brags of 'firepower' to rig markets as AEP/London attacks bankrupt Peripheral nations

-Russia warns of Nuclear Risk in Syria Attack
-UK increases  Military Presence in USA ahead of Syria Strike
-Rabbinate Demands USA Congress Authorize Syrian War and Destruction
-Senate Foreign Relations Committee approves plan to strike Syria
-Syria War, Putin Calls John Kerry A Liar
-Russia dispatches another Ship to Med
Markets 
-German Jew Angela Kasner and English Jew David Camerons anti-EU Agenda
http://www.welt.de/wirtschaft/article119730052/Merkel-dementiert-Buendnis-gegen-Bruessel.html
-What the Kurds and their First Cousins the Jews and their 2nd Cousins the English want
Regional operator Gulf Keystone Petroleum has been involved in the discovery of the Shaikan Field, believed to hold between 8 and 13.4 billion barrels in place with appraisal of this giant (potential supergiant) on-going. Gulf Keystone Petroleum believes that Iraqi Kurdistan may hold 45 billion barrels of oil reserves  lending some credibility to Iraqi claims of 115 billion barrels reserves for the whole country. This compares with a total of 53 billion barrels of oil produced from the North Sea up to the end of 2010.
Satanic Kurdish Jew from Iran,  behind all the Bloodshed in Iran, Turkey, Iraq, Syria-Mastermind.Sephardic!
http://www.ekurd.net/mismas/articles/misc2010/8/state4111.htm
 Massoud Barzani!! Demon!!!
-Iranian intelligence sources reported Thursday that Israel and Azerbaijan had recently signed another secret accord for intelligence collaboration against Iran. The two countries agreed to open trade bureaus in Tel Aviv and Baku. The Iranians claim that the trade ties will focus on cooperation in electronic communications, internet and cell phone technology, but will in fact be the front for planting sophisticated eavesdropping devices in Azerbaijan for spying on its neighbor, Iran.
-US/ EU Summary
Shanah Tova to my many English and Jewish readers. 
Quite a bit went on today and overnight. I suppose I should begin with the USA.
In the USA…
Polls continue to show the American people are overwhelming opposed to military action in Syria and right now in the House, if a vote was held, there would be no authorization for war. AIPAC/ADL and the Rabbinate of the USA are using their political muscle  and purse to try and reverse that.The first round at the G20 summit went to Putin as China, the European Union and Pope Francis – in a letter for G20 leaders – aligned themselves more closely with Putin than with Obama over the possibility and legitimacy of armed intervention."Military action would have a negative impact on the global economy, especially on the oil price – it will cause a hike in the oil price," Chinese Vice Finance Minister Zhu Guangyao told a briefing. The Pope urged the leaders to "lay aside the futile pursuit of a military solution". He has also invited the 1.2 billion Roman Catholics and people of other faiths to join him in a day of prayer and fasting on Saturday to end the civil war. European Union leaders described the August 21 attack near Damascus, which killed an estimated 1,400 people, as "abhorrent" but added: "There is no military solution to the Syrian conflict."Only France, which is preparing to join U.S. military action, rallied behind Obama at the G20.Putin says rebel forces may have carried out the poison gas attack and that any military strike without Security Council approval would violate international law, a view which is now increasingly openly being supported by others.
The ADP report indicated private employers added 176K jobs in August, nearly matching expectations, while weekly initial jobless claims fell more than expected. The August ISM services index saw its highest reading since late 2005, while the decline in the July factory orders report was smaller than expected. Analysts were skeptical of the ISM report, and cited past cases of wild swings. The ISM is purchasing executives forecast of orders. Its pretty soft data. The all important NFP is tomorrow and will probably determine if the FED tapers next week or not.
Groupon GRPN  shares rallied more than 6% after the stock was raised to an "overweight," or buy, rating at Morgan Stanley on Thursday before declining to the 5 % range. "The turnaround in North America from the introduction of the deal bank and strength in mobile gives us increasing confidence that Groupon can stage a turnaround in [Europe, the Middle East and Africa] and execute against its sizable market opportunity," said Scott Devitt in a note. Groupon shares are up 125% so far this year. Fastenal Co. FAST   shares advanced 6 %. The company, which sells fasteners and industrial and construction supplies, reported daily sales rose 7.2% in August, slightly above estimates, according to reports.Kaydon Corp. KDN   shares leapt 23% after Sweden's AB   said it will buy the company for $35.50 a share in an all-cash deal that values Kaydon at around $1.25 billion, including debt. The purchase price represents a 22% premium to Kaydon's closing stock price on Wednesday .Conn's Inc. CONN -9.74%  shares slumped 6.7%. The company said its fiscal second-quarter profit climbed 65%, but the performance of its credit segment was below expectations. Newmont Mining Corp. NEM  shares fell 3 +%, one of the weakest components in the S&P 500 . The stock was lowered to equal weight from overweight at Barclays, investment news website 24/7 Wall St. reported. BBRY: BlackBerry Ltd. BBRY +1.92%  gained 3% after The Wall Street Journal reported that the smartphone maker plans to run a fast-sale auction process that it aims to wrap up by November. LNKD: LinkedIn Corp. L  recovered from the previous day's losses to rise 3-3 %. The professional social-networking company said it will sell $1.2 billion worth of shares in a secondary offering, with its Class A common stock priced at $223 a share.CPB: Campbell Soup Co. CPB  shares shed 2.7%, one of the weakest stocks in the S&P 500. The soup company teamed up with Green Mountain Coffee Roasters Inc. to sell chicken soup that can be brewed in Keurig coffee machines, The Wall Street Journal reported."The partnership represents GMCR's inaugural inroad into the non-beverage category and highlights the opportunity to drive attachment rate and sales growth. The renaissance of innovation unfolding at GMCR continues to drive our confidence in the long-term outlook," said Matthew DiFrisco at Lazard Capital Markets, in a report. Shares of Green Mountain edged up 0.2%. Shares of Martha Stewart Omnimedia are down more than 5% after JC Penny unexpectedly dropped the company's line of home goods, even before the courts resolved the ongoing legal battle with Macy's. Recall that this comes after JCP said earlier in August with earnings that its home business is still struggling.
 US Treasury's Brainard said Japan needs to stick to its FX pledges made at G7, US is welcoming of signs the EU recession is ending. To Whipsaw the gold markets the FED sent Moderate turned Dove Minn FED head Kercherlakota out to coo, then Hawk Fisher (non voting) to slam the money printing  in the afternoon. Gold continued to be pounded on. From as hard as gold was hit today, I surmise the jobs report won't be good tomorrow and increased my shorts.
In Europe
There were no surprises at either the BOE or ECB monthly rate decisions. EUR/USD pushed out to fresh 6-week lows around 1.3130 after ECB President Draghi said the ECB did discuss a rate cut at today's meeting. This was a given the recent run of better-than-expected data out of Europe since the July meeting. Draghi cautioned that the green shoots were fragile. I managed to catch most of the Q/A and there was the usual drivel and off the Wall Comments by the Eurotrash reporters. Only American and Irish reporters tried to nail the Weasel Draghi's Donkey tail on the wall, and the odd German. Draghi's learned to call on his female EU fan club first. The man is a complete and utter Goldman Sachs whore and disgrace. He refused to comment on the impending melt down and political scandals in Italy in particular the ones hes personally was associated with. He is the master of lies and talking out of both sides of his mouth. He had the nerve to cite the payback in the OMT money, which in reality has slowed to a trickle.
MI6′s main financial WMD, AEP lead off with a damning indictment of the EU economy. Nothing the ZGR has not covered, high inflation in Northern Europe and a Southern Europe imploding. He left out the mess in Holland and France as well as the UKs own Freddy Kruger economy based on housing and derivative bubbles. The German's responded to London Clowns looking to run peripheral CDS by sending the ESM's Regling out to brag about his firepower to rig markets. The battle today went to the Germans in propping up EU markets especially in light of a poor July for German manufacturing.
In the EU liars department today we had:  Eurogroup chief Dijsselbloem said  that the Euro Zone data was improving but Europe was not fully out of crisis; he reiterated that the Greek bailout program was broadly on track and was realistic that new Greek aid would probably be needed; Italy Econ Min Saccomanni: Europe data showed the process of an economic recovery was underway and the country seen exiting the recession. He expected GDP stabilization in 3Q but added that current political uncertainty was a negative factor; Letta said don't worry be happy about the current Italian political situation it would okay; Cameron claimed to have new intelligence Assad used Chemical WMD'Spanish Economy Minister Luis de Guindos said that "Spain will show clearly the quality of the policies implemented in the eurozone.", he said he expected an export-led recovery next year to make a "real dent" in Spain's unemployment level.
Viviane Reding, the European Commission's vice-president, has set out a plan for the EU to become the highest judicial authority safeguarding independent courts and "fundamental rights" and to intervene where there is a "rule of law crisis" in member states in a clear grab to put the Windsors-Rothschilds stuffed courts in 'charge' like they are in Israel of govts. In a speech yesterday, she called for "a very ambitious Treaty amendment" that "would open up the possibility for the Commission to bring infringement actions for violations of fundamental rights by Member States even if they are not acting in the implementation of EU law." She added, "I admit that this would be a very big federalizing step. It took the United States more than 100 years until the first ten amendments started to be applied to the states by the Supreme Court."
At a Handelsblatt event on EU banking union, Deutsche Bank co-CEO Anshu Jain said "I'm not a supporter of a [common deposit guarantee scheme] as long as the conditions are not met". On the proposed banking resolution mechanism, ECB executive board member, Jörg Asmussen, said that thinks the ECB should be the sole decision-maker on whether or not an ailing bank is wound-down. He also stressed that "the [planned] bank union is not a transfer union",  a clear lie.SPD chairman, Sigmar Gabriel, hit back at Chancellor Merkel's criticism of the SPD saying, "the German Bundestag said we don't want permanent liability of taxpayers for ailing banks…Ms Merkel agreed the exact contrary in Brussels…she is breaching German law". SPD Chancellor Candidate Peer Steinbrück warned that Merkel "is burning bridges" which might become crucial in future eurozone decisions in the Bundestag.
Italian papers report that Silvio Berlusconi has already recorded a video message where he announces his party's withdrawal from Prime Minister Enrico Letta's coalition government – but has decided not to broadcast it for now. Meanwhile, the vote in the Italian Senate's Immunities Committee on whether to expel Berlusconi from parliament following his tax fraud conviction has been delayed, and it's now unclear when it will take place.
French Prime Minister Jean-Marc Ayrault speaking in a French parliament debate on taking military action in Syria argued "It is the duty and honor of France to take full responsibility," but did not mention the possibility of a parliamentary vote.
Currencies

1:37 PM EDT 9/05/2013

LAST(MID)
CHANGE
Euro (EUR/USD)
1.3124
-0.0084
Yen (USD/JPY)
100.08
0.33
Pound (GBP/USD)
1.5592
-0.0032
Australia $ (AUD/USD)
0.9123
-0.0050
Swiss Franc (USD/CHF)
0.9446
0.0092
WSJ Dollar Index
74.72
0.37
Futures

1:27 PM EDT 9/05/2013

LAST
CHANGE
% CHG
Crude Oil
107.98
0.75
0.70%
Brent Crude
113.30
0.07
0.06%
Gold
1372.0
-18.0
-1.29%
Silver
23.275
-0.140
-0.60%
E-mini DJIA
14934
10
0.07%
E-mini S&P 500
1654.75
1.25
0.08%
Government Bonds

1:37 PM EDT 9/05/2013

PRICE CHG
YIELD
U.S. 10 Year
-22/32
2.983
German 10 Year
-27/32
2.044
Japan 10 Year
-6/32
0.776
-In light of Russia's damning evidence the FSA/Rebels/Al Qaeda were behind a March Sarin gas attack, David Cameron says he has some new cooked up Data it was the Syrian Army from MI6. Yeah, Downing Street Memo Redux eh David. Did the Mossad help you with falsified 'intercepts' like they helped John Kerry out?
-What a 50 billion barrel oil strike in 'Kurdistan' can cause
This map is not particularly accurate wrt to submarine positoning leaving off Israeli nuclear subs, Iranian  subs, and Russian nuclear subs. Just more Zionist stratfor lies. Recall the UK surfaced their latest and greatest nuclear sub of Gibraltar with the Spain-England theater the UK whipped up last week. The Americans are not the only people who can pinpoint ever sub in the med from Space anymore.
-USA econometric releases
(US) Aug Challenger Job Cuts: 50.4K v 37.7K prior; Y/Y: 56.5% v 2.3% prior
(US) Sept RBC Consumer Outlook Index: 51.1 v 49.4 prior
(US) Aug ADP Employment Change: +176K v +180Ke
(US) Q2 Final Nonfarm Productivity: 2.3% v 1.6%e; Unit Labor Costs: 0.0% v 0.9%e
(US) Initial Jobless Claims: 323K v 330Ke; Continuing Claims: 2.951M v 2.89Me
(US) July Factory Orders: -2.4% v -3.4%e
(US) Aug ISM Non-Manufacturing Composite: 58.6 v 55.0e
(US) DOE Crude: -1.84M v -0.5Me; Gasoline: -1.83M v -0.5Me; Distillate: +550K v +0.5Me
(US) Weekly EIA Natural Gas Inventories: +58 bcf v +52-58 bcf expected
(CL) Chile July Economic Activity M/M: 0.0% v 0.7%e; Y/Y: 5.3% v 6.0%e
(MX) Mexico July Leading Indicators M/M: -0.07 v -0.07 prior
(BR) Brazil Aug Vehicle Production: 340.5K v 312.3K prior; Vehicle Sales: 329.1K v 34.2K prior; Vehicle Exports: 64.1 v 52.5K prior
-Europe Closing Prices
Late Europe Releases
 BoE leaves both Interest Rates and Asset Purchase Target unchanged at 0.505 and £375B respectively, as expected
(BE) Belgium Q2 Final GDP Q/Q: 0.2% v 0.1% prelim; Y/Y: 0.0% v -0.1% prelim
(DE) Germany July Factory Orders M/M: -2.7% v -1.0%e; Y/Y: 2.0% v 2.9%e
(UK) BoE leaves both Interest Rates and Asset Purchase Target unchanged at 0.505 and £375B respectively, as expected
(RU) Russia Gold and Forex Reserve w/e Aug 30th: $510.8B v $508.1B prior
Late Asia
(MY) Malaysia Central Bank (Negara) leaves Overnight Policy Rate unchanged at 3.00%, as expected
Currencies

11:34 AM EDT 9/05/2013

LAST(MID)
CHANGE
Euro (EUR/USD)
1.3119
-0.0088
Pound (GBP/USD)
1.5589
-0.0036
Swiss Franc (USD/CHF)
0.9441
0.0087
Yen (USD/JPY)
100.03
0.28
Australia $ (AUD/USD)
0.9127
-0.0046
WSJ Dollar Index
74.71
0.36
Government Bonds

11:34 AM EDT 9/05/2013

PRICE CHG
YIELD
German 10 Year
-27/32
2.044
France 10 Year
-25/32
2.618
Italy 10 Year
-20/32
4.501
Spain 10 Year
-21/32
4.579
U.K. 10 Year
-30/32
2.823
U.S. 10 Year
-21/32
2.982
Futures

11:24 AM EDT 9/05/2013

LAST
CHANGE
% CHG
Crude Oil
108.41
1.19
1.11%
Brent Crude
113.72
0.49
0.43%
Gold
1367.2
-22.8
-1.64%
-Iran Can Take out USN fleet in Med
Could be that is what Rockfeller/Rothschilds/Windsors want to start WW3. England is not studying where all the German-American and English Americans live by chance. Look for London to instruct the Chinacom to take out the 'patriot' area of America where the Irish and German Americans live and to leave the Jew/Anglosaxon regions alone.
http://www.youtube.com/watch?v=V1TTQWhN1-Q
-The Redcoats
Pool / Reuters
U.S. Secretary of State John Kerry (R) is greeted by U.S. Ambassador Louis Susman, upon his arrival for his first official trip overseas as Secretary, at the Stansted Airport, east of London, February 24, 2013.
-The Patriots!
- USA August ISM services index jumps to 58.6% from 56%
-G20 Meeting Photo Montage..
http://www.dailymail.co.uk/news/article-2412063/Syria-crisis-Russia-changes-G20-seating-plan-Putin-away-Obama.html
-Matt Drudge Takes Downs John Kerry's lie that Syrian Rebels are Moderate..
http://www.nytimes.com/2013/09/05/world/middleeast/brutality-of-syrian-rebels-pose-dilemma-in-west.html?hp&_r=0
The Rabbis want all the Chrisitans murdered. Don't be part of it, call you Senator and Congress person and say no to the Syrian war.
The Zionist Jew, John Kerry's best friends..
Syria rebels 'beheaded a Christian and fed him to the dogs' as fears grow over Islamist atrocities
Christian Andrei Arbashe, 38, was kidnapped and beheaded by rebel fighters in northern town of Ras Al-Ayn on the Turkish border

News came as pro-government forces celebrated their victory against rebels near Aleppo Airport
http://www.dailymail.co.uk/news/article-2255103/Syria-rebels-beheaded-Christian-fed-dogs-fears-grow-Islamist-atrocities.html
-GOOG defends right to spy
SAN JOSE, Calif. (AP) — Google's attorneys say their long-running practice of electronically scanning the contents of people's Gmail accounts to help sell ads is legal, and are asking a federal judge to dismiss a lawsuit that seeks to stop the practice.In court records filed in advance of a federal hearing scheduled for Thursday in San Jose, Google argues that "all users of email must necessarily expect that their emails will be subject to automated processing."The class action lawsuit, filed in May, says Google "unlawfully opens up, reads, and acquires the content of people's private email messages" in violation of California's privacy laws and federal wiretapping statutes. The lawsuit notes that the company even scans messages sent to any of the 425 million active Gmail users from non-Gmail users who never agreed to the company's terms.
-Whip Count in House of Reps not looking Good for Obama/England and its hoard of Rabbi/Terrorists and their camp followers..
http://thinkprogress.org/politics/2013/09/02/2561371/congress-support-military-action-syria-thinkprogress-whip-count/
-Anglomason, High Level EPA Crooked nabbed. This guy was in Charge of USA Radnet- Rockefellers EPA Crooks nabbed!!
It is unclear whether Beale has the ability to repay the government. Property records show that Beale bought his 4,100-square-foot townhouse near Marymount University in 1996 for $536,000. His wife, Nancy Kete, is a managing director at the Rockefeller Foundation and previously worked for the EPA, according to her biography on the foundation's Web site….
http://www.washingtonpost.com/national/health-science/former-senior-epa-adviser-beale-expected-to-plead-guilty-in-900000-pay-fraud/2013/09/04/6a5ce06c-1574-11e3-be6e-dc6ae8a5b3a8_story.html
Probably was working for the CIA, rockefellers own private branch of it! Probably gave the order to shut the USA radnet down to Bush family pal for Fukushima
More EPA WASP abuse of power and ..as small mining camp invaded by EPA 'SWAT' Team
The task force is made up of members of the EPA, the FBI, Coast Guard, Department of Defense, the Alaska Department of Public Safety and the DEC. The chief investigator, Matt Goers, said he could not discuss the details of the recent Fortymile River investigations. So far, no charges, state or federal, have resulted from the group's work last month.
http://www.alaskadispatch.com/article/20130903/gold-miners-near-chicken-cry-foul-over-heavy-handed-epa-raids
WASPs!!!
-USA
9:48 AM EDT 9/05/2013

LAST
CHANGE
% CHG
 
DJIA
14981.44
50.57
0.34%
Nasdaq
3664.27
15.22
0.42%
S&P 500
1658.66
5.58
0.34%
Russell 2000
1027.05
1.47
0.14%
-Europe Econ Releases
 ESM's Regling: ESM/EFSF has lots of firepower if needed
PRESS RELEASE
5 September 2013 – Monetary policy decisions
At today's meeting the Governing Council of the ECB decided that the interest rate on the main refinancing operations and the interest rates on the marginal lending facility and the deposit facility will remain unchanged at 0.50%, 1.00% and 0.00% respectively. The President of the ECB will comment on the considerations underlying these decisions at a press conference starting at 2.30 p.m. CET today.
Draghi Statement at Conference Call
Mario Draghi, President of the ECB,
Frankfurt am Main, 5 September 2013
Ladies and gentlemen, I am very pleased to welcome you to our press conference. I will now report on the outcome of today's meeting of the Governing Council.
Based on our regular economic and monetary analyses, we decided to keep the  key ECB interest rates unchanged. Incoming information and analysis have further underpinned our previous assessment. Underlying price pressures in the euro area are expected to remain subdued over the medium term. In keeping with this picture, monetary and, in particular, credit dynamics remain subdued. Inflation expectations for the euro area continue to be firmly anchored in line with our aim of maintaining inflation rates below, but close to, 2% over the medium term. At the same time, real GDP growth in the second quarter was positive, after six quarters of negative output growth, and confidence indicators up to August confirm the expected gradual improvement in economic activity from low levels. Our monetary policy stance continues to be geared towards maintaining the degree of monetary accommodation warranted by the outlook for price stability and promoting stable money market conditions. It thereby provides support to a gradual recovery in economic activity. Looking ahead, our monetary policy stance will remain accommodative for as long as necessary, in line with the forward guidance provided in July. The Governing Council confirms that it expects the key ECB interest rates to remain at present or lower levels for an extended period of time. This expectation continues to be based on an unchanged overall subdued outlook for inflation extending into the medium term, given the broad-based weakness in the economy and subdued monetary dynamics. In the period ahead, we will monitor all incoming information on economic and monetary developments and assess any impact on the medium-term outlook for price stability. With regard to money market conditions, these have also been influenced by a gradual reduction in excess liquidity. Repayments of funds taken up in the context of the three-year longer-term refinancing operations reflect improvements in financial market confidence, some reduction in financial market fragmentation and the ongoing deleveraging by euro area banks. We will remain particularly attentive to the implications that these developments may have for the stance of monetary policy.
Let me now explain our assessment in greater detail, starting with the economic analysis. Following six quarters of negative output growth, euro area real GDP rose, quarter on quarter, by 0.3% in the second quarter of 2013. This increase is partly explained by transitory effects related to weather conditions in the first half of this year. Since then, survey-based confidence indicators up to August have improved further from low levels, overall confirming our previous expectations of a gradual recovery in economic activity. Looking ahead to the remainder of the year and to 2014, in line with our baseline scenario, output is expected to recover at a slow pace, in particular owing to a gradual improvement in domestic demand supported by the accommodative monetary policy stance. Euro area economic activity should, in addition, benefit from a gradual strengthening of external demand for exports. Furthermore, the overall improvements in financial markets seen since last summer appear to be gradually working their way through to the real economy, as should the progress made in fiscal consolidation. In addition, real incomes have benefited recently from generally lower inflation. This being said, unemployment in the euro area remains high, and the necessary balance sheet adjustments in the public and private sectors will continue to weigh on economic activity.
This assessment is also reflected in the September 2013 ECB staff macroeconomic projections for the euro area, which foresee annual real GDP declining by 0.4% in 2013 and increasing by 1.0% in 2014. Compared with the June 2013 Eurosystem staff macroeconomic projections, the projection for 2013 has been revised upwards by 0.2 percentage point, largely reflecting incoming data. For 2014 there has been a downward revision of 0.1 percentage point.
The risks surrounding the economic outlook for the euro area continue to be on the downside. Recent developments in global money and financial market conditions and related uncertainties may have the potential to negatively affect economic conditions. Other downside risks include higher commodity prices in the context of renewed geopolitical tensions, weaker than expected global demand and slow or insufficient implementation of structural reforms in euro area countries.
According to Eurostat's flash estimate, as expected, euro area annual HICP inflation was 1.3% in August 2013, down from 1.6% in June and July. On the basis of current assumptions for energy and exchange rate developments, annual inflation rates are expected to remain low in the coming months, owing in particular to energy price developments. Taking the appropriate medium-term perspective, underlying price pressures are expected to remain subdued, reflecting the broad-based weakness in aggregate demand and the modest pace of the recovery. Medium to long-term inflation expectations continue to be firmly anchored in line with price stability.
This assessment is also reflected in the September 2013 ECB staff macroeconomic projections for the euro area, which foresee annual HICP inflation at 1.5% in 2013 and 1.3% in 2014. In comparison with the June 2013 Eurosystem staff macroeconomic projections, the projection for inflation for 2013 has been revised upwards by 0.1 percentage point, while the projection for 2014 remains unchanged.
The risks to the outlook for price developments are expected to be still broadly balanced over the medium term, with upside risks relating in particular to higher commodity prices as well as stronger than expected increases in administered prices and indirect taxes, and downside risks stemming from weaker than expected economic activity.
Turning to the monetary analysis, data for July confirm that underlying broad money (M3) and, in particular, credit growth remained subdued. Annual growth in M3 decreased further in July to 2.2%, from 2.4% in June. Annual growth in M1 remained strong but decreased to 7.1% in July, from 7.5% in June. M3 growth continued to be mainly supported by net capital inflows into the euro area, while the annual rate of change of loans to the private sector weakened further. The annual growth rate of loans to households (adjusted for loan sales and securitisation) remained at 0.3% in July, broadly unchanged since the turn of the year. The annual rate of change of loans to non-financial corporations (adjusted for loan sales and securitisation) was -2.8% in July, compared with -2.3% in June. Weak loan dynamics continue to reflect primarily the current stage of the business cycle, heightened credit risk and the ongoing adjustment of financial and non-financial sector balance sheets.
Since the summer of 2012 substantial progress has been made in improving the funding situation of banks and, in particular, in strengthening the domestic deposit base in a number of stressed countries. In order to ensure an adequate transmission of monetary policy to the financing conditions in euro area countries, it is essential that the fragmentation of euro area credit markets declines further and that the resilience of banks is strengthened where needed. Further decisive steps to establish a banking union will help to accomplish this objective.
To sum up, the economic analysis indicates that price developments should remain in line with price stability over the medium term. A  cross-check with the signals from the monetary analysis confirms this picture.
In order to further reduce imbalances and to foster competitiveness, growth and job creation, euro area countries need to continue with their reform agenda. As regards fiscal policies, governments should not unravel their efforts to reduce deficits and put debt ratios on a downward path. The composition of fiscal consolidation should be geared towards growth-friendly measures which have a medium-term perspective and combine improving the quality and efficiency of public services with minimising distortionary effects of taxation. In terms of economic policies, product market reforms to increase competitiveness will facilitate the creation of new businesses, support the tradable goods sector and foster job creation, while high unemployment rates require decisive structural reforms to reduce rigidities in labour markets and to increase labour demand.
I am now at your disposal for questions.
——————
(FR) France Q2 ILO Unemployment Rate: 10.9% v 10.9%e (13-year high); Mainland Unemployment Rate: 10.5% v 10.6%e
(FI) Finland Q2 GDP Q/Q: 0.2% v 0.3%e (emerges from recession); Y/Y: -1.2% v -0.5%e
(CZ) Czech July Trade Balance (CZK): 28.2B v 28.5Be
(SE) Sweden Central Bank (Riksbank) left its Repo Rate unchanged at 1.00% and maintained its rate path (as expected)
(SE) Sweden July Service Production M/M: -0.2% v +0.4%e; Y/Y: -0.2% v +1.6%e
(NL) Netherlands Aug CPI M/M: -0.1% v +0.8% prior; Y/Y: 2.8% v 3.0%e
(NL) Netherlands Aug CPI EU Harmonized M/M: -0.2% v -0.1%e; Y/Y: 2.8% v 3.0%e
(UK) Aug New Car Registrations Y/Y: 10.9% v 12.7% prior
(UK) Aug Lloyds Employment Confidence: -22 v -22 prior
(IS) Iceland Aug Preliminary Trade Balance (ISK): 4.4B v 4.5B prior
(CY) Cyprus Aug CPI M/M: -0.1% v -1.5% prior; Y/Y: -0.9% v -0.3% prior
Credit Markets
(EU) ECB €57M borrowed in overnight loan facility vs. €140M prior; €86.0B parked in deposit facility vs. €86.5B prior – Daily Eurosystem Liquidity Conditions
 (ES) Spain Debt Agency (Tesoso) sold total €4.01B vs. €3.0-4.0B indicated range in 2018 and 2023 bonds
Sold €1.569B in 3.75% 2018 Bono; Avg yield 3.477% v 3.561% prior; Bid-to-cover: 2.62x v 1.74x prior; Maximum Yield 3.504% v 3.589% prior; Tail: 2.7bps v 2.8bps prior
Sold €2.412B in 4.40% 2023 bond; Avg Yield: 4.503% v 4.723% prior; Bid-to-cover: 1.98x v 2.26x prior; Max Yield: 4.526% v 4.758% prior; Tail: 2.3bps v 3.5bps
(FR) France Debt Agency (AFT) sold total €8.385B vs. €7.5-8.5B indicated range in 2021, 2023, and 2045 Oats
Sold €2.485B in 3.25% Oct 2021 OAT, Avg Yield 2.17% v 1.42% prior; Bid-to-cover: 2.04x v 2.5x prior
Sold €4.24B in 1.75% May 2023 Oat; Avg Yield 2.57% v 2.32% prior; Bid-to-cover: 1.92x v 1.70x prior
Sold €1.66B 3.25% 2045 Oats; Avg Yield 3.60%; Bid-to-cover: 2.28x v x prior
(HU) Hungary Debt Agency (AKK) sold total HUF39.5B vs. HUF37B indicated in 2016, 2018 and 2013 Bonds
(PL) Poland sold total PLN5.71B vs. PLN5.0-7.0B indicated range in 2015 and 2018 Bonds
Currencies

9:49 AM EDT 9/05/2013

LAST(MID)
CHANGE
Euro (EUR/USD)
1.3167
-0.0041
Pound (GBP/USD)
1.5625
0.0001
Swiss Franc (USD/CHF)
0.9405
0.0051
Yen (USD/JPY)
99.83
0.07
Australia $ (AUD/USD)
0.9153
-0.0021
WSJ Dollar Index
74.50
0.15
Government Bonds

9:49 AM EDT 9/05/2013

PRICE CHG
YIELD
German 10 Year
-26/32
2.037
France 10 Year
-27/32
2.627
Italy 10 Year
-25/32
4.525
Spain 10 Year
-30/32
4.616
U.K. 10 Year
-24/32
2.798
U.S. 10 Year
-12/32
2.947
Futures

9:39 AM EDT 9/05/2013

LAST
CHANGE
% CHG
Crude Oil
107.99
0.76
0.71%
Brent Crude
113.67
0.44
0.39%
Gold
1390.4
0.4
- BOJ Gov Kuroda post rate decision press conference noted that the sales tax increase would not derail recovery or damage inflation path; no need to alter policy at this time. He noted that Japan could deal with weaker growth caused by sales tax hike and was ready to act with fiscal policy if hike threatened recovery.
-The number of Americans who applied for new unemployment benefits dropped by 9,000 to 323,000 in the week ended Aug. 31, keeping initial claims near a five-and-a-half year low. Economists surveyed by MarketWatch had expected claims to fall to 330,000 on a seasonally adjusted basis. The average of new claims over the past month, a more reliable gauge than the volatile weekly number, fell by 3,000 to 328,500, the U.S. Labor Department said Thursday. That's the lowest level since October 2007. Also, the government said continuing claims decreased by 43,000 to a seasonally adjusted 2.95 million in the week ended Aug. 24. Continuing claims reflect the number of people already receiving benefits. Initial claims from two weeks ago, meanwhile, were revised up to 332,000 from an original reading of 331,000, based on more complete data collected at the state level.
-Private-sector employment growth slowed down in August, as employers added 176,000 jobs, Automatic Data Processing Inc. reported Thursday. Analysts polled by MarketWatch had expected an August gain of 185,000, compared with an originally estimated increase of 200,000 in July. On Thursday ADP revised July's gain to 198,000. Markets look to ADP's report on private-sector payrolls to provide some guidance on the U.S. Department of Labor's jobs estimate, which will be released Friday and includes information on both private- and public-sector payrolls. Economists expect the government to report Friday that nonfarm-payroll employment expanded by 170,000 in August, slightly higher than July's gain of 162,00
- Russia is warning that a U.S. strike on Syria's atomic facilities might result in a nuclear catastrophe and is urging the U.N. to present a risk analysis of such a scenario.The warning comes from Russia's Foreign Ministry spokesman, Alexander Lukashevich. He said in a statement Wednesday that a strike on a miniature reactor near Damascus or other nuclear installations could contaminate the region with radioactivity, adding: "The consequences could be catastrophic."IAEA spokeswoman Gill Tudor told the AP in an email Thursday that her agency is ready to "consider the questions raised" by Lukashevich if it receives a formal request to do so from Moscow.Russia's Interfax news agency says that Moscow intends to bring up the issue at next week's 35-nation IAEA board meeting.
http://www.dailystar.com.lb/News/Middle-East/2013/Sep-05/230083-russia-strike-on-syria-could-mean-nuke-
-Germany's Hidden and Neglected Poor
http://www.sfgate.com/news/world/article/Hidden-by-glowing-stats-Germany-s-poor-struggle-4788172.php
-Obama Making his Joseph Jewison (Stalin) moves
A federal court in Dallas, Texas has imposed a gag order on the jailed activist-journalist Barrett Brown and his legal team that prevents them from talking to the media about his prosecution in which he faces up to 100 years in prison for alleged offences relating to his work exposing online surveillance.The court order, imposed by the district court for the northern district of Texas at the request of the US government, prohibits the defendant and his defence team, as well as prosecutors, from making "any statement to members of any television, radio, newspaper, magazine, internet(including, but not limited to, bloggers), or other media organization about this case, other than matters of public interest."It goes on to warn Brown and his lawyers that "no person covered by this order shall circumvent its effect by actions that indirectly, but deliberately, bring about a violation of this order". Guardian
-"We certainly don't have a dog in the fight ….We should be focused on defending the United States of America. That's why young men and women sign up to join the military, not to, as you know, serve as Al Qaeda's air force."
USA Sen. Ted Cruz
-The Redcoats have landed in the USA, (again)
http://www.independent.co.uk/news/world/americas/raf-chinook-helicopter-makes-emergency-landing-in-us-7627207.html
-(UN) Ban : Strike on Syria without UN approval would be 'unlawful'.
Leaving Kerry/Hagel/Obama open for War Crime trials at a future date.
-Iran President Hassan Rouhani said Wednesday that Tehran will keep supporting Damascus,  condemning any military action against any of the countries in the region, especially Syria.Rouhani stressed that Syria security and stability are important for the Islamic Republic and that any strike against Damascus will harm the whole region, mainly the US allies. "Strengthening terrorism in the Middle East is one of the problems that the West caused," Rouhani stated, highlighting that coping with terrorism and opposing foreign intervention are main items in the Iranian  government program.

-Iran's Military head: "We are on the threshold of a strategic turning point regarding the fate of this region and more generally [the future of] the Muslim world"
-Russian Navy Say they are ready for USA Navy
http://www.almanar.com.lb/english/adetails.php?eid=109107&cid=22&fromval=1&frid=22&seccatid=45&s1=1
-Libya Moves On into Lawlessness and Destruction
http://www.independent.co.uk/news/world/africa/special-report-we-all-thought-libya-had-moved-on–it-has-but-into-lawlessness-and-ruin-8797041.html
The Rabbis well know millions will die if the USA hits Syria in the genocides in the aftermath, including all the Christians. Among America's greatest enemies are the Rabbinat. The Mullahs seem sane compared to the Jew's Priests. May the blood shed in Syria be upon the Rabbi's  families and children forever, and may they be cut off from the face of the earth.
-Rabbis Demand Congress Strike Syria (and Destroy it)
Terrorists and war criminals.
-Triple shocks threaten Europe's sickly and deformed recovery
http://www.telegraph.co.uk/finance/comment/ambroseevans_pritchard/10287488/Triple-shocks-threaten-Europes-sickly-and-deformed-recovery.html
-St Petersburg, RUSSIA – The countries like China and Russia should use the G20 gathering as an opportunity to convince the US to give up the idea of attacking Syria because any scale of military operation is "absolutely wrong," said a famous Russia academia.Sergei Sutyrin, head of the Department of World Economy of St Petersburg State University, said it should be a "great mistake" if the leaders will not act to stop US President Barack Obama's idea of military attack at the two-day summit, which starts in the professor's city from Thursday afternoon."Of course, G20 is not designed to address this type of problems. Nevertheless, since the situation is really on the edge and burning and it (military strike) is not an option from my point of view," Sutyrin said during an exclusive interview with China Daily.He raised the point against the background that Obama may not hold bilateral talk with his Russian counterpart during the G20 summit.Sutyrin said China and Russia should take the lead to rally other G20 countries, which are against the attack, to convince Obama, who is also expected to rally support to fight against Syria at the event.The US has accused the Syrian government of using chemical weapons to kill its people and Obama has strongly proposed to attack the country. Sutyrin said there should be no reason or no positive outcome of that attack, even in rather limited scale, against Syria. He warned: "The result of any attack would be traumatic and tragic and this would move our world into a very, very shaky situation and the conflict might expand around the Middle East further."
-Anglo-Zionists of London Knew in 2012 It would take 75,000 troops to invade Syria
Senate Foreign Relations Committee Chairman Bob Menendez and ranking Republican Bob Corker co-authored a war powers resolution whose guarantee of no ground troops could be quickly discarded. Menendez is a Sephardic Jew, Corker a WASP.
Read more: http://www.dailymail.co.uk/news/article-2411885/Syrias-chemical-weapons-Pentagon-knew-2012-75-000-ground-troops-secure-facilities.html#ixzz2e0SzoGAL
-Russia is sending a missile cruiser to the east Mediterranean to take over the navy's operations in the region, state agency Interfax quoted a military source as saying on Wednesday, as the United States prepares for a possible military strike in Syria.The ship, Moskva, will take over operations from a naval unit in the region that Moscow says is needed to protect national interests. It will be joined by a destroyer from Russia's Baltic Fleet and a frigate from the Black Sea Fleet."The Cruiser Moskva is heading to the Gibraltar Straits. In approximately 10 days it will enter the east Mediterranean, where it will take over as the flagship of the naval task force," the source said.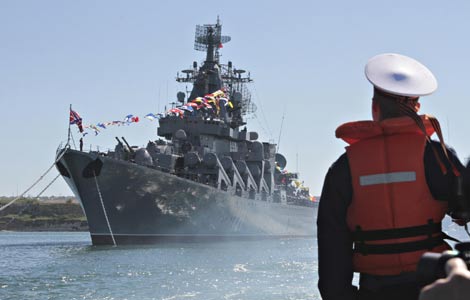 -Asia
US equity markets end trading day near the highs for the day, undeterred by the upbeat FED Beige Book noting moderate growth in most districts.

The BOJ affirms annual monetary base increase of Y60-70T; Raises economic assessment following last month's pause to "economy recovering moderately;" ;upgrades assessment for business investment ("starting to pick up") ; adds that it sees improvement in employment and income situation, while also acknowledging accelerating pace of inflation. JPM pushed the JPY down as their FX strategist said THE JPY may weaken if BOJ Gov Kuroda hints of further easing in the event of economic disruption from higher sales tax.Japan Business Federation (Keidanren) officials said to have held talks ahead of the annual wage negotiations with labor leaders about base pay hike.Japan ruling LDP party's tax panel to start deliberations on lowering corporate tax rates in October; New rates may be implemented in FY14/15. Tokyo stocks edged up Thursday, with the Nikkei Stock Average rising 10 points, or 0.08%, to end the day at 14,064, its highest close in about a month.Stronger economic sentiment overseas and the dollar's rise versus the yen fueled buying. At one point, the benchmark index came under selling pressure as investors locked in gains, sending the index into negative territory. However, investors began buying back exporter issues when the yen fell to a one-month low around 2 p.m local time.
PBOC's Research Head Ji Zhihong: China rebound not only the result of policy aid, but also "internal dynamics". PBOC official Sheng: It is the appropriate time to open Yuan-denominated capital account. Chinese Premier Li Keqiang will attend the Summer Davos Forum in China next week, Foreign Ministry Spokesman Hong Lei announced Thursday.China's benchmark Shanghai Composite Index on the Shanghai Stock Exchange closed at 2,122.43 points on Thursday, down 5.19 points, or 0.24 percent.A Share Index: 2,221.82 points, down 5.4 points, or 0.24 percent;B Share Index: 241.46 points, down 1.31 points, or 0.54 percent;Total Turnover: 105.78 billion yuan (17.14 billion U.S. dollars).
Australia posts its first trade deficit in 5 months but analysts point to rising imports and a decline in the volatile gold exports as the silver lining of the July report. Exports to China fall 1.6%, but iron ore exports rise 5.5% m/m.
Incoming India Central Bank (RBI) Gov Rajan statement: Economy faces challenges; To set up panel to strengthen monetary policy; To allow foreign banks to set up branches without seeking approval.
Bank of Korea (BOK) Dir-Gen Jung: South Korea economy is accelerating on exports. Philippine Central Bank Gov Tetangco: Has policy room to mitigate potential impact from geopolitical concerns.
 (JP) BANK OF JAPAN (BOJ) POLICY STATEMENT: REITERATES TO INCREASE MONETARY BASE AT ANNUAL PACE OF ¥60-70T; RAISES ECONOMIC ASSESSMENT IN SEPTEMBER (first rise in 2 months)
 (JP) Japan investors sold net ¥530.9B in Foreign Bonds last week vs sold net ¥318.5B prior week (3rd consecutive week of net sales); Foreign Investors sold net ¥175.0B in Japan stocks last week vs sold net ¥89.5B in prior week
 (AU) AUSTRALIA JUL TRADE BALANCE (A$): -765M V +100ME (1st deficit in 5 months); Imports m/m: +4.0% v -2% prior; Exports m/m: 0.0% v -1% prior
(NZ) New Zealand Aug Total Car Registration: 15.5k v 16.4k m/m, New Car Registration at 6.8k v 6.8k m/m
(KR) SOUTH KOREA Q2 FINAL GDP Q/Q: 1.1% V 1.1% PRELIM; Y/Y: 2.3% V 2.3% PRELIM
(TH) THAILAND AUG CONSUMER CONFIDENCE INDEX: 79.3 V 80.3 PRIOR
(PH) PHILIPPINES AUG CPI M/M: 0.2% V 0.5%E; Y/Y: 2.1% V 2.4%E; CORE Y/Y: 1.9% V 2.2%E
(TW) TAIWAN AUG CPI Y/Y: -0.8% V -0.3%E; WPI Y/Y: -2.9% V -2.5%E
(TW) Taiwan Aug Foreign Reserves: $409.4B v $409.1B prior
Currencies

4:22 AM EDT 9/05/2013

LAST(MID)
CHANGE
Australia $ (AUD/USD)
0.9133
-0.0040
Yen (USD/JPY)
100.04
0.28
S. Korean Won (USD/KRW)
1099.15
4.27
Chinese Yuan (USD/CNY)
6.1179
-0.0021
Euro (EUR/USD)
1.3179
-0.0028
WSJ Dollar Index
74.54
0.19
Government Bonds

4:22 AM EDT 9/05/2013

PRICE CHG
YIELD
Australia 10 Year
-14/32
4.085
China 10 Year
0/32
4.110
India 10 Year
2 10/32
8.290
Japan 10 Year
-6/32
0.777
German 10 Year
-9/32
1.975
U.S. 10 Year
-7/32
2.927
Futures

4:12 AM EDT 9/05/2013

LAST
CHANGE
% CHG
Crude Oil
107.88
0.65
0.61%
Brent Crude
113.79
0.56
0.49%
Gold
1388.3
-1.7
-0.12%
-After Hours
(US) Fed's Kocherlakota (dovish, FOMC alternate): FOMC forecast implies FED is failing to provide sufficient stimulus to the economy; Need to provide more stimulus, not less
(US) API PETROLEUM INVENTORIES: CRUDE: -4.2M v -0.5Me (biggest draw since July 9th); GASOLINE: -387K v -0.5Me
(US) National Hurricane Center (NHC): Tropical depression #7 becomes Tropical Storm Gabrielle
 LNKD: Said to have agreed to sell 5.4M Shares (4.8% of shares outstanding) in equity offering; -2.6% afterhours
HES: Raises quarterly dividend by 150% to $0.25/shr from $0.10/shr; +0.1% afterhours
GEF: Reports Q3 $0.84 (adj) v $0.89e, R$1.13B v $1.16Be; -4.9% afterhours
USA Close
-Aremenia Says Adios to EU, Rothschilds' Stooges outraged
http://online.wsj.com/article/SB10001424127887324577304579054931777439514.html?mod=WSJ_hpp_sections_world
-AIPAC  and Company Throws hat into Syrian Ring of Fire
At least they made it official unlike in the Iraq war.
http://news.yahoo.com/influential-u-pro-israel-lobby-group-backs-action-212613966.html
-French Mock Zionist Zombie Hollande's Latest  Photo-French Press told to 'kill it'
The Alien Invader from Planet ZOG!!
-Obama Sends CIA Trained Terrorists Into Syria Fray,
http://www.telegraph.co.uk/news/worldnews/middleeast/syria/10283758/First-Syria-rebels-armed-and-trained-by-CIA-on-way-to-battlefield.html
Administration Likely to Ignore Any Limits Once War Begins
by Jason Ditz, September 03, 2013
In an effort to get senators to agree to the Obama Administration's plan to attack Syria, the Senate Foreign Relations Committee has sought to sell the idea that they are "limiting" the scope of the war, by adding a 60-day soft deadline to the conflict.
The deadline would fit with the ongoing narrative of a limited, punitive action against the Assad government, but also leaves open the prospect of Congressional extensions of the war, and could in practice be extended more with an additional resolution.
And that's the best case scenario. With President Obama openly insisting that he is free to attack Syria however he sees fit with or without the vote, it is absurd to imagine he'll feel constrained by anything in the resolution.
Indeed, the last time Congressional votes were supposed to end a war, during the attacks on Libya, President Obama flat out ignored the resolution, insisting that as "commander in chief" he wasn't bound by it.
The "limits" in the resolution are simply a ploy to try to get the "on the fence" Congressmen to vote for the war, but once it starts, all limits are out the window, and officials aren't making any real secret of that.
-Putin Call John Kerry A liar over Syria
Well said Mr. Putin. The sheer coarseness, vulgarity, enormity,  of Mr. Kerry's lies is stunning to even the most brain-dead of Americans.
http://www.telegraph.co.uk/news/worldnews/europe/russia/10287772/Vladimir-Putin-calls-John-Kerry-a-liar-over-al-Qaeda-in-Syria-claims.html
-Geopolitics
| | |
| --- | --- |
| | Updated September 4, 2013 – 11:45 PM EDT |