Headliners
-USA NFP tomorrow..189k forecast
-London/BOE cant get back 1300 tons of gold, over 800 tons which may be other people's gold. LBMA under extreme distress. GLD being raided and milked to make deliveries. BOE clams up on Gold Shorts. London closes ranks on outside world and points to WW3 to cover gold short if necessary. Substantive Rumor verified by Swiss insiders. Russia making quiet move to grab gold on Swiss markets.
-EU/USA markets ramped on faked econometrics and market intervention
-GS Thug,' Fab" convicted in civil triall
-Italian Courts Send Berlusconi to Jail, possibly
-Great News, Snowden gets walking papers for 1 year in Russia
-Rothschilds Demands Larry Summers for FED Head
-ECB holds, Bank of Satan (England) also Holds
-Tory's plan to reintroduce debtor work houses into English Culture.
-English Crown continues to set Up USA/China WW3 Fight. English admit Queen Has WW3 Speech and other disgusting revelations of crazy Maggie Cracker..emerge
-English Transsexuals and Queers on the March Across Europe. Demand LGBT villages across the EU
-London Fakes Deadcat PMI Final Blip in EU for Smirkel
-IMF outs Greek Shortfall of $11bln EU
-Japan/USA holding Secret TPP talks in Tokyo Next Week
-Australia denies Bail-in plan for bank deposits over 100k.
Markets
-USA/Europe Summary-Rev A
–
A blip up in  final July PMI data out overnight helped European markets close at or near their highs, combined with an ESM buy down of the Spanish yields as they got an auction off of short and medium term paper even as Rajoy gave a marathon of a Speech to defend his criminality and foreign bank account(s). Meanwhile US equity indices moved higher on very strong reported data and a few solid corporate reports, although there were plenty of bad new in the earnings if you know the real inflation rate in the USA is at least 5 %. The USA markets gapped up and squeezed shorts who were not active in the premarkets or opening. I added to my DAX, DIA/SPY shorts today and was forced long early by the action out of Europe to hedge USA shorts. The Dow hit an all time high and SP closed above 1700. A level near madness given the earnings and top lines we are seeing. You always want to short madness especially when there is no conviction(volume) behind it.
–
Initial jobless claims fell to their lowest level since January 2008 and shrank more than expected. The four-week average dropped to 341K, which is below the 350K level that economists claim indicates modest job growth. Although weekly claims in July are always suspect due to auto plant retooling shut downs.  Meanwhile the July ISM manufacturing index topped expectations and hit its highest level since April 2011, the key employment component popped back into positive growth territory after a worrying contraction in June. Ford and Boeing are hiring.
-
There were no surprises in either rate decisions published by the BOE or ECB, or their press conferences. With some doubting the ECB's newly minted forward guidance ("key rates to remain at current level or lower for an extended period of time"), ECB President Draghi warned that there is no implicit deadline for the end of the "extended period" and that current market expectations for interest rate hikes in money markets were unwarranted. So far the ECB is struggling only slightly less than the Fed to lower expectations built into the front end of their curve and there is a general lack of credibility they both have with the markets given all the flip-flops they have performed.
We had London and the English elites make their move to force the highly satanic and high destructive Jew Larry Summers down America's throat despite a hue and cry from both parties in the Senate and House and the people. Showing what an utter craven whore of the English Crown he is Obama actually emerged to defend Summers, whom even Harvard was forced to fire due his lunacy and corruption. When an institution as corrupt as Harvard has to force you to resign despite your 'blueblood' you know you're bad. Even Kissinger has kept his perch there through the years.
Oil majors Exxon and Shell both reported terrible Q2 results. Exxon's EPS missed expectations in its Q2 and reported its lowest profit in more than three years. Net income fell 57% y/y, revenue was down 16%. The company said higher drilling costs and falling production (the ninth straight quarterly decline) impacted results. Shell's net was down 57% y/y and the firm took massive write downs on North America shale operations. Production declined. Shares of XOM were down 2% while RDS.A was down 6%. Contrast these results with Conoco, which crushed earnings expectations on another incremental production increase and a raised FY production forecast. COP was up 1.5+%.
Major automakers reported another strong month of sales for July although below over hyped expectations. GM, Ford, Chrysler and Toyota saw double-digit percentage gains in July sales, with GM and Toyota sales up more than 16% y/y. GM and Ford saw very strong gains in truck sales. GM said its full-size pickup sales were up 44 percent, the best July figure since 2007. Although overnight, Toyota reported July China sales down 3.5%. Shares of Ford and GM were up 1- 2%. Toyota's ADRs were up 4% in US trading.
In the 'real' middle class economy - Consumer staples names Kellogg  AND Clorox were in the red during the hot morning ramp. Bottom Line EPS  numbers from  firms were solid, as management worked on cutting head counts and improving operations, but at Clorox volumes fell 3% y/y while Kellogg cut its FY13 revenue outlook. Procter & Gamble was up 1.5% after slightly raising its FY earnings view, despite tepid revenue growth far below the real retail inflation rate.
Both Cigna and Humana topped Q2 EPS expectations and hiked its FY13 forecasts and offered pretty solid business metrics. However analysts at both Citi and Stifel cut ratings on Humana, warning that the outlook for FY14 is murky as Obama-care goes into full swinng. Both firms were in the red on the negative commentary, with CI and HUM down about one percent a piece. P&C major Allstate was up 2.5% in the  after handily beating top- and bottom-line expectations.
Yesterday, the New York Post wrote that CIT possibly cut credit lines to JC Penny due to concerns about the firm's business. This morning, JC Penny denied the reports and said it has ample liquidity to manage its business with $1.5B in cash on hand. Shares of JCP dropped 12% yesterday and regained half that in morning on the news, before most of those gains have evaporated as shorts went back to work. I added to my FB short as it is one of the most overvalued stocks on the markets without any real advertising earnings power and in reality has no barriers to entry with a strong IP /Patent suite like GOOG in the early going, adding strongly above $38. That WS analyts crowd emerged to tout the stock was highly encouraging. At market tops you always want to gun for an overvalued pig Momentum stock like FB . Not that to say I know we are at a market top but the rally has been on no volume or conviction and based upon falsified econometric reports, highly falsified bank earnings reports, and  a lot of intervention by the ECB/BOE/FED/UST/ESM.
The fallout from Wednesday's court ruling to invalidate the FED's debit-card rules is falling more heavily on Visa than on MasterCard.   According to analysts, Visa has already lost a significant amount of US share under the current rules, and conservative estimates suggest it could lose more than $500M in revenue if the Fed is forced to make the rules more restrictive. V finished the day flat after a big sell off in the morning. MA opened near flat but quickly ramped up nearly 6 % as the analysts commentary spread.
They typical London game continued in commodities as WTI was ramped to nearly $108 and gold was smashed by GS who makes no secret of their short gold position at their commodity desk on the theme the USE and dollar is strong.
London is long Brent/WTI as they foment wars and massively short gold and get their Anglosaxon-mason (Mr. Royce) lackeys in  THE USA Congress to do their dirty work (http://www.reuters.com/article/2013/08/01/us-usa-iran-sanctions-idUSBRE96U1GK20130801).Israel was bragging they had the votes in the Senate to pass this bill and the muscle to make Obama sign it. China will just get a better price on its oil. Note this is as moderate has come to power, showing you how in the pocket of London, and Israel Congress is just like Obama. There was another big oil train crash in Canada, deliberate or sabotage most likely to force Obama to approve the Keystone pipeline by USA/Canada oil elites even as London seems to prefer the Keystone east pipeline over the Canadian rockies to Prince Rupert to send the oil directly to China and deprive the USA of much needed Canadian energy. Note Keystone announced they were greenlighting the Prince Rupert line overnight for the London gang. Keystone East is I think what they call it.
Gold's been in backtwardation for a while indicating some physical stress and we saw Russia possibly bump its gold reserves today. Reports continue to emerge of extreme stress and a run on physical gold in London, but you would not know if that was true if you followed the GS trading desk. The unsubstantiated rumor is the BOE dumped 1300 tonnes of gold to break it on the market and can't' get it back, that is cover the naked paper shorts that went with it. From my following the English news and traders  carefully there appears to be some  substance to that rumor, although London is full of so many liars and criminals and so much disinformation , and the BOE has been clamming up,  even as some minor old gold scandals were brought to the forefront by MI6 to take the heat off the current one of the missing 1300 tons at the BOE (they store many countries gold besides theirs ,and the BOE had only around 500 tons officially), only insiders privy to the BOE know what is going on. Certainly if anyone wanted to break the LBMA/CME now would be the time to squeeze the shorts. Based on talking to some people in the know in Switzerland and that neck of the woods this rumor does appear to be of substance which is why I am reporting it finally. Now that is a massive scandal of the BOE selling not only all  its own gold to help Socgen, HSBC/LBMA and others out but other people's gold. Carney's long been in on the Gold rig at the BOC, but is now in the hot seat King left him and trying to save the crooks at the LBMA. I would love to see Englishmen jumping out of financial buildings head first to the pavement over their naked gold shorts,  as Jane Standely and the English gang laughed and gloated over American financial types taking headers to the pavement on 911. The LBMA is primarily an anglosaxon operation if you follow their conventions and the like and ID its players. 
A USA federal jury found former Goldman Sachs Group Inc. London trader Fabrice Tourre liable for misleading investors in a mortgage-linked deal that collapsed during the financial crisis, delivering a historic win against Goldman Sachs London. Although it should be noted this was not a criminal trial but a civil trial and Mr. Tourre faces little more than a ban from the Securities industry in the USA and a fine. His London girlfriend spilled the beans on him. GS shrugged off the conviction having paid its 500 million get of jail fine to the parasites in Washington. Without traders behind bars for 10 years like armed robbers, there is little substance to cheer the public despite the SEC chest beating in the aftermath. The door was opened to the lawyers to go after GS and Fab refused a deal yesterday that would have prevented that the slime bags at the SEC offered him.
Italy's highest court on Thursday definitively confirmed a prison sentence for tax fraud for Silvio Berlusconi, dealing a severe blow to Italy's most dramatic politician. But it also called for a re-examination of a ban on his holding public office, a compromise that might stave off an imminent collapse of Italy's left-right coalition government.However, Thursday's ruling does not automatically send Mr. Berlusconi to jail or house arrest. The same Milan appeals court that convicted the former prime minister must also formally request his arrest. Mr. Berlusconi's lawyers could also request a suspended sentence.A Senate committee must rule on whether Mr. Berlusconi must resign from public office, a procedure that could take months. Almost all lawmakers handed definitive sentences have chosen to leave Parliament of their own volition in order to avoid embarrassment.Opposition politicians immediately called for Mr. Berlusconi to resign out of respect for a Parliament elected to uphold laws, not break them. Vito Crimi, a member of Parliament from the Five Star Movement, called the it "shameful" that Mr. Berlusconi would stay in public office.Mr. Berlusconi is still facing trial on charges of paying for sex with the Moroccan-born Karima el Mahroug, nicknamed Ruby Heartstealer, when she was still a minor, and abusing his office to cover it up.(NYT)
The Berlusconi decision will be very bad for the European markets tomorrow as effectively the coalition's power broker has been hamstrung although no doubt he will be offered a graceful suspended sentence or house arrest, although incredulously enough may be allowed to retain some political influence by the courts even while under house arrest. Berlusconi may have behind the scences with his immense business reached gotten the Italian economy to move in the right direction again and Italy would probably fall apart  before Merkel's election without him, so hes not likely to really go anywhere, ex the EU has 'won' and blocked him from running for PM again.
Rajoy, whose speech I listened to for over an hour, was more shameless than any USA politician I can ever recall. In both Europe and the USA it is far too hard to remove the head of state even when openly committing criminal acts and lying about it ,and in Berlusconi's case we see even when convicted and supposedly going to  Jail , he won't be removed from power by the courts. Obama can't be sent to jail or forced to resign as the decision rests with the Senate only and they would block any impeachment the lower house tried. In the USA the house can impeach but the 'trial' is in the Senate. The Senate is almost exclusively Anglosaxon Masons like Ron Paul, Lindsay Graham, John McCain  and Jews like Feinstein and Boxer. The USA Senate is the most corrupt political body in the history of the world, given all the deaths its caused in wars, and should be abolished, or restructured with 4 year terms and strict 2 term limits, and 'lemon' recall laws by the Public. The USA Senate is anti-Constitution and pro London. They are the redcoats of the redcoats, the bluebloods of the banking bluebloods. They are a crime against humanity and the laws of God.
We have the all important July NFP report tomorrow . ADP is sort of being coached on to reinforce the BLS fraud, and their survey is run by a greasy Jew owned private firm with a lot of connections to the BLS. No doubt the Jews of Wall Street all know the print tomorrow. The number is an easy 189k jobs to beat given the various gimmicks they use to fraud the reports. I plan on spread trading the report tomorrow with a down side bias into the close.
Econometrics
(US) July Challenger Job Cuts: 37.7K v 39.4K prior; Y/Y: 2.3 v 4.8% prior
(US) Aug RBC Consumer Outlook Index: 49.4 v 50.7 prior
(US) Initial Jobless Claims: 326K v 345Ke (lowest since Jan 2008); Continuing Claims: 2.951M v 3.00Me
(US) July Final Markit US PMI Manufacturing: 53.7 v 53.2e
(US) July ISM Manufacturing: 55.4 v 52.0e; ISM Prices Paid: 49.0 v 53.5e
(US) Jun Construction Spending M/M: -0.6% v +0.4%e
(US) Weekly EIA Natural Gas Inventories: +59 bcf v +55-60 bcf expected range
(BR) Brazil July PMI Manufacturing: 48.5 v 50.4 prior
(RU) Russia Gold & Forex Reserve w/e July 26th: $509.4B v $505.7B prior
Market Close
-The Ultimate Lunatic in Washington not in the White House or on Capitol hell..
NSA chief: Hackers should help 'defend the country'
What country the British-Israel east Indies trading country? You cretins at the NSA destroyed it, you shredded the constitution and used it to wipe your filthy bloody, murderous hands and mouth off like some vampire from hell and said, 'what me"? Hackers should bring you down you pigs by exposing your crimes and 911 complicity and cover up. Who in the heck to you freaks in the NSA think you are, Lucifer? Prince Charles, Bibi Netanyu, Benedict Arnold. Get real you creeps at the NSA, everyone has your number. As was once famously said," I have yet not begun to hack. "
-EU and Late Asia Econometric Releases
Does Europe have a cash for clunkers program? Must be some new car incentives. I'm skeptical of a bottom in the EU car market as it directly contradicts what GM and Ford have said. Spain/France both in political and economic hot spots as Rajoy and Hollande have melted at the polls like the Wicked Witch of the East.
 (RU) Russia July Manufacturing PMI: 49.2 50.9e; first contraction since August 2011
 (IE) Ireland Investec Manufacturing PMI: 51.0 v 50.3 prior; second month of growth
 (SE) Sweden July Swedbank PMI Survey: 51.3 v 53.0e
(DK) Denmark Jun Unemployment Rate: 4.3% v 4.4% prior; Gross Unemployment Rate: 5.8% v 5.8% prior-
(NL) Netherlands July Manufacturing PMI: 50.8 v 48.8 prior
 (NO) Norway July PMI: 47.5 v 49.1e 
(HU) Hungary July PMI: 49.0 v 50.8 prior
(TR) Turkey July Manufacturing PMI: 49.8 v 51.2 prior 
(PL) Poland July Manufacturing PMI: 51.1 v 50.0e; first growth in 16 months
(FR) France July new car registrations y/y: +0.9% v -9.0% prior
 (ES) Spain July Manufacturing PMI: 49.8 v 50.6e
(CZ) Czech Republic July Manufacturing PMI: 52.0 v 51.0 prior
(DE) Germany June Machine Orders Y/Y: -5% v -5% prior
(IT) Italy July PMI Manufacturing: 50.4 v 49.7e; first expansion in 24 months
(FR) France July Final PMI Manufacturing: 49.7 v 49.8e; 17 month high but confirms 17th straight month of contraction
(DE) Germany July Final PMI Manufacturing: 50.7 v 50.3e; confirms first growth in 4 months and highest level since Jan 2012
(EU) Euro Zone July Final PMI Manufacturing: 50.3 v 50.1e; confirms first growth in 24 months
(GR) Greece July Manufacturing PMI: No est v 45.4 prior ; 43-month high but its 47th straight month of contraction
-(UK) July PMI Manufacturing: 54.6 v 52.8e; highest since March 2011
0e
(CY) Cyprus July CPI M/M: -1.5% v +0.1% prior; Y/Y: -0.3 v +0.1% prior
(DK) Denmark July PMI Survey: 57.6 v 57.1 prior
(NO) Norway July House Prices Y/Y: +3.9%
 (ES) Spain July New Car Sales Y/Y: +14.8%
Late Asia
(ID) Indonesia July Inflation M/M: 3.3% v 2.7%e; Y/Y: 8.6% v 8.0%e; Core Inflation Y/Y: 4.4% v 4.6%e
(ID) Indonesia Jun Total Trade Balance: -$847M v -$750Me; Exports Y/Y: -4.5% v +1.0%e; Imports Y/Y: -6.8% v -0.1%e
(JP) Japan July Vehicle Sales Y/Y: -13.5% v -15.8% prior
 (IN) India July HSBC-Markit Manufacturing PMI: 50.1 v 50.3 prior
- ECB's Weidmann would welcome publication of the ECB minutes, just not right now  Handelsblatt.  German CDU member Meister: EU will encounter 4 additional years of no growth if German crisis policy persists; rejects EU bank resolution fund.
-Snowden finally gets out of airport..homosexuals Obama, and Graham furious…
CONFIRMED: Edward Snowden left Moscow airport Sneremetyevo http://on.rt.com/rn2z59 
Free at last from that asshole Obama , free at last. Live long and prosper kid. London tried to crash the Ruble on the news, no such luck eh boys.
-Here comes the Homosexual bitch of Prince Charles…
Obama defends Summers against charges he is unfit to be Fed chairman http://j.mp/11wzOi1 
Call your Senator, say No to Larry Summers due to conflict of interests, dismantling glass-steagal and other nefarious screw jobs of the American people. Let us not reward the Evil of the English Crown by giving its Prince another go at the USA. Go to hell Larry. 
-ECB leaves rates unchanged as expected. Refi rate at 0.5%, Deposit rate at 0%.
PRESS RELEASE
1 August 2013 – Monetary policy decisions
At today's meeting the Governing Council of the ECB decided that the interest rate on the main refinancing operations and the interest rates on the marginal lending facility and the deposit facility will remain unchanged at 0.50%, 1.00% and 0.00% respectively.
The President of the ECB will comment on the considerations underlying these decisions at a press conference starting at 2.30 p.m. CET today.
Conference link.
http://www.ecb.int/press/tvservices/webcast/html/webcast_130801.en.html
-EU Credit Markets
ESM in their pounding down long end of 2018 bono as Rajoy was speaking endlessly, trying to save his arse. Must be really dirty as the ESM stepped into manipulate the markets for him tonight. Yields don't go down on much weaker bid-cover unless 'you believe in magic'.
 (ES) Spain Debt Agency (Tesoso) sold total €3.22B vs. €2.0-3.0B indicated range in 2016 and 2018 bonds
Sold €951M in 3.3% April 2016 Bono; Avg Yield 2.636% v 2.768% prior; Bid-to-cover: 3.32x v 2.57x prior; Max Yield 2.656% v 2.794% prior ; Tail: 2.0bps v 2.6bps prior
Sold €2.27B in 3.75% 2018 Bono; Avg yield 3.561% v 3.735% prior; Bid-to-cover: 1.74x v 2.1x prior; Maximum Yield 3.589% v 3.768% prior; Tail: 2.8bps v 3.3bps prior
(HU) Hungary Debt Agency (AKK) sold HUF50B vs. HUF50B indicated in 12-Month Bills; Avg Yield: 4.02% v 4.08% prior; Bid-to-cover: 1.83x v 2.29x prior
(HU) Hungary Debt Agency (AKK) sold HUF7.5B vs. HUF5.0B indicated in Floating 2019 bond; Avg Price: 95.28 v 95.22 prior; Bid-to-cover:2.15x
(EU) ECB €25.0M borrowed in overnight loan facility vs. €28M prior; €82.6B parked in deposit facility vs. €79.7B prior – Daily Eurosystem Liquidity Conditions
-P&G is rapidly cutting costs and eliminating jobs over the next couple of years to help fund the development and introduction of new products, ranging from unit-dose Tide Pods laundry detergent to thicker Bounty paper towels. The efforts have helped lift P&G's profit in recent quarters, but the underperformance of some segments, like its beauty business, continues to challenge its sales growth.For the quarter ended June 30, P&G reported a profit of $1.88 billion, or 64 cents a share, down from $3.63 billion, or $1.24 a share, a year earlier. Excluding items such as charges for legal matters, impairment and restructuring, core earnings fell to 79 cents from 82 cents. Sales increased 2.2% to $20.66 billion. Organic sales, which strip out currency movements and the impact of acquisitions and divestitures, rose 4%. Unit volume was up 5%.In April, the company forecast core earnings of 69 cents to 77 cents a share on organic sales growth of 3% to 4%.Gross margin shrank to 47.5% from 48.1%.P&G also expects fiscal 2014 per-share earnings to rise 5% to 7% on a sales increase of 1% to 2% and organic sales growth of 3% to 4%. Analysts surveyed by Thomson Reuters expect per-share and revenue increases of 7% and 3%, respectively.
Squeezing blood out of operation  but sales not even in with supposed GDP of USA, go figure!!
-Rajoy: "No voy a dimitir ni convocar elecciones"
No plans to say 'no mas' , no plans for early elections.
-Communist all think alike..
Communist Vietnam to ban bloggers and social media users from sharing news stories online
-US Challenger Job Cuts (Y/Y) Jul: 2.30% (prior 4.80%)
-Well, well now there is a surprise….eh..
Opinion: Obama should pick Summers to lead Fed
Larry Summers, Prince Chuck Rothschilds Choice!!
-American oil now going directly to China thanks to Obama..
TransCanada to proceed with energy east pipeline project
I tend to think this was the real plan all along of London. Lost jobs and lost security for the American people. Thanks Obama.
-Opps
Only 3 Jew out of 30 total made it this cut to the House of Lords. They're probably more than 10 pc of the UK population anyways. And I have not ferret out the Crypto Jews yet.
Hey some great news these foul Brits will soon be back in the work houses…
No wonder the English  want to move the continent of Europe and open Gay Villages across it.
http://jaynelinney.wordpress.com/2013/08/01/a-tory-plan-to-reintroduce-the-workhouse/
I agree with Prince Charles about this one, sorry Brits.
-The Bank of England's Monetary Policy Committee (MPC) has left interest rates at 0.5%.The MPC also said it would make no change to the amount of monetary stimulus it provides through its Quantitative Easing program  as expected.
-British Crown setting USA /China up for Nuclear WW3!!
Damn the English, damn their intrigues and lies.
http://www.reuters.com/article/2013/08/01/us-china-usa-seas-idUSBRE9700IZ20130801?feedType=RSS&feedName=topNews&utm_source=dlvr.it&utm_medium=twitter&dlvrit=992637
-English Trannies on the march in Germany and France
This is some seriously sick stuff. Caution.
Fine be a tranny, just stay away from the kids and keep it in your closet, aka Bedroom and off the streets where children have to see you. Poor thing, pray for it. Probably another Englishman giving Germans a bad name. Sheesh why can't these people behave like they do in Japan, where they know they are different and are ashamed to thrust their perversity at the families who support societ and live in their own little section of town and don't 'strut' their stuff in front of familes outside of their little enclave.
Prince Charles feels its  pain. The height of royal pleasure is the transsexual in England that is why we are being forced to watch this on the German news tonight. Man Germany is turning into London.
Did I mention, despite the 'me thinks you doth protest the EU too much', in Prince Charles rag the DT,  this was England desire all, along where it could send its LGBT Anglosaxon-Jew army out to destroy the few remaining moral strictures of Europe, and use Brussels to make it legally so.
The plan unfolds before your eyes Eurotrash, the LGBT redcoats are coming.
http://www.welt.de/vermischtes/article118574071/Barbie-Breakout-naeht-sich-aus-Protest-Mund-zu.html?wtmc=social
A British company has upset a rural French community with surprise plans to build a "gay village"
Brits, this is what is known as sin. It is morally wrong. It is a form of child abuse. You're a sick nation of sodomite loons in Britain. You're destroying Europeans, never high up on the moral rung to begin with , with your filth. Just stop for the sake of the Children. Please. I implore you. Filthy English swine.
-911 was a London and a Tel Aviv job, Alex Jones. A british-Israel job.
-"During routine servicing of nuclear arms, tech discovered UK key could also unlock US nukes"
-Wow, another Jew from the BBC made it to the house of Lords. What a surprise. For the 911 coverage I suppose. Someone had to pick up the slack of the slut of lies Jane Standley. A name that will live like Benedict Arnolds forever in infamy. How's that evil  crazy Witch doing MI6? Is she being made a  Peer too? Or did her lying  performance scratch her off the list forever? Everyone hates Jane Standley in America. And I mean everyone and hates her and unlike you , we are not people of hate. We will not forget, we will not forgive. We will leave justice to heaven. You Brits think you're so, so clever, just like Lucifer. The filthy stench of you red coated yellow bellies reaches to the pacific if not to Heaven. Filthy, filthy, murderous lying English swine.
-The EU PMI and bond auction and market action reminds me of this song.
65 was a great year, at least in America.
http://www.youtube.com/watch?v=0g49ygzXRns
You Eurotrash never had real cars. Those were invented and made in the USA. Sure you can use London financial engineering to steal Chrysler and plunder it, you can send GM to China to destroy it, but you still cant build a good car in Germany that is affordable and reliable and like the Mustang of over 40 years ago.
http://www.youtube.com/watch?v=0g49ygzXRns
65 seems like only yesterday. I wish it were today.
-The FT reports that Portugal is set to push for a further easing of its fiscal consolidation programme in the hope of using tax cuts to boost economic growth. However, Reutersnotes that on Tuesday Portuguese Prime Minister Pedro Passos Coelho pledged to enforce the agreed spending cuts.
-More magic bond auctions in the EU tonight..!!
-Italian journalist Fabrizio Goria suggests that José Manuel Barroso, President of the European Commission, laid out a strategy to "unplug" the then Italian Prime Minister, Silvio Berlusconi, to Italian Minister Roberto Maroni in 2011. Barroso allegedly told Maroni that Berlusconi should be attacked "from all fronts, from every European policy maker" to achieve this.
————
I wonder if Berlusconi has a contract out on him? Barroso is a dirty rat. I don't know if Silvio is allowed to XO another Jew or not, with the Crowns permission. The English crown did not mind XO the Colonel in Libya did they even though he was a fellow Jew?
-We are All  English now..
The Telegraph reports that Nick Clegg has attacked David Cameron's policy of "retreat" over Europe, saying that it undermines the "capacity for Britain to shape the European Union in its image."
-Sold the CAC at 4015  on the fake report.
-Socgens phonied up report. Get out of jail for free on  naked gold short. Can't even get Basel III agreement right in their report. Very sloppy.
Paris - The French multinational banking and financial services company Societe Generale reported on Thursday how its second-quarter profit more than doubled on jumping revenue in the investment banking business, smashing expectations.One of the oldest banks in France, SocGen, saw its net income jump to €955 million in the second quarter from €436 million a year ago. Analysts had expected a reading of €608 million.Business revenues rose 5.8% to €2.1 billion in the second quarter, from the same quarter a year ago. Revenues in French networks rose 3% to €2.1 billion in the quarter, driven by strong deposit inflow, offsetting very low interest rates, persistently weak credit demand in France and an economic slowdown.Revenues in International Retail Banking advanced 1.6% to €1.1 billion in the second quarter, compared to the previous year's quarter, the bank said, citing dynamic commercial activity in Russia and Sub-Saharan Africa that offset the challenging economic situation in Central and Eastern Europe. Specialised Financial Services and Insurance's revenues rose 2.2% to €891 million, while Corporate and Investment Banking revenues totaled €1.688 billion, up 42%.Private Banking, Global Investment Management and Services' net banking income jumped 35.8% to €501 million. The group's net banking income dropped 0.6% to €6.233 billion in the second quarter, from €6.272 billion a year earlier.SocGen's core tier one ratio, an important measure of a bank's financial health, edged up to 9.4% at the end of June, up from 8.7% in March.The bank confirmed its guidance for the next two years and said it was confident it would be able to achieve a return on equity of 10% by the end of 2015.In May, the bank announced cost reductions worth €900 million through 2015 to restore profitability."The adaptation of the balance sheet resulted in a Basel 3 Core Tier 1 ratio of 9.4% at June 30th, 2013, with the target of 9.5% at end-2013 now secure. We are going to continue our efforts. The second stage of the Group's transformation is well under way, with a positive commercial and financial momentum in all the businesses. This momentum will continue over the next two years, with priority being given to revenue synergies and the improvement of operating efficiency," chairman and CEO Frederic Oudea said.
-Adding to the DAX short here as it melts up vertical.
-Amazing every day how so many Americans are are on twitter are rooting for Dick Cheney to die. It really give me hope for America. I know I'm throwing a block party. He's really holding up the show.
-Germans feed up over Greek Pol Greed and disappearing dough
http://www.youtube.com/watch?v=hF4ZFQ1YCLU&feature=youtu.be
-English are claiming Syria used Chemical weapons in Douma. Crown called UN up and demanded they investigate (false flag) claim. These English are such bastards. Such filthy lying scum.
-Maggie Cracker willing to drown working class Brits to save Rich Jew section of London
So, so British!! Exactly what the Bush family did in New Orleans, more British Royal scum. Now all those drowned out blacks  are living in trailer parks in Texas, and rich Jews have built casinos on their land taken by condemnation. Anglo Satanic Genius. Crackers. Flood tide, I knew there was a reason for my title tonight.
http://www.telegraph.co.uk/news/politics/margaret-thatcher/10211735/Thatcher-government-contemplated-blowing-up-Thames-defences.html
Some Choice words from the IRA about Maggie Crackers
http://www.youtube.com/watch?v=7bgTPyeiD1o
-Caracas claims CIA-linked Cuban exiles planned to kill president
Kissinger Bay of Pigs plan in motion again, eh. What a guy. A Jew is waiting his turn to be el jefe in Venezuela. He is impatient.
-Syrian Army just retook MI6/Mossad Strong hold of Homs.
Iran just announced $3.6 Bln Syrian investment deal. Credit for the right to drill for the oil offshore in the Lavant the Jews want so bad. The Jews of Israel  just announced the USA Senate will Crippple Iran with new Sanctions in September. Funny how the Jews always know everything in advance like they were filming 911 and high -fiving as New Yorkers dove to the pavement. Jews, jews, jews they never rest and their wicked work is never done.
Lindsay Graham the Queer, is mad, very mad.
-Donut Man!!
-The poor tired and destitute Americans are getting tired of banking rolling Rich Eurotrash
Eleven Latin American countries refuse to back IMF move to keep bankrolling Greece citing risks of non-repayment..
http://www.reuters.com/article/2013/07/31/greece-imf-brazil-idUSL6N0G05GI20130731
-Yeah as China and the USA are tanking/decelerating  Europe is accelerating more than MFG powerhouses Taiwan and Korea. Yeah. Yeah. Yeah. Sing me a tune Eurotrash. Man these Europeans are filthy liars. Chinacom inc are straight forward liars.  Hey we find out today (maybe , supposedly), if Jew Mafia don Berlusconi can go to jail like John Gotti. If he does he probably gets to take his bunga bunga room.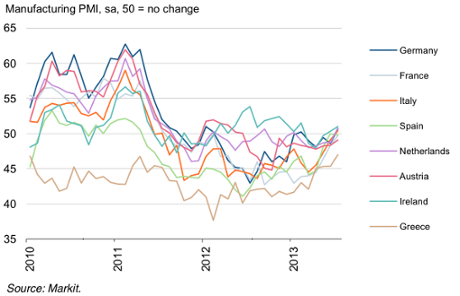 -The biggest Liars in Europe weigh in..
Final UK July Manufacturing PMI at 28-month high, posting 54.6 vs revised 52.9 from June.
Operation get Boeing pays off big.
-Germanys blip up in the final PMI was mainly driven by new orders which are the heaviest weight, whereas export shipments declined. Markit will not release raw data and is unaudited and is yet another City of London 'operation'. Orders and shipments should have equal weighting. France was no  doubt boosted by operation 'get boeing'. New orders continued to decline in France but they got some more product out the door. Nothing to cheer about in France or Germany the two biggest economies. In the EU at best they can say things are not getting worse, they can not say they are out of the woods with their banksters needing $EU 3 TLN according to IFO.
-Rajoys been reading from his speech for over an hour so far, denying everything, man that guy is a guilty. You guilt is always proportional to the amount of time you speak as politician.
-Three-quarters of the top 50 American technology firms used special structures to cut their tax bills http://econ.st/1aOZQ34 
But no mention of Dope Inc, and the Crown's offshore drug laundries or how little Tax the Rothschilds and Windsors pay on their 'windfalls' like the Afghanistan Heroin, eh
-China may cut 50% of total 970M tons steel capacity to cut overcapacity, according to unidentified sources. (London 'rumor' mill). ha, ha. What a lie.
-Anglo-Dutch Oil Pirate Fires Blank Wad at markets
Royal Dutch Shell, the oil and natural gas giant, followed other oil producers Thursday in announcing disappointing earnings for the second quarter. Shell's adjusted income was $2.4 billion, compared with $6 billion in the same period a year earlier."These results were undermined by a number of factors, but they were clearly disappointing for Shell, " the company's chief executive, Peter Voser, said in a statement.Mr. Voser blamed higher costs, foreign exchange issues and production lost as a result of sabotage in Nigeria, a key area for Shell, for the sharp decline. Shell said the problems in Nigeria had lowered production by an average of 100,000 barrels per day during the quarter.Shell, based in London, also took net write-offs of $1.85 billion, including a write-down of about $2 billion on natural gas acreage in the United States, where a decline in fuel prices has led the company to re-evaluate its holdings.
-Europe is doing better than Korea and Taiwan. London BS!!
Taiwan has the most dynamic economy on earth. Kind of all the best Chinese went there who wanted to be free. China wants to Taiwan, and fully intends to recapture it one way or another.
HSBC South Korea Manu PMI fell for 3rd month running to hit 47.2 in July (Jun:49.4). Output and orders down to greatest degree for 9months
Taiwan Manufacturing PMI slipped to 48.6 in July (Jun: 49.5).
-These PMI reports out of Markit/HSBC all looked cooked to me for Merkels election. At the very best a dead cat blip on the much weaker Euro we saw in July and on the ESM buying down rates so as Italy and Spain and Holland had the wheels come off politically and/or economically. Markit is a company like HSBC under legal fire for the CDS data rig/hoard. Lots of fist pumping from the Eurotrash. The Chicago gang cooked the headline number just right in the USA, underneath with stench. I added to my DAX short on the .9 pc bounce. I love it when the slimy Eurotrash come out to pump their fists and try and cover up the missing $11 bln EU in Greece. Probably that money is in Switzerland now.
-Russia MFG PMI fell below the no-change mark of 50.0 in July, posting 49.2, down from June's four-month high of 51.7.
-Eurozone Manufacturing PMI (Jul) M/M 50.3 vs. exp. 50.1 (Prev. 50.1)
-German PMI Manufacturing Jul: 50.7 (est 50.3; prior 50.3)
-French Manufacturing PMI (Jul) M/M 49.7 vs. Exp. 49.8 (Prev. 49.8)
-Greek PMI Manufacturing Jul: 47.0 (prior 45.4)
-Markit Italy Mfg PMI registers at 50.4 in July, up from 49.1 in June. Highest reading since May 2011
-HSBC Czech Mfg Republic PMI rises to 52.0 in July, up from June's 51.0. Highest reading since March 2012.
-HSBC Poland MFG PMI rises to 51.1 in July (49.3 in June). Highest reading since January 2012.
-Investec Ireland Mfg PMI  rises to 51.0 in July, up from June's 50.3. New orders rise for first time in 5 months
-Think Scottish Witches Don't run Scotland, think again!!
JK Rowling is not really a Scot although her husband is . Shes an Anglowitch mainly with some of the dreaded Campbell in her. What evil, eh. Scots must be deaf mutes if they let this happen to their children. Maybe the supply of American Children the English royals can rape has dried up since the Bush family left office and with this latest FBI bust of 150 faceless and nameless Child pimps reported this week and with the Savile gang out of Auction? There are about 2 million real Scots left who are celts and not Anglo-Celts-Jews, so of children probably around 100k of the right age. That's  not too many for the Masons of Scotland to send down for the Royal fests and child sex orgies is it, I suppose.
Shakespeare who was Irish knew a bit about the Scottish witches and secret societies did he not? Lots of insight about the intersection of the Scottish and English culture Shakespeare made. He was one brilliant Irishman. After Jesus and Saint Paul I would like to meet him Shakespeare and ask him about the English and Jews. What a profound observer of the English and their corruption and witchcraft he was, especially the Royal families. How he had the Jews number.
http://www.telegraph.co.uk/news/uknews/scotland/10214975/Lawyers-warn-against-Big-Brother-plans-to-give-every-Scottish-child-a-state-guardian.html
-Reuters polled 70 economists ahead of today's European Central bank meeting, and 69 of them said they don't expect an interest rate cut today.
-Eurotrash!!
Rajoy says those making corruption claims (against him) are putting the recovery at risk. Ha, ha. I wonder if he consulted Tony Blair for that line?
-PMI night in Europe, Spain is stinking up the tape..
Markit Finacial Information Services said that Spain's Manufacturing PMI fell to 49.8, from 50.0 in the preceding month. Analysts had expected Spain's Manufacturing PMI to rise to 50.9 last month.
Going to be a long day eh, Eurotrashed people  Thank London and its Jewish hoards and politicians its got running the continent. And just think Tony Blair will be the first official POTEU (President of the EU), wait until you're all singing God Save the Queen  Charles.
-Asia
A dovish policy statement of the FED dropped Asian currencies, probably on intervention by the BOJ, PBOC, etc and boosted Asian markets, although Japan had a spate of earnings that were not bad from exporters overnight. Japan and US to hold secret TPP free trade related bilateral discussion in Tokyo next week. Japan govt is making plans to cut the fiscal deficit in 2014 and 2015 by a total of Y8 Tln.
China's July manufacturing PMI datapoints on the mainland once again saw a  an eyebrow raising divergence – the official print (focused more on state-owned enterprises) averted expectations of a contraction with a marginal improvement over June, while the HSBC final PMI remained deep in the red.  Pick your poison, although frankly HSBC, the drug laundry of the English crown can be trusted even less than the Chinacom, inc. China State Council said  China won't allow growth to slow to unreasonable level;  China Stats Bureau official Zhao said China potential growth has fallen into range of 7-8%. China big four banks July new loans CNY210B v CNY270B in June still indicating a very healthy credit flow on Big Bens Big Prints monthly that go Tsunami rolling into dollar import Pig Chinacom, inc.
Australia FinMin Wong declined to speculate on new bank levy. ( press reported Australia govt may look to place a new deposit insurance tax on local banks in the event future bailouts are required for accounts over $AU 100k ).
 (CN) CHINA JUL HSBC FINAL MANUFACTURING PMI: 47.7 V 47.7E (11-month low)
(CN) CHINA JUL MANUFACTURING PMI: 50.3 V 49.8E
(AU) AUSTRALIA JUL AIG PERFORMANCE OF MANUFACTURING INDEX: 42.0 V 49.6 PRIOR (18th consecutive month of contraction; 3-month low)
(AU) AUSTRALIA JUL RPDATA-RISMARK HOUSE PX ACTUAL: 1.6% V 1.9% PRIOR
(AU) AUSTRALIA Q2 IMPORT PRICE INDEX Q/Q: -0.3% V 2.0%E; EXPORT PRICE INDEX Q/Q: -0.3% V 0.3%E
(AU) AUSTRALIA JUN HIA NEW HOME SALES M/M: 3.4% V 1.6% PRIOR
 (JP) Japan investors bought net ¥233.2B in Foreign Bonds last week vs bought net ¥549.3B prior week (4th consecutive week of purchase); Foreign Investors sold net ¥61.8B in Japan stocks last week vs bought net ¥349.8B in prior week
(KR) SOUTH KOREA JUL TRADE BALANCE: $2.7B V $4.9BE
(KR) SOUTH KOREA JUL CPI M/M: 0.2% V 0.2%E; Y/Y: 1.4% V 1.4%E; CORE CPI Y/Y: 1.5% V 1.4% PRIOR
(TW) TAIWAN JUL HSBC MANUFACTURING PMI: 48.6 V 49.5 PRIOR
(VN) VIETNAM JUL HSBC MARKIT MANUFACTURING PMI: 48.5 V 46.4 PRIOR
(ID) INDONESIA JUL HSBC MARKIT MANUFACTURING PMI: 50.7 V 51.0 PRIOR
Currencies

3:10 AM EDT 8/01/2013

LAST(MID)
CHANGE
Australia $ (AUD/USD)
0.8974
-0.0010
Yen (USD/JPY)
98.68
0.79
S. Korean Won (USD/KRW)
1123.85
1.55
Chinese Yuan (USD/CNY)
6.1266
-0.0023
Euro (EUR/USD)
1.3251
-0.0051
WSJ Dollar Index
74.38
0.32
Government Bonds

3:10 AM EDT 8/01/2013

PRICE CHG
YIELD
Australia 10 Year
15/32
3.676
China 10 Year
0/32
3.760
India 10 Year
20/32
8.145
Japan 10 Year
-0/32
0.796
German 10 Year
20/32
1.607
U.S. 10 Year
-2/32
2.592
Futures

3:00 AM EDT 8/01/2013

LAST
CHANGE
% CHG
Crude Oil
105.56
0.53
0.50%
Brent Crude
107.79
0.09
0.08%
Gold
1319.4
6.4
0.49%
-Afterhours
Sony Corp. returned to the black in its fiscal first quarter, reversing the loss it racked up in the year-ago period, helped by recovering earnings at its mobile and semiconductor businesses and strong results at its financial arm.The Tokyo-based electronics maker said Thursday it posted a net profit of Y3.48 billion ($35.38 million) in the three months to June versus a loss of Y24.64 billion in the same period a year earlier. Sales rose 13% to Y1.712 trillion, while operating profit increased nearly six-fold to Y36.35 billion.The results came in largely in line with analysts' expectations for a net profit of Y4 billion and an operating profit of Y25.25 billion on revenue of Y1.637 trillion, according to a poll by Thomson Reuters.
MAR: Reports Q2 $0.57 v $0.57e, R$3.26B v $3.23Be; -2.6% afterhours
WFM: Reports Q3 $0.38 v $0.37e, R$3.06B v $3.09Be; -2.1% 
MET: Reports Q2 $1.44 v $1.33e, R$17.04B v $17.1Be; -0.4% afterhours
CBS: Reports Q2 $0.76 v $0.72e, R$3.70B v $3.51Be; +0.6% afterhours
ALL: Reports Q2 $1.12 adj v $0.98e, R$8.79B v $7.38Be; +1.0% afterhours
PBR: Reports June production 2.61M bpd, 4.5% m/m; crude production 1.98M bpd; +1.0% afterhours
-Geopolitical.. 
-Security Theater as NSA admits it keeps everything all the time, forever.
No surprises here, ex the amount of time they have stonewalled. Notice no mention of the 911 fail or the Mossad ever!!
http://online.wsj.com/article/SB10001424127887324136204578640012953216292.html?mod=WSJ_hpp_LEFTTopStories
Garbage Anglosaxon  General Tries to Hype Manning Damage to Anglosaxon and LGBT-Zionist-Satanist  lead Pentagram.
Anglosaxons are cocky satanists,  at only 8 pc of the population and these royal names are only 2 pc of the population. Carr is sort of a Royal Scot/Royal Anglo name. Scots have always been the most effective and bloody blades for the English crown, when they realize they have been 'had' like Patton and turn against it, they are murdered, or like MacArthur who realized the Royal ASPs, had used him and had recognized the error of the war, well then the Crown smears them into obscurity with the Jews in the press making sure no political dissent from within the ranks of the Military should ever arise.
You ask the Scots why so few of them are left, few can tell you is they and the Irish were always put on the front line to shield the Anglosaxons. Killing an Anglosaxon is regarded much the same as killing a Jew by the Crown. They are precious, precious, satanic, royal-bots.
Scots in general don't know much of their real history. The English crown loves it. They have a big recruiting campaign the English military going on right now in Belfast and Glasgow as the North Sea Dies.
Yeah you stupid, Scots, kill more gentiles and your own people for these Lizard Anglo-Jews and pagans that run England. At least the Irish that join know they are little more than cannon fodder and economic refugees. The Scot is always proud to die in battle no matter how unjust or bloody the cause. You don't find that sentiment among the Irish. The English never die statistically speaking compared to the gentiles they keep in front of them, so little to worry about it. Even the American Generals have said the British Military are institutional cowards. Yes Cowardice is truly an institution in England and there is no shortage of it , in all the land, much like there is no shortage of Sodomites and witches either.
http://news.antiwar.com/2013/07/31/general-tries-to-hype-manning-damage-but-admits-no-one-died/
| | |
| --- | --- |
| | Updated August 1, 2013 – 1:07 AM EDT |
| | | |
| --- | --- | --- |
| | | Senate Won't Consider Ending Egypt Aid |
| | | Pentagon: Guantanamo Tab $5.2 Billion and Counting |
| | | US Deploying Jets Around Asia to Keep China Surrounded |
- I cant wait to hear the Eurotrash bull manure tonight…
Lost in all the excitement on the US GDP numbers, the IMF reported that Greece's bailout needs an additional €11 billion, half of it before year-end. In addition, the IMF says Greece must be relieved of debts about €7.4B to eurozone governments with the next two years.
Yes. This means loans to Greece are about to become gifts to Greece.
European leaders have insisted on no more funds for Greece until April 2014 but the IMF may now withhold its funding unless the shortfall is closed by late September. That could cause problems for Merkel with Germans heading to the polls on Sept 22.
Fox News Source
-How that  Evil Genius Hitler ran Hollywood
Man these Jews can really write a lot of bullmanure can't they. If you study the Anglo-Zionist controlled Hollywoods portrayal of the Germans from the 1920 up until the start of WW2, it was rabidly racist, and still is to this day. In fact after WW2, Hollywood spun out dozens and dozens of movies to promote the holocaust myth, around the time the English realized they needed a reason to explain to the world why fifty million died in WW2, but hardly any English at all.  The only job a real German can get in Hollywood is to play a crazed Nazi who hates all Jews or a goose-stepping Zombie or some degrading role as a homosexual or buffoon the Jews and Anglosaxon can make sport of . How many films like Das Boot has Hollywood ever made?  The answer is Zero.
http://www.dailymail.co.uk/news/article-2382161/How-Hollywood-bowed-wishes-Hitler-1930s-studio-bosses-censored-films-whim-Nazis–MGM-exec-agreed-divorce-Jewish-wife.html
You can see why the German people induce extreme paranoia in the English and Jewish people, and why they demand Americans fight their enemies for them. Should German and America and Russia awaken to their real enemies, England will be and should be flattened and bombed back to their Stonehenge demon worshiping hovels. No American should ever go to war with any European American nation exclusive of England. Ex the English these are our Kin, even if they are mislead by the nutty Jews the English Crown puts in power. Ask yourself why nearly as many Canadians died on D, and far, far more Americans than these cowards, who call themselves English  who reside in the 'Kingdom' of Satan..er Elizabeth.
http://www.youtube.com/watch?v=QGb83mAAW4Y
-The English Crown not only intends to start WW3, they have a speech for it!
Funny how Jeff Rense and Alex Jones and Matt Drudge with the Spooks at their beck and call and such large staffs can never find these articles. Even when I sent Jones the hot links , he never puts any of this stuff up. Alex, the Jew Jones, Zionist approved conspiracy researcher of the English Crown. CIA psyop. Jeff Rense, Prince Charles and David Duke's special 'pal' and protector. What an intellectual fraud this indy media is.
http://www.dailymail.co.uk/news/article-2382211/Queens-World-War-3-speech-Found-archives-dress-rehearsal-disaster.html
-Well, a bit of truth finally about the English and Hitler and  the BIS
The BIS was Keynes/Rothschilds idea, including its location in the  Rothschilds controlled colony of Switzerland. Montagu was just the front man to keep the real bluebloods hands away from the crimes.  Montagu Norman had no intention, nor did any of the English elite who birthed this monster in shutting it down. The BOE  traditionally heads all the BIS meetings. Something they don't like anyone to know. Why would they give that up?
Read Murray Rothbards Histories of Money and Banking. Montagu Norman as, Rothsbard showed,  was a homosexual witch who thought he could walk through walls and who went off the deep end , aka nervous break downs several times ,and to be frank he was not very bright, but stooge who more or less did what he was told like Ronald Reagan.
With his homosexual affairs with Benjamin Strong the Queer Anglosaxon who ran, the then all powerful NY FED, he got the FED to double the money supply to float WW1, then after Strong left the NYFED, Montagu Norman used his influence at the NY FED to  contract the USA money  and caused the great depression. Montagu Norman never did one 'true' thing in his life. Sort of your typical Cambridge graduate, imo.
You should note of course the English never sent the Germans any of their gold and kept it all in London, which likely was another untold reason for England declaring war on Germany. Notice Germany did not ask for its gold back from London recently but only the USA FED/UST. Gold that goes to London never comes back. LBJ sent most of the USA gold there to float the dollar and Vietnam oil and Opium war for the English Crown, Alan Greenspan under Daddy Bush sent the remaining gold to London. Sherman Skolnik's website has Greenspan and Daddy Bushs signature on the wire authorization to transfer the gold from the NY FED to the London. Greenspan was Knighted for that.
The BIS remains very profitable. It has only about 140 customers (it refuses to say how many) but made a tax-free profit of about £900 million last year. Every other month it hosts the Global Economy Meetings, where 60 of the most powerful central bankers, including Mark Carney, Governor of the Bank of England, meet. No details of meetings are released, even though the attendees are public servants, charged with managing national economies…
http://www.telegraph.co.uk/finance/bank-of-england/10213988/Never-mind-the-Czech-gold-the-Nazis-stole….html
Hjalmar Schacht was no doubt a Rothschilds agent. He knew all the big London Jewish banker and big American Jewish bankers…some more history the bloody English and the bloody Jews neglect to tell you about their war in Germany.
http://www.phumph.com/hiddenhands(b).html
-Maggie Crackers , aka Thatchers Secret Plan to turn redcoat guns on striking Welsh miners.
I was living in Europe when Thatcher was in power and every morning I used to debate if I despised Ronald Reagan the Queer and tyrant of the Crown or Crazy Maggie Cracker the Lesbian witch of the crown more. Not only were their polices insane, I thought they were both as well.  Years later I figured it was Prince Phillip and his councils did all the thinking for stupid Thatcher and Reagan and both were puppets much like Tony Blair, who did what they were told as hatchet LGBTs for the Crown. The Crown makes sure no blood is every traceable to its hands directly.
They are both in Hell. The Anglosaxon section of hell, like the Jewish section really must be over flowing. Ronnie and Maggie, Queer Peas in the Royal's pod.
You know I never once met a Scot or Irish or Welshman who went to Cambridge in my day they were all Jews and Royal WASPs. Celts went to Saint Andrew, which imo, graduated much higher caliber students in physics and the such than Cambridge.  A lot of Jews at Cambridge, much like at Harvard, Stanford and Yale these days.
http://www.telegraph.co.uk/news/politics/margaret-thatcher/10213447/Thatcher-made-secret-plans-to-bring-in-the-military-during-the-miners-strike.html
-The Jews and sex slavery of the Slavs 
2nd story picked at random from the mail tonight. Well I was always wonder who was behind the hard porn advertising exploiting the Slavs at 'Agent Provoateur', none other than the Sephardic Jewess, Penelope Cruz. Thanks to the Times of London for finally outing her as one of the tribe. I don't get this pay a Jew $500 dollars for 25 dollars worth of cotton and lace. Sadly outside of the Spanish speaking or spanish reading world there is very little awareness of the fierce Sephardic Jewish mafia that controls the Concaine trade of Latin America, and flows it to the USA, Russia, and Europe. Or the Sephardic Jews who run Ukranian girls promised maids jobs as sex slaves in Spain and Latin America. Penlope Cruz films virtually always spit on the Catholic Church. No surprise there.
http://www.dailymail.co.uk/femail/article-2382078/Penelope-Cruz-gets-camera-direct-Irina-Shayk-racy-advert-Agent-Provocateur-underwear-line–enlists-help-pregnant-sister-M-nica-husband-Javier-Bardem.html
-Irish Slave Complains About Jew/Anglosaxon Law firm, stiffing him, gets fired…
First item to come up on the quick scan through the mail. This British-Israelite cult is so in your face, only extreme brainwashing and mind control can prevent anyone with any kind of ethnic identification who is honest from seeing it. Its a race/class base war, the greater Hebraic tribes, which is lead by the Fierce and extraordinary evil Anglomason/Royal and his beanie wearing accountant and money lender versus mankind. Them and their Anglosaxon and Jewish and LGBT footsoldiers versus us, we the many, we the gentile nations. We have them surrounded, and that is what David Duke and Alex Jones, and Jeff Rense don't want you to know. They should be cowering in fear, not you. The English crown is the ultimate Wizard of Oz.
Queen Elizabeth II
(played by an Anglosaxon of course appropriately)
Baron Rothschild
I recall one fellow from Cambridge explaining to me, 'the Irish are our nigg-rs'. And he was no Jew per se, but a proper English hereditary Lord who thought the word N-r was common in America like it was in England. I told him around any Irish-American I had ever  known he best keep that opinion to himself (although I could not speak of the Irish in England or Ireland).
He was always ridiculing me I had 'no title', that he had never heard of the University of California, or Caltech and was wondering if I made the names of my schools up and then want on to give my Cambridges pedigree, over and over again.  Of course I refused to address him as Lord, so and so which I think upset him to no end. I told him the only one we call Lord in the USA or ever intended to short of dying was Jesus Christ. That really set him hard against me as I should had known post Darwin, God was dead and the English had discarded him and that silly old Bible.
"Titles' are like money in the bank in England. Everything in England is about your title, family , what university you went, and what accent you have and how close you are to the royal money and how wealthy you can pretend to be without doing a lick of real work. In England if you actually have to work, or when you're at work, if you work more than a few hours, you're considered to be 'Irish', at least I was so informed.
Try ordering in German , like I once did in England. Just size up what's going to likely come at you. An extraordinary hatred for Germans in England. Never seen anything like it.
This was back in the days when the Irish were doing all the construction work after the big bang in London, and before the English displaced them with lower paid Spanish and Slavic workers after the Berlin wall fell.
If you ever met the English bluebloods, you know they are all satanists, sodomites and amazingly cunning at all the things you should not be cunning at like how to cheat people, how to insult people, what doctors to go to get the clap cured discretely,  what whore houses have both good looking young male prostitutes and female prostitutes,  and not cunning at any of the good things like mathematics, or music, or creating.
I suppose there is cunning evil, which we sort of call conniving and cunning good, which we don't really have a good word for in American English although in England they use the word 'Brilliant' a lot although a American would use that word once in 1000 blue moons to describe anything or anyone. If an Englishman figures out how to actually do something in a mediocre in a mediocre way they say 'oh that's so brilliant'.  Like the Rolling Stones are 'Brilliant', to the English when in fact their music is concophonous, atavistic, and cabalistic.
http://www.dailymail.co.uk/news/article-2381982/Milk-Truck-employee-Brendan-OConnor-fired-calls-company-Twitter-leaving-tip.html