Headliners
-Monsanto Pulls GMO corn out of Europe. Prince Charles furious
-Mainland China Markets Tank on Rumor That PMI release this weekend will show contraction
- Euro Zone Unemployment hits  record high at 12.2%
-Worker Spending in USA Drops .2 % m/m in April
-Italian April Youth Unemployment: 40.5%, Italian Unemployment hits new record in April, Highest since Series began
-German Retail Sales Tank in April
-Japanese banks reduce their JGB holdings to the lowest levels in nearly 2 years
-Tokyo Core Inflation actually rises
-Japan Cancels US Wheat Orders on Monsanto/MI6/Mossad  Rouge GMO Strain Infection
-FED Contracts Balance sheet by $13 bln
======================
Market Commentary
-London Rhodes Scholar Jimmy Boy Rogers
It takes a long time to gather all the data I do, so I can't be fetching every interesting talking head. It would be nice if the 3-5k people a day who read this blog contributed something. London insiders I monitor say the bottom is in. Only God, Soros, Rothschilds and Prince Charles probably really know. Rogers is an Anglomason and George's ex partner. Actually the Celente expose got a flood of readers until the spooks stepped into to stop the flow of readers to the blog. There is certainly no such thing as free speech on the web. I have a lot of IT work to do this weekend. The pounding on this website is really something else.
Jim Rogers: Gold correction ain't over, and Bernanke needs to quit
May 31, 2013, 4:43 AM

Brace yourself: maverick investor Jim Rogers is taking the Fed, QE and gold by the horns.
In an interview with GoldMoney, Rogers says he is now vindicated on his months-long call that goldGCQ3 -1.73% was going to reverse that 12-year bull run. Unfortunately, he owns gold and hasn't sold any, but the shiny stuff is definitely in the throes of that, which he says is "much overdue," after the "abnormal" run, he says. (Gold is down about 4% for the month of May, and 16% year-to-date, on the August contract.)
"It has now corrected for some 18-to-20 months now. I find that encouraging … Until it scares a lot of people, the correction is not over. I would certainly like the correction to be over this afternoon and see gold go to $2,000 or to $3,000, but that's not reality."
He also has plenty to say about Fed Chairman Ben Bernanke and that much-discussed exit plan from QE.
"Mr. Bernanke's exit plan apparently is that he is going to leave his job. He doesn't want to stick around for the hangover. He doesn't want to be around for the consequences of what he's doing," Rogers says.

"I don't know if there's an exit plan.  If and when they stop, it's going to cause lots of ramifications in the market and lots of — perhaps even chaos, but certainly turmoil and upset. The only exit plan that he's talked about is to let it all mature. That sounds wonderful, but it's not very practical."
Rogers says the money-printing by the Fed, Bernanke, the Bank of Japan and the Bank of England will keep going until the bubble pops and deflation lands, though the space between here and then is still pretty wide. He also goes on a tear about the U.S. government, arguing it'll take something major to solve the U.S. debt issue: "Nobody gets out of this situation until there's a crisis."
So what to do? Simple, American leaders and politicians need to just resign. As for Bernanke, should he quit too?
"No, Bernanke I would tell him to close the Federal Reserve, and then resign."

– Barbara Kollmeyer

MW
-The PPT failed at the close…
I extracted some short side winnings at the close. At least USA markets still do go down on lousy data. What a scramble at the end of the day to leverage down some more. It pays to stay until the close sometimes! German markets are toast, they just don't know it yet in Germany, the English are shorting them in London now. England takes the markets up, england slams the markets down all based on insider collusion and corruption. Nice dump of gold futures near the close to whack it down a few more bucks for end of the month bragging rights in England.
4:23 p.m. EDT 05/31/13Major Stock Indexes

4:22 p.m. EDT 05/31/13Treasurys

4:13 p.m. EDT 05/31/13Futures

4:23 p.m. EDT 05/31/13Currencies
-Israel, the Jew Madonna and Apartheid
Hard to understand why a Palestinian would want to watch her Talmudic filth, but they should be able to if they paid to get in. Israel should be boycotted by the world until it is brought to its knees and is disarmed of its 400 nukes and submarines and war making ability. The Jewish religion is racist and apartheid, it should be reformed. But they hated Moses and Jesus, so what can we do but economically punish these horrid Jews. The few that are innocent will have to bear the sins of their nation, given how few reformers there are.
http://972mag.com/watch-palestinians-going-to-madonna-concert-stopped-by-the-wall/47276/
-Wheels coming off the Wagon for Crypto Jew Erdogan's Zionist Regime?
I was watching this on the Turkish web last night. Clearly a lot of Muslisms are not happy about killing Muslims in Syria,  and being Israel's and the USA's bitch. Hard to say if the Turks can get rid of their Jew at the election booth anymore than Californians can get rid of its corrupt Jewish leadership, as elections are so rigged in both places by the Jews and their Masonic associates. The Turks are fundamentally the sons of Ashkenaz anyways so the Jews assert their right to rule them. In CA, ex the Anglomasonic  and Hollywood crowd scum we are not the 'sons of Ashkenaz'.
http://tehrantimes.com/world/108179-turk-police-in-teargas-crackdown-on-anti-govt-protesters
-South Korean millers suspended imports of U.S. wheat on Friday and some Asian countries stepped up inspections after the discovery of an unapproved strain of genetically modified wheat in the United States, but stopped short of imposing import bans.U.S. officials are racing to quash global alarm in the wake of news the strain of wheat, developed by biotech giant Monsanto Co (MON.N), had been found in an Oregon field late last month. The discovery has already prompted major buyer Japan to cancel plans to buy U.S. wheat while the European Union said it would step up tests.South Korea – which last year sourced roughly half of its total wheat imports of 5 million metric tons from the U.S. – has also raised quarantine measures on U.S. feed wheat, while Thailand put ports on alert. NY Daily News wire
-Ha, ha, 'someone' just dumped 1000 gold futures contracts. Would that be Lew the Jew?
-Typical late Friday Release…Market rigging pays and pays at GS , JPM, Barlcays, Citi, HSBC, etc
Goldman Sachs regulating Goldman Sachs, just like at the BOE!!
Thanks Jew Boy!!!
Hadden that would be you trashy Anglomasons again!! Anglosaxon crime, the taxpayer's dime. It is clear who the shylocks of England and Israel are!
Goldman Sachs Group Inc.  has been ordered to pay an $875,000 fine for failing to supervise its Treasury desk in December 2008, CME Group said Friday. Glenn Hadden, a trader on Goldman Sachs's treasury desk at the time, has been ordered to pay an $80,000 fine for violating a rule governing the size of trading positions. As part of the settlements, both Goldman Sachs and Hadden neither admitted or denied any rule violation. The CME has suspended Hadden from trading for 10 days. Hadden currently works for Morgan StanleyMS +1.43% as head of its global interest-rates desk. "Glenn Hadden remains an employee in good standing as global head of rates," a Morgan Stanley spokesman said. MW
-Summary
We have this strange secret meeting going on in Japan between Abe gang/BOJ/MOF , the Sachs in Goldman Sachs and 'ex BOE' types on how to get inflation going but rig the Japanese Yield curve so Japan can service its massive debt load. England is the world expert in rigging sovereign markets and their bond markets are completely controlled by the big banks who got the QE and various algorithms the BOE /Cambridge passed onto the FED on how rig the yield curve using the futures markets and options. The FED got some direction and experience after WW2 on how to do this, but with bond markets moving to futures and options, entire new computer driven possibilities exist for the Central bank in todays modern age of programmed trading. At least the FED admits in various white papers it rigs the yield curve. Clearly the BOJ/MOF have their work cut out for them. Then we had the uber corrupt Englishman at the IMF endorse the saving destroying Abenomics , which so far contains no structural reforms to deal with Japan's massive debt. Right now Japan, I suspect like all Island nations wants a trade surplus to pay for all the commodities it needs to buy to preserve its industrial base. Needless to say I doubt Mr. Sachs or Posen will share with us their discussions on how to fix the JGB market. I got the pop I wanted on the Japan ETF and the end of the month mark so I sold that position.
One thing you learn about Chinese society as a Westerner, as they have no secrets. Clearly someone in the govt leaked to the family what the official PMI number would be this weekend, so the Chinese traders took money off the table, after all the HSBC flash number showed a contraction. China has bubbles all over the place due to pegging to Bernanke's QE. Still the mfg sector has enormous political influence in China like it does in Japan and it remains to be seen how long Xi can hold off telling the PBOC to ease if we have a big contraction this weekend in China.
OPEC agreed to maintain its 30M bpd production quota at its conference in Vienna today. The organization confirmed that it has no official price target for crude and reiterated that it was closely watching market action. OPEC also said it would expand capacity to combat volatility and study whether shale oil is sustainable over the long term. A clear Saudi/City of London threat to the USA. I disagree with the rich Jews that run Saudi Arabia, at least  for now for the Crown, $100 dollars is not a fair price for oil. Even the CEOs of XOM and RDS-USA are on the record saying given supply and demand oil should be $60 a barrel. England has an admitted corner on Brent oil and of course we have the on-going EU investigation into London rigging the oil/gasoline prices to squeeze Europe. Americans and Californians were greeted with some good news, that the prolific Monterey shale would be started up, although largely as the Crown has interests in the firms drilling there. I fracked many a well as a young man, and have no concerns that at least at the majors they frack safely. The practice is nearly as old as the hills and perfectly safe for the environment if done professionally in these deep shales of west, the shales of the east coast are a different matter, fracking poses risks there if extreme care is not used and the right fracking compounds.
In gold we had the typical friday hit job by the cartel lead by BBN and Citi , lying and claiming physical demand was drying up, despite even the LBMA admitting yesterday demand for physical was at record levels. After all the G4 are printing, and if the ECB is 'sterilizing' as they claim why is M3 going up in Europe as their economy contracts? Gold was knocked below 1400 to prevent momentum traders from piling in. And we had the typical media whipsaw of taper on, taper off by the MSM today on the highly contradictory USE data.
In Europe, the untold story is the fierce battle between the Bundesbank and the money printing Jew from Goldman Sachs, Mario Draghi.   The German Govt Coalition  requested that ECB chief Draghi attend the German Federal Constitutional Court hearing on Euro according to a letter from FDP floor leader Bruederle. Germany is worried over stability of Euro. Bundesbank President Weidmann will appear before the Constitutional Court on ESM bailout scheduled for Jun 11-12th and the court will examine the ECB's program to possibly buy govt bonds (OMT) and rule on the legality of the OMT. The Jews of London can't be happy about this at all. No one needs the big print more than  the English as their entire economy is more or less finance based now that the North Sea is in steep decline. Merkel as we covered earlier is going to cut taxes and increase spending substantially for her election showing you she knows the rest of the EU is DOA.
Ex Germany it is hard to understate how bad the job situation is, so a picture tells a thousand words in this case.
Eurozone unemployment has hit a new high with young people the hardest hit as now almost one in four under-25s are out of work .Eurozone unemployment rose to 12.2% for April, an all-time high, according to Eurostat.At 24.4%, youth unemployment was double the wider jobless rate and up from 24.3% in March. The problem was most extreme in Greece where almost two out of every three under-25s are unemployed. The rate was 62.5% in February, the most recently available data.In the wider EU area of 27 countries, unemployment stood at 11%, as the rate increased in all but nine countries compared with a year earlier. The increase in unemployment was fairly broad-based with rises in so-called core countries as well, including Belgium and the Netherlands, while French unemployment held at 11%. Eurozone unemployment has now risen for 24 successive months and by a total of 3.853 million since starting to trend up in May 2011. Italy was particularly  hit hard as its unemployment rose to the highest level since they started recording stats in 1977. Von Rompuy was 'in place' in Rome today, and inferred Italy would get more buy downs in its yield and program to put its youth back to work.
Europeans are not like Americans, most tend to live at home until they are married or get a job. Yet no major structural reforms in Italy, Spain, Greece or France have come forth such as increasing the work week, making it easier to hire and fire workers, and reducing the socialist govt take on businesses. Indeed much of Europe remains fixated on being a tax haven and making money on helping USA firms pay no taxes, while small to medium sized firms in Europe are taxed out of existence. And we have China buying EU debt and knocking on the door wanting ' free' trade to gut European jobs like in the USA. Nothing will change in the job situation in Europe as the money is going to bail the banks out and not effect meaningful reform in the EU job markets. The Goodyear CEO who shut down operations in France sort of pointed out the glaring problems no one in Brussels, Italy, France or Spain wants to address that EU workers are lazy and spoiled and expensive and cant be fired at will.
ECB's Visco was in place in the Media after the Italian jobs release, and  commented that Italy was to register substantial output decline in 2013, but recovery was on its way in 2h2013,  and reiterated that the ECB was ready to intervene again on rates and consider all measures to maintain credit conditions consistent with monetary policy stance. Ollie Rhen chirped up that the EU must effect structural reforms even though none are really taking place in Europe. Von Rompuy gushed about the next EU summit and the jobs program the EU is supposedly putting in place for European youth.
Personally I would never hire anyone from Europe, I worked there and Europeans simply don't take work seriously outside of Germany and Austria. You raise 400 million people on socialism and communism and all your going to get is people with bad work habits. Overall as is typical of bad data days, the Pols largely kept their mouths closed as they have no solutions and let the ESM rig the markets. European markets staged another miracle come back on the bifurcated USA data and end of the month mark up by the EU/London money center banks.
The Jews Merkel and Hollande were clinking glasses over the full time EU President, although no mention of a vote. Tony Blair a fellow Jew badly wants that job as does the Anglomason Gordon Brown. England will run Europe, it just appears Germany is. Germans are too stupid( mind controlled)  or indifferent to state the truth, to say otherwise. Well Tony Blair the war criminal would be a fitting president for satanic Europe. Or we could send the Germans Obama since they love him so, so much in Europe.
Dijisselboem was down in Greece promising them a bigger write off of their debt in 2014 if they continue 'reforms' and generate a primary budget surplus. That is sell Greek assets on the Cheap to the Windsor-Rothschilds financial cartel. Meanwhile Lagardes European gang in Washington is discussing how to fund greece in the interim period until after the German election and the big debt write down. The IMF said "Greece's public debt remains much too high. It is therefore very welcome that Greece's European partners have now accepted that Greece could need significant exceptional support on below-market terms in order to restore debt sustainability and that they have committed to provide additional relief, if needed." Germans and Americans can look for a big, big deal for these lazy corrupt Greeks after the German elections. Count on it, the Fix is in.
It was very hard to make any sense of the USA economic data this morning. In a very high inflation environment worker spending declined m/m in April, but worker confidence improved. I suspect that is related to fewer housing markets being under water and workers being able to at last sell their homes and move to states with jobs.  Milwaukee and Chicago are joined at the industrial hip in addition to being short drive between their extended metro area, yet Milwaukee May NAPM bombed while Chicago's soared. The trend globally is down. Don't forget we have the Rahm Emmanuel , Goldman Sachs crowd now controlling Chicago. But for now lets just chalk it up to some home owners using credit to buy badly need higher gas mileage cars.
I suppose the reality of what the EU/usa  bailout is all is very clear if  you watched the markets closely today.  The US ADRs of the National Bank of Greece are trading up nearly 18% this morning after the firm launched an offer to buy back 22.5M of its outstanding US-listed ADS preference shares for a total of $281M. This comes just two days after a stock split. Bank stocks most up, gold stocks most down, it the Rothschilds way! At least for now.
This QE has always been about transferring wealth to the banking elite and bolstering bank stocks. You don't really see serious deleveraging of risk in EU bank stocks or USA bank stocks. English banks are full of loans , like Dutch and Danish banks and French banks that need the EU housing bubble not to pop. More QE coming after Merkels election in Europe, count on it. Denmark named the happiest country in the world, well the Danes are very extended on Credit on their home equity and they may not be happy much longer servicing those big mortgages if housing prices continue to languish there like in Holland. Clearly the Winsdor-Rothschilds want housing inflation now but not gold inflation. Tony Blair did not put all his money into London real estate by Chance.
I expect the USA markets to finish slightly in the green today. It looks like 'distribution' at last as the Jew money and English money sells to the suckers buying the rally on rigged and bad data. I took a wee bit out on the short side on yesterdays end of the day reversal but will maintain the shorts for what should be bigger gains as the distribution of equity moving from smart to dumb hands continues starts in earnest.
No wonder Bill Gross lashed out at the FED, despite greenspans as a consultant his massive  bond fund was a real stinker performance wise as he was whipsawed this way and that way by the FED/ECB and the games they play. Hey, he manages 'pension' money and GS, HSBC, JPM, want all of that on their book.
Eric Holder promised to not spy on the journos again. Talk about a pathetic criminal figure kept in place by the feckless and very evil Eurotrash POTUS,  Prince Charles put in place to run this clip joint formerly known as the USA.
Looks like Assad killed some MI6/CIA /Mossad jihadists today. Good for him. These spook are so foul and satanic and so controlled by London and Wall Street, as the latest FBI appointment showed us, no one should shed a tear when the adage that those that live by the sword shall die by it comes home to roost.
Have a great weekend Eurotrash and my fellow Canadians and Americans.
2:07 p.m. EDT 05/31/13Major Stock Indexes

2:06 p.m. EDT 05/31/13Treasurys

1:57 p.m. EDT 05/31/13Futures

2:07 p.m. EDT 05/31/13Currencies
Economic Releases
(US) May Chicago Purchasing Manager: 58.7 v 50.0e; highest since spring 2012
(US) May Final University of Michigan Confidence: 84.5 v 83.7e; highest since July 2007
(US) May NAPM-Milwaukee: 40.67 v 49.00e
(US) Apr Personal Income: 0.0% v 0.1%e; Personal Spending: -0.2% v 0.0%e
(US) Apr PCE Deflator M/M: -0.3% v -0.2%e; Y/Y: 0.7% v 0.8%e
(US) Apr PCE Core M/M: 0.0% v 0.1%e; Y/Y: 1.1 % v 1.0%e
(CA) Canada Mar Gross Domestic Product M/M: 0.2% v 0.1%e; Y/Y: 1.7% v 1.5%e
(CA) Canada Q1 Quarterly GDP Annualized: 2.5% v 2.3%e
(CL) Chile Apr Unemployment Rate: 6.4% v 6.3%e
(BR) Brazil Apr Nominal Budget Balance (BRL): -7.7B v -7.1Be; Primary Budget Balance: 10.3B v 13.0Be; Net Debt to GDP Ratio: 35.4% v 35.4%e
(MX) Mexico Apr Net Outstanding Loans (MXN): 2.323T v 2.325Te
-Monterey Shale Fracking Gets CA Greenlight
The shale is not near any rich Jews or Anglos homes and London controlled firms have a big stake in the prolific Monterey Shale. What Prince Charles wants he gets. CA is going to see a major oil boom. And most importantly the shale is at a depth with the right geological structures above it, that fracking given the proper environmental controls has no issues.
California (STOCA1) lawmakers rejected a bill that would have stopped drillers from using hydraulic fracturing to free oil and natural gas from shale beds until state regulators implement rules for the controversial practice.Legislators turned attention to the technique because California may hold 15.4 billion barrels of oil — two-thirds of the nation's shale-oil reserves — in a formation known as the Monterey Shale, according to federal estimates…
http://www.bloomberg.com/news/2013-05-31/california-lawmakers-turn-down-moratorium-on-fracking.html
-Chilean President gives Barrick Gold its Pascua-Lama fix-it orders
You really cant afford to mine in Alpine zones without an extraordinarily high gold price to cover environmental engineering. This mine should never have gone ahead. ABX's reputation as the worst offender in environmental engineering continues on under the new Anglomasonic leadership. The English crown owned firms like BP and ABX are always the worst polluters and killers.
-Monsanto gives up, for now on GMO corn in Europe
In Europe Monsanto only sells GM corn in three countries. GM corn represents less than 1% of the EU's corn cultivation by land area. Field trials are only in progress in three countries. We will not spend any more money to convince people to plant them," states Brandon Mitchener, Public Affairs Lead for Monsanto in Europe and Middle East, in an interview with Investigative Reporting Denmark.The decision was taken quietly. The company found no reason to communicate it. This means that every agribusiness company has now given up on genetically modified crops in Europe – apart from selling them in Spain and Portugal.
http://www.ir-d.dk/gmo-lose-europe-victory-for-environmental-organisations/
-In 2010 there were 11 old people for every hundred working-age Chinese. In 2050 it will be 42.
-Outside of Zionist Controlled DB in Frankfurt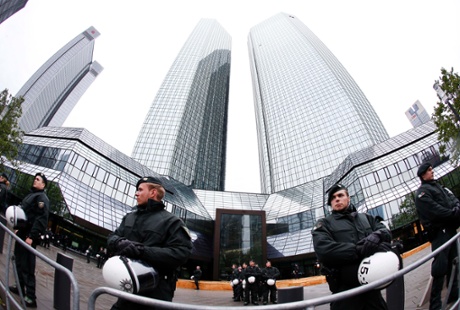 -American Anglosaxon and British Anglosaxon killed in firefight with Syrian Army
WASP Jihadists killed in Syria
There were 10 rebels in a car in west Idlib province. The British rebel, the US female rebel, another unknown body – we believe he is Canadian. His mobile was checked and many calls to Canada have been made on his mobile.The others were Syrian rebels.Their car was ambushed by the Syrian army and soon a big fight broke out between them and the Syrian army with guns and PKC [machine guns]. The fight lasted for more than an hour until they were all killed.After checking their bodies and the cars, the Syrian soldiers found these foreign IDs for a British man and US woman. Reuters wire.
The American woman was white and named Mansfield. The brit looked White as well. Probably MI6/CIA or Mossad. Well a good jihadist is a dead one, like a good zionist or a good Englishman in my book.
-Jew Exports Eastern Religion of Yoga to Africa
Nothing against Yoga-like exercises but many instructors bring the eastern occult teachings with the physical.
http://well.blogs.nytimes.com/2013/05/31/yoga-in-africa/?smid=tw-share
-German End of the Month Manipulation into the Close
I took some profit on the short side after the EU unemployment number hit the tape and before the USA data but just shorted the DAX end of the month mark up into the close. Europe is not getting better the crisis is getting much deeper no matter how many DAX futures contracts or how much pork Merkel tries to sling in an election year. The rumor out of China is probably fact on the PMI. The ESM back to its old tricks, the worse the economy gets the better the markets do in Europe. What an utter farce Regling/Frankel and Draghi have made of markets that were very corrupt before and are even more corrupt after.
11:33 a.m. EDT 05/31/13Major Stock Indexes

11:32 a.m. EDT 05/31/13Treasurys

11:23 a.m. EDT 05/31/13Futures

11:33 a.m. EDT 05/31/13Currencies
-You Don't want to be black in Texas and steal ribs…
How Prince Charles Garners new slaves…
WACO, Texas (AP) — A jury has sentenced a Waco man convicted of stealing a rack of ribs to 50 years in prison.Forty-three-year-old Willie Smith Ward was convicted and sentenced on robbery charges Wednesday. The Waco Tribune-Herald (http://bit.ly/15jX8iI ) reports that Ward's theft of the $35 rack of pork ribs turned into a robbery after he threatened a grocery store employee who tried to stop him in 2011.The employee testified that Ward told him he had a knife.The jury recommended Ward be sentenced as a habitual criminal. Ward has previous felony convictions for burglary, attempted robbery, aggravated assault, leaving the scene of an accident and possession of cocaine, and four misdemeanor convictions, including two thefts.He must serve at least a quarter of his sentence before he's eligible for parole.
Who wants to pay to keep this guy in Prison for fifty years. That is nuts, despite his being a habitual criminal and a negro. The English crown should end its drug dumping into the USA and the outsourcing and unlimited immigration. This guy should have to pay some restitution to the store and to pay his court costs.
-Obama care to increase rates in CA up to 167 %
Obama and the Insurance firms lies exposed
http://www.forbes.com/sites/theapothecary/2013/05/30/rate-shock-in-california-obamacare-to-increase-individual-insurance-premiums-by-64-146/
-Looks like Von Rompuy promised Letta more Buy down in Italian debt
http://www.consilium.europa.eu/uedocs/cms_data/docs/pressdata/en/ec/137362.pdf
U.S. 10yr 2.16+0.05, -2.23%
German 10y 1.52-0.00, 0.17%
Italy 10yr 4.10+0.02, -0.61%
Spain 10yr 4.43+0.09, -2.02%
U.K. 10yr 2.01+0.04, -1.98%
-Post Data
10:08 a.m. EDT 05/31/13Major Stock Indexes

10:08 a.m. EDT 05/31/13Treasurys

9:59 a.m. EDT 05/31/13Futures

10:09 a.m. EDT 05/31/13Currencies
-The final May reading of the University of Michigan and Thomson Reuters consumer-sentiment index jumped to 84.5 – the highest level since July 2007 – from 76.4 in April, according to news reports. A preliminary May reading pegged the gauge of 83.7. Economists  had expected a final May reading of 83.8.
-Chicago PMI surged to a reading of 58.7 in May, up from 49.0 in April, according to data released Friday, marking the best reading in over a year, just a month after the worst reading in three-and-a-half years. Economists had expected a 49.9 reading. The rebound was highlighted by a surge in production, order backlogs, employment and supplier deliveries from contraction to expansion. Earlier, ISM-Milwaukee said its regional index tumbled to 40.7 from 48.4 in April.
-This is the type of garbage we all have to listen to from these EU monsters
Great job on the EU economy Von Rompuy you greasy Jew. New Record high unemployment. Great job trading off jobs for the young for your greasy banking kin in Europe. Great job in folding for the big Jews of London on the Tobin tax you piece of lying human filth. This guy could care less about youth unemployment, exactly like Obama and all the 'free trade' agreements he has in pipeline. Von Rompuy wants EU jobs to go to China. He is a 'destroyer' like Obama. An Agent of the English Crown. Yet another Cyrpto Jew in the Firmament of Europe.
Main goal is to mobilise everybody in this fight. June #euco should be a rallying point for youth employment
-Smash Gold, but futures, the UST way
10:00 a.m. EDT 05/31/13Major Stock Indexes

9:59 a.m. EDT 05/31/13Treasurys

9:50 a.m. EDT 05/31/13Futures

10:00 a.m. EDT 05/31/13Currencies
-EU Economic Release Summary
(EU) Euro Zone May CPI Estimate Y/Y: 1.4% v 1.4%e; CPI Core Y/Y: 1.2% v 1.1%e
(EU) Euro Zone Apr Unemployment Rate: 12.2%e v 12.1% prior;  EMU record high
(EU) ECB: €916M borrowed in overnight loan facility vs. €52M prior; €85.6B parked in deposit facility vs. €82.4B prior
(DE) Germany March Real Wholesale Sales M/M: -0.5%; Y/Y: -7.2%
(DE) Germany Apr Retail Sales M/M: -0.4% v +0.2%e; Y/Y: 1.8% v 1.1%e
(RU) Russia Narrow Money Supply w/e May 27th (RUB): 7.69T v 7.70T
 (IT) Italy Apr Preliminary Unemployment Rate: 12.0% v 11.6%e, 36-year high
(IT) Italy Q1 Unemployment Rate Seasonally Adj: 11.9% v 11.6%e
 (IT) Italy May Preliminary CPI (NIC incl. tobacco) M/M: 0.1% v 0.0%e; Y/Y: 1.2% v 1.2%e
(IT) Italy May Preliminary CPI EU Harmonized M/M: 0.0% v 0.0%e; Y/Y: 1.3% v 1.3%e
(FR) France Apr Consumer Spending M/M: -0.3% v -0.6%e; Y/Y: 0.2% v 0.0%e
(ES) Spain Mar Current Account: +€1.4B v -€1.3B prior
(FI) Finland Mar Final Trade Balance: -€234M v -€225M prelim
(FI) Finland Apr House Price Index M/M: -0.2% v +0.5% prior; Y/Y: 1.4% v 2.2% prior
(FR) France Apr Producer Prices M/M: -0.9% v -0.3%e; Y/Y: 0.6% v 1.6%e
(HU) Hungary Apr Producer Prices M/M: -1.2% v +1.6% prior; Y/Y: 0.7% v 1.2%e
(DK) Denmark Q1 Preliminary GDP Q/Q: 0.2% v 0.2%e; Y/Y: -0.8% v -0.7%e

(CH) Swiss May KOF Leading Indicator: 1.10 v 1.07e
(SE) Sweden Q1 Current Account (SEK): 67.9B v 63.0B prior
(CZ) Czech Apr Money Supply Y/Y: 4.3% v 4.5% prior
(NO) Norway Q1 Manufacturing Wage Index Q/Q: 0.2% v 1.7% prior
(NO) Norway May Unemployment Rate: % v 2.4%e
(NO) Norway Apr Credit Indicator Growth Y/Y: 6.5% v 6.1%e
(BE) Belgium Apr Unemployment Rate: 8.4% v 8.2% prior
(GR) Greece Retail Sales Volume Y/Y: -5.6% v -14.4% prior; Retail Sales Value: -5.7% v -14.4% prior
(UK) Apr Net Consumer Credit: £0.5B v £0.4Be; Net Lending: £0.9B v £0.5Be
(UK) Apr Mortgage Approvals: 53.7K v 54.6Ke
(UK) Apr M4 Money Supply M/M: +0.3% v -0.9% prior; Y/Y: -0.1% v +0.3% prior; M4 Ex IOFCs 3M Annualized: 2.8% v 3.3%e
(IS) Iceland Apr Final Trade Balance (ISK): 4.9B v 5.1B prelim
(TR) Turkey Apr Trade Balance: -$10.3B v -$7.8Be
-Ouch!
-Europe Broad Market
-Asia Close
The Shanghai composite tanked into the close on profit taking based upon a 'rumor' that the PMI release this weekend would be show contraction.
Japan Vice Fin Min Furusawa commented that the priority of the cabinet was to end deflation and reiterated that it would continue to monitor risks from any spike in JGB yields. He saw clear signs of domestic economic recovery and added that Japan's financial system was healthy and sound IMF's First Deputy Managing Director Lipton reiterated view that current JPY currency (yen) depreciation was not seen as problematic, currency is 'moderately below' Japan's medium term fundamentals. Forceful BOJ policy was best chance to escape deflation and saw high chance that 2% target being achievable in near-to-med term.; BOJ taking appropriate measures to contain excessive volatility in JGB market and added that Japan fiscal risks had risen. Forecasted Japan 2013 GDP at 1.6%, 2014 GDP at 1.4% and that the domestic recovery was gaining traction and was expected to be sustained in 2014.) PIMCO's El-Erian: in a few months expect hyperactive BOJ policy will be shown to be increasingly ineffective which may force it to do even more. CNBC interview
 India PM Singh: India inflation will fall in the following months

 Indonesia Deputy Gov Warjiyo commented that it might raise interest rates if inflation exceeded target. He added that was satisfied with current level of IND currency (rupiah).
 OPEC Oil Ministers commented ahead of scheduled production meeting

 OPEC Gen Sec El-Badri: Will decide on new Gen Sec in December; today's meeting will decide on criteria
 Angola Oil Min: Need to analyze impact of shale oil but sees no threat from its production; Asia and Europe are possible destinations for LNG; Sees a growing market in China; country's current production is 1.7M bps
 Iran Oil Min: OPEC quota decision depends on market; Presidential elections will not change its oil policy; Recommends keeping OPEC production ceiling unchanged
 Saudi Oil Min: Reiterates shale is a welcome addition to global supply; not concerned by global oil demand; oil inventories are moderate; says $100 per barrel is reasonable
 Algerian Oil Min: Want higher oil prices with Brent in range between $100-120 per barrel
 Venezuela Oil Min: Believes consensus is to maintain current OPEC production target of 30M bpd; More concerned about EU-US economies than US Shale Oil
Qatar Oil Min: OPEC wants to maintain balance between oil supply and demand; Oil market is stable, situation 'comfortable'
Nigerian OPEC Delegate: January to date all Nigerian crude has been sold
Late Asia Releases
(JP) Japan Apr Vehicle Production Y/Y: -6.5% v -16.4% prior
(JP) Japan Apr Annualized Housing Starts: 939K v 924Ke; Y/Y: 5.8% v 4.1%e; Construction Orders Y/Y: +2.0% v -3.4% prior
(IN) India Q1 Preliminary Annual GDP Govt. Estimate Y/Y: 5.0% v 5.0%e; quarterly GDP Y/Y: 4.8% v 4.8%e
(TH) Thailand Apr Current Account Balance: -$3.6B v -$1.0Be; Total Trade Account Balance: -$1.6B v +$2.0B prior; Overall Trade Balance: +$305M v -$65M prior; Total Exports Y/Y: 3.7% v 4.2% prior; Total Imports Y/Y: 8.5% v -12.5% prior
(TH) Thailand Apr Business Sentiment Index: 48.8 v 54.4 prior
(HK) Hong Kong Apr M3 Money Supply Y/Y: 9.4% v 9.2% prior; M2 Money Supply Y/Y: No est v 9.2% prior; M1 Money Supply Y/Y: No est v 17.6% prior
- Consumer spending in the U.S. fell in April by the sharpest amount in almost a year, likely because of slightly softer car sales and less demand for energy. Spending dropped 0.2% last month on a seasonally adjusted basis, the Commerce Department said Friday. And the increase in spending for March was revised down to 0.1% from 0.2%. Personal income, meanwhile, decreased "less than 0.1%" in April after a revised 0.3% gain in March, mostly because of lower rents and farm-related earnings. Wages rose slightly. Economists surveyed by MarketWatch had forecast a 0.1% decline in consumer spending in April and a 0.2% increase in personal income. The personal savings rate held steady at 2.5% and remains near a five-year low. Inflation as gauged by the core PCE price index increased less than 0.1% in April, and it's up just 1.1% in the past 12 months. That's the lowest level since March 2011 and just a notch above an all-time low. Overall PCE declined by 0.3% and is up a meager 0.7% in the past year. That's the lowest rate since October 2009. MW
-Premarkets
9:19 a.m. EDT 05/31/13Major Stock Indexes

9:19 a.m. EDT 05/31/13Treasurys

9:10 a.m. EDT 05/31/13Futures

9:20 a.m. EDT 05/31/13Currencies
-Evil Lesbian Witch Gillard hit with salami sandwich
Better than being burned at the stake like in the good old days.
http://www.huffingtonpost.co.uk/2013/05/30/julia-gillard-attacked-salami-sandwich-video_n_3360015.html?ncid=edlinkusaolp00000003&ir=UK%20Politics
-Here comes the Italian ECB head to talk up the 2h recovery fable on the disaster of a jobs report. ECB=Swine of the Windsor-Rothschilds. This is like a bad soap opera like 'Dallas'.
ECB's Visco: ECB ready to intervene again on rates, will consider all measures to maintain credit conditions consistant with monetary stance
-Tobin Tax puts fear of loss of piracy into the English Swine
William Hague today will call for 'red card' to allow natl parliaments to block EU proposals.
Ha, ha, who will support you English Swine, do you have the majority of MEP?
-Well its going to be a good night for me as a short. I sold the opening hard on the DAX. Probably take some profit ahead of the USA data. Good night English swine and Israeli pigs.
-Russia Will Deliver Military Aircraft To Syria In Accordance With Existing Contract – MIG Company Quoted By Reuters
-Italian Unemployment Rate SA 12.00% vs. 11.60% (Exp.) 11.50%!!
Italy in April: Employment rate was 56.0%, unemployment rate 12.0% and inactivity rate 36.2%
More bad, bad data. Wait, wait here comes the ESM!!!
-Anglo-Zionist Criminals At ECB worried about blowback
PRESS RELEASE
29 May 2013 – ECB will remain operational during demonstrations planned in Frankfurt
In view of the demonstrations planned in the city of Frankfurt in the course of the next few days, the Executive Board of the European Central Bank (ECB) has taken the necessary steps to ensure that the ECB remains operational.
In liaison with local authorities, the ECB has also implemented measures to ensure the safety of its staff.
————
-The Economist is pimping the Smithfield food take over by the best friends of the English and Jews, the Chinacoms!!
-ECB Pigs Spray Peaceful Protesters with Pepper Spray
http://www.reuters.com/article/2013/05/31/us-germany-blockupy-idUSBRE94U0A420130531?feedType=RSS&feedName=topNews&utm_source=dlvr.it&utm_medium=twitter&dlvrit=992637
-Peter Mandelson joins board of Russian firm 'with organised crime links'
Hate filled Jews bent on taking Russia over again, using the mob, heroin, murder , Jewish incantations, money and intrigue. Sick cretins.
http://www.guardian.co.uk/business/2013/may/30/peter-mandelson-russia
-Dispelling the Anglo-Zionist Lies of WW2
http://www.youtube.com/watch?feature=player_embedded&v=bieqw-MPsL8
-ECB's Kranjec:  the Euro-area is still in crisis; Slovenia not out of woods yet, work to do still
-0300 Eurotrashed Markets Open
Germany's DAX 30 index 0.3% lower at 8,378.62
France's CAC 40 index opens 0.2% lower at 3,987.08
Stoxx Europe 600 index opens down 0.1% at 303.38
-French Consumer Spending (MoM) (Apr.) -0.30% vs. -0.60% (Exp. ) 1.30% (Prev.)
-Merkel is planning €28.5bn in spending increase + tax cuts.. in election year pork
http://www.handelsblatt.com/8279484.html 
-Germans Not Spending…bad news for Europe
Destatis said that German Retail Sales fell to a seasonally adjusted -0.4% last month, from -0.1% in the preceding month whose figure was revised up from -0.5%.Analysts had expected German Retail Sales to rise 0.2% last month.
-0150 Asia
Asian stocks are mixed.
Japan's Nikkei  closed up 1.4% at 13,774.54, reversing yesterdays 5 % decline on good econometric news and a stable JGB market and rising  Y/D to the 101+ range. Much criticized Abenomics overnight received a 'booster' shot from the IMF endorsement of BOJ/MOF policies and  Japan inflation data, where the stripped-down and most recent Tokyo core component for the month of May showed its first on-year increase since the middle of 2011. Like anyone needed proof money printing can cause inflation? It is the bond vigilantes reaction to inflation that upsets the man in the streets. For tonight all is clam on the eastern front of England in Tokyo, as Oxford Boy Kuroda was meeting with Abe and Professor Sachs on how to rig the bond markets. Clearly Japan has a lot to learn still from the Oxbridge market riggers and Goldman Sachs.
China
China big four banks' May new yuan loans seen at CNY300B .China govt may allow county-level LGFV (Local Government Financing Vehicle) aggregate bond. Former World Bank chief economist Justin Lin said  China growth will be driven by investment – Chinese press China Ministry of Commerce (MOFCOM) spokesperson: Considering possibility of joining TPP talks ahead of the next round of negotiations next month.The government initiated anti-dumping probes into perchlorethylene imported from the European Union and the United States on Friday.
Japan
 Japan PM Abe plans to include use of nuclear power as part of the cabinet's growth strategy plan to be unveiled next week. NN
JAL CEO said B787 bookings are solid. Sony  CEO: premature to speculate about board decision on spin off of assets; going to take time to objectively consider the Loeb plan.  Komatsu President: Does not plan to alter price policy despite weaker JPY; sales volume in China is on par with last April, decline has stopped.
BOJ: Apr JGB holdings by major Japan banks are down 10.8% m/m; below Y100T for the first time in nearly 2 years.  NN
Former BOE member Posen: Abenomics is right to have three pronged strategy; Fiscal policy is the most difficult component of Abe's "three arrows" (showing you who runs the BOJ and FED). Former Morgan Stanley economist Stephen Roach: Concerned Japan PM Abe and BOJ Gov Kuroda are resorting to "financial engineering" to fix economy; investors concerned that if there is no follow- through on structural reforms, then the program may not gain traction.
Japan EconMin Amari: focusing on BOJ measures to achieve 2% inflation target in 2 years. BOJ deputy gov Nirohi Nakaso: important for BOJ to end deflation; Japan to hit its inflation target in latter half of projection period. Japan Fin Min Aso: Currently not mulling plans to delay sales tax increase. NN. Japan's Financial Services Agency (FSA) aims to implement new FX margin trading rules designed to protect investors and limit scope for speculation. NN
Korea
Bank of Korea  Gov Kim: Withdrawal of monetary stimulus could significantly affect emerging markets; FED should issue a warning before tightening policy.
OZ/NZ
Australia former PM Rud: confirms he intends to contest election and would serve out a full term.
RBNZ Gov Wheeler- May take as long as 3-5 years to close the gap between housing supply and demand in Auckland if supply measures left alone.

Econ Releases
(JP) JAPAN MAY TOKYO CPI Y/Y: -0.2% V -0.4%E; TOKYO CPI EX-FRESH FOOD Y/Y: +0.1% V -0.2%E (1st rise since June 2011)
(JP) JAPAN APR NATIONAL CPI Y/Y: -0.7% V -0.7%E; NATIONAL CPI EX-FRESH FOOD: -0.4% V -0.4%E
(JP) JAPAN APR OVERALL HOUSEHOLD SPENDING Y/Y: 1.5% V 3.0%E (4th consecutive rise)
(JP) JAPAN APR JOBLESS RATE: 4.1% V 4.1%E; JOB-TO-APPLICANT RATIO: 0.89 V 0.87E
(JP) JAPAN APR PRELIMINARY INDUSTRIAL PRODUCTION M/M: 1.7% V 0.6%E (5th straight rise); Y/Y: -2.3% V -3.4%E
(JP) JAPAN MAY MARKIT/JMMA MANUFACTURING PMI: 51.5 V 51.1 PRIOR (highest level since Aug 2011)
(NZ) NEW ZEALAND MAY ANZ BUSINESS CONFIDENCE: 41.8 V 32.3 PRIOR (highest since Jul 2011); ANZ ACTIVITY OUTLOOK: 34.3 V 30.3 PRIOR
(NZ) NEW ZEALAND Q1 TERMS OF TRADE INDEX: 4.1% V 1.5%E (1st rise in 7 quarters; 3-yr high)
(NZ) NEW ZEALAND APR MONEY SUPPLY M3 Y/Y: 6.5% V 7.0% PRIOR
(AU) AUSTRALIA APR PRIVATE SECTOR CREDIT M/M: 0.3% V 0.3%E (5th month of increase); Y/Y: 3.1% V 3.0%E
(SG) SINGAPORE APR BANK LOANS & ADVANCES Y/Y: 20.0% V 19.7% PRIOR
(SG) SINGAPORE APR CREDIT CARD BAD DEBTS (SGD): 20.4M V 19.9M PRIOR; CREDIT CARD BILLINGS: 3.33B V 3.35B PRIOR
Japan 10yr 0.86-0.04, 3.99%
-After Hours
FED  Balance Sheet
FED Contracts Balance Sheet (mlns)
3,385,128 -   13,585 w/w +  542,474 y/y
Market indicators of financial stress appear to be relatively benign, but appearances can be deceiving, said Richard Berner, the director of Treasury's financial research office, on Thursday. In a speech to a conference on financial stability, Berner said that low volatility and low interest rate and credit spreads may be more dangerous than commonly believed. "They may be signals of rising market risks, because they give investors and risk managers incentives and wherewithal to take on leverage," Berner said. The Treasury and Federal Reserve are paying closer attention to threats to financial stability in the wake of the 2007 crisis. Berner said "significant gaps" remain in understanding these threats. The quality and scope of financial data must be improved, he said. MW
The Federal Reserve announced on Thursday it had ended an enforcement agreement with CIT Group Inc. The enforcement agreement, which was put in place in August 2009, required the small and midsize business lender to shore-up its risk management practices. The firm ended up declaring Chapter 11 bankruptcy later in 2009. Former Merrill Lynch CEO John Thain joined the company in early 2010 and has been trying to turn the company around. CIT's shares jumped nearly 6% after the announcement, in part because the deal with the Fed had limited the company's ability to pay a dividend to investors or buy shares back. MW
Apple Inc. .49% co-founder Steve Wozniak said he thinks recent criticism of the tech major's policies to avoid some taxes was "extremely warranted," Sky News reported Thursday. Wozniak, a multimillionaire inventor who left Apple in 1987, said in an interview that "criticism of Apple's tax policies is extremely warranted, in my mind, but my explanation is rather long and difficult." He said that people who work in one U.S. state but declare their income in a different state with less tax were "ethically wrong," Sky News reported. But, he said, "for a corporation, there's no such thing as personal ethics. It's like you will do anything, any scheme you can, to maximise your profits." MW
One in three bankers in London walked away empty handed from the last bonus round, a survey by the recruitment firm Morgan McKinley showed on Thursday. NYT
The never ending worship of,  and favors for,  Wall Street by Congress
Republicans and Democrats in Congress have both expressed a desire to reduce the corporate tax rate.
If Congress reduces the corporate tax rate from 35 percent to 25 percent, as many have suggested, it could help reduce systemic risk in the banking industry. NYT-Dealbook
(CA) Canada bans all trade with Iran-Canadian Press
(MX) Mexico April budget balance (MXN): -300M; YTD budget balance (MXN) 39.8B v 40.2B prior
(AR) Argentina Apr Supermarket Sales Y/Y: +11.8% v 14.5% prior
Palo Alto Networks, PANW, reported adjusted fiscal-third-quarter earnings of 6 cents a share on revenue of $101.3 million, while analysts polled by FactSet expected a consensus of 5 cents on revenue of $103.4 million.
Shares of digital-imaging-technology company OmniVision Technologies Inc.OVTI +2.86% jumped more than 23% to $19.08 in heavy volume after forecasting adjusted fiscal first-quarter earnings of 35 cents to 52 cents a share on revenue of $355 million to $390 million. Analysts expect 28 cents a share on revenue of $344.1 million
NFLX: To Join the NASDAQ-100 Index Beginning June 6, 2013
KKD: Reports Q1 $0.20 v $0.16e, R$120.6M v $116Me; +10.5% afterhours
GES: Reports Q1 $0.14 v $0.08e, R$549M v $543Me; +10.7% afterhours
LGF: Reports Q4 $0.61 (adj) v $0.45e, R$785M v $731Me; +3.9% afterhours
ESL: Reports Q2 $1.12 v $1.21e, R$499.6M v $506Me, lowers outlook; -1.9% afterhours
-Geopolitical News
Who was going to be set up for this false flag chemical attack?

Turkish security forces found a 2kg cylinder with sarin gas after searching the homes of Syrian militants from the Al-Qaeda linked Al-Nusra Front who were previously detained, Turkish media reports. The gas was reportedly going to be used in a bomb
The sarin gas was found in the homes of suspected Syrian Islamists detained in the southern provinces of Adana and Mersia following a search by Turkish police on Wednesday, reports say. The gas was allegedly going to be used to carry out an attack in the southern Turkish city of Adana.
On Monday, Turkish special anti-terror forces arrested 12 suspected members of the Al-Nusra Front, the Al-Qaeda affiliated group which has been dubbed "the most aggressive and successful arm" of the Syrian rebels. The group was designated a terrorist organization by the United States in December.
Police also reportedly found a cache of weapons, documents and digital data which will be reviewed by police.
Following the searches, five of those detained were released following medical examinations at the Forensic Medicine Institution Adana. Seven suspects remain in custody. Turkish authorities are yet to comment on the arrests.
http://www.veteranstoday.com/2013/05/30/breaking-turks-catch-al-nusra-with-two-kilos-of-sarin-gas/
Vague Comments From Assad Stirred Suspicions
by Jason Ditz, May 30, 2013
Sources from the Russian Defense Ministry deny that Syria has already received anyof the S-300 anti-aircraft missiles they have been contracted to deliver, though Russian officials maintain that they still intend to complete the deal.
The speculation was fueled by Syrian President Bashar Assad's interview today with Hezbollah-run al-Manar TV, in which he made comments about having received unspecified weapons shipments from Russia, without directly addressing the S-300.
Since the comments came in response to a question about the S-300, there was speculation, particularly in the Israeli press, that this amounted to a confirmation of some of the shipment already being delivered.
The issue is an important one because over the past few days Israeli officials have presented the delivery of S-300′s as a "red line" for war with Syria, and have even threatened to attack the Russian Navy over attempts to deliver the shipments.
S-300 missiles are the most advanced in Russia's arsenal, and in the wake of recent Israeli attacks Syria has been eager to complete the contracts to acquire them. The defensive system would make Israeli or Western attacks on Syria much more difficult to carry out.
Spokesman Says Incident 'Regrettable,' McCain Didn't Know
by Jason Ditz, May 30, 2013
Sen. John McCain's Monday decision to sneak into Syria for a photo-op with rebel commanders is quickly going from publicity stunt to embarrassment, with the revelation that one of the "commanders" in question is the head of a kidnapping ring.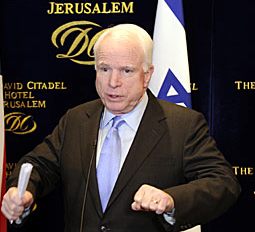 According to freed kidnap victims, the photo shows Abu Ibrahim, the leader of the rebel Northern Storm brigade, which has been fighting in Aleppo and whose strategy hascentered around kidnapping foreigners and Shi'ites and holding them for ransom.
McCain's spokesmen have issued statements terming the incident "regrettable," but insisting that McCain had no way of knowing who the rebel commanders he took pictures with were, adding that none introduced themselves as Abu Ibrahim.
Which of course underscores the problem with McCain's visit. He was eager to endorse the rebels and rushed headlong into the country to give his imprimatur to the civil war, but he showed little interest in finding out who the rebels he was posing with were, or what they stood for. That they were on the side of a war that McCain is hoping to suck the US into was simply good enough for him.
www.antiwar.com
FBI Executed Boston Bomber's Patsy Associate to Silence Him
The father of a Florida man with ties to Boston bombing suspect Tamerlan Tsarnaev said Thursday that his son was slain "execution-style" by FBI agents last week in Orlando.Ibragim Todashev, a 27-year-old mixed martial arts fighter, was shot in his Florida home on May 22 while an FBI agent and two Massachusetts state troopers questioned him about the Boston Marathon bombing suspect, as well as a triple slaying in Massachusetts two years ago.Todashev's father, Abdul-Baki Todashev, told reporters in Moscow that his son had several gunshot wounds to his torso and one to the back of his head. The elder Todashev displayed photos he claimed were of his son's body in a Florida morgue, according to the Associated Press. AP
| | |
| --- | --- |
| | Updated May 31, 2013 – 1:13 AM EDT |
-Welcome back
Matthew 19:14
King James Version (KJV)
14 But Jesus said, Suffer little children, and forbid them not, to come unto me: for of such is the kingdom of heaven.
=====================
Newslinks
-Hollande: Give Me Governance, Not GovernFrance
http://go.bloomberg.com/euro-crisis/2013-05-31/hollande-give-me-governance-not-governfrance/
-Record unemployment, low inflation underline Europe's pain
http://www.reuters.com/article/2013/05/31/us-eurozone-economy-idUSBRE94U0DJ20130531
-Citi lies and says gold physical demand has slowed. BBN hit piece on gold
http://sfgate.bdc.bloomberg.wallst.com/SFChronicle/Story?docId=1376-MNMCYI1A1I4I01-6CIDM2KLM3V4H84NSTNAJC39DR
-Franco-German banking union proposals put joint euro-zone funding for banking crises further down the line. http://on.wsj.com/11eriDX 
-Barclays on bond yield rise: 'this time it's different'
http://blogs.marketwatch.com/thetell/2013/05/30/barclays-on-bond-yield-rise-this-time-its-different/