Headliners
-Obama gearing up for war in Syria on London orders, Israel denies they are pressuring, England disavows contradicting earlier statements prowar.
-Cyprus Parliament barely approves of Bankster Bailout plan/Troika Screw Job
-Chicago PMI Tanks to contraction
-European Bond Markets reaching Mania levels, including Italy
-Willem-Alexander Becomes Dutch King, Sr. Member of Dope Inc as Prince Charles Head of Dope Inc attends coronation ceremony
-Germany's GfK Worker  Confidence hits 5-year high aided by stable labor market yet German Retail Sales Tank
- Euro Zone Unemployment hits  EMU record of 12.1%, official inflation falls
- US Treasury expects to pay down $35B in debt in Q2 (vs. $17B borrowing est prior)
-FED Begins 2 day Policy Meeting
-Supersonic flight brings Virgin Galactic closer to space tourism
Market Commentary
-Close
5:16 p.m. EDT 04/30/13Major Stock Indexes

5:01 p.m. EDT 04/30/13Treasurys

5:10 p.m. EDT 04/30/13Futures

5:20 p.m. EDT 04/30/13Currencies
-Prince Charles leads the Royal Parade in BW Illuminati outfit followed by his servant EU president.
-Global Drug Kingpins dining like Kings
Down with the Dutch, Spanish and English crown. Trillionaires from drug running and war.
-Stupid Stanford Gal, Another Obama 'bro' comes out of the closet
http://www.dailymail.co.uk/news/article-2317255/Jason-Collins-I-idea-gay-Carolyn-Moos-shocked-NBA-stars-announcement.html
Probably has aids. Illuminati pose. Coming out of the closet to cash in on being queer icon. BBN was pumping how much money the media would shower him with. Disgusting pervert and greedy liar. The woman is stupid to talk. No decent guy is going to want some possibly aids infected stanford skank ex perhaps on Wall Street.
-President Barack Obama said the U.S. must have solid evidence of chemical weapons use by the Syrian regime to rally international support for intervention in that country's civil war.Intelligence assessments that chemical munitions were used in Syria have yet to meet the standard to trigger a stronger U.S. response, Obama said today at a White House news briefing. While saying the Defense Department has prepared a list of options, Obama declined to specify what course the U.S. may take if the reports are confirmed…
http://www.bloomberg.com/news/2013-04-30/obama-says-u-s-needs-facts-on-syria-chemical-weapons.html
This guy is prince Charles butler. The privy council in England will make the decision. Prince Charles cousin John Kerry is not making the rounds in Europe for nothing. Likely after the German elections but before the USA midterms. All those troops are not being massed in Jordan for no reason dear readers.
-Jew Bloomberg Scoop from Jewish Insiders , Yellen Next FED head
Federal Reserve Vice Chairman Janet Yellen has the "right of first refusal" to become the next leader of the central bank when Ben S. Bernanke's term ends in January, said former Fed governor Laurence Meyer.Meyer, speaking at a Bloomberg Link panel in Washington, said it's "a bit surprising" that Bernanke couldn't manage his calendar to allow him to take part in this year's Fed conference in Jackson Hole, Wyoming…
http://www.bloomberg.com/news/2013-04-30/yellen-has-the-right-of-first-refusal-at-fed-meyer-says-2-.html
-English Crown Puppet Kharzi padding England's banks bottom line
Afghanistan, the world's largest grower of opium poppies, should not shoulder all the blame for its drug surge, its foreign minister said Tuesday while on a visit to Estonia."It's not only Afghanistan but the global demand for drugs that should be blamed for illegal narcotics from Afghanistan," Zalmai Rassoul told reporters in Tallinn.Bringing that demand down "requires an international effort", he added, as Afghanistan struggles to eradicate its rapidly growing poppy industry.The United Nations released a report this month warning that the country, one of the world's poorest, is moving towards record levels of opium production this year. Opium is used to make heroin.Afghanistan already cultivates about 90 percent of the global opium supply and now production is expected to rise for a third straight year, expanding even to poppy-free areas. AFP
HSBC probably just moved the dope laundry to a different offshore location out of the eyes of USA regulators. This to go with the CIA bags of cash. Kharzi is truly Islamic scum.
 ww.storyleak.com/nbc-report-bankers-fund-drug-cartels-terror-groups/
-USA Summary
We had the confluence of some very strange coincidences today in the market. China is gone on vacation we have the FED meeting today with the rate decision tomorrow, followed by the ECB/Draghi freak show on Thursday , followed by the USA jobs report and the end of the month book mark up by the mutual funds and hedge funds in the USA.
Lew failed to get a ramp out of the CaseShiller home number and it depends on who you talk to if housing inflation is a good thing or a bad thing, given housing is not that big of part of the USA GDP but is a big part of the shrinking USA worker's monthly budget. Then in the premarkets the Whitehouse announced a surprise address by Obama just about coincident with Chicago PMI release at 0945. So I visual shorting the opening to have it sell off until Obama spoke on the PMI coming below these FOA economists estimates and that what happened. So I to stay close to the trigger to extract some short profit before Lew tried to steal it by jamming the tape back up until 1000 or so when I could pick the ZGR back up.  We had horrible results this morning from key stocks Pfizer, US Steel, Cummins, all citing Europe. That was offset only slightly by IBM and BBRY(RIMM) news. You're and idiot or desperate or a hopeless romantic if you pay up like today's record prices for stocks with declining q/q, y/y and m/m revenue. Professional investors more or less value tech stocks by price to sales ratio and the growth in prices to sales. And let me say I have never seen a bank stock ramp by 7 % on diluting their shareholders like DB did today. That has to be the ESM telling DB what to do. I shorted some DB stock on that along with the DAX. DB is like JPM  is the USA banking industry, more or less,the German banking industry. It is primary dealer in UST paper.
I don't know enough of what to make of the UST preliminary funding report, except to say despite the Obamacare taxes and higher payroll taxes I don't believe it. Lew certainly got no mileage on it as the Eurotrash dollar rallied against the $ on the PMI. Lew tried to throw gold around, through his cartel banks, but gold pushed back for $5.00 as of this time.  Drudge highlighted Obama has spent more time golfing than on economic meetings and the Washington Post reported Obama has failed to fill any positions in the last 2 years in his office to reduce pernicious big corporate lobbying and improve Washington ethics.
Avon put on a big rally, the woman's cosmetic firm on EPS, however USA and China sales tanked offset by other emerging markets. Avon has always struck me as a slimy predatory company selling women makeup likely to give them cancer. Most women do need make up especially the hard ridden Anglosaxons and ugly Jewish women of Hollywood. I doubt they use avon. Office Depot missed expectations and saw a 5% decline in sales comps so small business are certainly not growing as Obama guts them and gives special tax breaks to Walmart.  Pitney Bowes slashed its quarterly dividend by 50% along with its Q1 earnings report this morning. The firm's Q1 net profit fell nearly 60% y/y, in line with expectations.  Shares of PBI are down more than 17%. Pitney Bowes is another firm like office Depot garnering a lot of its revenue from small and medium sized businesses. And don't be fooled despite rule FD, under Obama we are seeing unprecedented 'whispering' to the analysts to make the analysts look good and try and pump the 'meet the estimates'. The Guardian exposed the hacks at the DT getting the royal line ahead of everyone else via twitter.
The Dutch Crown has always, like the Spanish crown been a key drug running partner of Prince Charles  and the English crown, and at least in Holland the Dutch King is officially in charge of 'foreign policy' , including drug running. The history of the uber-oppressive, slaving, murdering Dutch East India trading company was 80 % Dutch Jewish banker and the rest Dutch Royals and Dutch elite. I doubt the Dutch are going to put the clamps on the Mossad/Jew run global Ecstasy trade that originates out of Holland. The Dutch Royals are related to the English Crown and are as filthy with the world's dope trade and blood money although not as on a grand scale as the ecstasy trade is small potatoes compared to the royal opium trade or the cocaine trade the Marrano Jews and Spanish crown control. I don't call these people in Europe trash.  European Royals head the Illuminati and their Jewish banksters serve them with greatly royalty. Some guy in Holland must have figured it out as he tried to run over the royal family a couple of years back. The Dutch are kind of weird always wearing orange and not knowing the history behind that.
I expect the markets to cruise at these levels into the close.
1:27 p.m. EDT 04/30/13Major Stock Indexes

1:26 p.m. EDT 04/30/13Treasurys

1:17 p.m. EDT 04/30/13Futures

1:27 p.m. EDT 04/30/13Currencies
-International Business Machines Corp. IBM +0.92%  was up $1.12 a share at $200.27. IBM said it had authorized another $5 billion for stock repurchases, and would raise its quarterly dividend payment to 95 cents a share from 85 cents.
-Fresh Del Monte Produce Inc.'s first-quarter earnings fell 34% as higher expenses and taxes offset improved revenue.The fresh-cut fruit-and-vegetable provider's revenue had declined for more than a year as demand for fresh produce in Europe slowed. Fresh Del Monte reported a profit of $41.1 million, or 71 cents a share, down from $62.5 million, or $1.08 a share, a year earlier. Analysts polled by Thomson Reuters predicted a profit of 95 cents a share.Revenue grew 2.3% to $918.8 million.Gross margin shrank to 10.7% from 12.5%, which the company attributed to weakness in its European banana business, stemming primarily from lower selling prices. Input costs rose 4.4%.Tax provisions rose to $9.5 million from $2.1 million.Banana sales, which accounted for 44% of revenue in the latest quarter, increased 2.1% to $406 million. Sales of other fresh produce rose 3% to $433.7 million, while sales of prepared foods edged down 0.3% to $79.1 million.
-Cummins Inc.'s  first-quarter earnings fell 38% as the heavy-duty truck engine maker was again hurt by weak demand from important construction and energy customers.Slower economic growth in China and a weakening North American truck market–where Cummins supplies nearly 40% of its heavy-duty engines–have squeezed the company's sales and profits of late.Chief Executive Tom Linebarger said Tuesday that the company expects the first quarter to mark "the low point" for revenue this year. The company also backed its forecast for revenue to be flat to down 5% this year–which was a bleak view when issued in February.Cummins reported a profit of $282 million, or $1.49 a share, down from a year-earlier profit of $455 million, or $2.38 a share.Net sales fell 12% to $3.9 billion. Analysts polled by Thomson Reuters expected earnings of $1.86 a share–a 22% decline–and revenue of $4 billion.Revenue in North America fell 15% and international revenue slumped 10%, which the company attributed to weaker demand in most major end markets.Shares closed Monday at $113.25 and were inactive premarket. The stock is up 4.5% since the start of the year, well behind broader market gains.
-The hate filled Anglo-Zionist, queer Congress, flies in comfort and is not gate raped
http://www.businessweek.com/articles/2013-04-30/the-pampered-world-of-congressional-air-travel
-America's Economic Release Summary
North America
(US) Apr Chicago Purchasing Manager: 49.0 v 52.5e
(US) Apr Consumer Confidence: 68.1 v 61.0e
(US) Feb S&P/ CaseShiller 20 City M/M: 1.24% v 0.90%e; Y/Y: 9.32% v 9.00%e; S&P/CaseShiller Home Price Index: 146.57 v 146.43e
(US) Redbook Retail Sales w/e Apr 27th: +2.8% y/y, Apr MTD: -2.5% m/m; Apr MTD: +2.2% y/y
(US) Apr NAPM-Milwaukee: 48.43 v 51.50e
(US) ICSC/GS weekly chain store sales w/e Apr 27th w/w: +0.4%; y/y: +2.6%
(US) Q1 Employment Cost Index: 0.3% v 0.5%e
(CA) Canada Feb Gross Domestic Product M/M: 0.3% v 0.2%e; Y/Y: 1.7% v 1.3%e
(CA) Canada Industrial Product Price M/M: 0.1% v 0.0%e; Raw Materials Price Index M/M: -1.7% v +0.5%e
(MX) Mexico Mar Net Outstanding Loans (MXN): 2.306T v 2.296T prior
South America
(BR) Brazil Mar Nominal Budget Balance (BRL): -15.9B v -23.3B prior; Primary Budget Balance: 3.5B v 5.7Be; Net Debt to GDP Ratio: 35.5% v 35.5%e
-Europe Close(updated with Letta/Merkel meeting notes)
Most of Europe was down slightly with the Stoxx down -.23 %. The DAX finished up .51 % at 7913 as that disaster of an employment report rolled in with mega-depression levels reported in Spain and Greece as fellow undercapitalized, over leveraged investment banks pumped DB despite having to raise capital and dilute shareholders.
Deutsche Bank AGshares rallied as much as 7% Tuesday after the bank completed a EUR2.96 billion capital raising and reported stronger-than-expected first-quarter earnings. The capital increase, announced late Monday along with the earnings figures, led analysts at several banks including Nomura, JP Morgan and Credit Suisse to raise their recommendations on the stock, saying that the German bank now looks more attractive compared with rivals.The share placement with institutional investors will push Deutsche Bank's Basel III Core Tier 1 ratio to around 9.5%, from 8.8% before the transaction. The measure reflects the equity capital Deutsche Bank holds against potential future losses on its assets, after adjusting for risk.The new stock priced at EUR32.90, the same price as Deutsche Bank shares closed at Monday. Share placements typically come at a discount, to encourage investor buying.Some analysts said they aren't convinced Deutsche Bank has succeeded in its stated aim of taking the capital issue "off the table." Espirito Santo's Andrew Lim said the amount raised probably isn't enough to alleviate concerns about what he called an "enormous equity deficit."Our concern is that the admission of the need for capital merely raises scrutiny that the bank needs even more. There is no need for investors to expose themselves to this risk," Mr. Lim said.
We had a surreal credit market move today which I covered as Letta took the reins, and auspiciously the MIB was down -.96 %.
Berlusconi says Italy must renegotiate deficit targets made with the EU, can't be part of govt that does not abolish IMU housing tax.
Letta was out talking out of both sides of his mouth, railing against austerity for the Italian public while saying what Brussels/Berlin wants to hear. Later in the day he was speaking in Berlin ahead of a joint Germany/Italy meeting. Merkel and Letta, the two Jews presented a united front at the press conference ahead of the meeting. 

Letta: "We must be a more united Europe in a globalizing world. We have to become a tighter union or we won't survive. "

Merkel: "Growth and savings course are not separate, both these elements must come hand-in-hand."
This is a guy with a 13 % approval rating. Even Hitler got 34 % of the vote. One speech in Italian for the proles, another speech in English for the big Jews in Germany and London and Brussels will be the norm I expect from Letta. Hey dont worry the Jews and BOI are in charge of running Italy again, just like under Berlusconi and Draghi, what could happen?
Cyprus parliament approves bailout by 29 votes to 27.
Cameron's office hands out twitter exclusives to favored journalists (DT)
http://m.guardian.co.uk/technology/2013/apr/28/downing-street-twitter-exclusives-journalists?CMP=twt_gu
Spain, 26.7 per cent of people were unemployed and just shy of 56 per cent of people aged under 25. John Kerry is there likely trying to garner support from London for the Syrian war or planning on sending USA jobs there. Another utter whore like Hagel and speaking as I type.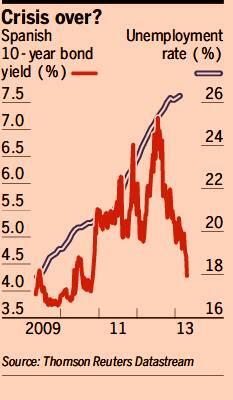 Late EU economic Releases
(PT) Portugal Mar Industrial Production M/M: 5.2% v 0.4% prior; Y/Y: +0.8% v -1.1% prior
(PT) Portugal Mar Retail Sales M/M: -2.9% v +0.8% prior; Y/Y: -6.0% v -5.3% prio
-The consumer confidence index climbed to 68.1 this month from an upwardly revised 61.9 in March, according to the nonprofit Conference Board, publisher of the report.
-Markets
11:51 a.m. EDT 04/30/13Major Stock Indexes

11:51 a.m. EDT 04/30/13Treasurys

11:41 a.m. EDT 04/30/13Futures

11:51 a.m. EDT 04/30/13Currencies
-After reading the Chrysler report which we excerpted for you yesterday, I decided to short the market at the USA opening expecting the Chicago PMI to bomb in addition to the shorts I was building after watching Lew fail to get a ramp job going in the premarkets. The ZGR got the big break at the opening, along with a surprise speech by Obama coincident with the PMI release, so I leveraged and shorted very heavily but was forced to cover as the PPT came in as Obama was blabbing, and the liar in chief, aka Prince Charles Butler said he would not be unilaterally invading Syria for the English and Jews immediately or something like that, plus he was blabbing up Obamacare after some Detroit Unions came out and said they wanted it abolished yesterday, something the press did not report on .I got the near 100 point drop. Now I am waiting for Green to roll the short profit into although I rolled some into the Europe close by shorting the DAX some more. DB is one of the big gold shorts. What makes anyone think they can trust that City of London controlled bank? Bank accounting is literally a crime. Janet Yellen better have a rabbit in the hat. The guy running China is proving to be a corrupt idiot, and the people running Europe are largely a Jewish criminal mafia and effeminate Eurotrash. Its been hard, hard work to hang in as short against Lew the Jew and his team of market riggers. And of course gold surged on the PMI number from Chicago to be smashed hard by Lew.  Just think the USA is running 1 trillion a year in deficits and spending 1 trillion a year in QE and we are up on the FED balance sheet nearly .5 tln y/y and this is the results we get? The only 'bullet' the british-israel gang have left is war or more false flag terrorism. They just played the false flag card with the Boston /West Texas fertilizer massacre. Israel  and England strident denial of war upon Syria, and Israel's constant denials in the press in the last week that it was trying to influence USA policy there, tell me likely Prince Charles and his privy council of satanic Jews and queer Anglomasons have greenlighted a surprise attack/invasion of Syria. Hagel was always a bit of weasel and clearly has some Ashkenazi bloodline is proving to be a compliant whore of AIPAC.
The Philadelphia Fed index slipped to 1.3 from 2.0 in March.
The Empire State index dropped to 3.1 from 9.2 in March.
The Richmond Fed index fell to -6 from +3 in March.
The Dallas Fed index fell to -15.6 from +7.4 in March.
The Kansas City Fed index stayed at -5 in March
Clearly as the ZGR stated yesterday the USE has hit a Wall: europe, the idiot running China, increased payroll taxes, obama care taxes and outsourcing jobs and more free trade agreements with currency riggers and nations with no minimum wages and the idiots on WS expect the QE and deficit would be enough. Read the Asia summary for today. The BOK said QE had lost its effectiveness.
-ISM-Chicago said Tuesday that Chicago PMI slumped to 49.0 in April, down from 52.4 in March and at a reading indicating contraction. That's the worst reading since September 2009.Economists polled by MarketWatch had expected a 52.5 reading. Losses in U.S. stocks SPX -0.06%  accelerated after the release of the data.See Market Snapshot.Order backlogs were particularly weak, falling to 40.6 from 45.0, and readings on supplier deliveries, prices paid and production all recorded their lowest levels since 2009."New order intake is steady but remains at the lowered 2012 level. Afraid this may become the dreaded 'new normal,'" said one purchasing manager. MW
-Markets Post CS
9:06 a.m. EDT 04/30/13Major Stock Indexes

9:07 a.m. EDT 04/30/13Treasurys

8:57 a.m. EDT 04/30/13Futures

9:07 a.m. EDT 04/30/13Currencies
-Signaling continued housing-market momentum, the S&P/Case-Shiller 20-city composite index rose 0.3% in February and was up 9.3% from the same period in the prior year, which is the largest year-over-year growth since May 2006, according to data released Tuesday. February's monthly growth was the largest since August. On a seasonally adjusted basis, prices rose 1.2% in February. All 20 cities saw year-over-year gains in February, with faster growth in 16 cities. Phoenix posted the largest year-over-year price growth at 23%, while New York had the lowest at 1.9%. With ongoing low interest rates, increasing demand and constrained inventory have been supporting prices. However, despite recent gains, the 20-city composite index indicates that prices remain about 29% below a 2006 peak.
-Turks to continue to love gold on inflation and slimy CB
Turkey Central Bank Inflation Report noted that Q1 inflation was at 7.3% and above its expectations but did maintain its 2013 Food Inflation at 7.0% and end-2013 Inflation at 5.3%. It also maintained end-2013 Inflation at 4.9% and its medium term inflation at 5.0%. it noted it would keep flexible monetary policy approach to counter volatile capital inflows
Turkey Central Bank Gov Basci stated that it would take reserve requirement steps if loan growth above 15%; economic growth recovered slightly in the first quarter and is expected to be higher this year
-Zionist Religious fanatics of Israel get a fifth submarine from the Germans to carry nuclear warheads. Israelis are parasites and insane , literal satanic fanatics. The Germans may end up getting blackmailed by their own traitorous Zionist govt someday. Very, very foolish. Reported in RT.
"62% say the U.S. has no responsibility to do something about the fighting in Syria."
American Jewry upset they cant hoax the American people into fighting theirs and Europe wars so easily.
http://www.nytimes.com/2013/05/01/world/american-public-opposes-action-in-syria-and-north-korea.html?hp&_r=1&
-Italy's Letta wins confidence vote in parliament and is new, 13 % approval of the people PM of Italy.
-This was the only thing that really interested me in Europe today, as Soros had his head handed to him by the Germans economists which drove him off his Zionazi rocker.
http://blogs.marketwatch.com/thetell/2013/04/30/george-soros-goes-on-rampage-against-german-economist/
-The unemployment rate in Greece was the highest among European Union countries in January 2013 according to data released by Eurostat on Tuesday. The Eurostat figures pointed to 27.2 percent of Greece's workforce being unemployed, with 59.1 percent of those seeking employment belonging to the under-25-year-old age group.The highest unemployment rates in the European Union were recorded in Greece (27.2 percent in January 2013), followed by Spain (26.7 percent) and Portugal (17.5 percent). The lowest rates were recorded in Austria (4.7 percent), Germany (5.4 percent), Luxembourg (5.7 percent) and The Netherlands (6.4 percent).According to the data released Greece's unemployment rate rose from 25.7 percent in December 2012 to 27.2 percent in January 2013. The Januray 2013 figures represented 23.9 percent of the male workorce and 31.4 percent of the female workforce
-In the first quarter, Domino's sales at restaurants that were open at least a year rose 6.2% in the U.S. and 6.5% abroad, ahead of analysts' estimates. Domino's reported a fourth-quarter profit of $34.4 million, or 59 cents a share, up from a year-earlier profit of $20.7 million, or 35 cents a share. Excluding recapitalization costs, the company earned 47 cents a share in the year-earlier period.Revenue rose 8.6% to $417.6 million, as more pizza orders boosted its supply-chain business, and it added 80 net new locations in international markets.Wall Street analysts were looking for a per-share profit of 55 cents on revenue of $413 million, according to a survey conducted by Thomson Reuters.
-USA Employment cost index climbs 0.3% in first quarter
-Steel says no recovery
United States Steel Corporation  reported a first-quarter net loss on Tuesday of $73 million, or 51 loss per share, compared to a net loss of $219 million, or $1.52 loss per share a year earlier. The steel company's revenue fell to $4.6 billion from $5.2 billion a year-ago quarter. Adjusted for repurchase of bonds, net loss was $51 million, or 35 cents per diluted share. Wall Street analysts expected the company to report a loss of 19 cents a share on sales of $4.66 billion, according to a survey by FactSet. "We expect total reportable segment and other businesses operating results to be near break-even. Results for our Tubular segment are projected to be comparable with the first quarter; however we expect lower results from our Flat-rolled and European segments," said Chairman and CEO John Surma regarding the second-quarter outlook. U.S. Steel shares were down 2.5% in premarket trading.
-Europe about the only thing worth noting in Europe today that has not been discussed is the Italians are through their 2nd vote of confidence in the Upper house and  look all set for the new coalition govt to take place. Letta is apparently not trusted at all, only 13 % of Italians approve of his selection as PM.  Spain FinMin de Guindos commented that all of Spain's Govt was committed to cutting taxes as soon as possible,which is a lie. He added that its unemployment situation would improve slowly as leading indicators signaled a recovery in country; proposal to withdraw €500 note was "reasonable". The Europeans want to grab more Russian money so the big note looks set to disappear. The Europeans are the most chatty people on the face of the planet, mainly its hot air and there just has not been much relevant today in Europe outside of another set of dreadful economic numbers that the pols are trying to put a positive spin on. These are truly the 'left overs' that did not have the courage to go to the new world.
-Treasury to pay down debt for first quarter in six years. The Treasury Department said that it expects to retire a net $35 billion in bonds, notes and bills from April to the end of June. That compares with its estimate from earlier this year that it would rack up an additional $103 billion in marketable debt in the second quarter.Still, the usual shortfalls will likely return quickly. The Treasury said it expects to borrow a net $223 billion in the July-to-September period. WSJ
-Office Depot Q1 sales down 5% to $2.7 billion
- Pfizer Inc. said Tuesday its first-quarter profit rose 53% to $2.75 billion from $1.79 billion a year earlier. Earnings per share rose to 38 cents from 24 cents a year ago, while adjusted earnings fell to 54 cents a share versus 57 cents a share a year ago. Quarterly revenue fell 9% to $13.5 billion. Analysts polled by FactSet had expected earnings of 56 cents a share on revenue of $13.99 billion. The pharmaceutical company lowered 2013 guidance for earnings per share to $1.44 to $1.59 from a range of $1.50 to $1.65. Adjusted earnings per share was cut to between $2.14 and $2.24 from $2.20 to $2.30. Reported revenue was lowered to a range of $55.3 billion to $57.3 billion. The company said it revised its full-year outlook to reflect the initial public offering of Zoetis, its animal-health unit, and changes in foreign-exchange rates. Shares were down 3% in premarket trade. MW
-0745  Equity markets in Europe are trending flat to higher, as Deutsche Bank, Lloyds and UBS are gaining on better than expected quarterly results.  The bank gains came largely from an appreciation their books and fraudulent marking of their derivative liabilities, like occurs in the USA. Deutsche Bank has driven the outperformance in Germany's DAX and provides another attractive short entry point. Resource related firms are trading mixed,  BP has outperformed on better than expected earnings. US firms  scheduled to report earnings later today include Aetna, Avon Products, Cummins, Oshkosh, Pfizer and US Steel.
-EU session Economic Releases
EU
(EU) Euro Zone Apr CPI Estimate Y/Y: 1.2% v 1.6%e
(EU) Euro Zone Mar Unemployment Rate: 12.1% v 12.1%e
(EU) ECB: €17.0M borrowed in overnight loan facility vs. €5.0M prior; €119.1B parked in deposit facility vs. €109.7B prior
Germany & Austria
(DE) Germany May GfK Consumer Confidence Survey: 6.2 v 5.9e (5-year high)
(DE) Germany Mar Retail Sales M/M: -0.5% v -0.3%e; Y/Y: -2.8% v -1.2%e 
(DE) Germany Mar ILO Employment: 41.788M v 41.73M prior; Unemployment Rate: 5.4% v 5.4% prior.
(DE) Germany Apr Unemployment Change: +4K v +2Ke; Unemployment Rate: 6.9% v 6.9%e
(AT) Austria Mar Producer Price Index M/M: -0.2% v 0.0% prior; Y/Y: -0.6% v -0.3% prior
France &Belgium
(FR) France Mar Producer Prices M/M: 0.0% v -0.2%e; Y/Y: 1.9% v 1.4%e
(FR) France Mar Consumer Spending M/M: 1.3% v 0.2%e; Y/Y: 1.2% v 0.0%e
(BE) Belgium Mar Unemployment Rate: 8.2% v 8.2% prior
Spain
(ES) Spain Q1 Preliminary GDP Q/Q: -0.5% v -0.5%e (seventh consecutive quarterly contraction); Y/Y: -2.0% v -2.0%e
(ES) Spain Feb Total Housing Permits M/M: 24.1% v 19.7% prior; Y/Y: -10.1% v -26.8% prior
(ES) Spain Feb Current Account: -€1.3B v -€2.6B prior
Italy
(IT) Italy Mar Preliminary Unemployment Rate: 11.5% v 11.7%e
(IT) Italy Apr Preliminary CPI (NIC incl. tobacco) M/M: 0.1% v 0.2%e; Y/Y: 1.2% v 1.3%e
(IT) Italy Apr Preliminary CPI EU Harmonized M/M: 0.3% v 0.6%e; Y/Y: 1.3% v 1.6%e
Greece
(GR) Greece Feb Retail Sales Volume Y/Y: -14.4% v -16.8% prior; Retail Sales Value: -14.4% v -16.6% prior
Eastern Europe
(HU) Hungary Mar Producer Prices M/M: 1.6% v 0.4% prior; Y/Y: 2.2% v 2.1%e
(CZ) Czech Mar Money Supply Y/Y: 4.4 v 4.1% prior
Scandinavia
(DK) Denmark Mar Unemployment Rate: 4.4% v 4.6%e; Gross Unemployment Rate: 5.8% v 6.0%e
(FI) Finland Feb Final Trade Balance: -€75M v -€85M prelim
(NO) Norway Feb AKU Unemployment Rate: 3.5% v 3.6%e
(NO) Norway Retail Sales Volume M/M: 0.0% v 0.0%e; Y/Y: -4.2% v -0.6% prior
(IS) Iceland Q1 Unemployment Rate: 5.8% v 4.7% prior
Rouge States  near Europe
(TR) Turkey Mar Trade Balance: -$7.4B v -$8.3Be
(UK) Mar Net Consumer Credit: £0.5B v £0.5Be; Net Lending: £0.4B v £0.6Be
(UK) Mar Mortgage Approvals: 53.5K v 52.7Ke
(UK) Mar M4 Money Supply M/M: -0.9% v -0.5% prior; Y/Y: 0.3% v 0.6% prior; M4 Ex IOFCs 3M Annualized: 4.6% v 3.1%e
-0430 European Credit Markets
S&P( comments on new coalition Italy Govt):  Says BBB+ sovereign ratings unaffected, outlook remains negative, yet Italy had a near miraculous decline in in their 10 year to 3.86 % overnight. We know from the comments GS is front running likely some ESM dough as this coalition is potentially fatal to the EU. Bank of Italy (BOI) Financial Stability Report: Banking sector remains vulnerable to credit rating downgrade; Foreign buying of Italian debt up since Spring 2012.
The new appointed Italian leadership is seeking to roll back much of Monti's austerity. They want to cut taxes but say they will cut spending , but they will fail to deliver and debt and spending will rise as  fiscal restraint is shoved out of the way  in a "live today, pay tomorrow" approach to life Italy is famous for. Fabrizio Saccomanni is to be the minister of economy and finance. He is another BOI apparatchik,, and for all the talk that he is best friends with Mario Draghi, his former boss,,and the current manufactured view that he won't agree to policy decisions he cannot accept fiscally , the real test will come when the depth of the difficulty that Italy faces has to be grappled with and the spending cuts have to be made to stick. Saccomanni has to convince the markets and the hard money wing at the ECB that Italy is going to be fiscally responsible. Don't forget it was Draghi himself who in the drivers seat for much of this debt run up and the banking implosion. Italian debt at these levels is extraordinarily rich, as is German debt given the USA spread and the overall EU/USA debt levels is about the same.
The entire EU bond market was most extraordinary wrt to spreads over the last several days. Who would buy the debt of these leveraged deadbeats with an EU wide housing bubble from London to Berlin and such poorly capitalized banks holding, well mainly EU debt. They are all PIIGS in Europe now, even Germany.
Key Rates
U.S. 10yr 1.65-0.02 ,1.46%
German 10y 1.19-0.02 , 1.40%
Italy 10yr 3.86-0.02 ,0.43%
Spain 10y 4.12-0.04, 0.86%
U.K. 10yr 1.65-0.01, 0.46%
Auctions
 (EU) ECB allotted €105.0B in 6-Day Main Refinancing Tender at fixed 0.75% vs. €110.4B prior
(EU) ECB allotted $0.0N in 8-Day USD Liquidity Tender at fixed 0.62% vs. $1.3B prior
(CH) Switzerland sold CHF684.2M in 3-month Bills; Yield: -0.125% v -0.111% prior
(HU) Hungary Debt Agency (AKK) sold HUF40B vs. HUF50B indicated in 3-Months Bills; Avg Yield: 4.27% v 4.26% prior; Bid-to-cover: 1.40x v 1.71x prior
(BE) Belgium Debt Agency sold total €1.83B vs. €1.5-2.0B indicated range in 3-month and 6-month Bills
Sold €775M in 3-month Bills; Avg Yield -0.001% v +0.015% prior; Bid-to-cover: 5.01x v 3.02x prior
Sold €1.05B in 6-month Bills; Avg yield +0.014% v 0.050% prior; Bid-to-cover: 3.66x v 2.34x prior
(UK) DMO sold £500M in 0.375% I/L 2062 Gilts; Real Yield: -0.213% v +0.040% prior; Bid-to-cover: 3.07x
-Asia Close
Additional Releases
(JP) Japan Mar Annualized Housing Starts: 904K v 890Ke; Y/Y: 7.3% v 6.0%e; Construction Orders Y/Y: -3.4% v +16.3% prior
(TH) Thailand Mar Current Account: $1.9B v $1.5Be; Total Trade Account Balance: $2.0B v $0.6B prior; Overall Trade Balance: -$65M v +$1.6B prior
(TH) Thailand Mar Business Sentiment Index: 54.4 v 51.2 prior
(PH) Philippines Mar Bank Lending Y/Y: 14.7% v 14.5% prior; Bank Lending Net of RRPs Y/Y: 14.2% v 15.1% prior
(PH) Philippines Mar M3 Money Supply Y/Y: 11.4% v 9.9% prior
(HK) Hong Kong Mar Govt Monthly Budget Balance (HKD): -10.9B v -6.2B prior
(HK) Hong Kong Mar M2 Money Supply Y/Y: 9.2% v 8.5% prior; M3 Money Supply Y/Y: 9.2% v 8.5% prior; M1 Money Supply Y/Y: 17.6% v 13.6% prior
-Alfredo Sáenz, who helped turn Banco Santander from a provincial lender into a global banking power, quit his job as its chief executive Monday after a legal and political controversy over his criminal conviction.
-Deutsche Bank, in a reversal, said it will raise $3.65 billion in fresh capital, giving in to months of pressure from investors and regulators.
-Futures
Futures Index
Value
% Change
Open
High
Low
Time
Americas Futures
DJIA INDEX FUTURE Jun13
14,761.00
+0.09%
14,740.00
14,763.00
14,740.00
02:08:42
S&P 500 FUTURE Jun13
1,588.50
+0.02%
1,588.70
1,588.70
1,586.70
02:08:42
NASDAQ 100 FUTURE Jun13
2,862.00
+0.11%
2,857.50
2,862.00
2,857.50
01:58:35
EURO STOXX 50 Jun13
2,686.00
+0.49%
2,690.00
2,691.00
2,685.00
02:05:40
FTSE 100 IDX FUT Jun13
6,431.50
+0.29%
6,425.00
6,435.00
6,425.00
02:05:12
DAX INDEX FUTURE Jun13
-Surging demand for gold from Dubai to Istanbul has pushed physical premiums in the region to levels not seen in years as the biggest price slump in three decades lures consumers, according to MKS  SA.Premiums paid by wholesalers and bulk buyers in Dubai to secure a 1 kilogram bar of bullion are being quoted between $6 an ounce and $9 an ounce over the London cash price, said Frederic Panizzutti, global head of marketing and sales at the Swiss-based bullion refiner. That compares with about 50 cents before the rout, Panizzutti, also chief executive officer of MKS Precious Metals DMCC, said in an interview from Dubai. BBN
-UBS Switzerland's biggest bank, reported first-quarter earnings that beat analyst estimates on higher revenues at the investment bank and in wealth management.Net income fell to 988 million Swiss francs ($1.05 billion) from 1.04 billion francs a year earlier, the Zurich-based bank said in a statement today. That surpassed the 412.3 million- franc mean estimate of nine analysts surveyed by Bloomberg. UBS posted a 92 percent gain in pretax profit to 977 million francs, beating the average analysts' estimate of 321 million francs. The unit, which aims for an annual pretax return on equity of more than 15 percent, reported that measure of profitability at 49.5 percent for the quarter, up from 17 percent a year earlier."The strategy of the new investment bank works with two- thirds less capital allocation than a year ago," Ermotti said revenue at the securities unit rose 21 percent from a year earlier to 2.79 billion francs, helped by gains in equities and equity capital markets, which rose 17 percent to 1.17 billion francs and more than doubled to 503 million francs, respectively. Equities revenue included a 55 million-franc gain from the sale of a part of UBS's former proprietary stock- trading desk, which the bank closed last year, while equity capital markets business benefitted from a large private transaction, the bank said.BBN
-Brent Corner pays off for BP
BP 1Q Adj. Net Income $4.2 Bln; Analysts Est. $3.2 Bln
-0115 Asia
Asian markets wanted to follow USA markets higher on the record close in the USA, however a spate of poor economic data out of Japan prevented the  typical all Asia  sprint higher on the QE flood tide. In Japan oil imports for March were down 1.1 %, for a 2nd month;  auto production was down 16.4 % y/y in March; Auto exports were down 10.1 % y/y in March, and March retail sales m/m and y/y came in negative and far below expectations. The Nikkei declined in the early going but is near flat. Today's afterhours set of earnings include Japans major airlines, as well as  Fujitsu, Seiko Epson, and Tokyo Electron.Shipper Mitsui OSK is up over 6.5% after offering much better than expected guidance as part of its earnings, while Nippon Yusen is flat.China remains closed on holiday. The Australian market extended its rally for the second day, reaching a five-year high. the ASX was led by financials after ANZ released a strong set earnings for H1 , and whose shares rocketed up 5 % as the worlds biggest housing bubble rolls on.
Japan
Japanese Prime Minister Shinzo Abe agreed Monday with Russian President Vladimir Putin to inject momentum into talks on a territorial row that has prevented the two countries from signing a peace treaty since the end of World War II. Putin told Abe in general Russia historically split disputed lands evenly to settle claims.
Defense Secretary Chuck Hagel stressed U.S. defense commitments to Japan, including the nuclear umbrella, in the face of growing missile threats from North Korea, while reiterating that Washington is against any action to weaken Japan's administrative control of the Senkaku Islands in the East China Sea.
Japan Deputy EconMin Nishimura said both Japan, US would benefit from the TPP free-trade agreement. Japan Ministry of Economy, Trade and Industry (METI) Upgrades assessment of Industrial Production.
 Mitsui OSK : Reports FY12/13 Net loss ¥178.9B v loss ¥173Be, Op loss ¥15.8B v loss ¥16.7Be, Rev ¥1.51T v ¥1.51Te
Unicharm : Reports FY12/13 Net ¥43.1B v ¥35Be, Op Profit ¥59.5B v ¥58Be, Rev ¥495.8B v ¥489Be
Kawasaki Kisen : Reports FY12/13 Net ¥10.7B v ¥11.3Be, Op Profit ¥14.9B v ¥14.1Be, Rev ¥1.13T v ¥1.11Te
Nissin Food  Guides FY15 Op profit ¥31B, Rev ¥450B; plans cost cutting measures of ¥3-4B over three years
Softbank : May report FY12/13 op profit around ¥750B, +11% y/y – Nikkei News
Nippon Yusen  Reports FY12/13 Net ¥18.9B v ¥7.5Be, Op Profit ¥17.4B v ¥22Be, Rev ¥1.90T v ¥1.88Te
Japan Exchange: Reports FY12/13 Net ¥10.9B, Op profit ¥19.6B, Rev ¥71.7B
Mitsubishi Electric : Reports FY12/13 Net ¥69.5B v ¥57Be, Op Profit ¥152B v ¥159Be, Rev ¥3.57T v ¥3.55Te
Korea
South Korea Def Ministry said  North Korea is keeping missile launchers on the east coast; on alert until they are removed
Bank of Korea (BOK) gov Kim said  global QE policies becoming increasingly less effective.Bank of Korea (BOK) semi-annual financial stability report saw growth of household debt slowing in 2012; and said capacity to repay debt  deteriorated .
LG Electronics : Expects 2013 sales of smartphones to reach 50M units vs 26.3M sold in 2012
LG Telecom : Reports Q1 Net KRW74.3B, Op profit KRW123.2B, Rev KRW2.86T
Economic Release Summary
(JP) JAPAN MAR PRELIM INDUSTRIAL PRODUCTION M/M: 0.2% V 0.4%E; Y/Y: -7.3% V -7.2%E
(JP) JAPAN APR MARKIT/JMMA MANUFACTURING PMI: 51.1 V 50.4 PRIOR (13-month high)
(JP) JAPAN MAR JOBLESS RATE: 4.1% V 4.2%E (4-month low); JOB-TO-APPLICANT RATIO: 0.86 V 0.86E (highest reading in almost five years)
(JP) JAPAN MAR OVERALL HOUSEHOLD SPENDING Y/Y: 5.2% V 1.6%E (multi-year high); M/M: +2.0% v -0.8%e
(JP) JAPAN MAR RETAIL TRADE M/M: -1.4% V -0.8%E; Y/Y: -0.3% V +0.4%E; LARGE RETAILERS' SALES Y/Y: 2.4% V 1.8%E
(JP) JAPAN MAR VEHICLE PRODUCTION Y/Y: -16.4% V -15.1% PRIOR
(TW) TAIWAN Q1 PRELIM GDP Y/Y: 1.5% V 3.1%E; Q/Q: -0.8%
(KR) SOUTH KOREA MAR INDUSTRIAL PRODUCTION M/M: -2.6% V -0.9%E (3rd consecutive contraction); Y/Y: -3.0% V -0.7%E (KR) SOUTH KOREA MAY BUSINESS SURVEY MANUFACTURING: 81 V 80 PRIOR (10-month high); NON-MANUFACTURING: 72 V 71 PRIOR
(KR) SOUTH KOREA MAR CYCLICAL LEADING INDEX CHANGE Y/Y: -0.2% V -0.1% PRIOR
(SG) SINGAPORE MAR MONEY SUPPLY M1 Y/Y: 15.5% V 14.0% PRIOR; Y/Y: 8.5% V 9.7% PRIOR
(SG) SINGAPORE MAR CREDIT CARD BAD DEBTS (S$): 19.9M V 19.3M PRIOR; CREDIT CARD BILLINGS: 3.35B V 2.95B PRIOR; BANK LOANS & ADVANCES Y/Y: 19.7% V 19.6% PRIOR
(SG) SINGAPORE Q1 PRELIMINARY UNEMPLOYMENT RATE: 1.9% V 1.9%E
(NZ) NEW ZEALAND APR ANZ BUSINESS CONFIDENCE: 32.3 V 34.6 PRIOR (3-month low); ANZ ACTIVITY OUTLOOK: 30.3 V 32.4 PRIOR
(NZ) NEW ZEALAND MAR BUILDING PERMITS M/M: -9.1% V +2.0%E (biggest decline since Sept 2011)
(NZ) NEW ZEALAND MAR MONEY SUPPLY M3 Y/Y: 7.0% V 6.6% PRIOR
(AU) AUSTRALIA MAR PRIVATE SECTOR CREDIT M/M: 0.2% V 0.3%E; Y/Y: 3.2% V 3.2%E
GLD: SPDR Gold Trust ETF daily holdings fall by 2.5 tons to 1,080.6 ton (lowest since 1,078.9 in Sept of 2009)
SLV: iShares Silver Trust ETF daily holdings rise to 10,407 tons from 10,392 tons
Bonds
Japan 10yr 0.61+0.02, 3.06%
U.S. 10yr 1.67-0.00, 0.27%
-USA Afterhours
MAS: Reports Q1 $0.13 (adj) v $0.14e, R$1.88B v $1.99Be; -2.0% afterhours
HTZ: Reports Q1 $0.21 v $0.18e, R$2.44B v $2.38Be; +0.5% afterhours
ESRX: Reports Q1 $0.99 v $0.98e, R$26.1B v $25.6Be; -2.1% afterhours
BWLD: Reports Q1 $0.87 v $0.99e, R$304.4M v $304Me; +1.2% afterhours
HIG: Reports Q1 $0.92 v $0.83e, R$9.18B v $7.66B y/y; -1.7% afterhours
NEM: Reports Q1 $0.71 v $0.78e, R$2.18B v $2.32Be; -2.0% afterhours
-Geopolitical News
| | |
| --- | --- |
| | Updated April 30, 2013 – 1:00 AM EDT |
-Welcome Back.
Job 37:23
The Almighty is beyond our reach and exalted in power; in his justice and great righteousness, he does not oppress.
Newslinks 
-High Level Meeting of Dope Inc
http://www.dailymail.co.uk/news/article-2316740/Charles-attends-Queens-abdication-party–unfortunately-mother-European-Royals-ball-celebrate-Beatrix-Holland-resignation-tomorrow.html
-Gold Rush From Dubai to Istanbul Drains Supply as Premiums Jump
http://www.bloomberg.com/news/2013-04-30/gold-rush-from-dubai-to-istanbul-drains-supply-as-premiums-jump.html
-CEO Pay 1,795-to-1 Multiple of Wages Skirts U.S. Law
http://www.bloomberg.com/news/2013-04-30/ceo-pay-1-795-to-1-multiple-of-workers-skirts-law-as-sec-delays.html
-Hedge funds accumulate second-biggest bet against gold on record as prices rally http://bloom.bg/Y7dMRk 
-Australia's Perth Mint works through weekend as gold demand surges on price http://bloom.bg/ZYyRuJ 
-Insight: Why did Cypriot banks keep buying Greek bonds?http://reut.rs/ZZ16tq 
-Virgin Galactic Goes Supersonic
http://www.latimes.com/business/la-fi-virgin-galactic-20130430,0,507052.story