Headliners
-SP Makes Record High
-REITs Trigger Fed Warning as Kain Tops $100 Billion
-USA Q4 GDP Revised (2nd revision) to .4 pc, Weekly rises 16k
-German retail sales data for February surprised on the upside ;Germany's Net Change in Unemployment registers first increase in four months
-Cyprus's Banks Open After Two Weeks as Controls and Cops Curb Panic, Somewhat orderly opening
-Blackberry Crushes Goldman Sachs and the Greasy Shylocks of Wall Street- 30 %+ shares shorted!
-Williston Basin (North Dakota/Montana)  holds 24 Bln barrels of recoverable oil: Billionaire CEO Harold Hamm
-Cyprus Reopens banks with extreme capital controls. English private security , armed and ready.
-Asia Sell off led by financials amid weak earnings,  and fears of property curbs in China
=============================
Market Commentary
-Market Close
4:02 p.m. EDT 03/28/13Major Stock Indexes

2:12 p.m. EDT 03/28/13Treasurys

3:52 p.m. EDT 03/28/13Futures

4:02 p.m. EDT 03/28/13Currencies
-Closer
The ZGR will be observing the Resurrection Holy Day and there will be no ZGR or news from Good Friday until after Easter Sunday. The Lord willing we will pick up coverage Sunday night as Asia opens. Happy Resurrection day. He is risen!

12:48 p.m. EDT 03/28/13Major Stock Indexes

12:46 p.m. EDT 03/28/13Treasurys

12:38 p.m. EDT 03/28/13Futures

12:48 p.m. EDT 03/28/13Currencies
The S&P500 has moved above its all-time closing high of 1,565 from 2007. I sold my longs.Yesterday's uptrend is continuing this morning as the media tries to project a  sense of calm  over the crisis in Europe-wait until they don't remove the capital controls in Cyprus, and the stock markets remain shut longer.
The final reading of US Q4 GDP was positive and doctored up by basically fabricating the capital investment.Surprisingly we had a very weak, all important Chicago PMI number, indicating the car replacement cycle may be slowing down considerably. The Feds Kansas Mfg number was very weak, surprising given that district includes both agricultural booms and oil booms. FAA goons and mouthpieces emerged to say they would harm Boeing by not granting ETOPs for some time after the battery was fixed (made sabotage proof), sure to slow down Boeing's sales, as Airbus tries to play catch up. The Japanese authorities said they confirmed it was a run away cell, but no root cause of the battery failure,  and no one wants to mention the quad fail safe system failure. Boeing's spent 500 million so far. Our little subsidy to the Eurotrash
Blackberry which the ZGR owns was up 4.5 % in early trading and is holding on to most of those gains. It has an incredible 'hip' factor and is very, very popular in Asia. They can't make enough. Various analysts are eating humble pie. How will GS get out of its big naked short position along with its hedge fund tag alongs. Given the Boeing sabotage job nothing should surprise you.
Jamie Dimon is leading the charge to overturn the fines in Mortgage-gate, probably by bribing a kin of his on the appellate court. Steve Cohen of SAC is getting out of cash into hard assets.
The Pinnacle Foods (Birdseye, Duncan brands) IPO opened for trading this morning; shares are up 13.+% so far.
We had a surprising confession from the new Williston Basin( baaken) Billionaires, that there is at least 24 billion barrels in recoverable/economic oil there, and the Hunt brothers screwed out of their silver corner and fortune by no less than the USA federal government, and various Wall Street Jews, whose names shall go unmentioned, are once again Billionaires thanks to the prolific Williston basin.
Gold was whacked on the GDP report as the ESF /UST/FED try and push the dollar and USA stock markets higher and 'control' gold. Lew the evil satanic Jew, thinks he is god encumbering the tax payers gold in one of the biggest frauds of all time. I would not be surprised if Lew was the Jew sent in to loot every last oz of gold and send it to London.
In Italy, Bersani is meeting with President Napolitano 1800 EDT to discuss options. Overnight comments by officials from Bersani's group made it clear that a coalition government with other groups was basically off the table, restricting Bersani's very bad choices to minority rule, another technocratic government , or new elections
The USA military continued to provoke North Korea and the excrement Prince Charles put in the White House bombed and murdered 4 innocent children as they slept in their beds in Afghanistan-all for the Windsors/Rothschilds dope annuity and the mineral wealth. The USA military was caught denying potable water to the hunger strikers in their gulag in Cuba. Putin busted some German-Zionist NGO in Russia, he knows they are NATO, British-Israel goons. The press continues to hide the fact the USA military and the goons in the State Department, spent $60 billion in Iraq that was a complete waste. Bomb the place and loot it and spend $60 billion and the place is worse off than right after the invasion. The USA pentagon and USA government are no one friends, they serve Prince Charles an Baron Rothschilds madness. The Crown is contact with the Obama administration weekly.
-USA Session  Econometric Data

(US) Q4 Final GDP QoQ Annualized: 0.4% v 0.5%e; Personal Consumption: 1.8% v 2.1%e
(US) Q4 Final GDP Price Index: 1.0% v 0.9%e; Core PCE Q/Q: 1.0% v 0.9%e
(US) Initial Jobless Claims: 357K v 340Ke; Continuing Claims: 3.050M v 3.041Me
(CA) Canada Jan Gross Domestic Product M/M: 0.2% v 0.1%e; Y/Y: 1.0% v 0.9%e
(CA) Canada Feb Industrial Product Price M/M: 1.4% v 0.5%e; Raw Materials Price Index M/M: 2.2% v 2.0%e
(US) Mar Chicago Purchasing Manager: 52.4 v 56.5e
(US) Weekly EIA Natural Gas Inventories: -95 bcf vs. -85 to -95 bcf expected range
(US) Mar Kansas City Fed Manufacturing Activity: -5 v -3e
(BR) Brazil Feb Unemployment Rate: 5.6% v 5.7%e
(RO) Romania Central Bank leaves Interest Rates unchanged at 5.25%, as expected (8th straight pause at record low level)
(IN) India Q4 Current Account Balance: -$32.6B v -$30.7Be
(CZ) Czech Central Bank left its Repo Rate unchanged at 0.05%, as expected
(ZA) South Africa Feb Budget Balance (ZAR): 9.7B v -29.6B prior
(ZA) South Africa Feb Trade Balance (ZAR): -9.5B v -12.5Be
-MARKETS
12:13 p.m. EDT 03/28/13Major Stock Indexes

12:12 p.m. EDT 03/28/13Treasurys

12:03 p.m. EDT 03/28/13Futures

12:13 p.m. EDT 03/28/13Currencies
-A federal judge said he needs more to consider a $602 million settlement by SAC Capital with regulators to resolve insider-trading allegations. WSJ
-Looks like the Demons in the Pentagram want WW3, on Prince Charles and Baron Rothschilds orders.
The U.S. said it flew two B-2 stealth bombers on a training run over South Korea as part of its war games, a move publicized to demonstrate deterrence as North Korea continues its threats. WSJ
-U.S. STOCKS
9:46 a.m. EDT 03/28/13Major Indexes
-945 March Chicago PMI 52.4(oops)
-BBRY +4.5 % (suck it up GS)
-MARC FABER: Not Even Gold Will Save You From What Is Coming
-American women STD infested like their Kin in England
Thanks Hollywood. Thanks Jewish ovelords of London!!
According to new data released by the federal Centers for Disease Control and Prevention, there were 19.7 million new venereal infections in the United States in 2008, bringing the total number of existing sexually transmitted infections (STIs) in the U.S. at that time to 110,197,000.The 19.7 million new STIs in 2008 vastly outpaced the new jobs and college graduates created in the United States that year or any other year on record, according to government data. The competition was not close.The STI study referenced by the CDC estimated that 50 percent of the new infections in 2008 occurred among people in the 15-to-24 age bracket. In fact, of the 19,738,800 total new STIs in the United States in 2008, 9,782,650 were among Americans in the 15-to-24 age bracket.By contrast, there were 1,524,092 bachelor's degrees awarded in the United States in the 2007-2008 school year, according to the National Center for Education Statistics. That means the total number of new STIs in 2008 outpaced the total number of new bachelor's degrees by nearly 13 to 1, and the number of new STIs among Americans in the 15-to-24 age bracket outnumbered new bachelor's degrees by more than 6 to 1.While the CDC estimates that there were 19.7 million new STIs in the United States in 2008, data published by the Bureau of Labor Statistics indicated that the total number of people employed in the country actually declined by 2.9 million during that year…
http://cnsnews.com/news/article/cdc-110197000-venereal-infections-us-nation-creating-new-stis-faster-new-jobs-or
-FRANKFURT (MarketWatch) — Banks in Cyprus began to reopen amid tight security Thursday, with television news reports showing orderly queues at branches in the capital of Nicosia. Authorities imposed strict capital controls that limit withdrawals to 300 euros in cash a day, reports said. Total transactions on any card will be limited to 5,000 euros a month, while people will be forbidden from taking more than the equivalent of 3,000 euros in cash out of the country per person per trip, The Wall Street Journal reported. Banks have been closed since March 16 as Cyprus and international lenders worked out a 10 billion euro ($12.8 billion)bailout. Uninsured deposits of more than 100,000 euros will take potentially big hits under the agreement.
-U.S.
9:31 a.m. EDT 03/28/13Major Indexes
-Markets
Smash job on Gold by the cartel looking to run the SP500 to a record today. Holding gold and long the DIA/SPY and will be longer at the market open, to hedge shorts DAX, SPY, DIA.
9:23 a.m. EDT 03/28/13Major Stock Indexes

9:23 a.m. EDT 03/28/13Treasurys

9:14 a.m. EDT 03/28/13Futures

9:24 a.m. EDT 03/28/13Currencies
-"I thought they were dead. This is a huge turnaround,"Jefferies analyst Peter Misek said from New York.Misek said the Canadian company "demolished" the numbers, especially its gross margins. RIM reported gross margins of 40 percent, up from 34 percent a year earlier. The company credited higher average selling prices and higher margins for devices."This is a really, really good result," Misek said. "It's off to a good start.
Read more: http://www.sfgate.com/business/technology/article/RIM-sells-1M-BlackBerry-10s-surprise-4Q-profit-4391327.php#ixzz2Oq9stEUE
I'm going to hold onto my BBRY until the USA sales open up, probably 3q. I will be trading it a lot though. Massive GS lead naked short of up to 30 pc.
-Mexican vigilantes seize town, arrest police
The USA is so corrupt and the cops so involved in drug running, its come here Mr. and Ms Piggy at some point  I expect.
http://www.sfgate.com/news/crime/article/Mexican-vigilantes-seize-town-arrest-police-4389503.php
-The day is so old, yet there is no sun. I've fixed my program trading for the day.
-Cyprus Bank Lines
The Cyprus Govt decided to not open their stock markets today coincident with banks. Capital controls will remain in place for a long, long time despite what the liars in Brussels say.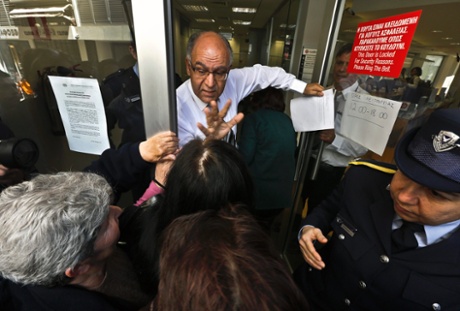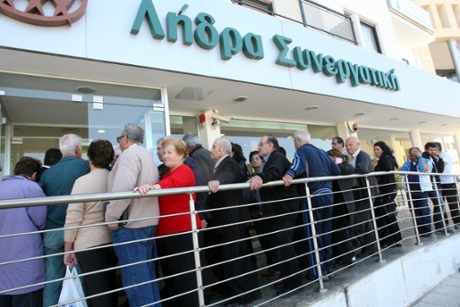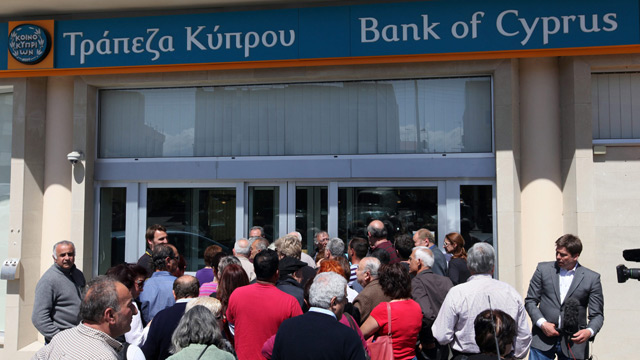 Savers from other euro zone countries withdrew 18% of the cash they held in Cyprus in February, amid fears the struggling island would impose a tax on bank deposits.Figures from the Central Bank of Cyprus published on Thursday show deposits from other euro zone states fell €860m to €3.9bn making them the fastest category to leave the stricken country. Reuters
-The USA Public always loses, 'they' always win. Justus Jews and Anglosaxons baby!!
Coming off a grueling four-year stint at the Justice Department, Lanny A. Breuer is poised to make a soft landing in the private sector.Covington & Burling, a prominent law firm, plans to announce on Thursday that Mr. Breuer will be its vice chairman. The firm created the role especially for Mr. Breuer, a Washington insider who most recently led the Justice Department's investigation into the financial crisis.Mr. Breuer, who will now shift to defending large corporations. Dealbook
-Mike Lazaridis, a BlackBerry co-founder who served as co-chief executive until last year, is retiring as vice chairman of the company. He also will step down as a director.
Went out on a winning note.
-The U.S. economy grew 0.4% in the 2012 fourth quarter instead of the prior estimate of a 0.1% gain, boosted by higher exports and business investment than originally believed. While that's the slowest growth since the 2011 first quarter, the latest figures suggest the economy continued to expand at a modest pace in the fourth quarter after stripping out the effects of inventories and an unusually large drop in government spending. The third and final update of gross domestic product issued by the Commerce Department includes more complete information not available earlier. Initially the government had said the economy contracted by 0.1% in the final three months of 2012, which would have marked the first decline since the Great Recession. Business investment in structures such as office buildings was revised up sharply to a 16.7% increase instead of 5.8%. And exports fell a smaller 2.8% vs. a prior reading of a 3.9% drop. Offsetting those gains was somewhat lower consumer spending, the main engine of U.S. growth. The gain in spending was revised down to 1.8% from 2.1%. Aftertax corporate profits, meanwhile, climbed 3.3% in the fourth quarter and 3.7% for all of 2012, adjusted for inventories and other special accounting effects. The level of adjusted profits, the highest ever, are now 41% larger compared to the year before the last recession began. MW
A lot of funny stuff with personal consumption expenditures, and fixed investment, which is bogus as firms are not investing. Likely the number was cooked to get to a new SP500 high. More lies from the bloodsuckers in Washington DC.
-The number of people applying for new unemployment-insurance benefits rose 16,000 to 357,000 in the week ended March 23, reaching the highest level since mid-February, the U.S. Labor Department reported Thursday. Economists had expected initial jobless claims for regular state unemployment-insurance benefits to rise to 339,000 from an original estimate of 336,000 in the prior week, according to a MarketWatch survey. Rising claims signal more layoffs, and initial claims have increased for two consecutive weeks. However, analysts warn over reading too much into near-term claims levels because of holiday-related distortion. On Thursday, the government revised the prior week's level to 341,000. The average of new claims over the past month, which irons out weekly volatility, rose 2,250 to 343,000. However, the number of people already receiving benefits dropped 27,000 to 3.05 million in the week ended March 16, hitting the lowest level since June 2008. The four-week average of these continuing claims fell 13,000 to 3.07 million, also reaching the lowest level since June 2008. Also Thursday, the government said its analysts have made annual revisions to seasonal-adjustment factors, impacting claims levels back to 2008. MW
-Fortunately I went long the DIA/SPY in the premarkets when I saw the BBRY results as a hedge on my shorts. I don't believe the revised GDP report, but the ESM was active today and so will be the ESFS. Probably will buy the market at the opening.
8:31 a.m. EDT 03/28/13Major Stock Indexes

8:32 a.m. EDT 03/28/13Treasurys

8:22 a.m. EDT 03/28/13Futures

8:32 a.m. EDT 03/28/13Currencies
-0830
U.S. 4th-quarter growth revised to 0.4% from 0.1%
Weekly U.S. jobless claims rise 16,000
-South Korea govt cut its 2013 GDP target from 3.0% to 2.3%; Inflation view cut from 2.7% to 2.3%. Finmin Hyun commented that country's top priority was job growth; April Stimulus program would help growth
-OECD released its Interim Economic Assessment for G7 Economies and urged the central banks to support their economies and that monetary stimulus remained necessary. It saw a strong case for ECB to ease monetary policy but that the need was waning for more US exceptional measures. US and Japan to see marked pickup in Q1 but weaker growth in Q2. Germany to rebound in Q1 and gain traction in Q2 while France to stagnate in H1 and Italy's recession to ease. (pc forecast)
- Russia Siluanov : Ready to ease Cyprus loan terms after situation clears;  If current trends continued than 2013 GDP to be below 3.0% (prior view of 3.7%).
- Portugal PM Coehlo might have to resign if country's constitutional court does not approve certain 2013 budget measures, and if the court did not approve the measures, the Government might not be able to find alternative measures.
-Italy EconMin Grili commented the Government targets could emerge from excessive deficit procedure even with revision from €40B arrears payment. Still sought deficit targets in structural terms even with worsening of budget balance from the speed up in arrears payment. (lies).
-EU's Barnier: May seek to have a stronger separation of banking activities than proposals made by France and Germany.
-Luxembourg PM Juncker reiterated view that Cyprus situation was a special case and its bailout was not a template for Europe. He added that Luxembourg's banking sector was not a cause for concern .Germany Fin Min Schaeuble reiterated that Cyprus was a special case and found the right solution to its rescue; Luxembourg cannot be compared. (lies)

-Greece Tspiras: call for referendum on  Cyprus. EK
-ECB's Mersch : Cyprus bailout is not a template for other countries, Cyprus was in an exceptional situation ; theoretically there is scope for a rate cut, but there is no evidence a cut is needed.
-Samsung C&T Corp. , the construction-to-trading unit of South Korea's Samsung Group, said it has won a 5.59 billion Australian dollar ($5.8 billion) contract to develop the Roy Hill iron-ore mining project in Western Australia.
-European Session Economic Release Summary
 (EU) Euro Zone Feb M3 Money Supply Y/Y: 3.1% v 3.2%e; M3 Money Supply 3-month Avg: 3.3% v 3.3%e
(EU) ECB: €368M borrowed in overnight loan facility vs. €1.8B prior; €145.0B parked in deposit facility vs. €118.2B prior
(DE) Germany Feb Retail Sales M/M: +0.4% v -0.6%e Y/Y:-2.2% v + 1.2%e

(DE) German Feb ILO Employment: 41.73M v 41.68M prior; Unemployment Rate: 5.4% v 5.4% prior
(DE) Germany Mar Unemployment Change: +13K v -2Ke (first increase in 4 months); Unemployment Rate: 6.9% v 6.9%e
(FI) Finland Jan Final Trade Balance: -€437M v -€425M prelim
(HU) Hungary Q4 Current Account: €242M v €268Me
(HU) Hungary Feb Unemployment Rate: 11.6% v 11.7%e
(AT) Austria Feb Producer Price Index M/M: 0.0% v 0.1% prior; Y/Y: -0.3% v 0.3% prior
(IT) Italy Mar Business Confidence: 88,9 v 88.0e; Economic Sentiment: 78.0 v 77.6 prior
(BE) Belgium Mar CPI M/M: 0.1% v 0.3% prior; Y/Y: 1.1% v 1.2% prior
(HK) Hong Kong Feb M3 Money Supply Y/Y: 8.5% v 14.1% prior; M2 Money Supply Y/Y: 8.5% v 14.1% prior; M1 Money Supply Y/Y: 13.6% v 20.2% prior
 (ZA) South Africa Feb PPI M/M: 0.6% v 0.8%e; Y/Y: 5.4% v 5.6%e
(ZA) South Africa Feb M3 Money Supply Y/Y: % v 7.2%e; Private Sector Credit Y/Y: % v 8.0%e
 (IN) India FY13 YTD (thru Feb) Fiscal Deficit: INR 5.07T, at 97.4% of target
(TW) Taiwan Central Bank left its Benchmark Interest Rate at 1.875%, (expected)
(UK) Jan Index of Services M/M: 0.3% v 0.3%e; 3M/3M: -0.2% v -0.2%e
(UK) Mar Nationwide House Prices M/M: 0.0% v 0.2%e; Y/Y: 0.8% v 0.9%e
-Mobius says  Europe/Cyprus, 'crazy'.
A default is the only cure to the euro zone's problems in the wake of the botched Cyprus bailout, investor Mark Mobius told CNBC late Thursday.That's because a bailout "never solves the problem," the executive chairman at Templeton Emerging Markets Group said."The default will take place with a longer time period, in other words, they will stretch out payments so that at the end of the day, as the economies recover, they are gradually able to pay off those debts, Mobius said.Cypriot banks began to reopen Thursday but customers face strict capital controls. Banks were closed for nearly two weeks as Cyprus negotiated with its euro-zone partners, the International Monetary Fund and the European Central Bank over terms of a 10 billion euro ($12.8 billion) bailout, which will see uninsured deposits take big hits.Mobius told CNBC that the decision to hit savers was "crazy" and had turned a small issue into a major problem."What happens is that savers in Spain, Italy, Portugal and these other southern European countries begin to say hey my savings are not going to be safe, and the savers are the people keeping thsese banks alive," he said. "They've got to keep those savers in the banks." MW
-Banks will close today at 6 p.m., Yiangos Dimitriou, head of the central bank's audit department, said yesterday in comments broadcast on state-run CyBC television.The controls will be in force for seven days, according to a statement from the Finance Ministry. Dimitriou had said they would be in effect for four days. The European Commission said in a statement today the control on capital movements must remain "proportionate" and be lifted as soon as possible.  BBN
English Pigs, er 007 Guard Cyprus Banks ahead of opening.
A G4S security guard stands outside a Bank of Cyprus Plc branch before opening in Nicosia, Cyprus, on Thursday, March 28, 2013.
-German 10 Year Bund  Drops to 1.255%, Lowest Since August 3
-SAC , Steven Cohens new 60 million Hampton Home
Dealbook, NYT
Steal it on Wall Street, bury it on Main Street.
-Markets
7:37 a.m. EDT 03/28/13Major Stock Indexes

7:37 a.m. EDT 03/28/13Treasurys

7:28 a.m. EDT 03/28/13Futures

7:38 a.m. EDT 03/28/13Currencies
-ZGR and BBRY Beat Goldman Sachs and the 30 pc short float.
BlackBerry, BBRY +7.23% CA:BB +0.89% the Waterloo, Ontario, producer of the BlackBerry line of smartphones, reported on Thursday fiscal fourth-quarter net income of 19 cents a share versus 2 cents in the year-earlier period. Revenue for the quarter ended March 2 was $2.68 billion compared with $2.73 billion. Adjusted earnings from continuing operations were 22 cents a share in the latest period. A survey of analysts by FactSet produced consensus estimates of a loss of 30 cents on revenue of $2.8 billion. The company reported shipments of 6 million smartphones in the quarter, including 1 million of the closely watched Model 10. Gross-profit margin in the latest quarter was 40%, reflecting higher average selling prices and thicker profit margins on hardware, the company said.
-Caretaker Prime Minister Mario Monti, looking tired and distraught, said on Wednesday he was ready to leave office a day after a prominent member of his government resigned over the handling of a dispute with India.Foreign Minister Giulio Terzi – without informing Monti of his intentions – announced his resignation on Tuesday, saying he disagreed with the government's decision to send two marines accused of murder to India to stand trial.The government's confused handling of the dispute surrounding the marines, who are accused of shooting dead two Indian fishermen during anti-piracy duty, has been a black mark on Monti's brief, 17-month government, and has led to accusations that it has cost Italy diplomatic prestige."This government can't wait to be relieved of its duty," Monti said during testimony about the Indian affair to the lower house of parliament. Monti was interrupted repeatedly by heckles from right-wing lawmakers. Reuters
-The largest contiguous oilfield in the U.S., the Williston has the potential to be the largest producing field in the world over the next 30 years, according to Harold Hamm, the billionaire chairman of oil and gas producer Continental Resources Inc.An early Bakken wildcatter, Hamm has said in company reports that the area will yield as much as 24 billion barrels of oil. BBN
-European Credit Notes
(UK) Egan Jones cuts UK sovereign rating one notch to A+ from AA-
(CY) MOODY'S LOWERS CYPRUS'S COUNTRY CEILINGS TO CAA2; NEGATIVE OUTLOOK; CA3 sovereign rating and negative outlook remain unchanged
(IR) MOODY'S AFFIRMS IRELAND BA1 SOVEIGN RATINGS; NEGATIVE OUTLOOK REMAINS
(PT) MOODY'S AFFIRMS PORTUGAL BAA3 SOVEREIGN RATING; OUTLOOK NEGATIVE REMAINS
(RU) Moody's affirms Russia Baa1 govt bond rating, Outlook Stable
-0156 Asia
Risk appetite is subdued ahead of the Easter holiday; all eyes remained focused on Europe as banks and governments prepare for the opening of Cyprus banks, after being closed for nearly two weeks. Political uncertainty in Italy adds to the concerns in Europe today. The possibility of forming a coalition was ruled out by the Democratic Party (DP) leader  Bersani, while PM Monti said the government cannot delay to have its mandate rescinded. The political impasse aided by a weak Italian 5-year note auction set the tone for a sell off in the Asian equity markets, despite the FED sending its team of talking head doves out to coo and calm the markets.
China
The Shanghai Composite was jarred for -2.7 %,  and Hong Kong was down one-half of that. The banking sector was very weak. In China, several cities may begin issuing property curb measures beginning next month, while the Chinese banking regulator said it plans to tighten risk controls for rural banks, in addition to unveiling new banking regulations on risky products.
China may cut certain taxes on shipping firms . Bank of China (BOC) economist: Sees China G2 GDP at 8.2%; sees room for Reserve Ratio cut before June – financial pressChina Banking Regulatory Commission (CBRC): to tighten risk controls for rural banks, and will control lending to local governments.
Japan
Japan Nikkei Average finished 1.3% down at 12,335.96 as the Y/D slid back toward the 94 mark.
In testimony to the House of Councilors, BOJ Gov. Kuroda stated that Japanese economy has stopped weakening and should begin to show signs of a recovery by the middle of the year, even though a high degree of uncertainty remains due to the global concerns including the European financial crisis. Kuroda admitted that the BOJ  asset purchases and other easing strategies adopted thus far have not been sufficient to reach the inflation target, and again reiterated his plans to manage market expectations.
TM reported Feb domestic vehicle production -13.2% y/y. NSANY reports Feb domestic vehicle production -31.4% y/y ;sSaid to delay China growth target by one year.
GS Yuasa, Boeing : Japan Transport Ministry reported BA787 battery experienced thermal runaway in Jan,  incident.
Korea
Bank of Korea (BOK) said the March current accounts surplus likely to be similar to Feb.- Kia to launch new Cadenza model in May 2013; concerned about weakening JPY.
Economic Releases
(CN) CHINA FEB INDUSTRIAL PROFITS YTD Y/Y: 17.2% V 5.3% PRIOR (largest rise since Dec 2011)
(JP) JAPAN FEB RETAIL TRADE M/M: +1.6% V 0.5%E; Y/Y: -2.3% V -1.8%E (biggest fall since Nov 2011); LARGE RETAILERS' SALES Y/Y: -3.7% V -1.5%E
(AU) AUSTRALIA MAR TD SECURITIES INFLATION M/M: 0.2% V 0.0% PRIOR; Y/Y: 2.1% V 2.4%E (8-month low)
(AU) AUSTRALIA DEC-FEB JOB VACANCIES Q/Q: -10.1% V -7.0% PRIOR
(AU) AUSTRALIA FEB PRIVATE SECTOR CREDIT M/M: 0.2% V 0.3%E (third consecutive increase); Y/Y: 3.4% V 3.5%E (10-month low rate of increase)
(NZ) NEW ZEALAND FEB BUILDING PERMITS M/M: 1.9% V 3.0%E
(NZ) NEW ZEALAND FEB MONEY SUPPLY M3 Y/Y: 6.6% V 6.4% PRIOR
(KR) SOUTH KOREA FEB CURRENT ACCOUNT: $2.71B V $2.33B PRIOR; GOODS BALANCE: $2.56B V $2.62B PRIOR
(SG) SINGAPORE FEB MONEY SUPPLY M1 Y/Y: 14.0% V 11.2% PRIOR; Y/Y: 9.7% V 8.5% PRIOR
(SG) SINGAPORE FEB CREDIT CARD BAD DEBTS (S$): 19.3M V 18.3M PRIOR; CREDIT CARD BILLINGS: 2.95B V 3.39B PRIOR; BANK LOANS & ADVANCES Y/Y: 19.6% V 18.3% PRIOR
(TH) THAILAND FEB MANUFACTURING PRODUCTION M/M: 1.2% V 3.5%E
(TH) Thailand Feb Customs Trade Balance: -$1.56B v -$5.5B prio
Equity
Bonds
Japan 10yr 0.52-0.00, 0.76%
U.S. 10yr 1.84-0.01. 0.62%
-USA close
5:46 p.m. EDT 03/27/13Major Indexes

6:19 p.m. EDT 03/27/13Markets Diary

| | | | |
| --- | --- | --- | --- |
| Issues | NYSE | Nasdaq | NYSE MKT |
| Advances | 1,595 | 1,156 | 202 |
| Declines | 1,426 | 1,259 | 185 |
| Unchanged | 136 | 117 | 34 |

| | | | |
| --- | --- | --- | --- |
| Issues at | | | |
| New Highs | 217 | 124 | 9 |
| New Lows | 23 | 28 | 10 |
After hours
PAYX: Reports Q3 $0.40 v $0.39e, R$593.3M v $593Me; -0.6% afterhours
PVH: Reports Q4 $1.60 v $1.50e, R$1.64B v $1.59Be; Issues Q1 and FY13 guidance including impact of  acquisition; -4.0% afterhours
RHT: Reports Q4 $0.36 (incl $0.03 retroactive reinstatement of US research tax credit) v $0.30e, R$348M v $350Me; Guides initial FY14 $1.31-1.35 v $1.38e, R$1.51-1.54B v $1.54Be – conf call; -3.9% afterhour
-Geopolitical Update
| | |
| --- | --- |
| | Updated March 28, 2013 – 12:02 AM EDT |
-Maundy  Thursday- The Last Supper of Jesus Christ of Nazareth
Mandatum novum do vobis ut diligatis invicem sicut dilexi vos.
John 13
1 Now before the feast of the passover, when Jesus knew that his hour was come that he should depart out of this world unto the Father, having loved his own which were in the world, he loved them unto the end.
2 And supper being ended, the devil having now put into the heart of Judas Iscariot, Simon's son, to betray him;
3 Jesus knowing that the Father had given all things into his hands, and that he was come from God, and went to God;
4 He riseth from supper, and laid aside his garments; and took a towel, and girded himself.
5 After that he poureth water into a bason, and began to wash the disciples' feet, and to wipe themwith the towel wherewith he was girded.
6 Then cometh he to Simon Peter: and Peter saith unto him, Lord, dost thou wash my feet?
7 Jesus answered and said unto him, What I do thou knowest not now; but thou shalt know hereafter.
8 Peter saith unto him, Thou shalt never wash my feet. Jesus answered him, If I wash thee not, thou hast no part with me.
9 Simon Peter saith unto him, Lord, not my feet only, but also my hands and my head.
10 Jesus saith to him, He that is washed needeth not save to wash his feet, but is clean every whit: and ye are clean, but not all.
11 For he knew who should betray him; therefore said he, Ye are not all clean.
12 So after he had washed their feet, and had taken his garments, and was set down again, he said unto them, Know ye what I have done to you?
13 Ye call me Master and Lord: and ye say well; for so I am.
14 If I then, your Lord and Master, have washed your feet; ye also ought to wash one another's feet.
15
For I have given you an example, that ye should do as I have done to you.
16 Verily, verily, I say unto you, The servant is not greater than his lord; neither he that is sent greater than he that sent him.
17 If ye know these things, happy are ye if ye do them.
18 I speak not of you all: I know whom I have chosen: but that the scripture may be fulfilled, He that eateth bread with me hath lifted up his heel against me.
19 Now I tell you before it come, that, when it is come to pass, ye may believe that I am he.
20 Verily, verily, I say unto you, He that receiveth whomsoever I send receiveth me; and he that receiveth me receiveth him that sent me.
21 When Jesus had thus said, he was troubled in spirit, and testified, and said, Verily, verily, I say unto you, that one of you shall betray me.
22 Then the disciples looked one on another, doubting of whom he spake.
23 Now there was leaning on Jesus' bosom one of his disciples, whom Jesus loved.
24 Simon Peter therefore beckoned to him, that he should ask who it should be of whom he spake.
25 He then lying on Jesus' breast saith unto him, Lord, who is it?
26 Jesus answered, He it is, to whom I shall give a sop, when I have dipped it. And when he had dipped the sop, he gave it to Judas Iscariot, the son of Simon.
27 And after the sop Satan entered into him. Then said Jesus unto him, That thou doest, do quickly.
28 Now no man at the table knew for what intent he spake this unto him.
29 For some of them thought, because Judas had the bag, that Jesus had said unto him, Buy those things that we have need of against the feast; or, that he should give something to the poor.
30 He then having received the sop went immediately out: and it was night.
31 Therefore, when he was gone out, Jesus said, Now is the Son of man glorified, and God is glorified in him.
32 If God be glorified in him, God shall also glorify him in himself, and shall straightway glorify him.
33 Little children, yet a little while I am with you. Ye shall seek me: and as I said unto the Jews, Whither I go, ye cannot come; so now I say to you.
34 A new commandment I give unto you, That ye love one another; as I have loved you, that ye also love one another.
35 By this shall all men know that ye are my disciples, if ye have love one to another.
36 Simon Peter said unto him, Lord, whither goest thou? Jesus answered him, Whither I go, thou canst not follow me now; but thou shalt follow me afterwards.
37 Peter said unto him, Lord, why cannot I follow thee now? I will lay down my life for thy sake.
38 Jesus answered him, Wilt thou lay down thy life for my sake? Verily, verily, I say unto thee, The cock shall not crow, till thou hast denied me thrice.
John 14
1 Let not your heart be troubled: ye believe in God, believe also in me.
2 In my Father's house are many mansions: if it were not so, I would have told you. I go to prepare a place for you.
3 And if I go and prepare a place for you, I will come again, and receive you unto myself; that where I am, there ye may be also.
4 And whither I go ye know, and the way ye know.
5 Thomas saith unto him, Lord, we know not whither thou goest; and how can we know the way?
6 Jesus saith unto him, I am the way, the truth, and the life: no man cometh unto the Father, but by me.
7 If ye had known me, ye should have known my Father also: and from henceforth ye know him, and have seen him.
8 Philip saith unto him, Lord, shew us the Father, and it sufficeth us.
9 Jesus saith unto him, Have I been so long time with you, and yet hast thou not known me, Philip? he that hath seen me hath seen the Father; and how sayest thou then, Shew us the Father?
10 Believest thou not that I am in the Father, and the Father in me? the words that I speak unto you I speak not of myself: but the Father that dwelleth in me, he doeth the works.
11 Believe me that I am in the Father, and the Father in me: or else believe me for the very works' sake.
12 Verily, verily, I say unto you, He that believeth on me, the works that I do shall he do also; and greater works than these shall he do; because I go unto my Father.
13 And whatsoever ye shall ask in my name, that will I do, that the Father may be glorified in the Son.
14 If ye shall ask any thing in my name, I will do it.
15
If ye love me, keep my commandments.
16 And I will pray the Father, and he shall give you another Comforter, that he may abide with you for ever;
17 Even the Spirit of truth; whom the world cannot receive, because it seeth him not, neither knoweth him: but ye know him; for he dwelleth with you, and shall be in you.
18 I will not leave you comfortless: I will come to you.
19 Yet a little while, and the world seeth me no more; but ye see me: because I live, ye shall live also.
20 At that day ye shall know that I am in my Father, and ye in me, and I in you.
21 He that hath my commandments, and keepeth them, he it is that loveth me: and he that loveth me shall be loved of my Father, and I will love him, and will manifest myself to him.
22 Judas saith unto him, not Iscariot, Lord, how is it that thou wilt manifest thyself unto us, and not unto the world?
23 Jesus answered and said unto him, If a man love me, he will keep my words: and my Father will love him, and we will come unto him, and make our abode with him.
24 He that loveth me not keepeth not my sayings: and the word which ye hear is not mine, but the Father's which sent me.
25 These things have I spoken unto you, being yet present with you.
26 But the Comforter, which is the Holy Ghost, whom the Father will send in my name, he shall teach you all things, and bring all things to your remembrance, whatsoever I have said unto you.
27 Peace I leave with you, my peace I give unto you: not as the world giveth, give I unto you. Let not your heart be troubled, neither let it be afraid.
28 Ye have heard how I said unto you, I go away, and come again unto you. If ye loved me, ye would rejoice, because I said, I go unto the Father: for my Father is greater than I.
29 And now I have told you before it come to pass, that, when it is come to pass, ye might believe.
30 Hereafter I will not talk much with you: for the prince of this world cometh, and hath nothing in me.
31 But that the world may know that I love the Father; and as the Father gave me commandment, even so I do. Arise, let us go hence.
-Economic Calendar
Busy Day !
================================
Newslinks 
-REITs Trigger Fed Warning as Kain Tops $100 Billion
http://www.businessweek.com/news/2013-03-28/reits-trigger-fed-warning-as-kain-tops-100-billion
-BBRY suprises with Quarterly
http://www.marketwatch.com/story/blackberry-surprises-with-quarterly-profit-2013-03-28
-JPMorgan Chase Faces Full-Court Press of Federal Investigations
http://dealbook.nytimes.com/2013/03/26/jpmorgan-chase-faces-full-court-press-of-federal-investigations/?src=dlbksb
-Banksters seeking to buy Decision on FNH/FRE-gate at appellate level
http://dealbook.nytimes.com/2013/03/27/banks-seek-to-overturn-judges-ruling-in-critical-mortgage-case/?src=dlbksb
-Cyprus's Banks Open After Two Weeks as Controls Curb Panic
http://www.bloomberg.com/news/2013-03-27/cypriot-banks-to-open-for-first-time-in-2-weeks-with-cash-curbs.html
-Hollande Economic Woes Masked by Cyprus Fig Leaf: Euro Credit
http://www.bloomberg.com/news/2013-03-28/hollande-economic-woes-masked-by-cyprus-fig-leaf-euro-credit.html
-China Stocks Fall Most in Three Weeks as Financial Shares Slump
http://www.bloomberg.com/news/2013-03-28/china-stock-index-futures-drop-1-signaling-equities-will-fall.html
-Yen Climbs on Safety Demand as Cyprus Banks Reopen; Euro Rises
http://www.bloomberg.com/news/2013-03-28/yen-gains-versus-peers-as-boj-s-kuroda-gives-no-new-policy-hints.html
-Italy PM Monti says he "can't wait" to leave office
http://www.reuters.com/article/2013/03/27/us-italy-vote-monti-idUSBRE92Q10R20130327
-FAA To Restrict B787 ETOPs.
http://www.reuters.com/article/2013/03/27/us-boeing-787-range-idUSBRE92Q00920130327?feedType=RSS&feedName=businessNews
-Cyprus Capital Controls First in EU Could Last Years
http://www.bloomberg.com/news/2013-03-27/cyprus-capital-controls-first-in-eu-could-last-years.html
-Hunt Becomes Billionaire on Bakken Oil After Bankruptcy
http://www.bloomberg.com/news/2013-03-28/hunt-becomes-billionaire-on-bakken-oil-after-bankruptcy.html
-Cyprus reopens banks, under strict restrictions
http://www.reuters.com/article/2013/03/28/us-cyprus-parliament-idUSBRE92G03I20130328