Headliners
-Sens. Levin, McCain push Obama to take military action in Syria
-Obama Greenlights Israel to bomb Iran, Palestinian protesters tell him to get the hell out of their land
-No government again in Italy today-Friday Napalitano will announce next step
-Iran's Head Mullah Threatens to Raize Tel Aviv if they Attack
-Scotland will hold its referendum on independence on Sept. 18, 2014.
-Nearly 70 pc of Cypriots prefer Deal with Russia and EU exit
-Rockets fired into Israel (IDF/Mossad) as Obama visits Palestinian Abbas to lecture him about firing rockets into Israel
-EZ Flash Composite Index Falls to 46.5 in March, 47.9 prior, EU PMI Data shows further contraction in EZ
-ECB Threatens Cyprus to cut ELA off on Monday
-Cyprus may  vote on new plan b(plan c) today(doubtful) , Russian aid of EU 5 billion plus some tax levy on accounts above 100k. Russians talking, Guns, money, gas and cash with Cyprus. EU hits the panic button sends stooge to Moscow.
-RF ready to assist Cyprus,  EU should be the first to deal with problem .Russia may need to think Euro currency reserves- Medvedev
- Israel PM Netanyahu(aka Prince Charles Jr) : Diplomacy and sanctions have not stopped Iran; Iran has gotten closer to the "red line" and must face clear threat of military action
-Gillard Retains Labor Leadership as Rudd Declines to Contest
-Japan Logs 8th Straight Trade Deficit In Feb
-North Korea threatens to hit USA bases on Guam and in Japan
-HSBC (a name you can trust) China Flash PMI March 51.7, prior 50.4
-FED retains QE, upgrades economic assessment, gloats over Markets being up on Cyprus
——————————————————————————————-
Market Commentary
-Close
The ZGR website was hit with DDOS attack, among others. Not much you can do but wait those things out. Apparently the Big Angl0-Zio in London are very, angry about the truth or don't appreciate my joke about Obama being Prince Charles and Bibi's Butler. It never ceases to amaze me the amount of tax payer money they will spend to shut down a site only read by 3k-6k people per day. They will get theirs some day, if only on Judgement day. Apparently the Bible verses we quote do these people no good. Imagine that. How I long for the recompense of Zion.
6:44 p.m. EDT 03/21/13Markets Diary
| | | | |
| --- | --- | --- | --- |
| Issues | NYSE | Nasdaq | NYSE MKT |
| Advances | 1,054 | 779 | 176 |
| Declines | 1,988 | 1,650 | 209 |
| Unchanged | 108 | 101 | 32 |
| | | | |
| --- | --- | --- | --- |
| Issues at | | | |
| New Highs | 211 | 101 | 12 |
| New Lows | 18 | 12 | 6 |
-Toronto-Dominion Bank says it was hit by a "targeted" cyber attack, forcing its banking website and mobile banking service to go offline for several hours.The bank says the denial-of-service attack occurred mid-morning and prevented its customers from logging to its website and mobile site.
-Sens. Levin, McCain push Obama to take military action in Syria http://j.mp/11lphE5 
the ancient Anglosaxon -Jew alliance
- Rengan Rajaratnam, brother of jailed hedge-fund founder Raj Rajaratnam, charged with insider trading tied to Galleon. NYT
-Banking sector reorganization Bill submitted to Cypriot parliament giving finance minister or central bank governor right to impose capital controls on banks. Cyprus Neofytou says only EU3.5 Bln needed if bill passes.DISY deputy leader Neofytou says resolution of Laiki bank will save EU2.3bln.
-Obama, Israel's bitch
Whatever the 911 perp Bibi wants, Prince Charles makes sure he gets.
In his speech, Obama said Israel 82 times and  Palestine only twice. Get the full text of his speech here http://htz.li/16LR7xt
He's going for his English Knighthood and billions more and WW3 all in one speech.
Hanan Ashrawi, a member of the PLO Executive Committee, told Haaretz that Obama's speech was an acceptance of the Zionist narrative and the Israeli ideology and that the United States would always stand by Israel's side no matter what.
"Obama addressed the people of Israel by going over the heads of the leaders; he spoke about peace and next for the establishment of a Palestinian state in order to safeguard Israeli security," she said. "True, he also spoke about the Palestinians' right to establish is state, but he did not mention two of the main issues – one of which is the borders of the Palestinian state, which the settlements are eroding on a day to day basis. The test now is whether the people who applauded Obama's speech will tell Netanyahu and his government to end the occupation, end the settlements and establish a Palestinian state within the 1967 borders."
Palestinian officials from Fatah and the PLO are angry with U.S. President Obama, a PLO official told Haaretz, following his visit in Ramallah. They believe the president understated the severity of the settlements, softening positions he expressed in his first term. Before hearing reports from the discussion between Abbas and Obama, the official said it was already clear it was filled with deep disputes – and that Palestinians refuse to return to the negotiating table without a settlement freeze.
Even with zero expectations from Obama – except for the symbolic element in his first visit as president after the declaration of Palestine as a non-member observer state at the United Nations last year – seasoned politicians in the Palestinian Authority were shocked by Obama's wording during his speech.
"In Israel, he mentioned the Palestinians – not even Palestine – twice. Here, he mentioned Israel nonstop. He spoke about the fear of children in Sderot, but he should have also mentioned the fear experienced by Palestinians children in Gaza and the West Bank. For example, the children of Palestinian detainee Arafat Jaradat , who died while being investigated," the official said. (Amira Hass)
Haaretz
-Prince Charles Butler
Obama walked over to help Sara Netanyahu into her seat, and Prime Minister Netanyahu applauded the gentlemanly move. Haaretz
- President Shimon Peres, speaking at State Dinner: "The diplomatic and military bonds between us have reached an unprecedented level."(Haaretz)
Read, 'we control every aspect of Amerika, you're our b-tches and killers' . He is an English Lord by the way and his ceremony was public, unlike the 'secret' ceremony Ehud Barak and Bibi got that the ZGR caught and was hacked for intercepting.
-Lululemon, Lululemon, I'm sick of it all ready you idiots in the media. Europe is being looted by the Windsors-Rothchilds and all you can think about is virtually naked chicks in their lululemon pants. It could all be a ruse to boost sales and distract you. Most chicks like to be virtually naked thanks to the Windsor-Rothschilds hollywood machine. I don't do Yoga. I do pull ups, squats, leg raisers, push up, and thrusts and climb, run and ski. Guys doing Yoga mainly want to look at some hot butts on the females and apparently have been getting a lot more than just shapely butts as well.
-Trouble Making Turks
Turkey could challenge any move by Cyprus to speed up offshore natural gas exploration as a way of attracting desperately needed investment to save its teetering economy, senior Turkish officials said on Thursday.The European Union has given the island until Monday to raise the billions of euros it needs to clinch an international bailout or face the collapse of its financial system and likely exit from the euro currency zone.Cyprus is in talks with Moscow over possible Russian investments. Cypriot Finance Minister Michael Sarris has identified the divided island's offshore gas riches as one area in which Russia could invest."This resource belongs to two communities and the future of this resource can't be subject to the will of southern Cyprus alone. (We) may act against such initiatives if necessary," one of the Turkish officials told Reuters. Reuters
The Turks belong on Cyprus and have as much legal claim to it, as China does Tibet. Free Cyprus, Muslim Turks and Turkish Jews go home!!!
-Broad Europe Close
You hate to devote much time to a Europe summary as it is just about obsolete by the time you write it. Clearly the relief rally yesterday was staged and there was not only no deal, the PMIs were pathetic as I expected. The first reading of the March German manufacturing PMI data indicated the series has returned to contraction and ominous portend.
If not for the ESM/ECB markets would be down 2-3 pc today on the deepening recession. Despite lead EU sled dog PIMCO saying it was getting out of Dodge, as the Euro was no reserve currency, mysterious buyers showed up today for Spain's bond auction and it looked like Italian bonds were capped today as Napalitano was trying to install more EU stooges in power in Italy.
Eventually the Germans squeezing the periphery will pull them down in their own mess. We highlighted the madness of the Jew Merkels, Jewish partner in crime Michael Fuchs demanding Cyprus money. I have never met a German who behaved in that mad manner. Germans are gutless politically correct wonders who will never tell you their leaders are Jews for the most part.
The Eurogroup said their threat was not a threat and their head demanded deposit money again before the MEPs.
Pressure is building on Cyprus to get a deal done to stave of financial disaster which would happen when insolvent banks opened on Tuesday. With the Cyprus finance minister not making any headway, reportedly, with the Russians in Moscow, Cyprus government officials are discussing another " Plan B" centered around the creation of a "solidarity fund" funded with various state assets.The solidarity fund is essentially an investment fund or sovereign wealth fund which will pool a series of assets to help provide the €5.8bn in cash required by the Cypriot government to agree the bailout. The Cypriot Cabinet was unanimous in voting for this today. Some of these assets are liquid and can provide a cash flow, while others are not. It has been suggested that this fund will be used to purchase government debt in order to fully monetize the assets and boost government coffers. Likely the Troika will reject this new proposal.
Anonymous Eurozone officials (probably Schauble) are saying the nation would have to basically wind down their biggest banks and wipe out depositors if they didn't agree to the proposed levy, but comments from various sources suggest the levy is DOA. The Greeks have enough assets to make the depositors whole up to 100k, then wipe out the shareholder and bond holders in the two bad  banks. All you hear is the Cypriots are a money laundry, but you never hear the EU Politiboro mention England's offshore tax dodges in Gibraltar, the Caymans, the Channel Islands, much less Switzerland or Luxembourg. Supposedly the Troika team locked the Cypriots on the fifth floor hotel room and black mailed them to get the first attempt to grab accounts and this has blown up on Dijsselboem/Merkel/Draghi and Lagarde and David DeRothschilds. Clearly there is going to be no vote today.
The main purpose of Cyprus seems to use it legal model for grabbing money to bail the banksters out, and , or, to force Cyprus into political and financial chaos, and say call out the English military which has 2 big bases there,  and install some puppet government.
It is critically important if you're European and want to be known as a European that you bench sitters support Cyprus and demand your MEP not go along with this account grab precedent, especially you Germans should be shouting down that Jew Fuchs, as they will come for your account just like that Jew Hitler did.
-WS is going nuts over the thoughts of all these Yoga chicks out there with see through pants. The Chinese who made the material probably are getting a laugh out of that. Lulumon, made in China!
-USA Session Economic Release Summary
People should not forget that entire East Coast Seaboard had $60 billion gifted to the Jewish and Anglosaxon insiders by Congress as a result of the weather engineered Hurricane Sandy. Recall all the histrionics of the greasy NWO Jew Bloomberg demanding the rest of build sea barriers for his Jew developer pals or the fat man Anglosaxon Governor Christie, stamping his foot over his share of the 60 billion. At some point, some of that money had to make it down to Philly from NY and NJ.
We saw some minor upticks in the data in the USA. Despite having zero confidence in Markit/HSBC USA number you cant deny the USA has some world class products like the B787, caterpillars, John Deere, and Asia is buying. The Europeans were afraid enough of the B787 they sabotaged it.
In housing we are still seeing the move up from QE4 and Bernanke threatening enough inflation to pile in buyers who had been waiting for  home prices to fall for four years before buying as well as Hedge funds piling into the slum land lord and buying low cost homes. The weekly jobless should go down to 300k to ensure lift off that is self sustaining.
The Jew Ken Goldstein, the head economist at the Conference Board which publishes the LEI, said, "The U.S.economy is growing slowly now, and with this reading increases hope that it may pick up some momentum in the second half of the year. However, this latest report does not yet capture the recent effects of sequestration, which could dampen the pickup in GDP". Of the 10 indicators  eight of the ten indicators, including the interest rate spread, building permits, the Leading Credit Index, average weekly manufacturing hours, and stock prices, were positive. Negative contributions from manufacturers' new orders for non-defense capital goods excluding aircraft and average consumer expectations for business conditions limited the upside for the index.
For $85 billion a month from Bernanke and $100 billion  a month from the spendthrift Obama the dirt-bags in Washington are not getting much lift off as the money is flowing to their friends mainly at JPM, GS, HSBC, Barclays,  the Pentagon, and other worthless agencies that produce no real goods that benefit the American people.   I would be very worried as a market participant  if I saw a bell-weather stock like JBL, the mfg concern with flat revenue in a 5 pc inflation environment like we saw last night. And when Fedex is not healthy the global economy is not healthy. WS just wants you to ignore the y/y and q/q revenue and eps figures and buy the 'tape' and even the shameless WB was out pumping little guys into stocks yesterday, signs a top is near. What is irritating to me is that other than a few global firms all this global inflation is barely flowing to the bottom line like it should , which would at least legitimately boost stocks some kind of hedge on inflation. It is as the FED and the pols have targeted holding wages down, and people don't have enough money in their pockets to even keep up with inflation.  The FEDs main goal is to fatten the banksters bottom lines, and the Feds main job on Capitol Hill is to fatten their own bottom lines and those of K-Street.
————–
(US) Initial Jobless Claims: 336K v 340Ke; Continuing Claims: 3.053M v 3.050Me
(CA) Canada Jan Retail Sales M/M: 1.0% v 0.9%e; Retail Sales Less Autos M/M: 0.5% v 0.3%e
(US) Mar Preliminary Markit US PMI Manufacturing: 54.9 v 54.8e
(US) Jan House Price Index M/M: 0.6% v 0.7%e
 (US) Mar Philadelphia Fed: +2.0 v -3.0e 
(US) Feb Existing Home Sales: 4.98M v 5.0Me
(US) Feb Leading Indicators: 0.5% v 0.4%e
(ES) Spain Jan Trade Balance: -€3.5B v -€1.3B prior
(UK) Mar CBI Industrial Trends Total Orders: -15 v -15e; Selling Prices: 5 v 17
(IE) Ireland Q4 GDP Q/Q: 0.0% v 0.2%e; Y/Y: 0.0% v 0.3%e; Current Account Balance: €2.9B v €3.1B prior
(IE) Ireland Feb PPI M/M: 0.0% v -0.3% prior; Y/Y: +0.2% v -0.4% prior
-Markets EU Closing Prices
1:18 p.m. EDT 03/21/13Major Stock Indexes

1:17 p.m. EDT 03/21/13Treasurys

1:08 p.m. EDT 03/21/13Futures

1:18 p.m. EDT 03/21/13Currencies
-BRB, in theory
-Anglosaxon /Dyke/Satanist/English Witch Gillard wore her BW illuminati outfit to stand off Queer Anglosaxon-Jew Mason Kevin Rudd today.
Truly at the top we have a battle of witches to win power. The most evil wins in Satan's kingdom. The voters despise her in OZ, at least the men do. Even Oprah described Oz as 'soulless', which is a very damning indictment of you Australians and your politics and genocide. Rudd had better contact Harry Potter or Hermoine to get some remedial witchcraft lesson. Pray this witch is brought to justice for her damage to Children, and the very, very morally sick Australians wake up and stop voting for amoral ,satanic witches. At least Rudd pretends to be on the straight and narrow.
-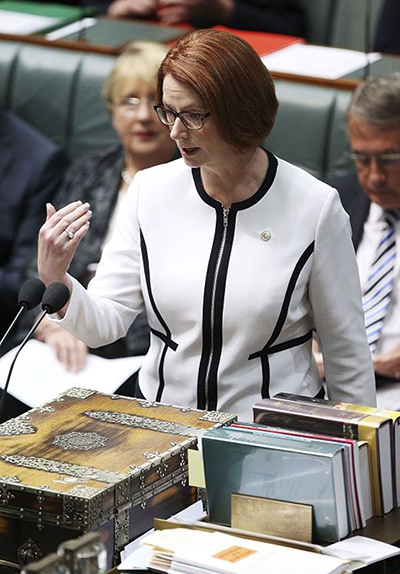 -Well some pleasant news to report..
BREAKING: The House passed Paul Ryan's 2014 budget, 221 to 207 on a mostly party-line vote (politico).
At least there is some coherence to his budget and he whacks everyone.
-If Cyprus cannot agree on a levy on deposits it faces having its biggest banks wound down, which would wipe out uninsured depositors, or could be forced to leave the euro zone, a senior European Union official said on Thursday."At the end of the day it is their own choice," said the official, who has direct knowledge of the negotiations between the euro zone, the International Monetary Fund and Cyprus."We can do a lot to avoid such fundamental damage that they would have to leave the euro, we and especially the ECB, but if they do not cooperate, they will simply run out of cash and then they would have no other choice but to start printing their own currency," the official said.The European Central Bank has given Cyprus until Monday to agree on an international bailout or face losing emergency funds for its banks, a move that would almost inevitably lead to the collapse of at least the two largest banks."If the financial sector collapses, then they simply have to face a very significant devaluation and faced with that situation, they would have no other way but to start having their own currency," the official said. Reuters
What anonymous official said that? Sounds like Schauble!!!
-Greece's rising Communist Star
Left opposition leader Alexis Tsipras on Thursday attacked the country's conservative-led administration for allegedly failing to offer any solidarity to Cyprus – the latest victim of Europe's debt crisis and Greek contagion."Greece is not behaving like the motherland for Cypriots, but like the step mother," Tsipras said during a conference at his SYRIZA party headquarters."When [Yannis] Stournaras says 'we' he means the Eurogroup, the lenders and the Greek government," said Tsipras of the Greek finance minister while criticizing Prime Minister Antonis Samaras for being "absent" for the past days.Cypriot lawmakers on Tuesday rejected a critical draft bill that would have seized part of people's bank deposits in order to qualify for a vital international bailout, with not a single vote in favor.Tsipras, who has pledged to scrap Greece's bailout deal should SYRIZA come to power, hailed the Cypriot Parliament's decision saying it was the first reaction "against neoliberal policies in Europe." "It has opened a window of opportunity," he said."We call on all Greeks to show solidarity with Cyprus and its decision to say 'no'," he said. EK
-Senate Energy and Natural Resources Committee votes to confirm Sally Jewell as Secretary of the Interior
-Fitch warns of EZ bank downgrades over Cyprus
-I managed to get some newslinks added.
- Austria Fin Min Fekter:  a bankruptcy of Cyprus cannot be excluded. DP
-Markets
DAX finally breaks hard. Taking some. A country is worth the morality of its people. The Europeans have none, neither a 'country' is the EU , nor do these shameless people have any morality anymore, they are all 'Londoners' in Europe now.
10:09 a.m. EDT 03/21/13Major Stock Indexes

10:08 a.m. EDT 03/21/13Treasurys

9:59 a.m. EDT 03/21/13Futures

10:09 a.m. EDT 03/21/13Currencies
-Business among manufacturers in the Philadelphia region improved sharply in March, the Philadelphia Federal Reserve said Thursday. The bank's business-conditions index climbed to 2.0% from negative 12.5 in February. Economists polled by MarketWatch expected the index to rise to 0%. Readings above zero indicate that more companies are expanding their business instead of shrinking it. The Fed also reported that the index for new orders climbed to 0.5% in March from negative 7.8, the first positive reading in three months. The index for hiring plans increased to 2.7% from 0.9% in February.  MW
-Index of Leading Economic Indicators in the U.S. Increases 0.5%
- Existing-home sales rose 0.8% in February to a seasonally adjusted annual rate of 4.98 million, reaching the highest level since November 2009, as inventories posted an unusually large gain in the month, the National Association of Realtors reported Thursday. Economists polled by MarketWatch had expected a pace of 5.02 million for February, compared with an original estimate of a 4.92 million rate in January. On Thursday, NAR upwardly revised January's rate to 4.94 million. Inventories rose 9.6% in February to 1.94 million existing homes for sale. The months' supply rose to 4.7 in February from 4.3 in January, the first gain since April, but still a relatively low figure. Compared to February 2012, the median sales price rose 11.6% to $173,600. MW
-Just a reminder Eurotrash
"What may be desirable for market participants may not necessarily be the same as what is desirable for the economy in the long run, I feel it is dangerous to believe that central banks can freely control market moves with words."
Who said that?
Of course all the USA knows about your ESM slush fund and the ECB covert manipulation of every market under the sun just like the FED/BOE team.
-Gold Cartels Got an India problem
Gold use in India, the world's biggest buyer, may climb for the first time in three years as rising incomes and inflation boost investment demand, undermining efforts to narrow a record current-account deficit.Consumption may total 865 metric tons to 960 tons this year, compared with 864.2 tons in 2012, Somasundaram P.R., managing director of the World Gold Council for India, said in an interview in Mumbai. The gain in imports will match the increase in demand, he said. The country imported 860 tons last year, according to data from the council.India has tripled the tax on imports since the start of 2012 to moderate demand as gold accounted for almost 80 percent of the current-account deficit, the broadest measure of trade. Gold rallied for 12 straight years, driven in part by demand from investors looking for a store of wealth amid concern about inflation. Goldman Sachs Group Inc. predicts the rally will end as a U.S. economic recovery gathers momentum."Imports should be higher this year according to initial estimates based on the trend in the fourth quarter of last year and as the economy grows," Somasundaram said. "There is a sense of optimism in the economy and we can feel it."Consumption in India surged 41 percent to 261.9 tons in the quarter ended December from a year earlier, data from the council showed. Demand for jewelry rose 35 percent, while investment in coins and bars jumped 51 percent, it said. BBN
-U.S. weekly Bloomberg consumer comfort index at -33.9 vs. -31.6
-U.S. January home prices rise 0.6% vs prior month: FHFA
-Euro zone finance officials acknowledged being "in a mess" over Cyprus during a conference call on Wednesday and discussed imposing capital controls to insulate the region from a possible collapse of the Cypriot economy.In detailed notes of the call seen by Reuters, one official described emotions as running "very high", making it difficult to come up with rational solutions, and referred to "open talk in regards of (Cyprus) leaving the euro zone"…
http://www.reuters.com/article/2013/03/21/us-eurozone-cyprus-call-idUSBRE92K0DU20130321
-Markets
I took a bit of profit out of the DIA, SPY, DAX shorts. All that fist pumping by Bernanke..and this..
9:32 a.m. EDT 03/21/13Major Stock Indexes

9:31 a.m. EDT 03/21/13Treasurys

9:22 a.m. EDT 03/21/13Futures

9:32 a.m. EDT 03/21/13Currencies
-USA Open
9:31 a.m. EDT 03/21/13Major Indexes
-Chris Williamson, Chief Economist at Markit said:
"Manufacturers reported a reassuringly strong
upturn in business conditions in March, adding to
evidence that the U.S. has enjoyed a solid upturn in
economic growth so far this year. With
manufacturing a reliable bellwether of the rest of
the economy, gross domestic product will have
risen at a much improved rate compared with the
moribund 0.1% annualised pace of expansion seen
in the final quarter of last year.
"Manufacturers reported a further robust increase in
production and new orders in March, rounding off
the strongest quarterly expansion for two years.
"Firms took on more staff again in response to the
improving business climate, with job creation over
the first three months of the year running at the
fastest rate since early last year.
"The survey data have provided an accurate
advance guide to official data, and point to
manufacturing output rising at a quarterly rate of
approximately 2.0% in the first quarter, and roughly
15,000 jobs being created each month so far this
year. The goods-producing sector is therefore
showing reassuring resilience in the face of fiscal
headwinds at home as well as ongoing uncertain
economic conditions in major export markets, such
as Europe."
- Khamenei says Iran will raze Tel Aviv and Haifa to the ground if Israel attacks it: state TV
Feed up with the Jewish terrorism and war crimes like the rest of the right thinking world. Burn Baby, Burn if you Zionists won't repent. What a headline for the USA opening.
-922 European Credit Market Summary
Look like the ESM was active again, after PIMCO sold Europe and ran in despite the lousy PMI data, bond rallied. Recall the Noyer put statement. And nothing is clear in Italy and Spain sinks deeper into their forever depression like Greece. Great job by the Eurogroup.
————
Key Bonds
German 10y 1.36-0.03, 2.17%
Italy 10y 4.54-0.07,1.61%
Spain 10y 4.86-0.11,2.20%
U.K. 10y 1.87-0.01, 0.30%
——————-
(ES) Spain Debt Agency (Tesoro) sold sold total €4.51B vs. €3.0-4.0B indicated range in 2015, 2018 and 2023 Bonds
Sold €1.156B in March 2.75% 2015 Bono bond; Avg Yield 2.2275% v 2.540% prior; Bid-to-cover: 4.0x v 3.69x prior; Maximum Yield 2.306% v 2.570% prior; Tail bps v 3.0bps prior
Sold €1.032B in Jan 4.5% 2018 Bono Bond; Avg Yield 3.557% v 3.572% prior; Bid-to-cover: 3.6x v 2.3x prior; Maximum Yield 3.579% v 3.612% prior; Tail bps v 4.0bps prior
Sold €2.325B in 5.4% 2023 bonds; Avg Yield 4.898% v 4.917% prior; Bid-to-cover: 1.9x v 2.3x prior; Max Yield 4.919% v 4.957% prior; Tails bps v 4.0bps bps
—
(FR) France Debt Agency (AFT) sold total €7.99B vs. €7.0-8.0B indicated range in 2015 and 2018 – Sells €5.003B in 0.25% Nov 2015 Oats; Avg Yield 0.32% v 0.41% prior; Bid-to-cover: 2.3x v 3.3x prior
Sells €2.99B in 1.0% 2018 Oat; Avg Yield 1.12% v 0.89% prior; Bid-to-cover: 2.54x v 1.995x prio
-916 USA futures down .2-.3 post data releases.
-Markit Flash US Mafg PMI at 54.9 in March, up from 54.3 in February.
(Markit does not carry much weight in the USA, it is a City of London Outfit run by the English and Jews)
-Kuroda(BOJ) : "There is no doubt that we need to carry out bold monetary easing both in terms of quantity and quality."
-Demonic: How the Neoconservative Mob is Engendering America
Veterans Today, number 1 article, most read, read it and weep Talmud lovers
-Gold and silver popped on Comex Open
-MARKETS -
8:58 a.m. EDT 03/21/13Major Stock Indexes

8:58 a.m. EDT 03/21/13Treasurys

8:49 a.m. EDT 03/21/13Futures

8:59 a.m. EDT 03/21/13Currencies
-EU Economic Release Summary
 (CH) Swiss Feb Trade Balance (CHF): 2.1B v 2.0Be; Real Exports M/M: -2.6% v +3.7% prior; Real Imports M/M: -5.4% v -1.3% prior
 (FR) France Mar Preliminary PMI Manufacturing: 43.9 v 44.2e; PMI Services: 41.9 v 44.0e; (lowest reading since Mar 2009)
(HU) Hungary Jan Avg Gross Wages Y/Y: 2.5% v 4.7%e
(DK) Denmark Feb Retail Sales: +0.3% v -0.8% prior; Y/Y: -4.0% v -1.9% prior
(CH) Swiss Feb M3 Money Supply Y/Y: 9.8% v 9.4% prior
(EU) ECB: €686M borrowed in overnight loan facility vs. €12M prior; €130.53B parked in deposit facility vs. €133.6B prior
(DE) Germany Mar Advanced PMI Manufacturing: 48.9 v 50.5e; PMI Services: 51.6 v 55.0e
(NL) Netherlands Feb Unemployment Rate: 7.7% v 7.6%e
(NL) Netherlands Feb House Price Index M/M: +1.2% v -2.9% prior; Y/Y: -8.3% v -9.6% prior
(HK) Hong Kong Feb CPI Composite Y/Y: 4.4% v 4.0%e
(HK) Hong Kong Q4 Current Account Balance: $9.6B v 23.8B prior; Overall Balance of Payments: $94.3Bv $37.9B prior
 (EU) Euro Zone Mar Advanced PMI Manufacturing: 46.6 v 48.2e; PMI Services: 46.5 v 48.2e; PMI Composite: 46.5 v 48.2e
(GR) Greece Jan Current Account: -€222M v -€534M prior
(UK) Feb Retail Sales Ex Auto Fuel M/M: 1.9% v 0.6%e; Y/Y: 3.3% v 1.2%e
(UK) Feb Retail Sales w/Auto Fuel M/M: 2.1% v 0.4%e; Y/Y: 2.6% v 0.5%e
(UK) Feb Public Finances (PSNCR): -£1.5B v -£12.0Be; PSNB ex Interventions: £2.8B v £8.0Be; Public Sector Net Borrowing: £4.4B v £8.2Be
(PL) Central/Eastern European Mar ZEW Indicator: 49.9 v 36.3 prior
(AT) Austria WIFO quarterly economic forecasts: Maintained 2013 and 2014 GDP at 1.0% and 1.8% respectively
(JP) Japan Jan All Industry Activity Index M/M: -1.4% v -1.4%e
(JP) Japan Feb Supermarket Sales Y/Y: -5.5% v -4.7% prior
(JP) Japan Feb Convenience Store Sales Y/Y: -4.7% v -0.9% prior
-Some hard feeling there you Jews running Germany..
Cyprus finmin Sarris on TV: "we turned to Russia because our own family wouldn't help us."
What an insult, to the Russians. The Russians are Europeans and your kin in Greece are busted even worse.
-USA jobless claims +2000 to 336k. Continuing claims rise 5,000 to 3.05 million.Four-week claims average drops 7,500 to 339,750,
-Well I've had it with European lies and thievery tonight. The ZGR does not call these people Eurotrash for no reason. They were the people without the courage to come to the New World who preferred to bow and lick the boots of their cruel and Satanic Kings and their Kike bankers. Nothing's changed in Europe since that Mad Jew, Nero burned Rome down and blamed the Christians. What a simply evil and spiritually dark place, just like when I lived there 30 years ago!!
-Who runs Germany, what the Germans don't tell you…
Germany's Fuch says up to 12 % tax on Cyprus Saving acceptable. Lies and claims average Cyprus saver is richer than average German to justify banking heist job. Then he says 'rich Russians' have a lot of cash in Cyprus. But not mention of rich fat Jews like him and their English offshore bank accounts or Israeli/Tel Aviv Bank accounts. Says no to more money for Cyprus (Banks). Tries to lay blame on IMF. What a clown.
Fuchs is a German Jew and the right hand of the Jew Merkel (nee Kasner) in the CDU party. Jews always covet the Russians money, much like the English. Never ending lust. Fuchs means fox in German.
-Markit Boy Tosses in Towel on 2H recovery fantasy of Draghis..
Chris Williamson, Markit's chief economist on today's PMI release:
"It's really quite disappointing. Given the deterioration in the political and financial market outlook there is really little hope from what we see that there is going to be a turnaround in the second quarter, and in fact more likely an increased weakening."
-Italy's Grillo says will not give confidence vote to any non-5-star government
-ECB's Demetriades expects Cyprus support plan by Monday
This guy is one of the most notorious liars at the ECB.
-The World Bank announced Thursday that its board of directors has approved five loans totalling 620 million U.S. dollars to China.
What a joke, the guys with $3 trillion in the bank, pick American's pockets for ZIRP deals.
-Can you believe these Eurotrash are already heading out to Lunch in London. What a life!!! Come in work for a couple or maybe 3 hours, take a 2 or three hour break and bugger your queer pal from Cambridge or your fat secretary. At least in NYC the WS scum there work.
-Jeroen Dijsselbloem said on Thursday the problems in Cyprus pose a systemic risk to the EZ.. reuters summary of his thrashing by MEP.
But just a couple of days ago he said it was not. The Bill Clinton of Europe, I suppose or Barak Obama since they love him so, so much there.
-Cyprioots says no to Eurotrash
67.3% of Cypriots say the country should leave the euro area and tighten relations with Russia: Prime Consulting for Nicosia's Sigmalive TV
Russians in Cyprus: The city of Limassol has 20,000 Russian residents out of a population of 154,000. DT
Wise choice. The EU is a Talmudic Jew paradise, like NYC and Washington DC, but few other people can tolerate that socialistic hell hole of whiners and Jewish bootlickers. But as the ZGR says the EU is the Rothschilds roach motel, once you check in, you can never check out. Outstanding choice Cypriots. Get out of Rothschilids clip joint.
-UK retail sales surged by 2.1% in February after a 0.7% fall in January
-541
I covered some DAX short here. Typically they have been able to jam the markets higher on bad data at the ECB/ESM but it was too bad tonight coupled with Cyprus going off the rails.
-Eurozone March  Flash Services PMI  46.5 vs. Exp. 48.2e, prior. 47.9
- Eurozone March Flash Manufacturing PMI   46.6 vs. 48.2e , prior  47.9
-"The U.S. does not care about us. What's new under the sun?"
Aladdin Hussein, Palestinians Businessman on Obama.
Sure the USA cares about you. However our leaders are mad hate filled Jews and their first cousins from Anglosaxon land. A very small minority of the USA people.
-Markets
Well a winning night on the short side of the DAX, at last.
5:42 a.m. EDT 03/21/13Major Stock Indexes
-MEP Nikos Chountis asks Dijsselbloem on Cyprus: Is Eurogroup incompetent or does it have a secret agenda? (D is before EU parliament trying to explain this man handling and thuggery and deposit grab in Cyprus).
-Obummers visit. Looks like the Mossad/IDF shot a rocket at some poor Israelis this morning to victimize the bully Jews, and their terrorism. Obama's going to put it to Abbas about all his 'rockets'. What horse manure!! What a lying queer, just like Winston Churchill.
http://www.haaretz.com/news/obama-visits-israel/live-blog-obama-visits-israel-day-two-1.510931
-Not looking good is it Eurotrash@Brussels@Berlin@Paris@London??!!!
-Flash Eurozone PMI Composite Output Index at 46.5 in March (47.9 in February). 4-month low.
-Flash Germany Composite Output Index at 51.0 in March (53.3 in February), 3-month low.
-Flash Germany Markit Services PMI falls to 51.6 in Mar from 54.7 in Feb
-Flash France Composite Output Index posts 42.1 in March (43.1 in February), 4-year low.
-France Flash Markit Services PMI decreases to 41.9 in Mar from 43.7 in Feb
- The Cyprus Stock Exchange said on Thursday that it has extended its trading suspension to include Thursday and Friday, as the country's banks remain closed for business amid efforts to secure a bailout deal for the struggling country. The exchange said the decision to keep the suspension was taken for the same reasons it closed trading earlier this week, arguing that the "very serious developments in the Cyprus economy due to recent decisions of the Eurogroup" would affect banks listed on the exchange. MW
-Obama is in West Bank, where he  is getting a cold reception. In the end, Obama's Jewish roots and London's payola means he's just another Jewish racist.
-Dijsselbloem: I don't see many alternatives to the levy, but we are open to different ways to do the levy, there is a fairer way.
How about taking the banks into receivership and voiding the London derivative contracts. What a thug.
-The European Central Bank on Thursday said that it may cut off emergency help for Cyprus after Monday, March 25, unless the country has reached an agreement with the European Union and International Monetary Fund on a bailout for the country's banking sector. In a statement, the ECB said its Governing Council has decided to maintain the current level of Emergency Liquidity Assistance, or ELA, through Monday. After that, ELA "could only be considered if an EU/IMF program is in place that would ensure the solvency of the concerned banks," the ECB said in a statement. MW
These guys are literally the Jewish mob.
-336 http://rt.com/on-air/medvedev-barossa-cyprus/
What I'm watching right now.ha, ha medvedev just winced when bozo said what a great partner to russia the eu was..ha, ha.
-I will be up trading PMI night in Europe, but that it is the contribution until the USA trading markets open. Good morning Eurotrash of London and other Jews across Europa, pricks at MI6, etc. It would be nice if you could stop your cyber- attacks. Thanks.
-Germany sees little leeway to grant concessions to Cyprus if it doesn't participate in its own bailout to the extent asked. Germany may be willing to accept Cyprus banks going into insolvency. – Handelsblatt
-Barroso to speak in Moscow in a few minutes. Subject: `Russia-European Union – Potential for Partnership' as he  CYAs it for the Troika.
-Russia may need to review the share of euros it holds in its central bank reserves over the euro zone's bungled handling of a bailout of Cyprus, Prime Minister Dmitry Medvedev was quoted on Thursday as saying. I would like to answer in an optimistic way but I have to say that this is a reason to think about it," Medvedev said when asked whether the situation in Cyprus was a reason to reduce the euro share of Russia's reserves, according to Interfax.
-Cyprus is offering assets, among them energy assets and banks, to Russia for funds-  Vedomosti, Moscow.
-0254 Asia
-USA today
CALENDARS & ECONOMY
03/20/13Highlights of Coming Releases
-Jabil Circuit Inc. on Wednesday, after-hours,  reported a fiscal second-quarter profit of $88.5 million, or 43 cents a share, on revenue of $4.4 billion. During the same period a year ago, Jabil earned $97.7 million, or 46 cents a share, on $4.2 billion in sales. The electronics contract manufacturer also reported core earnings of $109.3 million, or 53 cents a share. Analysts surveyed by FactSet had forecast Jabil to earn 54 cents a share on $4.4 billion in revenue. For its fiscal third quarter, Jabil estimates it will earn core earnings of 50 cents to 58 cents a share on revenue in a range of $4.3 billion to $4.4 billion. Jabil's shares shed 3% in after-hours trading following the release of its results. MW
-Oracle Corp.  +0.21% on Wednesday, after the close forecast a fiscal fourth-quarter profit, excluding one-time items, of 85 cents to 91 cents a share. The business hardware and software and company also said it expects sales for the quarter to decline by 1%, or rise as much as 4% from the same period a year ago. That forecast would give Oracle a revenue range of $10.79 billion to $11.34 billion. Analysts surveyed by FactSet had forecast Oracle to earn 88 cents a share on $11.5 billion in revenue for the quarter. Oracle also forecast its licensing and cloud-software sales to rise 1% to 11% from a year ago. In after-hours trading, Oracle's shares fell almost 8% as the company's third-quarter results fell short of expectations. MW
-A bid by to oust some Hewlett-Packard Co. -0.82%directors has failed. Results announced at the H-P meeting taking place in Mountain View, Calif. showed that all 11 board members have been re-elected based on a preliminary tally. Some groups including the New York City Pension Funds and the Change to Win Investment group called for the ouster of G. Kennedy Thompson and John Hammergren. Proxy solicitation firms had also recommended a 'No' vote on Executive Chair Ray Lane and investor Marc Andreessen. The board members in question that included the company's controversial, $11 billion acquisition of Autonomy Corp.  MW
-Blackstone said to have approached Oracle's Hurd regarding possibly running Dell
-Futures
Futures Index
Value
% Change
Open
High
Low
Time
Americas Futures
DJIA INDEX FUTURE Jun13
14,414.00
+0.04%
14,423.00
14,426.00
14,410.00
02:27:17
S&P 500 FUTURE Jun13
1,549.00
-0.01%
1,549.20
1,550.50
1,547.80
02:28:48
NASDAQ 100 FUTURE Jun13
2,784.75
-0.02%
2,786.50
2,787.00
2,783.00
02:20:31
FTSE 100 IDX FUT Jun13
6,372.50
-0.22%
6,368.00
6,375.50
6,366.00
02:23:59
-155 Asia
Cyprus situation remains very much unresolved. Finmin Sarris is still in Moscow trying to shore up Russian commitment to a €2.5B loan while Cyprus banks will remain closed until Tuesday. Medvedev said RF would be glad to assist, including a military base, but the EU should first try and resolve the problem.  A US press report at the  end of the US session from the  indicated "Plan B(actually plan c) " would involve some Russian aid and a reduced levy on bank deposits, with a parliament vote expected to take place later today, even though there is little sign the Troika would be any less reluctant to varying its offer based on last night's skepticism of the alternatives. HSBC continues to insist London will jam the Tax Levy down Cypriots and the Russians throats.
US markets saw some modest profit-taking during the Bernanke Q/A period, as the Fed chairman expressed little concern over European turmoil and also reiterated there's a possibility of varying the pace of asset purchases. His comment to the Cyprus situation was 'the markets are up'.
Japan
The Nikkei closed at 12635.7, up 1.34 %.
North Korea military said to be threatening to target US airbase in Japan.
The government on Thursday nominated Haruhiko Kuroda to continue as Bank of Japan governor beyond the remaining term of his predecessor for a full five-year term starting April 9. BOJ Gov. Kuroda to call for bold easing; New policy shift to pursue easing "both in terms of quantity and quality"  at his first speech per Nikkei News (conf at 0900 GMT).
Japan ran and 8 th straight month of deficit and its biggest merchant trade deficit in history, explaining where this importers of energy and commodities financial angst comes from. Analysts say to expect a rebound next month on the Y/D.
President of TM said he  welcomes Japan's participation in TPP trade discussions
HMC said a group of workers at a plant in China's Foshan  walked off the plant in protest of receiving smaller than agreed upon wage hikes.
Joseph  Stiglitz, (former VP, World Bank) said Japan is moving in the "right" direction as it seeks to revive its struggling economy,  while warning of challenges in pursuing a free trade accord covering only some of the Asia-Pacific nations.
The Japanese press said the Fukushima power outage had been trace to some rats which gnawed through power cabling.The government's Nuclear Damage Liability Facilitation Fund will charge electric utilities for 100.8 billion yen worth of nuclear insurance premiums in the fiscal year to March 31, The Nikkei reported.
A team of government and academic researchers announced Thursday that concentrations of dysprosium (rare earth) in a deposit found in Japanese waters is more than 30 times higher than is typical in China.
The Japanese
China
China HSBC Flash Mfg. PMI for March topped estimates, coming in above the expansion threshold level  for the 5th consecutive month, but remained weak at 51.7. Front month copper and AUD/USD hit session highs on the release. The latter retreated  with political standoff in Australia coming to a head. After weeks of tension, PM Gillard accepted a party leadership challenge, as opposition called for a no-confidence motion and survived the challenge. Rudd said he would not stand for Labour leader, knowing he did not have the votes.
China Academy of Social Sciences (CASS) researcher Liu sees Mar CPI around 2.5%, down from 10-month high of 3.2% in February.
PBOC  to sell CNY48B in 28-day repos.
Suntech, one of the world's biggest solar panel manufacturers, was declared bankrupt   ringing alarm bells in the nation's solar industry.
China remains the world's top destination for foreign investments as the country still holds many competitive edges said a PWC report Steadily expanding domestic market, improving competition environment, technology talents, government's stimulus measures, cheap labor, and favorable tax policies are among the major attractions for foreign investments. Citing results from a survey on 227 chief executive officers from multi-national companies, the report said 70 percent of those who had businesses in China plan to increase their investments in the coming five years.
Trade between China and Brazil is on the rise, but it will increase at a steady pace in the coming years as it becomes more mature, Roberto Azevedo, Brazil's permanent representative to the World Trade Organization, said on Wednesday.Azevedo – who is also Brazil's candidate for the WTO's director-general job – met Minister of Commerce Gao Hucheng during a two-day trip to Beijing."There are several factors affecting the trade trends between the two countries. One important trend is that bilateral trade is currently commodity-oriented and commodity prices have a big influence on trade volume," said Azevedo.Goods including iron ore, petroleum, steel and soybeans account for nearly 80 percent of Brazil's exports to China. Major Chinese exports to the Latin American country are vehicles, clothing and manufactured components.China is Brazil's biggest trade partner, while Brazil is China's fifth-largest trading partner.In 2012, Sino-Brazilian trade volume rose 1.8 percent year-on-year to $85.72 billion. The growth rate was 33.2 percentage points lower than in 2011, according to data from the Ministry of Commerce.
Korea
South Korea said they suspected North Korea of hacking their banks and Media, although IP addresses in China were used to launch the attacks.
South Korea Ministry of Land, Transport and Maritime Affairs reported Feb. air traffic on international routes rose 7.3% y/y to 4.02M passengers.
According to IHS, the cost of materials used in Galaxy S4 is around $236, up significantly from the prior model.
New Zealand/ Australia
Gillard survived a call for a conference vote as Rudd would not stand.
RBA Quarterly Bulletin: Strong growth in Asia is expected to continue to provide significant benefits for the Australian economy. Most notable so far has been the resources boom. The surge in investment in the resources sector has been in progress for some years and still has some way to run, with resource investment expected to peak as a share of GDP sometime over the course of this year, but remain quite high for a time.
Westpac said a  strong New Zealand Q4 GDP is a significant development, and rings RBNZ a step closer to a rate hike. New Zealand Finmin English expects economy to continue growth, on track for 2-3%+ growth over next few years.
Bonds
Japan 10yr 0.59-0.02, 2.86
U.S. 10yr 1.96-0.00, 0.04%
Economic Release Summary
(CN) CHINA MAR HSBC FLASH MANUFACTURING PMI: 51.7 V 50.8E (5th straight month of expansion)
(NZ) NEW ZEALAND Q4 GDP Q/Q: 1.5% V 0.9%E (highest reading since Q4 2009); Y/Y: 3.0% V 2.3%E
(NZ) NEW ZEALAND FEB CREDIT CARD SPENDING M/M: +3.3% V -2.5% PRIOR; Y/Y: 4.7% V 0.4% PRIOR (11-month high)
(AU) AUSTRALIA FEB RBA FOREIGN EXCHANGE TRANSACTIONS (A$): 328M V 393M PRIOR
(AU) AUSTRALIA Q4 CBAHIA HOUSE AFFORDABILITY Q/Q: 68.9 V 65.8 PRIOR (8th consecutive increase)
(JP) JAPAN FEB MERCHANDISE TRADE BALANCE TOTAL: -¥777.5B V -¥855.9BE; ADJUSTED MERCHANDISE TRADE BALANCE: -¥1.09T V -¥1.10TE (biggest deficit on record)
(KR) SOUTH KOREA FEB DISCOUNT STORE SALES Y/Y: +8.9% V -24.6% PRIOR; DEPARTMENT STORE SALES Y/Y: +1.7% V -8.2% PRIOR
-GORKI, March 21 (Itar-Tass) – Russia is ready to consider any suggestion on assistance to the Cyprus economy, including deployment on the island of a military naval base, but first of all the European Union should be settling the problem, Russia's Prime Minister Dmitry Medvedev said in an interview with European media."Cyprus is a member of the EU, and the EU presents its suggestions. We have initially agreed with the European counterparts: they are offering measures to restore Cyprus' solvency /the situation is not simply grave, it is top grave/, we are considering suggestions from the European counterparts and then we should think whether we should be doing anything or not," the prime minister said.Medvedev mentioned a loan of 2.5 billion dollars to Cyprus several years earlier."Thus, we have been participating in the so-called support of Cyprus' liquidity and solvency."Medvedev stressed that at the same time Russia did not object to discussing further aid.
-Racist Anglosaxon HSBC
"With one bill voted down by the Cypriot parliament, it is back to the negotiating table for Cyprus to try to find the elusive EUR5.8bn that it needs to secure the long-awaited financial assistance from the Eurozone. The risk of no deal has risen but ultimately we think that a bank deposit tax is unavoidable and will fall largely on the deposits over EUR100,000. But it may take more than a day or two before parliament will agree to it. First the president will likely exhaust all other options, the main ones being either more help from Europe or more help from Russia."
Janet Henry, chief European economist at HSBC Holdings Plc
How about stiffing the banksters Whore Henry? Just like Iceland did.
-Australian Prime Minister Julia Gillard called a leadership vote on Thursday after party rivals urged her to step aside and for former leader Kevin Rudd to head the minority government, in an attempt to stave off election defeat.
-Quote of the Day
"Cypriots are not like Greeks. We are hardworking. I work 60 hours a week. We want to rebuild the economy ourselves. We do not want help from (German Chancellor Angela) Merkel. We much prefer Russia to be involved than Germany's Merkel, who has been bluffing all along. The Germans will do whatever they want with us."
Greek Cypriot
-Geopolitical Update
| | |
| --- | --- |
| | Updated March 21, 2013 – 12:09 AM EDT |
-Prince Charles says your my B-tch
'We are here to send a message to President Obama, our struggle, our non-violent peaceful resistance will continue until we are free,"
Mustafa Barghouthi, Palestinian Leader Protesting the Black Jew's visit to their land
-The Senate approved legislation Wednesday to lock in $85 billion in  spending cuts aimed at restraining soaring federal deficits — and to avoid a government shutdown just a week away. President Barack Obama's fellow Democrats rejected a call to reopen White House tours scrapped because of the tightened spending.
-The HSBC Purchasing Managers' Index for March revived to 51.7 in March from 50.4 in February, but remained below a two-year high of 52.3 reached at the beginning of the year.
-Gold Riggers Take the Money and Run
Barclays released shares worth £38.5m to bosses including investment bank chief Rich Ricci, who sold his £17m windfall immediately.Barclays said Mr Ricci was awarded 5.7m shares on Monday and had sold them all when the shares were priced at 308.1p, valuing the stake at £17.6m. Barclays' shares have fallen this week and closed on Wednesday at 295.2p.Mr Ricci did not get a bonus for last year after Barclays was fined $450m for rigging Libor interest rates, but is expected to have received £1.5m for last year, including £700,000 in salary and £800,000 in long-term share awards.There has been speculation he will not stay at Barclays as new chief executive Antony Jenkins overhauls the bank. DT
-Welcome Back
Revelations 19-KJV
11 And I saw heaven opened, and behold a white horse; and he that sat upon him was called Faithful and True, and in righteousness he doth judge and make war.12 His eyes were as a flame of fire, and on his head were many crowns; and he had a name written, that no man knew, but he himself.13 And he was clothed with a vesture dipped in blood: and his name is called The Word of God.14 And the armies which were in heaven followed him upon white horses, clothed in fine linen, white and clean.15 And out of his mouth goeth a sharp sword, that with it he should smite the nations: and he shall rule them with a rod of iron: and he treadeth the winepress of the fierceness and wrath of Almighty God.16 And he hath on his vesture and on his thigh a name written, King Of Kings, And Lord Of Lords.
Big day today.
————————————————————————————–
Newslinks 
-Court approves Skouries gold mine project http://dlvr.it/36gVxX 
-Fords European Sales threaten Revival Plan.. more Layoffs ahead as EU car glut persists
http://www.reuters.com/article/2013/03/21/us-autos-ford-europe-idUSBRE92K0TI20130321

-Cyprus not unique: Luxembourg, Ireland and Malta all have outsize banking sectors too.
http://www.reuters.com/article/2013/03/21/eurozone-cyprus-banking-size-idUSL6N0CDEMT20130321 …
-Ben Bernanke says Fed to be flexible on quantitative easing as assets rise to record $3 trillion http://bloom.bg/16LmfNz 
-Cyprus banks facing winding-up if no levy agreed -senior official  http://reut.rs/16Lre0L 
-Fed Officials Trim Forecasts for 2013, 2014 Jobless
http://www.bloomberg.com/news/2013-03-20/fed-officials-trim-forecasts-for-2013-2014-jobless-rate-range.html
-Italy President Meeting Draws Grillo to Government Talks
http://www.bloomberg.com/news/2013-03-21/italy-president-meeting-draws-grillo-to-government-talks.html
-After years of dissent, Keynsian/Cambridge 'believer" Kuroda gets his Chance to Destroy Yen and introduce regional asian currency (yuan)
http://www.reuters.com/article/2013/03/20/us-japan-economy-boj-insight-idUSBRE92J1BF20130320
-Cyprus is asking Russia for a 5 billion euro loan to help bail out the nation: Russian officials
-German Manufacturing Output Surprisingly Contracted in March
http://www.bloomberg.com/news/2013-03-21/german-manufacturing-output-surprisingly-contracted-in-march.html
-Oracle Sales and Profit Miss Amid Cloud Competition
http://www.bloomberg.com/news/2013-03-20/oracle-sales-and-profit-miss-amid-cloud-competition.html
-FED Maintains QE Pace
http://www.bloomberg.com/news/2013-03-20/fed-keeps-85-billion-pace-of-bond-buying-as-job-market-improves.html
-ECB to Cut ELA unless Cypriot Knuckles under to German Zionist demands
http://www.bloomberg.com/news/2013-03-21/ecb-to-cut-cypriot-bank-funding-next-week-unless-bailout-agreed.html
-Euro zone economic downturn deepening, even before Cyprus – PMI

http://uk.reuters.com/article/2013/03/21/uk-poll-euro-zone-idUKBRE92K09320130321
-Abramovich's Son to Buy Oilfield http://tmt-go.ru/477267 

-HIGHLIGHTS-Eurogroup's Dijsselbloem comments on Cyprus
http://www.reuters.com/article/2013/03/21/eurozone-cyprus-eurogroup-idUSL6N0CD30520130321
-South Korea Says Chinese Code Used in Computer Attack
http://www.bloomberg.com/news/2013-03-20/s-korea-hit-by-cyber-attack-roiling-banks-to-broadcasters-1-.html
-Bernanke Saying He's Dispensable Suggests Tenure Ending
http://www.bloomberg.com/news/2013-03-21/bernanke-saying-he-s-dispensable-suggests-tenure-ending.html
-Cypriot officials: Plan B drawn up to get bailout
http://www.sfgate.com/news/world/article/Cypriot-officials-Plan-B-drawn-up-to-get-bailout-4368860.php#ixzz2O9lYgFrf
-Private banks sell China debt in worst quarter since 2011 http://bloom.bg/WL1GxL 
-Bankencrash: Bei Zypern muss die EU hart bleiben http://on.welt.de/XYW2bf 
-Russia may rethink euro in reserves after Cyprus http://reut.rs/WFtuCA 
-RF ready to assist Cyprus, though EU should be the first to deal with problem – Medvedev
http://www.itar-tass.com/en/c32/682287.html
-Insight: Bipartisan Senate group on path to immigration bill
http://www.reuters.com/article/2013/03/21/us-usa-immigration-senate-insight-idUSBRE92K04U20130321
-China Manufacturing Rebounds in Sustained-Recovery Sign: Economy
http://www.bloomberg.com/news/2013-03-21/china-s-manufacturing-expands-at-faster-pace-survey-shows.html
-Japan posts longest run of trade deficits in three decades  http://bloom.bg/14dkppn 
-California to rely on conservation amid extended nuclear outage http://reut.rs/WEAZtu 
-North Korea issues fresh threat to U.S., South probes hacking
http://www.reuters.com/article/2013/03/21/us-korea-north-attack-idUSBRE92K02W20130321
-Nixon failed to smash rising Zionist power in Democrat Party
http://news.yahoo.com/nixon-mocked-democrats-jerusalem-position-071323064–politics.html
-Boeing plans 787 battery test flights for end of week: sources
http://news.yahoo.com/boeing-plans-787-battery-test-flight-end-week-010152704–finance.html
-English Black Jew, Obama , friend of 911 Perp, War Criminal , Racist, Anti-gentile, antichrist Bibi
http://www.telegraph.co.uk/news/worldnews/middleeast/israel/9944678/Barack-Obama-and-Benjamin-Netanyahu-put-troubles-aside-to-warn-Iran-and-Syria.html
-Sycophant English Press, to be muzzled with Royal Charter from Windsors-Rothschilds
You can be sued for saying anything in England, even if it is true and the onus is on you, not the accuser.
http://www.telegraph.co.uk/news/uknews/leveson-inquiry/9940539/Press-regulation-after-the-Leveson-Report-this-is-not-what-I-had-in-mind-Mr-Cameron.html
-BOE (Rothschilds-Windsors) get radical new powers
Desperation and setup for the money printing whore Carney.
http://www.telegraph.co.uk/finance/budget/9944514/Bank-gets-radical-new-powers-to-help-boost-growth-and-jobs.html
-Senate Approves Bill to avoid Shutdown
http://www.reuters.com/article/2013/03/20/us-usa-fiscal-senate-idUSBRE92J16520130320
-F35 Pentagon Financial Rape and Delays leaves Asians vulnerable to Rising Red Tide of China
http://news.yahoo.com/asias-f-35-buyers-forced-wait-china-seeks-211558138.html