Headliners
-February budget deficit $203.5 billion:  USA Treasury
-New Pope Selected
-Gold Smashed by Jack Jew (aka Jacob Lew) , and USA/ESF (aka PPT) ahead of big USA Feb deficit and deepening USA budget impasse
-Calls to abolish Drug Running Marrano King of Spain's rule emerge on backs of numerous family scandals and crimes from adultery to money laundering to kickbacks to say nothing of the Latin America -USA cocaine trade.
-Prince Charles Affirmed as next head of English Commonwealth. Queen of Hell, aka England close to death or retirement?
-Obama meeting Republicans over Budget
-Hungary to form Nonprofit state owned banking system. EU/ECB outraged!!
-Italy has weak bond auction after  down grade
-Euro zone factory output shows surprisingly big fall in January
-ECB Weidmann warns against negative interest rates
-PBOC Gov Zhou Says China Should Be on 'High Alert' on Inflation
-USA Retail sales .4 % in Feb (ex autos/gasoline)
-N. Korea Mobilizes ICMBs ups Rhetoric as USA-South Korea Conduct Drills
-Asian Markets take profit, await economic data
-Major Swine Flu Outbreak in China as 6000 Dead Pigs Show up in River so far
-FAA Agrees to B787, 'fix'
-PFC Manning: US Army like 'child torturing ants with a magnifying glass'
============================
Market Commentary
-Market Close
In the USA we had retail sales and the USA budget and meetings thereof on the plate. Retail sales are keeping pace with the real pace of inflation, at 4.6 pc unadjusted y/y in Feb.  If you strip out the massive prices increases for gasoline and a lesser extent autos, things don't look so rosy at .4 % y/y, indicating workers are spending in real terms far less. Nevertheless the 1.1 pc topline will flow to the auto manufacturers and people lucky enough to own a refinery or selling clothes or other products where they can raise prices and squeeze the suppliers (like Walmart), if only through FED manipulation of the commodity prices. The one thing we can say for sure is we have rip roaring 5 % plus inflation in the USA.
On the budget end after a big tax haul in December, things are not looking very good in Jan and Feb as 200 billion a month deficits kick in, or 2.4 trillion a year. The CBO hopes a recovering economy and higher tax receipts will close that to under 1 trillion. Most of the tax increases 'to come' are from Obama care, and of course the annual wage inflation tax of social security and normal income taxes,, and the recent expired tax decrease. The liar and complete whore Boehner said there was a good tone in a closed-door meeting between House Republicans and President Barack Obama ,and it was a "good start" in an effort to find common ground.-"I thought that we had a very frank and candid exchange of ideas and, frankly, I think it was productive," Boehner said in a press conference. Other House Republican leaders said they pressed the president during the meeting to agree to set a goal to balance the federal budget. So who knows what really was said and what went on, as Boehner did not want to take the onus for tanking the markets on another record day. We highlighted the disparate plans the Republicans and Democrats have and the great distance between them. Meanwhile Obama has an open cookie jar until Mid-May, and maybe as long as until the end of September.
Gold was going to be whacked by Jack Jew, the UST secretary on a horrid deficit day and the USA dollar pumped. Still there is lot churning in the gold market as the ECB/BOJ/FED want to 'fool' the people that as they print money, gold should go down as these miracle 2h recovery will take hold and their respective currencies will strengthen, although the BOJ is explicitly targeting a weaker currency. We saw the Norwegians panic and hit the sell button on Gilt and Pounds and the dollar and UST can't be far behind.
In the shill for the USA stocks we have RR out pumping the sheep in even as insiders are selling and PIMCO ,being advised by Greenspan, advising front running the FED in USTs, and being smart enough to be the first guy out the door- good luck with that one.
The European Banks of JPM,  Socgen and others at a FT investment conference were sort of forced to punt the 2H 2013  EU recovery into 2014 today. Certainly the European stock markets have not reacted at all to any bad data since the ECB/ESM slipped on the Grillo election result as they continue to shrug off increasingly bad economic news like todays EZ industrial production. And now they have Hungary wanting to dump the Troika and implement their own state owned non-profit banking system and prevent Jews or LGBTs stuffed on the Hungarian Courts or Jews appointed to their central bank effectively running the government for the banking and one world crowd instead of for Hungary. The EU is the antithesis of nationalism and self governance.  Hollande is in such a mess he wants to copy Obama and rule by executive order now. That is the 'real' EU to rule by dictate.
Weidmann of the Bundesbank emerged for a 2nd day even as Citi and other whores penciled in not one, but two rate cuts for the ECB, still Weidmann said no effectively to negative real interest rates, despite the ECB, and his policies effectively doing that for Germany. Put your money in Swiss or German bill and you're going to lose money on it. At least said the crisis was not over in the EU.
Grillo commented in the German press that Italy was 'already de facto' outside the euro area. Italy had a very subpar bond auction, post their down-grade and probably if the ESM or its surrogate had not stepped in it would have been worse.
Spain Deputy PM de Guindos said he sees Spain's  Jan exports seen growing strongly and Rajoy said to Parliament he would persist with his policies as some called for deposing Juan Carlos due to corruption. Guindos is like Rajoy a bold and notorious liar. Spanish equity markets were not buying it. Spain Debt Agency (Tesoro) to hold special auction for Thurs, Mar 14th to sell 2029, 2040, and 2041 Bono bonds; Only primary dealers may participate; no issuance target to be announced before the auction.
Maybe as his last act, China Dep Governor Zhou emerged after the financial press said he was castrated yesterday on raising rates, and barred his rate raising fangs at the Asian markets. Europe did not react all to that.
David Cameron failed to get essentially a tax on cheap booze through, so look for Drunks to inflict England and the world. Prince Charles was affirmed as the next head of the English commonwealth even as the wicked Queen of England maybe on her way out, hopefully in a casket. I've noticed on days when I expose her families sins or try and pray her out, it is like someone is sticking hot needles in my eyes and head. So at least no doubt in my mind that Prince Charles is well versed in literal voodoo/occult arts.
I tried the short side with some leverage this morning but it failed to move, so I covered, went long, then reopened my shorts in the DIA and SPY at the close. I have this sense we are close to big market break. Could be wishful thinking but the fraud is so bad and the lies so outrageous, and there is so much insider selling you know it is only a matter of time before the last chump is in on QE4 and the the boys take the markets down sharply. We have Oneill at GS talking stocks up in the USA, but telling his English/Jewish girlfriends to be taking some profit off the table here.
The most humorous lie was even though 1.5 million people lost their jobs, and only 150k 'real' jobs they could count could be found, the USA people should be grateful for the greatly improved job situation. What a riot those guys at AP are.
Economic Releases, USA trading Session
(US) MBA Mortgage Applications: -4.7 v +14.8% prior
(US) Feb Import Price Index M/M: 1.1% v 0.6%e; Y/Y: -0.3% v -0.7%e
(US) Feb Advance Retail Sales: 1.1% v 0.5%e; Retail Sales Less Autos: 1.0% v 0.5%e; Retail Sales Ex Auto & Gas: 0.4% v 0.2%e
(US) Jan Business Inventories: 1.0% v 0.5%e
(US) Weekly DOE U.S. Crude Oil Inventories: Crude: +2.62M v +2.5Me; Gasoline: -3.57M v -1.0Me; Distillate: +85K v -2.0Me; Utilization: 81% v 82.4% prior
(EU) OECD G20 Q4 GDP Q/Q: 0.5% v 0.6% prior
(RU) Russia Jan Trade Balance: $17.7B v $18.7Be
(ZA) South Africa Jan Retail Sales M/M: -1.2% v +0.6%e; Y/Y: 1.9% v 3.6%e
4:27 p.m. EDT 03/13/13Major Stock Indexes

4:25 p.m. EDT 03/13/13Treasurys

4:16 p.m. EDT 03/13/13Futures

4:27 p.m. EDT 03/13/13Currencies
-Argentina's Bergoglio Is Elected Pope
It could have been a lot worse. Prince Charles can't be happy about this.
Francis Is the First Church Leader Chosen From the Americas
Smart Choice, Italian and South American.
-Europe Close
-1415 We have a Pope says the smoke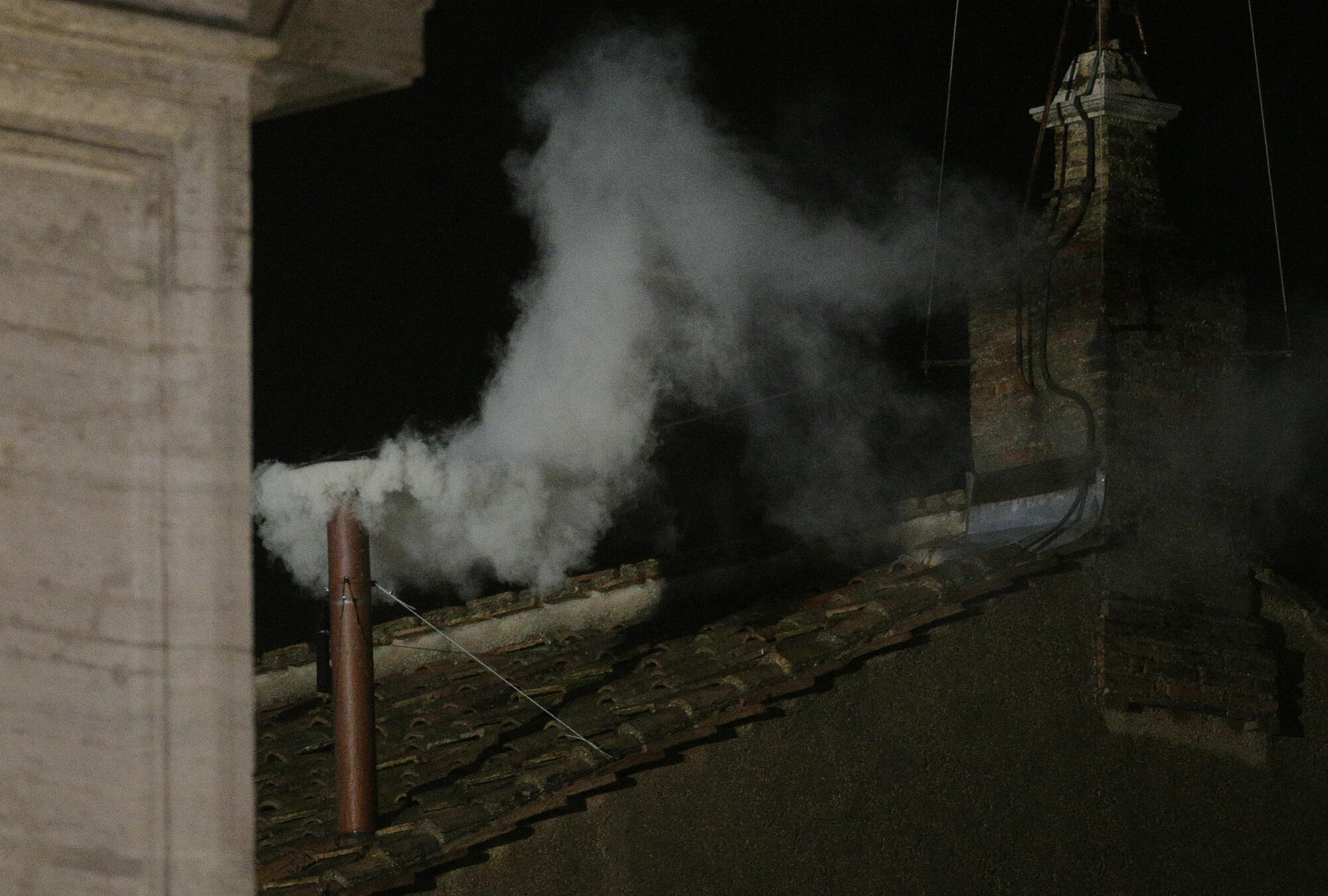 -1401 The U.S. government ran a budget deficit of $203.5 billion in February, down 12% from the same month last year, the Treasury Department reported on Wednesday. The narrowing of the gap between spending and revenue in February is further indication that the deficit is on track to improve this fiscal year which ends Sept. 30. If lawmakers hold fiscal policy steady, the deficit for this year will total $845 billion, about $240 billion less than the fiscal 2012 deficit and the first deficit below a trillion since fiscal 2008, according to the Congressional Budget Office projections. The improvement in February was driven by a 19% increase in revenue compared with same month one year ago, including the expiration of a temporary payroll-tax cut at the end of 2012. For the first five months of fiscal 2013, the U.S. ran a deficit of $494 billion, $87 billion less than the same period in fiscal 2012. MW
Big tax haul at end of 2012. This month higher tax revenues on income.
-American companies are complaining to Congress about what they say are trade barriers set up by India that put foreign competitors at a disadvantage.Advocates for the U.S. pharmaceutical, information technology and agricultural industries aired their grievances Wednesday to a House subcommittee.Lawmakers are grumbling, too, about policies they contend favor Indian producers.Trade between the two countries has expanded over the past decade and is approaching the $100 billion mark. But experts say it's small considering the size of the two economies.U.S. companies are pointing out the trade barriers and protectionist policies in place at a time when India is undertaking market-opening reforms. AP
India not only 'pegs' its currency , it has one way trade and is a closed market. They export here, mainly clothes and import Jobs, like IT. Free trade is just a fancy term for global labor and financial arbitrage. At some point after you have gutted the middle class the SP 500 has to retreat behind gates and hire goons at the TSA to shoot the people after their currency collapses. Karl Marx loved 'free trade' as he knew it would lead to the collapse of market based economies using fiat currency. Trade settle in gold or other hard currency tends to be self balancing. The USA needs to go back to minting silver  trade dollars to balance trade with Asia like the USA did in the mid 19 th century.
-The fewest workers on record were fired in January and job openings rebounded, showing employers are gaining confidence the U.S. expansion will be sustained even as lawmakers battle to trim the federal budget deficit.There were 1.51 million people let go in the month, down from 1.57 million in December and the least in data going back 12 years, the Labor Department said Tuesday. The number of positions waiting to be filled climbed by 81,000 to 3.69 million after slumping by 177,000 in December.The report shows recent payroll gains are being driven more by a reduction in dismissals than a surge in hiring, indicating sales are strong enough for companies to retain current staff. Acceleration in employment is needed for the labor market to make further progress and push down the nation's 7.7 percent unemployment rate. AP
Were there 1.51 million jobs generated in January? The newsfakers will try any lie to spin how bad the USE is. Many of these people 'replace' the people who dropped off the dole roles and could never find work again.
-Surfers, people have to sue for God given right to access beach.
Go back to India Khosala.
http://www.sfgate.com/bayarea/article/Surfers-sue-over-blocked-beach-access-4349486.php#page-1
-J.P. Morgan Chase & Co. CEO Jamie Dimon will not testify Friday before a much-anticipated Senate hearing on the institution's nearly $6 billion trading loss last year involving a trader dubbed the "London Whale." Instead the big bank's former chief financial officer, Douglas Braunstein, and its former chief investment officer, Ina Drew, are set to testify, according to a statement from the committee. Others scheduled to testify include two regulators: Thomas Curry, the Comptroller of the Currency, and Scott Waterhouse, examiner in charge, at the Office of the Comptroller of the Currency. The hearing will look into a report produced by the committee that reportedly criticizes both regulators and top officials at the bank. The bank's trading losses were conducted out of its London investment office and attributed partly to a trader, Bruno Michel Iksil, dubbed the "London whale" for his large positions in credit derivatives. MW
Why is the Whale not in Jail? Oh yes he is another greasy Zionist hiding in France under Hollande's skirts.
-The U.S. Treasury likely will report a deficit close to $200 billion in February, down from a shortfall of $232 billion in the same month in 2012. The Treasury Department will report on government spending and receipts for the month of February at 2 p.m. Eastern time. The Congressional Budget Office estimated last week that the February deficit will be $205 billion. If lawmakers hold fiscal policy steady, the deficit for the fiscal year would total $845 billion, about $240 billion less than the 2012 deficit and the first deficit below a trillion since fiscal year 2008. MW (coming up at 1400).
Must be really bad as the FED/ESF hit gold ahead of it. The retail sales figures were punk anyway you look at them. At best including autos/gasoline worker's purchases are keeping up with inflation as the BLS calculated it prior to Bill Clinton. At worst we are seeing a decline of -5 pc in real terms of USA worker spending. The divergence in pay between the median worker and CEO/Congress/WS  pay has never been higher in the USA.
-USA Markets
| | |
| --- | --- |
| Best and Worst Performing ETFs  (Roll over for charts) | 12:39 pm ET 03/13/13 |
MUTUAL FUNDS
Tuesday, March 12, 2013Best And Worst Performing Categories
| | |
| --- | --- |
| Worst Performing | % Chg |
| Large-Cap Growth Funds | -0.37 |
| Science & Technology | -0.32 |
| Multi-Cap Growth Funds | -0.32 |
| Utility | -0.30 |
| Small-Cap Growth Funds | -0.28 |
Best Performing
% Chg
Health & Biotechnology
0.23
Long Term Investment Grade Corporate Bond
0.18
Long Term US Treasury/Govt Bond
0.18
Lipper L-T Govt Bond Index
0.15
Intermediate Term US Treasury/Govt Bond
0.14
See All Fund Categories
BONDS, RATES & CREDIT MARKETS 
12:56 p.m. EDT 03/13/13Treasurys
Tuesday, March 12, 2013Consumer Money Rates
YIELD/RATE (%)
52-WEEK
CHANGE IN
PCT. PTS
Interest Rate
Last
Wk Ago
High
Low
52-Wk
3-Yr
Federal-funds rate target
0-0.25
0-0.25
0-0.25
0-0.25
…
…
Prime rate*
3.25
3.25
3.25
3.25
…
…
Libor, 3-month
0.28
0.28
0.47
0.28
-0.19
0.02
Money market, annual yield
0.48
0.48
0.53
0.47
0.00
-0.33
Five-year CD, annual yield
1.23
1.23
1.44
1.23
-0.15
-1.37
30-year mortgage, fixed
3.88
3.71
4.26
3.54
-0.15
-1.27
15-year mortgage, fixed
3.10
2.99
3.51
2.93
-0.23
-1.30
Jumbo mortgages, $417,000-plus
4.42
4.17
4.72
4.04
-0.20
-1.63
Five-year adj mortage (ARM)
2.95
2.89
3.33
2.83
0.12
-1.29
New-car loan, 48-month
2.65
2.65
4.36
2.49
-0.40
-3.93
HELOC, $30,000
4.88
4.86
4.95
4.57
0.17
-0.32
 
-New Italian Pope Chosen
Lol. Just a little Joke Italians.
-Barack Obama faces the toughest encounter of this week's Capitol Hill budget diplomacy push when he holds a rare meeting on Wednesday afternoon with House Republicans, the most stubborn and determined of his political opponents.Although the president found frustration and scepticism in the ranks of his own party when he met Democratic senators on Tuesday, the meeting with House Republicans is potentially the most flammable. By contrast, meetings with House Democrats and Senate Republicans, due on Thursday, are viewed by the White House as relatively straightforward.Obama's hope that voters will blame congressional Republicans rather than the White House for the budget standoff was thrown into doubt by an ABC/Washington Post poll published Wednesday. The poll, which saw his approval ratings dropping 5 points since January to 50% over his handling of the economy, puts some pressure on him to try to reach a compromise with Republicans.The poll shows that Obama enjoyed an 18-point lead over congressional Republicans in December, but that has dropped to just four points – 44% to 40%. The number blaming both has grown.But the poll carries a warning, too, for Republicans, with 47% blaming them for the sequester crisis, compared with 33% who blame Obama.The meeting with House Republicans comes the day after they published their proposed budget. The White House almost immediately dismissed it , saying the maths did not add up. Press
———
Nothing will come of this meeting, by design.
-Eurotrash
Europeans are the world's biggest smokers and drinkers, according to a World Health Organization report that says higher prices on cigarettes and alcohol in the region may help curb the death and disease they cause.On average, 27 percent of people over 15 smoke across the 53 nations that make up the WHO's European region, higher than in any other part of the world, the Geneva-based agency said today in its triennial health report on the continent, home to 900 million people. Europeans also consume an average of 10.6 liters of alcohol a year, more than in any other region, according to the report.
If you factored the English out the figures would probably go way down.
-Markets
12:13 p.m. EDT 03/13/13Major Stock Indexes

12:12 p.m. EDT 03/13/13Treasurys

12:03 p.m. EDT 03/13/13Futures

12:13 p.m. EDT 03/13/13Currencies
-MEPs reject EU spending cuts and demand extra £1.7bn from British taxpayers. DT
-EU leaders will not formally discuss the fiscal aid request of Cyprus at their summit later this week, German Finance Minister Wolfgang Schaeuble said Wednesday."Some would like that this question will be discussed at the EU summit," Schaeuble told reporters here. "This is not on the agenda of the EU summit and also not its responsibility."A senior German government official also said that neither the EU summit nor a gathering of Eurozone heads of state and government this week will officially discuss the aid request of Cyprus. "But I'm not revealing any secret if I assume that at least on the sidelines there will be some talks about Cyprus," he said."If the chairman of the Eurogroup of finance ministers comes to the conclusion that he has sufficient proposals by the troika [of the EU Commission, IMF and ECB] by Friday evening then it is up to the finance ministers to deal with this question, but it does not concern the summit," the official said.Eurogroup chairman Jeroen Dijsselbloem had announced on Twitter that Eurozone finance ministers will meet on Friday evening to work on a bailout plan for Cyprus.On Tuesday, Schaeuble promised members of his center-right CDU/CSU parliamentary group that he would not sign on to a rushed decision on Cyprus, according to an official who attended the meeting. "There won't be any overly hasty decisions," Schaeuble assured the lawmakers, the source said. The minister said there would be no solution for Cyprus unless the country's banking sector is downsized.Norbert Barthle, the CDU/CSU's parliamentary budget speaker, said after the party meeting that he expects the Bundestag, the lower house of parliament, to vote on fiscal aid for Cyprus next month. MNI
-Holland wants to use executive orders to speed 'reforms', he was informed by the Parliament that this was not legal. Looks like he is being directed by London like Obama to bypass congress. Reported in Le Figaro.
-1130 PPT in action. One hour to go in Europe still (not on NYT yet).
-The English House of Lords had some sort of secret vote yesterday, or rather it was reported on yesterday confirming Charles to be the next Head of the English CommonWealth. The world may be blessed and the wicked witch of the West, Elizabeth who has like Maggie Thatcher, and Reagan, her blue-blood kin, dementia, may soon be dead and in hell, and what a great blessing that will be for the world ex Charles was affirmed as the next King of England as his mother finally gave in. The English Crown are the most foul pigs in the world. Pray the English, Spanish and Dutch crown's down. Too long these filthy pigs have headed the illuminati up and run the world's drug trade with their Jewish banking kin.
-Argentina's Kirchner correctly Calls Slimy English Squatters
"What is important today is the United States' position about this kind of parody of a referendum," Mrs Kirchner said at the Casa Rosada presidential mansion. "The State Department spokeswoman said that they continue to recognise that there is a sovereignty dispute between Argentina and Britain," she said."It's like a consortium of squatters voting on whether they're going to continue illegally occupying a building or not."Argentina, which has claimed the South Atlantic islands since 1833, wants the United Nations to host talks on the future of the islands and their sovereignty. Britain has refused UN requests that it take part in such dialogue.
——–
The vote was a typical Anglo-Zionist hate hoax and farce along the lines of the Shoah hoaxes.
-Gun Owners of America
Gun Owners of America

---

Senate "Deal" Would Impose

Even More Gun Bans

Gifts, gun raffles and multiple sales of guns would be effectively banned

Thursday, the Senate Judiciary Committee will mark up four bills arising out of the Newtown tragedy:

* The Feinstein bill — which would ban millions of shotguns, rifles, handguns and magazines that Americans can legally own — but which will probably die on the Senate floor.

* The universal gun registry — which may also die on the Senate floor — unless a last-minute deal with Sen. Tom Coburn brings it to life.

* Legislation by Barbara Boxer, which throws away $100,000,000 on school safety studies, but doesn't immediately mention guns.

* And, currently the biggest danger, the Leahy-Gillibrand-Kirk bill, which has ominously been labeled a "gun trafficking" bill.

In regard to this latter piece of legislation (S. 443), the bill is being sold inside the Beltway as a bipartisan "compromise" because anti-gun Senator Mark Kirk (R-IL) is a cosponsor of it.

But S. 443 would dramatically threaten to put gun owners in jail with horrendously long sentences for the most minor of infractions.

Essentially, the bill would impose a 15-year prison sentence for "negligent multiple sales by a dealer," "negligent gifting" or "negligent raffling."

Increasingly, there are more and more individuals who are "prohibited persons" for non-violent reasons — for instance, they smoke marijuana or they are military veterans suffering from maladies such as PTSD.

But if S. 443 is passed, any person who sells to such prohibited persons two or more firearms … or gives them a firearm as a gift … or raffles a firearm (where they are the recipient) … does so only at the considerable risk of spending 15 years in a federal penitentiary.

You don't need to know the person is a prohibited person under either example.  Nor does the recipient need to know they're a prohibited person.

In fact, you don't need to do anything more than plan ("conspire") to transfer the gun.  In addition, the recipient doesn't need to be on the NICS list to be a prohibited person.

Not only that, under section 4 of the bill, if you even "intend" to sell a firearm to a person who turns out to be a marijuana smoker — or one of the prohibited military veterans suffering from PTSD — you become a prohibited person yourself.

When all is said and done, this bipartisan "compromise" is as bad as the Feinstein gun ban (S. 150).
-One of the world's largest solar panel manufacturers, Suntech Power, has nearly run out of cash and is poised to be taken over partially or entirely by the municipal government's holding company in its hometown of Wuxi, China, solar industry executives and a Wuxi official said on Wednesday.A woman answering the phone in the executive offices of the group headquarters of Wuxi Guolian, the holding company, said that a deal had already been reached for the acquisition of Suntech, which is traded on the New York Stock Exchange. The woman declined to identify herself.Rory Macpherson, Suntech's director of investor relations, declined to address a question about Wuxi Guolian, saying in an e-mail only that, "It's our policy not to comment on market rumors."Suntech has been driven to the financial brink by an obligation to pay more than $541 million to holders of convertible bonds at the end of this week. It stopped releasing financial reports last year after disclosing in July that it had invested in €530 million, or $690 million, worth of German bonds that might prove fraudulent. The company's cash reserves have been dwindling, according to analysts, and Chinese state-owned banks have become reluctant in recent months to keep extending further loans.The company reached a deal with three-fifths of the bondholders early this week to give it a two-month reprieve to find an answer to its financial troubles.It was unclear late Wednesday what terms might be offered to Suntech's bondholders or long-suffering shareholders; the latter would have to approve any merger.Suntech announced on Tuesday that it was closing its factory in Goodyear, Arizona, at the cost of 43 jobs there. The factory put aluminum frames and electrical junction boxes on solar cells imported from China, so that the fully assembled solar panels would qualify for "Buy American" programs. CNBC..
http://www.cnbc.com/id/100548902
10,000 jobs in China, 43 in USA. Great job Congress!! And the 43 in the USA were just lost!!
Very uncompetitive solar cells make for uncompetitive panels.
-How Your Retirement Package Compares to Members of Congress
While extending the payroll tax cut through the end of last year, members of Congress last fall took what many feel was a long overdue whack at the cost of their retirement plan. They bumped up the share that their pension plan will take, saving taxpayers $15 billion.
They also made sure that none of it applied to themselves. Anyone elected before the law went into effect would pay in at the old rate.
For all the talk you hear from Capitol Hill about running government more like a business, Congress has a retirement plan that would make any Fortune 500 executive blush. Members can retire younger, having contributed fewer of their own dollars, than almost any worker in the country—even more than the generous terms other federal workers get.
"It's not keeping pace with what's happening in the private sector," said Veronique de Rugy, a senior researcher with George Mason University's Mercatus Center. "It's not sustainable."…
http://www.cnbc.com/id/100546584
-Obama False flagging USA with Cyber attacks launched by MI6/Mossad?
Cyber security threats against the United States are growing, President Barack Obama said before a meeting on Wednesday with corporate leaders about the issue, as concerns rise about hacking attacks emanating from China.Speaking in a television interview, Obama stopped short of echoing concerns expressed by some lawmakers that the United States was engaged in some kind of electronic war with China."You always have to be careful with war analogies … there's a big difference between them engaging in cyber espionage or cyber attacks and, obviously, a hot war," Obama told ABC News in the interview, which was taped on Tuesday but aired on Wednesday. Reuters
- Papal conclave continues after inconclusive morning vote
-Beijing to start stockpiling aluminium-State Reserves Bureau move spurs rally in Chinese metal prices
-Newslinks are updated for today, ex any breaking news.
-MS Forecasts for Europe
I guess if enough bad economic data rolls in for enough months, you have to push your recovery out or look like a FED/ECB shill…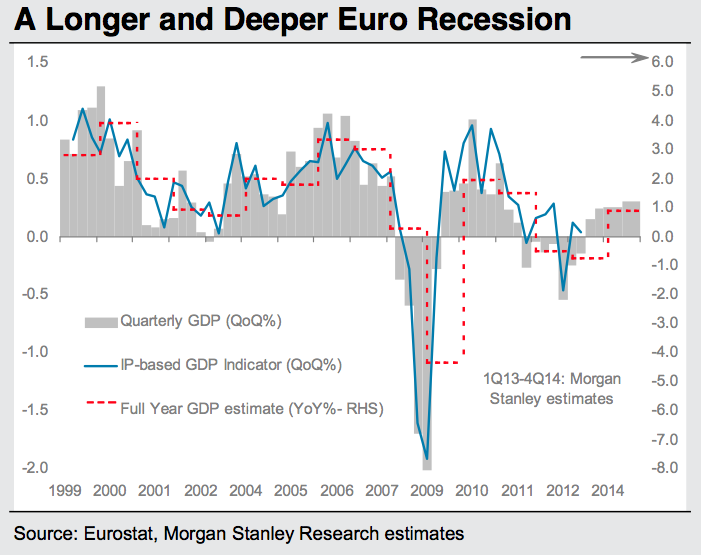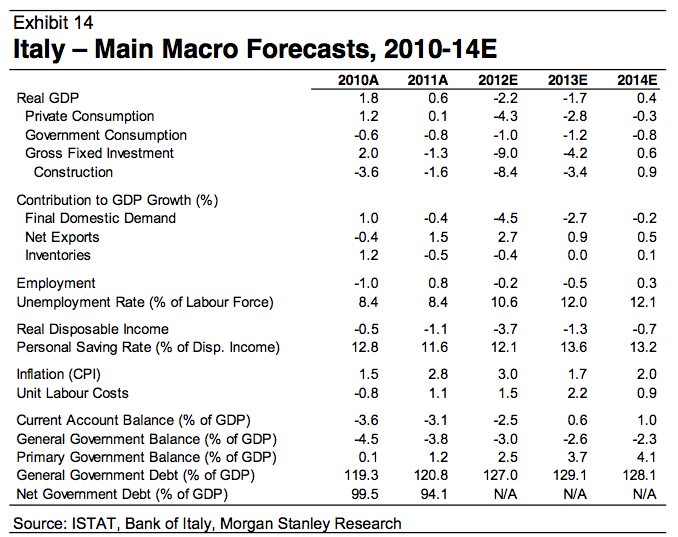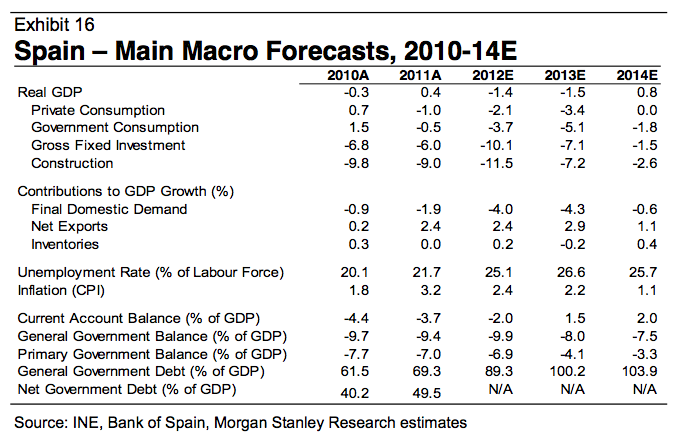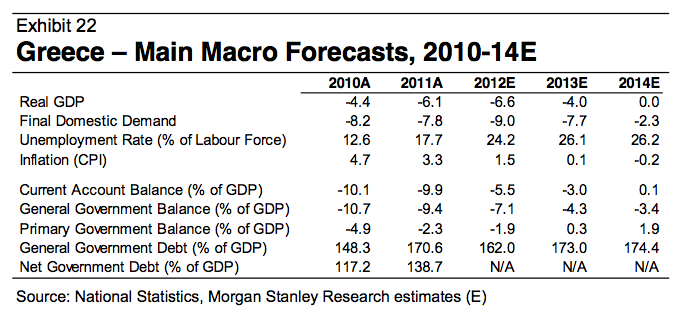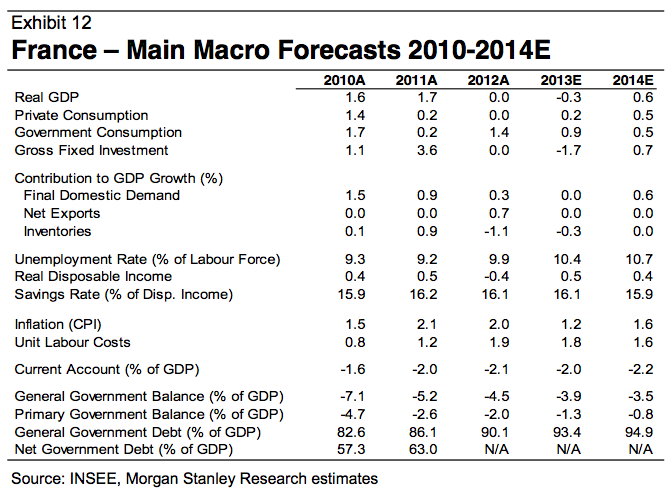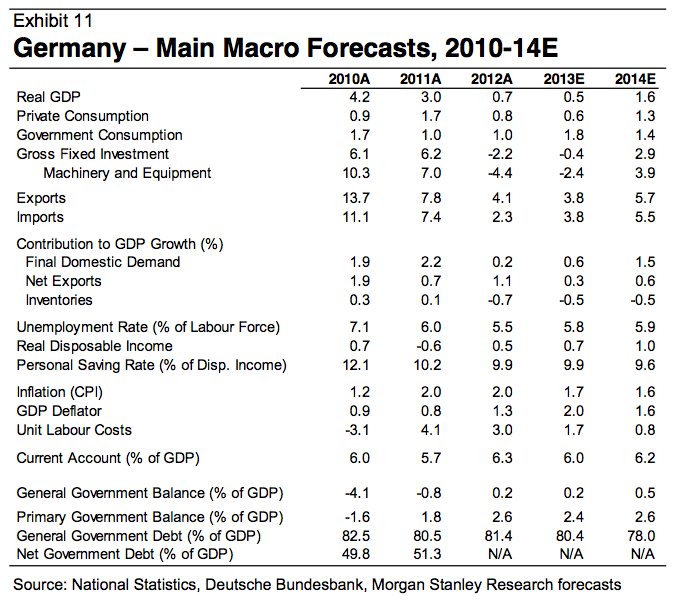 -USA Markets
Gold Share ETFs most down, Gold Share Short ETFs most up.
U.S. STOCKS | 
-It is the Greek  Jew Jamie Dimon's birthday today..you know what he is wishing for..
JPMorgan Chase & Co. (JPM) Chief Executive Officer Jamie Dimon personally stands to miss out on about $1.39 million a year if the Federal Reserve decides last week's stress-test results don't justify a dividend increase.That's how much extra income Dimon could get from his stake of about 6 million shares if his New York-based bank raises its payout as much as analysts predict. The sum dwarfs the combined $73,300 of new annual dividends at stake for his CEO peers at Bank of America Corp., Goldman Sachs Group Inc. (GS) and Wells Fargo (WFC) & Co., based on forecasts compiled by Bloomberg. Bankers will find out whether they get any boost tomorrow when the Fed announces which capital plans at the 18 largest U.S. lenders won approval. Regulators have pressed firms since the 2008 credit crisis to give executives more stock and less cash to align their interests with those of 
shareholders
. CEOs are poised to get a windfall if payouts increase and shares rise — or to suffer with their investors if results sputter."There's a very clear message in last week's stress test that the banks are going to have to raise capital, particularly the largest banks," said Nancy Bush, an analyst and contributing editor at SNL Financial LC, a bank-research firm in Charlottesville, Virginia. "They will be able to raise their dividends, but not in any kind of an aggressive fashion."Banks are required to pass stress tests run by the Fed and submit capital plans that include any changes in dividends or stock-buyback programs. The four lenders haven't disclosed how big a raise they're seeking, while New York-based 
Citigroup Inc. (C)
 and 
Morgan Stanley (MS)
 have said they didn't ask for increases. BBN
-BHP responds to report of Olympics probe- Miner says its sponsorship complied with all 'applicable laws'
-Ireland laid the foundation to regain its economic sovereignty, with the biggest bond sale since the near-collapse of its financial system forced the nation to seek a bailout in 2010.Ireland's Dublin-based debt agency increased the planned sale of bonds to 5 billion euros ($6.5 billion), in its first 10-year debt issue since the international rescue, according to a person familiar with the matter, who declined to be identified because the results aren't yet public. The agency had planned to sell about 3 billion euros of bonds. BBN
-Boeing Co. (BA) won an order from Ryanair Holdings Plc (RYA) worth $15.1 billion at list price, selling 170 737-model planes that are due be phased out in favor of the re-engined Max version, people familiar with the matter said.The deal between Boeing and Dublin-based Ryanair may be announced as soon as next week, said the people, who asked not to be identified because the talks aren't public. Airlines typically buy at a discount to the catalog price, which is $89.1 million for the 737-800, now the top seller in Boeing's lineup. BBN
-Canadian Trade Minister Ed Fast said negotiations on a free trade pact with the European Union have built momentum and he's optimistic the two sides are near an agreement.Fast, speaking in an interview at Bloomberg's headquarters in New York, said negotiators have made progress since European Union Trade Commissioner Karel De Gucht indicated last month that Canada's latest offer wasn't good enough, and that talks could be in jeopardy if the country didn't improve it."We're now into the end game where there is only a small number of issues left to be addressed," Fast said, adding they also happen to be the most difficult. "Even with those, we are making good progress in bridging the gaps."The proposed agreement is the biggest test of Prime MinisterStephen Harper's efforts to diversify Canada's trade away from the U.S., by far its largest trading partner. The world's 11th largest economy has completed six trade accords since Harper came to power in 2006, and is in negotiations on a number of others, including with Japan and India."It's also important that Canada show that it can actually negotiate a trading agreement with a large trade partner," said Fast, who is on a three-day tour of New York and Washington to promote trade with the U.S.He spoke at a Financial Times conference today in New York touting Canada as a nation that is "open for business." BBN
-Markets, slackers in Brazil and Canada finally go to work
10:20 a.m. EDT 03/13/13Major Stock Indexes

10:19 a.m. EDT 03/13/13Treasurys

10:10 a.m. EDT 03/13/13Futures

10:20 a.m. EDT 03/13/13Currencies
-Inventories in the U.S. rose in January by the most since May 2011 as companies replenished warehouses and shelves amid signs demand will pick up.The 1 percent increase in goods on hand exceeded all forecasts,  and followed a 0.3 percent gain in December that was more than previously estimated, Commerce Department figures showed today in Washington. The median estimate was for a 0.5 percent advance.Inventories in the U.S. rose in January by the most since May 2011 as companies replenished warehouses and shelves amid signs demand may pick up.At the January sales pace, businesses had enough goods on hand to last 1.29 months, up from 1.28 months in the prior month and the highest since August.Business sales dropped 0.3 percent in January, reflecting declines at factories and wholesalers. Purchases at retailers advanced 0.3 percent in January after a 0.4 percent gain the prior month.Retailer inventories, the only part of today's report not previously released, increased 1.5 percent in January, the most since May 2006. Retail stockpiles excluding unsold motor vehicles rose 1.3 percent, the most since August 1995.Wholesale inventories, which account for about 30 percent of all business stockpiles, jumped 1.2 percent in January, the biggest in more than a year, the Commerce Department reported last week. Factory inventories, which comprise about 38 percent of the total, increased 0.5 percent in January, the Commerce Department said March 6.Texas Instruments Inc. (TXN) of Dallas, the largest maker of analog chips, said its thousands of electronics industry customers have been keeping a lid on supplies."Our sense is that the customers are still running pretty lean on the inventory front," Vice President Ron Slaymaker  said, "They're not committing to a lot of extended backlog." BBN
-Hostess said on that it had picked a partnership of two investment firms, Apollo Global Management and Metropoulos & Company, as the new owner of its snack cake business, officially concluding the sale of the bankrupt baker's most prized assets.
-Italian Billionaire who makes 'real things' goes after Banking Mafia
Italian billionaire Diego Della Valle, head of shoemaker Tod's SpA (TOD), welcomed the wave of public disgust that swept established politicians from parliament last month and said it's time to dislodge some top bankers as well."It's clear that people said, 'That's enough, it's time to change, show us a decent country,'" Della Valle said March 6 in a Bloomberg Television interview. "That also has to happen in the world that we represent, finance and business and the civil society that guides the country."These are people who put in their time without producing anything interesting for a serious country," Della Valle said, speaking from Sant'Elpidio a Mare, where Tod's is based. "We have to take the situation in hand and start saying with a nice, big chorus of voices capable of breaking through to these people: 'Stop it, please, step aside because you have already caused enough trouble for the country.'""If we don't put the brakes on this and ask these people with the respect to step aside it will all start again as it was before," said Della Valle, who gave up a directorship at Assicurazioni Generali SpA, Italy's biggest insurer, last year. BBN
He is a Sephardic Jew, and may have political ambitions himself.
-Markets
My gut instinct to sell the lousy retail report and the PBOC was right but so far PPT is limiting short side gains. Loved they way the eked the DOW into the green yesterday as the DOW shill RR was pumping the sheep in.
9:48 a.m. EDT 03/13/13Major Stock Indexes

9:47 a.m. EDT 03/13/13Treasurys

9:38 a.m. EDT 03/13/13Futures

9:48 a.m. EDT 03/13/13Currencies
-Why Smirkel and Draghi are furious at Hungary.. .
Hungary's go-it-alone prime minister said on Tuesday there were too many foreign-owned lenders in the country and promised to free companies from billions in euro and Swiss-franc loans.Viktor Orban, a conservative who has angered investors and ignored European Union warnings that he is backsliding on democracy, said his government would set up a system of state-owned banking and called on policymakers to cut interest rates further.In a week when the ruling Fidesz party overhauled the constitution and, via his former economy minister, Orban took control of the central bank, the combative prime minister stepped up rhetoric characterizing Hungary as a country embattled by foreign influences that are keeping it down.He said one step would be to help small firms convert euro- and Swiss franc-denominated debt into forint loans, a move that may force losses onbanks but one that Orban said was crucial for Hungary to go its own way."There is one way to break free: if we break free of foreign currency lending," he told a business forum. "In my mind it is fundamentally a matter of sovereignty."Giving no details, Orban also said the government would boost lending by establishing a state-owned banking system based on the network of savings cooperatives that it acquired when it bought a stake in Takarekbank last year.The push for more state influence in the economy is a departure from neo-liberal policies, such as selling banks and other firms into private hands, that most of the EU's new ex-communist members pursued before joining the bloc last decade.And as the euro zone crisis has exposed the EU's inability to enforce economic rules among its members, Orban's actions have underscored the paucity of tools the bloc has to uphold its democratic values. Reuters
What a great leader. Breaking free of the Anglo-Zionist banking empire can get you killed by the Mossad/MI6/CIA. No freedom allowed on planet Queen Elizabeth.
-GOOG's fine of 7 million for stealing peoples passwords and other information and no criminal charges is the real crime du jour of the thugs in Washington DC. Hey Halliburton showed us Corporations don't go to jail  for literal pimping and sex slavery. Way to Go Cheney and Bush you paved the way for the even greater crooks of Holder/Biden/Obama.
-President Barack Obama's charm offensive to end Washington's budget wars hit a bump on Tuesday when Republicans and Democrats in Congress offered up vastly different plans to slash long-term deficits.The competing budgets, both unlikely to get through Washington's divided government in their current form, raised fresh doubts about Congress reaching a compromise on taxes and spending, which polls consistently show the public wants more than any specific plan.Instead, they appeared crafted to appeal to their respective party bases.The Republican proposal, sponsored by House Budget Committee Chairman and former Republican Vice Presidential candidate Paul Ryan, promises to balance the budget without raising taxes in ten years. It would eliminate President Obama's health care overhaul and make large cuts in spending, particularly to so-called safety-net programs such as Medicare and Medicaid, the government health insurance plans for seniors and the poor.Ryan is a likely contender for the 2016 Republican presidential nomination, and the proposal could serve him well in primary races where conservatives wield the most influence.The Senate Democratic budget proposal, which began leaking out just as Ryan announced his proposal, would shrink budget deficits by $1.85 trillion over 10 years but not balance the budget. It is largely the work of Democratic Senator Patty Murray of Washington, who heads the Senate Budget Committee.It would rely on an equal mix of spending cuts and tax hikes on the wealthy. At the same time, it would create a $100 billion fund for rebuilding crumbling roads and bridges, creating construction jobs. Reuters
-Markets
9:33 a.m. EDT 03/13/13Major Stock Indexes

9:33 a.m. EDT 03/13/13Treasurys

9:23 a.m. EDT 03/13/13Futures

9:32 a.m. EDT 03/13/13Currencies
-Pigfestation
-Italy is "already de facto" outside the euro and runs the risk of being "dropped" by the region's wealthiest members as soon as their banks recoup what they invested in the nation's bonds, Germany's Handelsblatt cited comic-turned-politician Beppe Grillo as saying."Italy is de facto outside the euro already," Grillo, whose anti-austerity Five Star Movement got 25 percent of the vote in elections last month, said in an interview published today in Handelsblatt newspaper. "The northern European states will back us only until they have recouped the investments of their banks in Italy's sovereign bonds. Then they will drop us like a hot potato."
-0930 USA Opening prices
9:30 a.m. EDT 03/13/13Major Indexes
-What a 'fake' market in Europe, no response to PBOC statement and no response to lousy EZ factory output. ESM/ECB all the time. You can do a lot with $ 3 tln balance sheet and knowing your going to get a lot more in the ESM slush fund soon.
-Economic activity is currently held down by fiscal consolidation. However, the expansion of real GDP steps up to around 2 3/4% in the second half of this year and beyond," says chief U.S. economist Vincent Reinhart of MS. "In the Morgan Stanley forecast for the U.S., the trajectory of economic activity marks an inflection point midway through 2013. The severe financial crisis of 2008-09 necessitated significant downward adjustments by the private sector to the levels of aggregate demand and efficient supply. As the event recedes further into history, however, the drag on growth from these ongoing level adjustments plays out."
MS talks up 2h Recovery story. No jobs, no recovery Vince no matter how much the BLS fakes the jobs number for your, or how much the GDP deflator is understated to put out inflation as real GDP growth. MS is key PPT member and grinding markets higher even on the bad retail sales report we just had.
-Genesee & Wyoming Inc.'s  consolidated traffic edged up 0.5% in February from a year earlier, aided by increased shipments of petroleum products and metallic ores.The railroad operator late last year completed its $1.39 billion acquisition of RailAmerica Inc., a move that combined the two largest short-line and regional-rail operators in North America. Genesee & Wyoming, which also operates freight railroads in Australia and the Netherlands, has generally faced a decline in coal traffic in recent months as a glut of cheap natural gas continues to erode demand.The company said its consolidated traffic rose last month to 140,200 carloads from 139,453 a year ago, while same-railroad carloads declined 1.4%.Genesee & Wyoming's consolidated traffic volume now includes carloads from RailAmerica, which were previously reported separately.Carloads of coal and coke–the largest segment–increased 7.9% to 23,815.Segments with the biggest improvements were metallic ores and petroleum products, with carloads up 42% and 37%, respectively.The sharpest decline was in waste carloads, down 20%.Genesee & Wyoming reported in February its fourth-quarter earnings fell 60%, due in part to acquisition charges, while revenue increased 8.1%.Class A shares closed Tuesday at $92.27 and were inactive premarket. The stock is up 21% since the start of the year. MW
-907 Futures Check
USA Futures regained what they lost after the PBOC statement and hint of rate tightening on the headline USA retail sales.
- ECB's Weidmann: Adjusting the voting structure of the European Central Bank is not the answer to addressing the redistributed risk to taxpayers in the euro area. He reiterated view that there was no end to EMU crisis in sight at this time and that Central Banks had become 'political actors'.
- Riksbank Wickman-Parak: SEK currency  strength was not large enough to affect inflation yet and the Riksbank had no SEK target. Riksbank member Ekholm: Keeping macro-prudential policy separate from monetary policy was important. He reiterated that the cost of using repo rate to influence house prices was too high and inflation below target was a problem in Sweden.
- Poland Central Bank member Chonja-Duch commented that the recent 50bps rate cut should increase GDP growth. The next rate move depended on GDP and CPI and added that another Base Rate cut was possible this year. Central bank forecast showed sustained fall in CPI and could see 1.3-1.4% in April.
-Europe Session Economic  Release Summary
(FR) France Q4 Final Non-Farm Payrolls Q/Q: -0.3% v -0.2%e
(FR) France Feb Consumer Price Index M/M: 0.3% v 0.5%e; Y/Y: 1.0% v 1.2%e; CPI Ex Tobacco Index: 124.72 v 124.92e
(FR) France Feb CPI EU Harmonized M/M: 0.3% v 0.4%e; Y/Y: 1.3%e
(ES) Spain Feb Consumer Price Index M/M: 0.2% v 0.1%e; Y/Y: 2.7%e
(ES) Spain Feb CPI EU Harmonized M/M: 0.0%e; Y/Y: 2.8%e
(ES) Spain Feb CPI Core M/M: 0.0% v -1.6% prior; Y/Y: 2.3% v 2.1%e
(EU) ECB: €16M borrowed in overnight loan facility vs. €24M prior; €149.6B parked in deposit facility vs. €131.6B prior
(EU) Euro Zone Jan Industrial Production M/M: -0.4% v -0.1%e; Y/Y: -1.3% v -2.0%e
- Japan LDP official Sata confirms lower house vote on BOJ nominations to occur on March 14th
- Morgan Stanley lowered its 2013 Euro area GDP forecast to -0.7% from -0.5%.
-IEA Monthly Oil Report trimmed its 2013 global demand increase by 20K bpd to 820K bpd and noted that sluggish economy continued to weigh on oil demand growth. IEA commented that it should not underestimate oil supply risks ahead – especially on Venezuela and warned of risks to OPEC supply from Libya, Nigeria due to militant activity. Saudi output was steady at 9.25M bpd in Feb but saw the kingdom ramping up output slowly.
OPEC (City of London) mouthpiece
-The total number of mortgage applications filed in the U.S. last week slipped 4.3% as interest rates increased, the Mortgage Bankers Association said Wednesday.The refinance index fell 5.2% for the week ended March 8 from the previous week, according to MBA's weekly survey, which covers more than three-quarters of all U.S. residential-mortgage applications. On a seasonally adjusted basis, the purchasing index was down 2.5% from the prior week, MBA said.Low interest rates have attracted new buyers and persuaded many homeowners to refinance their existing mortgages. However, tightened credit restrictions still bar many borrowers from filing loan applications.The share of applications filed to refinance an existing mortgage was 76%, while adjustable-rate mortgages, or ARMS, made up 4.5% of total activity.The average rate on 30-year fixed-rate mortgages with conforming loan balances jumped to 3.81% from 3.7% in the prior week. Rates on similar mortgages with jumbo loan balances rose to 3.9% from the previous week's 3.8% from the previous week's 3.93%. The average rate on 30-year fixed-rate mortgages backed by the Federal Housing Administration rose to 3.53% from the prior week's 3.47%.The average rate for 15-year fixed-rate mortgages climbed to 3.01% from the previous week's 2.96%. The 5/1 ARM average rate increased to 2.62% from 2.55% a week earlier. WSJ
-848  EU Credit Markets
Weak auction results out of Italy
German 10y 1.48-0.00, 0.18%
Italy 10y 4.64+0.09, -1.99%
Spain 10y 4.75+0.03, -0.70%
U.K. 10y 1.96-0.01,  0.30%
(IT) Italy Debt Agency (Tesoro) sold total €5.32B vs. €4.0-5.5B indicated range in 2015 and 2028 BTP bonds
Sold €3.32B vs. €2.5-3.5B indicated range in 2.75% Dec 2015 BTP; Avg Yield 2.48% v 2.30% prior; Bid-to-cover: 1.28x v 1.37x prior
Sold €2.0B vs. €1.5-2.0B indicated range in Sept 2028 BTP; Avg Yield 4.90% v 4.805% prior; Bid-to-cover: 1.28x
(IT) Italy Debt Agency (Tesoro) sold €1.67B vs. €1.0-1.75 indicated in 2017 and 2018 CCUeu (Floaters)
Sold €1.03B in Floating 2017 CCUeu; avg yield 2.95% v 2.55% prior, bid to cover: 1.5x v 1.39x prior
Sold €642M in Floating 2018 CCUeu; avg yield 3.03%, bid to cover: 1.84x
(EU) ECB allotted $0.0M in 7-Day USD Liquidity Tender at fixed 0.66% vs. $25M prior
(SE) Sweden sold SEK5B in 3-month bills; Yield 0.9589%
(CH) Switzerland sold total CHF431M in 2022 and 2042 bonds
(RU) Russia sold RUB1.89B vs. RUB8.4B indicated in 10-year OFZ bond; Yield: 6.87% v guidance of 6.82-6.87%
-Black smoke rose Wednesday morning from the smokestack of the Sistine Chapel, signaling that the cardinals gathered to choose a new pope had voted again but not reached an agreement on a new leader for the Roman Catholic Church.
-Prices paid for goods imported into the U.S. surged 1.1% in February for the second straight month, led by higher fuel prices, the Labor Department reported Wednesday. This is the largest increase in overall import price index and fuel imports since August. The gain was larger than analysts' expectations of a 0.5% rise. Import prices have declined 0.3% over the past 12 months, adding to the picture of subdued inflation at the moment. Imported fuel prices rose 4.9%. in February and were up 13.4% on a year-on-year basis. Meanwhile, nonfuel import prices were flat in the month and were up 2.4% over the past year. Gains in prices of food and consumer goods were offset by lower prices for imported capital goods in the month. Non-fuel prices have been flat since early 2011. The price of U.S.-made goods exported to other nations rose 0.8% in February after a 0.3% gain in the prior month.  MW
-Europe
-Asia Closing Prices
PBOC Statement reiterated it would continue prudent monetary policy and increase policy flexibility. It would ensure stable and appropriate growth in both money and credit supply and promote differentiated housing credit policy. The PBOC to promote bi-lateral currency-swap arrangements and maintain its policy to diversified investments in FX Reserve Management Gov Zhou'S  press conference noted that China needed to be on high alert against inflation and hoped to stabilize inflationary expectations. He saw carryover effect in CPI and noted that PBoC's overall monetary policy focused on CPI. He added that monetary policy was no longer loose and the prudent monetary policy meant exit from its relaxed stance . The lower M2 target signaled emphasis on price stability; M2 target of 13% is tighter than actual 2012. High M2 level was not necessarily the cause of inflation as high savings rates drove high M2 levels. He did not know if he would stay on as PBoC Gov  Lastly he noted that needed to pay attention to local govt vehicle debt and did not underestimate or over-react to its risk. PBOC Vice Govenor Yi  commented that China did care about monetary easing in reserve currency countries and the effect it has on capital flows . He hoped nations would stand by G20 commitment on currencies and that countries avoid competitive devaluations. The PBOC should focus on domestic economic conditions for its monetary policy but would take into account other countries monetary policies.
-0830 - U.S. retail sales posted the biggest increase in February in five months, but about half the increase took place at gas stations and reflected higher prices at the pump. Sales rose a seasonally adjusted 1.1% last month, or by 1.0% excluding the auto sector, the Commerce Department said Wednesday. Economists surveyed by MarketWatch expected retail sales to jump 0.7% for both the overall number and minus autos. Sales rose a smaller 0.6% excluding gas stations and 0.4% minus autos and gas. Retail sales are a good proxy for how fast the U.S. is growing and the latest data sugggest consumer spending is fairly steady. In the past 12 months, retail sales are up 4.6%, slightly more than double the rate of consumer inflation. Last month, sales surged at auto dealers, gas stations, building-material stores and Internet retailers. Gas-station sales shot up 5%, the biggest increase since oil prices spiked last August. Sales also rose slightly for stores that sell clothes and general merchandise. Sales fell at department stores and shops that sell home furnishings, electronics, and sporting and hobby items. Bar and restaurant sales also declined. In January, the increase in retail sales was revised up a tick to 0.2%. December sales were unchanged at a 0.5% gain. MW
Retail sales are even with the real rate of inflation.
-Pick up the blog in the USA trading morning.
-301 Key EU Bonds
German 10y 1.48-0.00, 0.18%
Italy 10yr 4.55+0.00, 0-.02%
Spain 10yr 4.72+0.00, -0.07%
-253 Asia
-246 Futures
-158 Asia
Japan
Japan's Nikkei Average loses -0.6%, and closes down at 12,239.66. We saw profit taking in the Y/D and the Nikkei overnight.
Leaders of the opposition Democratic Party of Japan decided  to back two of the government's picks to lead the Bank of Japan,  guaranteeing both nominees will receive Diet confirmation.The DPJ's shadow cabinet endorsed the nominations of Asian Development Bank President Haruhiko Kuroda for BOJ governor and Hiroshi Nakaso for deputy governor. Nakaso now serves as an executive director of the central bank. While  the DPJ is not supporting the other Deputy Governor candidate Iwata, he has garnered enough support in the Japanese Diet such that all three of Abe's nominees are expected to be approved.
PM Abe announced his intentions for Japan to join the Trans Pacific Partnership free trade talks after consulting with his government and industry. The formal announcement is expected on Friday.
Japan cabinet office expected to raise economic assessment in Mar for 3rd consecutive month in monthly report due Friday'  BOJ has also upgraded its economic assessment for 3 months.Japan Welfare Ministry announced Dec recipients of welfare m/m: 2.15M v 2.14M prior (record high, 8th straight month).
Automakers, electronics manufacturers and other big companies on Wednesday accepted their unions' demands for pay or bonus hikes across the board in their annual spring labor negotiations.Prime Minister Shinzo Abe has been calling on companies to boost their pay to help pull the country out of deflation.The planned hikes, which in many cases exceeded the terms agreed upon the previous year, are thought to be based on the assumption that Abe's economic stimulus measures will push up corporate earnings.Most of the union requests were for bigger bonuses rather than hikes in basic monthly wages or larger regular pay increases.Toyota Motor Corp. (announced Wednesday morning it accepted its union's request for a bonus payment equal to five months' pay plus 300,000 yen, amounting to an average annual bonus of about 2.05 million yen.Also agreeing to bonus increases were Nissan Motor Co. Honda Motor Co. , Fuji Heavy Industries Ltd.  and Mitsubishi Motors Corp.
Japan Electronics and Information Technology Industries Association: domestic shipments of mobile handsets in Jan fell 24.8% y/y to 1.85M units; 9th consecutive month of y/y decline. Nikon To cut camera business inventory by 20% at end-FY12; lowers FY12 op profit guidance to Y48B from Y72B prior in November.
China
China's lawmakers are expecting a busy three days from tomorrow as they elect and appoint state leaders.The proceedings happen every five years and affect the country's legislative, administrative and judicial organs.Tomorrow, deputies to the National People's Congress will vote to elect the chairman, vice chairpersons, general secretary and members of the 12th NPC Standing Committee.They will also elect the country's president and vice president as well as the chairman of the Central Military Commission.On Friday, lawmakers will vote for the premier and CMC vice chairpersons. They will also elect heads of the Supreme People's Court and the Supreme People's Procuratorate.On Saturday, they decide on vice premiers, state councilors, government ministers, governor of the central bank and chief auditor, who form the Cabinet.The candidate for premier will be proposed by the newly elected president and Cabinet members will be proposed by the newly appointed premier.Vice chairpersons and members of the CMC will be nominated by the newly elected CMC chairman.
A mass swine epidemic is not what killed nearly 6,000 pigs that have floated downstream to Shanghai from Jiaxing, Zhejiang province officials said.
China Feb. steel production rose 9.8% y/y to 2.21M tons, new record (prior record was 2.05M tons last Jan). Iron ore stocks at China's 30 major ports as of Mar 8th fell by 2.98M tons w/w to 66.54M tons , lowest level since Jan 2010.) China Ministry of Commerce said farm produce prices in 36 major cities fell for the 3rd consecutive week in week-ended Mar 10th. KO (coca cola ) under investigation by China authorities for illegal mapping of western provinces.
Korea
North Korea said to have started deployment of ICBMs; Also South Korea military officials indicating the North has sharply increased its flights of fighter jets over the past few days, coinciding with the start of South Korea – US joint military drills.
Hyundai : China vehicle sales in Jan-Feb period rose 46.4% y/y to 177K units.  Kia Motors : China vehicle sales in Jan-Feb period rose 27.9% y/y to 91.7K units.
Australia/New Zealand
BHP: Being investigated by US, Australia authorities over bribery allegations in dealings to secure agreement for the 2008 Olympic.Deutsche Bank raised Australia mining sector to Overweight from Underweight.
Real Estate Institute of Australia (REIA) forecasted Q4 median house prices +3.8% q/q v +0.6% in Q3
JPMorgan said RBNZ'spolicy statement on Thursday likely to mention the drought as a serious headwind for growth, adding a dovish tone to outlook which had previously been mainly hawkish
Economic Release Summary
(KR) South Korea Feb Bank Lending to Households (KRW): 461.5T v 463.1T Pprior (second consecutive decline)
(KR) South Korea Jan L Money Supply Y/Y: 1.0% V 0.2% prior; M2 Y/Y: 0.5% V 0.1% prior
(KR) South Korea Feb Unemployment Rate (SA): 3.5% v 3.2%e (highest reading in a year) (KR) South Korea Feb Export Price Index M/M: +2.4% v -0.1% prior; Y/Y: -5.6% V -8.1%prior; Import Price Index M/M: +2.7% v -0.8% prior; Y/Y: -8.6% V -10.6% prior
(NZ) New Zealand Feb Food PricesM/M: -0.3% v +1.9% PRIOR (3-month low)
(AU) Australia Mar Westpac Consumer Confidence Index: 110.5 v 108.3 prior (highest level since Dec of 2010); M/M: 2.0% V 7.7% prior (3rd month of increase)
(AU) Australia Jan Home Loans M/M: -1.5% V +0.5%E (3rd straight decline); Investment Lending: +4.4% V -2.0% prior; Owner Occupied Home Loan Value: +1.3% V -2.3% prior
Equity Markets
Bonds
Japan 10yr 0.64-0.01, 1.96%
U.S. 10yr 2.02-0.00, 0.04%
ETF
GLD: SPDR Gold Trust ETF daily holdings fell by 0.4 tons to 1,236.3 ton (lowest since 1233.6 in Oct of 2011); -8.6% from record high holdings
-Picture of the day:
-Quote of the day:
"We think the ECB will cut rates twice this year especially if we get more news on the ongoing weakness of the economy. We think there is a decent chance for an April rate cut and we think that down the road by the second half of the year, there will be another one. So, going down with the refi rate to 0.25%, and there is even a chance for the deposit rate to go to negative…Europe is likely to create risk again but with the set-up we have, it's less likely to lead to a slowdown of the global economy because the knock-on risks on the global financial markets with the OMT and the other things in place have come down quite a bit over the last year."
Juergen Michels, chief euro-area economist at Citigroup (Source: Bloomberg TV)
-Having reinvented the tablet market with the introduction of the iPad in 2010, Apple's share of the market will fall below 50pc for the first time, according to a new report from research firm IDC.Faced with cheaper and smaller tablets from Google, Samsung and Amazon, Apple's share will drop to 46pc in 2013 from 51pc last year, IDC forecasts. The share of the table market run on Google's Android software, which includes Samsung's devices, will climb to 49pc, IDC predicts.We expect smaller tablets to continue growing in 2013 and beyond," said Jitesh Ubrani, an analyst at IDC.The prediction did little to improve sentiment towards Apple, whose shares have slumped 40pc since reaching a record high of more than $700 (470 pounds) in September.Analysts at US investment bank Jefferies became the latest to slash their predictions for Apple, as they cut their price target on the shares to $420 from $500.
-UK on track for triple dip – NIESR
Britain is on track for a triple-dip recession, a leading forecasters has signaled, as new figures on the UK's manufacturing industry dealt a blow to recovery hopes and hit sterling. DT
-Morgan Stanley has a limit order to sell GBP/USD at 1.5160 with a protective stop at 1.5360, and a target at 1.4300. "We remain bearish on GBP. The Bank of England is increasingly shifting towards a more flexible inflation target. Indeed, our economists believe a formal review of the monetary policy framework could be launched at the March budget, which could result in a change of the MPC's remit," MS says as a rationale behind this macro tactical call. Suggestions for such a change, according to MS, include giving the B0E longer to bring inflation back to target (the BoE already appears to be taking a more flexible approach here) or introducing a second target related to the labour market."We like to position GBP against USD, as we believe USD's recent outperformance will continue," MS concludes.
efx news
-Curiosity proves life could have existed on Mars NASA's Curiosity rover has discovered that in days past Mars was able to support elementary forms of life, bringing scientists one step closer to confirming extraterrestrial life. WSJ
-Trouble Making Anglo-Zionists in Congress threatening everyone..
The US has threatened Islamabad with sanctions over Pakistan's partnership with Iran to construct a section of a gas pipeline. Washington said that the much-delayed $7.5-billion project violates sanctions on Iran, a claim denied by Pakistan.  RT
-'Iran can't covertly produce atomic bomb' – US intelligence chiefIran cannot produce enough highly-enriched uranium for a nuclear weapon without being found out by the international community, the US National Intelligence Director told Congress. He also countered claims Tehran had decided to build an atomic bomb. Developments in Iran's nuclear capabilities intended to "enhance its security, prestige, and regional influence" would ultimately "give the Islamic Republic the ability to develop a nuclear weapon," US National Intelligence Director James Clapper told a Senate panel during an annual report on global threats on Tuesday. RT
-Over 100 Guantanamo inmates 'on hunger strike,' possibly in grave conditionLawyers for Guantanamo Bay inmates have claimed "all but a few men" are on a hunger strike over their Qurans being taken away. The condition of the strikers "appears to be rapidly deteriorating and reaching a potentially critical level," they said. RT
-North Korea's nuclear weapons and missile programs pose a "serious threat" to the U.S. and its allies in Asia, according to U.S. intelligence agencies in an unclassified worldwide threat assessment.Presenting the report to the Senate intelligence committee yesterday, Director of National IntelligenceJames Clapper said he is "very concerned" about the actions of North Korea's leader Kim Jong Un and the "very belligerent" rhetoric that has been emanating from his regime. BBN
================
Probably paying baby Kim to act up, like in Afghanistan.
- A Saudi man infected with a deadly new virus from the same family as SARS has died, becoming the ninth patient in the world to be killed the disease which has so far infected 15, the World Health Organisation said on Tuesday. Reuters
Prince Charles latest gift to mankind. He is in the Middle East, Jordan or at least his double is.
| | |
| --- | --- |
| | Updated March 13, 2013 – 12:11 AM EDT |
| | | |
| --- | --- | --- |
| | | US Secrecy, Classification Procedures Increase Under Obama |
| | | Intelligence Officials Evade Questions on Domestic Surveillance |
| | | Spy Chiefs Point to a Much, Much Weaker al-Qaeda |
| | | Obama Administration Conceals Data on Wars |
-Reflections for Today
Romans 8:1-5
1 There is therefore now no condemnation to them which are in Christ Jesus, who walk not after the flesh, but after the Spirit.2 For the law of the Spirit of life in Christ Jesus hath made me free from the law of sin and death.3 For what the law could not do, in that it was weak through the flesh, God sending his own Son in the likeness of sinful flesh, and for sin, condemned sin in the flesh:4 That the righteousness of the law might be fulfilled in us, who walk not after the flesh, but after the Spirit.5 For they that are after the flesh do mind the things of the flesh; but they that are after the Spirit the things of the Spirit.
The Lord will fulfill his purpose for me; your steadfast love, O Lord, endures forever.
Psalm 138.8
===========================
Newslinks
-Italy's Borrowing Costs Rise at Bond Auction After Downgrade
http://www.bloomberg.com/news/2013-03-13/italy-s-borrowing-costs-rise-at-bond-auction-after-downgrade.html
-California seizes weapons after felons, mental patients lose right to bear arms
-Iran seeks U.S. wheat despite nuclear tension http://reut.rs/ZlSRIw
-Under Jordan Swiss National Bank Returns to Being Boring
http://www.bloomberg.com/news/2013-03-12/under-jordan-swiss-national-bank-returns-to-being-boring.html
-Irish Lay Bailout Exit Base With $6.5 Billion Bond Sale
http://www.bloomberg.com/news/2013-03-13/irish-lay-bailout-exit-base-with-6-5-billion-bond-sale.html
-Canada's Fast Says Momentum Building for EU Trade Accord
http://www.bloomberg.com/news/2013-03-13/canada-s-fast-says-momentum-building-for-eu-trade-accord.html
-IMF Staff Recommends Extending Fund's Emergency Resources Pool
http://www.bloomberg.com/news/2013-03-12/imf-staff-recommends-extending-fund-s-emergency-resources-pool.html
-Brazil's Richest Family Forging $13 Billion Niobium Dream
http://www.bloomberg.com/news/2013-03-13/brazil-s-richest-family-forging-13-billion-niobium-dream.html
-Hungarian PM pushes for state bank, rebuffs foreign critics
http://www.reuters.com/article/2013/03/12/us-hungary-pm-idUSBRE92B0KJ20130312
-China Leaders Seen Deepening Interest-Rate Flexibility: Economy
http://www.bloomberg.com/news/2013-03-12/china-s-new-leaders-seen-deepening-interest-rate-flexibility.html
-Dueling Budget Plan Emerges in Congress
http://www.reuters.com/article/2013/03/12/us-usa-fiscal-idUSBRE92B0ZE20130312
-EZ Production shows a big fall in Feb

http://www.reuters.com/article/2013/03/13/us-eurozone-production-idUSBRE92C09Z20130313
-German Central Bank Doubles Reserves
The NYT, always a day late or more.
http://www.nytimes.com/2013/03/13/business/global/german-central-bank-doubles-reserves.html?_r=0
--PBOC Gov Zhou Says China Should Be on 'High Alert' on Inflation

http://www.bloomberg.com/news/2013-03-13/pboc-s-zhou-says-china-should-be-on-high-alert-on-inflation.html
-Shanghai Ups Checks on River After Dead Pigs Double to 6,000
http://www.bloomberg.com/news/2013-03-12/shanghai-races-to-clean-river-where-2-800-dead-pigs-were-found.html
-London Gains First-Mover Advantage in EU's Yuan Race: Currencies
http://www.bloomberg.com/news/2013-03-12/london-gains-first-mover-advantage-in-eu-s-yuan-race-currencies.html
-Zionists in EU outraged over Hungarian Nationalists
http://www.spiegel.de/international/europe/european-leaders-call-for-probe-of-constitutional-amendment-in-hungary-a-888391.html
-Royal Blush: Is It Time for Spain to Dissolve the Monarchy?
http://www.spiegel.de/international/europe/a-weakening-bond-between-king-juan-carlos-and-spain-a-888176.html
- French reforms have 'floundered', warns ECB's Weidmann
http://www.telegraph.co.uk/finance/financialcrisis/9924778/French-reforms-have-floundered-warns-ECBs-Weidmann.html
-White House accuses China of hacking U.S. companies on "unprecedented scale," demands attacks stop. http://on.wsj.com/Yos0ZQ
-Sample taken by NASA rover suggests ancient Mars could have supported living microbes http://on.wsj.com/16pZL4t
-Beijing Rising Rents Squeeze Newcomers Barred Buying Homes
http://www.bloomberg.com/news/2013-03-12/beijing-s-rising-rents-squeeze-newcomers-barred-from-home-buying.html
-Japan opposition unveils BOJ stance as Iwata vote in balance
-Manning: US Army like 'child torturing ants with a magnifying glass'
http://rt.com/usa/manning-trial-recording-leak-177/
-Asians Hunt Gas Treasure Locked in Ice Beneath Seabeds: Energy
http://www.bloomberg.com/news/2013-03-12/asians-hunt-gas-treasure-locked-in-ice-beneath-seabeds-energy.html
-Toyota Approves Biggest Bonus in Five Years in Recovery Signal
http://www.bloomberg.com/news/2013-03-13/toyota-approves-biggest-bonus-in-five-years-in-recovery-signal.html
-China may end long-hated labor re-education camps
http://news.yahoo.com/china-may-end-long-hated-labor-education-camps-053559266.html
-Boeing gets OK to test new 787 battery, wins big 737 order
http://www.reuters.com/article/2013/03/12/us-boeing-faa-idUSBRE92B12S20130312