Headliners
-Zionist fix Austrian election to kill Haider's Party and elect, Pro-EU, socialist, and Zionist
-USDA to prop up Global Sugar Prices for USA growers
-Zionist EU targets Iranian Judges, Media bosses with Sanctions
-Ryan Unveils Budget Plan to Erase Deficit in 10 Years
-Snow Causes Travel Chaos in Europe
-UK set to enter 3rd recession in five years
-North Korea Declares War Truce 'Invalid'
-Yen hits multi-year lows on speculation Kuroda would call an extraordinary meeting and announce new steps as soon as he is confirmed
-Ill State Accused of Fraud By SEC
-India Car Sales Poised for First Fall in Decade on Demand
-French Industrial Output Tumbles as Recession Looms
-PBOC Hawks put on Hold by Government, China Retail Sales Tank, CPI Surges
-Japan begins frozen Gas Production from seafloor
-1/4 Germans would back new anti-Smirkel /EU party
-Betting Firm Intrade (Ireland) Implodes
-Cardinals Head to Conclave to Select a New Pope
-Illegal Occupation of Afghanistan by UK/USA unraveling fast
Commentary
-Economic Releases, USA Trading Session
(US) Feb NFIB Small Business Optimism: 90.8 v 90.0e
(US) ICSC/GS weekly chain store sales w/e Mar 10th w/w: 0.7%; y/y: 1.8%
(US) Redbook Retail Sales w/e Mar 9th: +2.7% y/y; Mar MTD: +0.6% m/m
(US) Jan JOLTs Job Openings: 3.693M v 3.670Me
(MX) Mexico Jan Industrial Production M/M: 1.1% v 0.9%e; Y/Y: 1.7% v 1.5%e
(BR) Brazil Jan CNU Capacity Utilization: 84.0% v 81.0%e
(EU) ECB weekly Forex Reserves: €218.2M v €218.6B prior
(EU) OECD Jan Unemployment Rate: 8.1% v 8.0% prior
(PT) ECB reports Feb Portugal bank financing at €49.5B v €49.7B m/m
(PT) Portugal Jan Trade Balance: -€572M v -€978M prior
(PT) Portugal Jan Construction Works Index: 50.7 v 47.6 prior
(PT) Portugal Feb Consumer Price Index M/M: -0.1 % v +0.1%e; Y/Y: 0.0% v 0.1%e
(PT) Portugal Feb CPI EU Harmonized M/M: -0.1% v 0.0%e; Y/Y: 0.2% v 0.3%e
-USA Closing Prices
10:32 p.m. EDT 03/12/13Major Stock Indexes

10:32 p.m. EDT 03/12/13Treasurys

10:23 p.m. EDT 03/12/13Futures

10:33 p.m. EDT 03/12/13Currencies
-SF Routs homeless, puts up $300k fence. War on the poor by Rockefeller's relative gang continues in USA.
With Two evil Jews, Nancy Pelosi and Feinstein calling SF home, what did you expect. The Jews want the poor gentiles their kin have displaced to go away and die quietly. Instead they should take camp in Feinstein and Pelosi's garden and fertilize it for them.
http://blog.sfgate.com/stew/2013/03/12/homeless-camp-rousted-fence-going-up/
-The PPT failed. I covered a bit in the pre markets, went long the opening, sold the morning pop and got back on top of my DIA/SPY shorts. Maintained my DAX short. Fakey, fakey markets today. Look for the PPT to come into the close to paint the tape. Take some intra day profit on your short before it hits the red line. Audit the UST, ESF/PPT then abolish it.
3:02 p.m. EDT 03/12/13Major Indexes

3:02 p.m. EDT 03/12/13Markets Diary

| | | | |
| --- | --- | --- | --- |
| Issues | NYSE | Nasdaq | NYSE MKT |
| Advances | 1,135 | 937 | 162 |
| Declines | 1,920 | 1,480 | 231 |
| Unchanged | 85 | 104 | 25 |

| | | | |
| --- | --- | --- | --- |
| Issues at | | | |
| New Highs | 225 | 147 | 11 |
| New Lows | 17 | 10 | 6 |
- U.S. credit reporting agency Equifax Inc said on Tuesday it had launched an internal investigation after finding that four consumer credit reports had been fraudulently accessed.Equifax spokesman Tim Klein said the "fraudulent and unauthorized access" was related to media reports that a website published the personal financial information of U.S. First Lady Michelle Obama, Vice President Joe Biden and celebrities including singer Beyonce and actor Ashton Kutcher.Klein said the company's initial investigation found that the perpetrators had personal information on certain individuals, which allowed them to bypass authentication steps.He would not name the individuals whose credit reports were involved, but said they were accessed through the www.annualcreditreport.com website. Reuters
-Verizon/T-Mobile Merger gets green-light by Feds.
-We got some black smoke at sunset in Rome. No new Pope today.
-Republicans better Dump Crazy Homosexualist Senator Graham and Adulterer, Drunk, Zionist Anglomason John McCain
An evil 'feminist world'. Abortion and war and putting American women to fight in combat are 'normal' and morality and opposing war and the government printing money is 'extreme'. What an evil Shrew Clair McCaskill. Every sees the 'fruits' of the Democrats, homosexual marriage, wars for England and Israel, outsourcing jobs,  rewarding Wall Street and Jamie Dimon and Bub Rubin and Larry Summers , Jack Lew Wall Street Democrat Jews destroying the country
The Republican party is currently experiencing an internal "civil war," Sen. Claire McCaskill (D-Mo.) said Tuesday. McCaskill, speaking on MSNBC, was asked what advice she would give to Democrats facing tough reelection fights. "On the other side it's a mess. I mean they really have a civil war in their party right now," McCaskill said on 'Morning Joe.' "Joe your guys are fighting with each other. You've got people who are willing to compromise and understand the beauty of compromise and then you've got people like [Sen. Ted Cruz (R-Texas)] and some of the others that just think that they want to drive as hard as they can off the right edge of the world." The senator from Missouri recently won reelection against former Rep. Todd Akin (R-Mo.) whose controversial rape comments badly hurt his candidacy. McCaskill said "It's the reason I could win —was cause frankly they nominated a flawed candidate that was so extreme,"McCaskill said. "But it wasn't what Todd Akin said, it's what he believed. And that is the base of the Republican party right now." Cruz recently joined in Sen. Rand Paul's (R-Ky.) filibuster of John Brennan's nomination for CIA director. In response, Sen. John McCain (R-Ariz.) referred to Paul and Cruz and a few other Republicans as "wackos".

Read more: http://thehill.com/video/senate/287645-dem-senator-gop-has-a-civil-war-in-their-party#ixzz2NLw9FXch
-Don't eat me bro!! NYPDs' satanic Jewish police force, Cannibals as well.
Sick  cretin's of the  NYPD. Bloomberg the ghoul belongs in the docket next to his fellow satanist. What they don't tell you is not only does the cannibal, satanic cop looks like Mayor Mike his last name is a very well known Sephardic Jews name. Satanic, Ghoul Mayor Bloomberg, the Jew and his Satanic Cannibal sephardi relative eating the flesh and drinking the blood of the goyim for power. No wonder the Jews don't like this blog!! We 'out' their satanic ethos and outcome. NYC where the cops eat free, and have your wife for brunch. Time for a massive backlash against the Satanic Jew bloomberg and his network of Banksters and satanic Rabbi and gholish satanic Jew and LGBT cops.
http://www.guardian.co.uk/world/2013/mar/12/nypd-cannibalism-cop-guilty-verdict
Hell has emerged and is roaring through its beaked nose across the American landscape. Best to repent America before the Jew literally comes to murder and eat your children.
-MARKETS – AT A GLANCE
Goldman issued a buy commodities on Monday. It appeared they covered their shorts yesterday.
2:30 p.m. EDT 03/12/13Major Stock Indexes

2:29 p.m. EDT 03/12/13Treasurys

2:20 p.m. EDT 03/12/13Futures

2:30 p.m. EDT 03/12/13Currencies
-IMF deputy managing director Zhu says key challenge for world economy is weak demand
-Pray a Zionist Agent and Satanist won't be Chosen for once
-Tahoe clarity improves, raising recovery hopes
http://blog.sfgate.com/stew/2013/03/04/tahoe-clarity-improves-raising-recovery-hopes/
-Russia's New Central Bank Governor-Definitely not a Rothschilds agent
Elvira Nabiullina, a Kremlin aide and former economy minister, was nominated by President Putin to head the Russian central bank, the first woman to take over a G8 monetary authority.
http://www.vedomosti.ru/
-Investors Business Daily Finally wakes up
Security: In addition to stockpiling over a billion bullets and thousands of semiautomatic weapons the feds would deny U.S. citizens, the vehicle of choice for fighting the counterinsurgency war in Iraq is appearing on U.S. streets.
The sequestration question du jour is why the Department of Homeland Security, busy releasing hundreds, if not thousands, of deportable and detained illegal aliens due to budget constraints, is buying several thousand Mine Resistant Armored Protection (MRAP) vehicles?
And just who are they intended to be used against?
This acquisition comes on top of the recent news of the stockpiling by DHS of more than 1.6 billion (with a 'b') bullets of various calibers, enough by one calculation to fight the equivalent of a 24-year Iraq War, and the ordering of some 7,000 5.56x45mm NATO "personal defense weapons" (PDW) — also known as "assault weapons" when owned by civilians.
Additionally, DHS is asking for 30 round magazines that "have a capacity to hold thirty (30) 5.56x45mm NATO rounds."
The Department of Homeland Security (through the U.S. Army Forces Command) recently retrofitted 2,717 of these MRAP vehicles for service on the streets of the U.S. They were formerly used for counterinsurgency in Iraq.
These vehicles are specifically designed to resist mines and ambush attacks. They use bulletproof windows and are designed to withstand small-arms fire, including smaller-caliber rifles such as a .223 Remington. Does DHS expect a counterinsurgency here?
After IEDs began to take a toll on U.S. military forces in Iraq, the Pentagon ordered a large supply of MRAPs.
"They've taken hits, many, many hits that would have killed soldiers and marines in uparmored Humvees," Adm. Michael Mullen, chairman of the Joint Chiefs of Staff, said in a recent interview.
A DHS officer, Robert Whitaker, stationed in El Paso, Texas, recently proudly described the agency's new armored toy as "Mine-resistant … we use to deliver our team to high-risk warrant services … (with) gun ports so we can actually shoot from within the vehicle; you may think it's pretty loud but actually it's not too bad … we have gun ports there in the back and two on the sides as well. They are designed for .50-caliber weapons."
This is needed to serve warrants? Perhaps it might have been useful at Waco.
So the question is what does DHS need 1.6 billion bullets, 7,000 Ar-15s and 2,700 armored vehicles for?
What are they anticipating or planning for, and why are few in the media and Congress asking about it, particularly in the light of daily apocalyptic bleats from the administration about sequestration cuts?
http://news.investors.com/ibd-editorials/030513-646857-dhs-buys-special-armored-fighting-vehicles.htm#ixzz2NLZwHyiw
-Oprah/Ellen Degenerate gets campaign payback
Obama Feds spend $1.5m to study lesbian obesity
- I will summarize the close sometime later. Unfortunately when I got up this morning, I dropped a coffee cup but managed to catch it just as it hit the counter and slashed my hand open as it split nearly perfectly in half, a bizarre accident. It is too painful to type right now. Lots of hacking attacks and viruses being launched today. Must be some kind of satanic high day in in England with 3/13/2013. I cant wait until the English people are burning  simply as I am tired of all the death threats, curses and other filth coming from these people. Creepiest people on the face of the Earth the English as they are monomanical about their drug and war mongering Anglo-Hebraic Queen and homosexual marriage and their love of witchcraft and the occult is unprecedented in the history of mankind. At least the Jew just loves his money and usury and is power mad. There is a much darker aspect to the foul English. I condemn their evil in England,  down to all but a few honest men. The English have been well sheltered by Satan with their abuse of the American -Christian people, American financial system, and theft from other peoples in the world. At some point the English people have to pay for their 14000 years of rejecting the Gospel and making war on the world with their Jewish first cousins. Scorn to you English people, repent of your filth and theft. Filthy English witches and queers and you're proud of it all in England.
-PIMCO Insider Bill Gross: ECB should ease shortly . Euro needs to decline to support peripheral countries.
-Cameron demanding Homosexual marriage claiming and lying it makes a 'stronger society', getting right on top of the satanic Queen' demands. Says he respects(liar) opponents but screw them it is going through. English parliament, being the satanists/masons and Jews they are will approve it.
-Markets
12:27 p.m. EDT 03/12/13Major Stock Indexes

12:26 p.m. EDT 03/12/13Treasurys

12:17 p.m. EDT 03/12/13Futures

12:27 p.m. EDT 03/12/13Currencies
-USA Political and Government Goons Reap what they sow as Key Financial Data is hacked
http://www.dailymail.co.uk/news/article-2291892/Celebrities-hacked-Kim-Kardashian-Beyonc-13-celebrity-victims-hacker.html
-Europe Closing Prices
A lot of ESM action in the European bond markets today, despite multiple open festering wounds we got major rallies therein: France refusing to continue on with deficit reduction, and their economy now like Italy's in a major recession; the Greeks resisting cutting government jobs and failing on all levels; Cyprus and their bailout demands;  the uncertainty in the political elections of Italy, and finally the UK dispelling beyond any Osborne/Cameron hype their economy is in a severe down turn, and only housing prices and stock prices remain aloft . Weidmann tossed some cold water on Merkel's gang today, by warning the EU crisis was not over, although he too is pumping this 2H recovery, predicated I guess on the USA congress and Obama spending like wild to get Angela Rothschilds her third term. NYT had a great article on how Italian Small and Medium sized family owned business are being destroyed by Mario Monti, one GS executive who deserves to be tried and meet the same fate Mussolini.  Europe is run by Eurotrash, they all love Abba in Brussels and London, Frankfurt and Berlin as they make those 'cool' Masonic/Talmudic signs. Little emerged out of the Ambrosetti conference ex the Jew Roubini cut his forecast to 1.5 pc for 2013, after the USA Conference Board cut theirs and he opined on the many well known messes in Europe. BI got someone at the conference  to feed them the GS presentation by London's Oneill. He goes on USA TV to pump the stock rally but in the London press he said things were looking toppy. Typical Lying Goldman Sachs thug.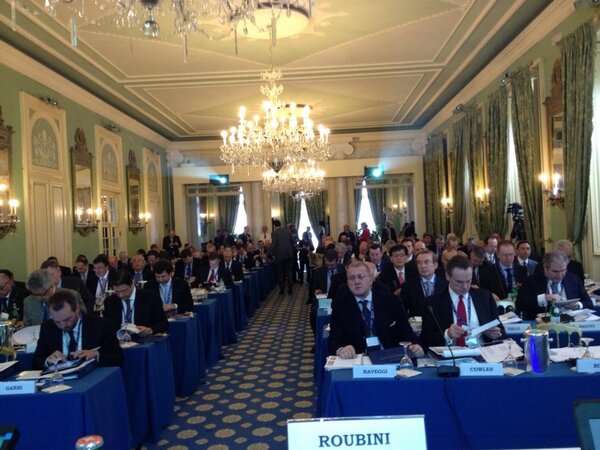 http://www.businessinsider.com/jim-oneill-2013-ambrosetti-presentation-2013-3?op=1?(HT
-No one is making  any money on sugar at .18 cents a pound given fuel and fertilizer and processing costs. The FEDS management of commodity price indices often puts producers out of job, and often into suicide. What we need in the USA and the globe are more rich farmers and more City of London and WSJ and Washington DC people killing themselves.
-Germans looking to gut USA with $1 hr Turkish Workers as Obama lies.. about 'free trade'
President Barack Obama said on Tuesday that forging additional newtrade deals has to be an important part of U.S. government efforts to spur economic growth and create jobs."Part of it is making sure we get in place strong trade deals," Obama said at a meeting of the President's Export Council, which brings together corporate leaders and members of Obama's Cabinet to discuss how to boost U.S. exports.The White House, after winning approval of trade agreements with Colombia, Panama and South Korea in 2011, has been "moving aggressively" with ten other countries on the negotiation of the proposed Trans-Pacific Partnership pact, Obama said.That is envisioned as a "high-standard trade regime that we think can advantage U.S. companies' workers and U.S. companies because it sets a bar that is fair and free," Obama said.He also touted a proposed U.S.-EU free trade pact, which the transatlantic partners hope to start negotiating by June.Obama said he was "modestly optimistic" those talks would succeed because the 27-nation European Union appears "hungrier for a deal" than in the past and was consequently more willing to deal on tough farm trade issues that so far have been difficult resolve.
———-
Europeans can sell their almonds unpastuerized to the USA, but the USA has to pastuerize their almonds making them less desireable. There are a host of regulations and barriers the Eurotrash put up for their markets and demand, and get little or no barriers to importing to the USA as Obama works for the Queen of England. Really this 'free trade ' must stop and we must move to balanced and fair trade and stop trading with communist China until it has religious freedom, and political reform and leaves Tibet. Contact your Senators and demand no more 'free trade' but 'balanced and fair trade' thanks.
-Orange Juice Hits Fresh 2013 High. USDA Weighs Sugar-Market Intervention.
Agricultural Commodity Prices
NEW YORK—The U.S. Department of Agriculture is likely to buy sugar in the domestic market this year in order to drive prices up and prevent defaults on loans made to sugar processors, according to a USDA economist.
The USDA estimates it would need to buy 400,000 tons of sugar to boost prices to an "acceptable level," said Barbara Fecso, an economist at the department. A purchase of 400,000 tons would amount to about 4.4% of projected U.S. sugar production in the marketing year that ends Sept. 30.
Domestic sugar prices have been trading at about 20 cents a pound, their lowest level in nearly four years, putting companies that make sugar from cane or beets at risk of defaulting on loans they received from the USDA when prices were higher.
"If this price level for raw sugar stays as loans come due on August 1st, then we would expect forfeitures," Ms. Fecso said.
But instead of waiting for the defaults to occur, the USDA likely would turn to the as-yet-untested Feedstock Flexibility Program outlined in the 2008 Farm Bill and intervene to raise prices, allowing processors to receive a higher price for their sugar and thus repay their loans.
The FFP also requires that the USDA resell the sugar it purchases to U.S. ethanol producers, reflecting a push by U.S. lawmakers for more clean-burning biofuels to be blended into domestic gasoline supplies.
But U.S. ethanol producers don't have much use for the sugar. Most use corn as a feedstock, and while plants can include some sugar in the mix, renewable-fuel makers earn extra money from the byproducts of corn ethanol production.
The "logistical complications would decrease the value of the sugar to us," said Neal Kemmet, president and general manager of Ace Ethanol LLC, an ethanol plant in Stanley, Wis.
To entice ethanol producers to buy the sugar, the USDA's Commodity Credit Corporation is expected to sell it at a loss of about 10 cents a pound, or $80 million total, Ms. Fecso said.
"If we acquire [sugar] in a down market, we have to get rid of it because we don't want to own sugar, so we're going to lose money," Ms. Fecso said. "No matter how we dispose of it, there's going to be a loss, so if we sell it [to ethanol producers], at least we're getting something in return for it."
Prior to the 2008 Farm Bill, the government would give away or sell in the open market any sugar it obtained in lieu of payment on defaulted loans. The last time there were defaults, in 2004, the cost to the government was less than $1 million.
For now, the USDA is watching sugar prices and gauging whether intervention will be necessary. Prices are down 5.8% for the year, settling at 21.10 cents a pound Monday on the ICE Futures U.S. exchange. In the current marketing year, the average federal loan rate—the amount USDA lets sugar processors borrow against their output—was 18.75 cents a pound for sugar produced from cane. The rate for beet sugar was 24.09 cents a pound.
On April 1, the CCC is expected to announce whether it will activate the Feedstock Flexibility Program this year. If it doesn't activate the program then, the CCC can re-evaluate the need for the program July 1. The CCC had no immediate comment.
www.wsj.com
Grains
| Commodity | Units | Price | Change | % Change | Contract | Time(ET) |
| --- | --- | --- | --- | --- | --- | --- |
| CBOT Corn | USd/bu. | 713.50 | +2.00 | +0.32% | May 13 | 11:04:54 |
| CBOT Wheat | USd/bu. | 699.00 | +0.75 | -0.14% | May 13 | 11:04:54 |
| CBOT Oats | USd/bu. | 394.50 | +1.50 | +0.38% | May 13 | 10:02:59 |
| CBOT Rough Rice | USD/cwt | 15.28 | +0.04 | +0.23% | May 13 | 09:59:33 |
| CBOT Soybeans | USd/bu. | 1,473.00 | -6.00 | -0.41% | May 13 | 10:04:56 |
| CBOT Soybean Meal | USD/st | 435.70 | -2.20 | -0.50% | May 13 | 10:04:56 |
| CBOT Soybean Oil | USd/lb. | 50.43 | -0.01 | -0.02% | May 13 | 10:04:53 |
| ICE Canola | CAD/mt | 628.30 | -0.10 | -0.02% | May 13 | 10:04:56 |
Softs
| Commodity | Units | Price | Change | % Change | Contract | Time(ET) |
| --- | --- | --- | --- | --- | --- | --- |
| ICE Cocoa | USD/mt | 2,166.00 | +36.00 | +1.69% | May 13 | 10:03:49 |
| ICE Coffee "C" | USd/lb. | 142.30 | -1.50 | -1.04% | May 13 | 10:04:45 |
| ICE Sugar #11 | USd/lb. | 18.57 | -0.23 | -1.22% | May 13 | 10:04:54 |
| ICE Orange Juice Conc | USd/lb. | 137.35 | +1.10 | +0.81% | May 13 | 10:04:50 |
| ICE Cotton #2 | USd/lb. | 86.58 | -0.18 | -0.15% | May 13 | 10:04:42 |
| SFE Greasy Wool | cents/kg | 1,250.00 | +2.00 | +0.16% | Apr 13 | 00:07:29 |
| CME Lumber | USD/tbf | 399.30 | +4.40 | +1.11% | May 13 | 10:03:54 |
| TOCOM Rubber | JPY/kg | 286.00 | -6.50 | -2.22% | Aug 13 | 04:59:56 |
| CME Ethanol | USD/gal. | 2.34 | -0.00 | -0.09% | Aug 13 | 10:02:35 |
Livestock
| Commodity | Units | Price | Change | % Change | Contract | Time(ET) |
| --- | --- | --- | --- | --- | --- | --- |
| CME Live Cattle | USd/lb. | 128.80 | +0.75 | +0.53% | Apr 13 | 10:05:07 |
| CME Feeder Cattle | USd/lb. | 144.33 | +0.58 | +0.40% | May 13 | 11:04:16 |
| CME Lean Hogs | USd/lb. | 81.43 | +0.28 | +0.34% | Apr 13 | 11:05:06 |
- German Econ Min Roesler : reiterated view that German economy was on the threshold towards recovery in spring and expected exports to gradually pick up
- German Bundesbank President Weidmann: German economy still in good shape but the debt crisis remained biggest risk to domestic economy. Short term inflation risks declining. (German Press)
- BoJ Nominee Iwata: Good to revise BOJ Law and add employment to mandate; inappropriate to set hard target; must proceed with QE to continue current trend of weak yen & stock rally (Still being opposed by DPJ)
-French President François Hollande said the country's budget deficit will be well above what he pledged when he came to power 10 months ago, and Europe needs to change its dose of austerity to fuel an economic recovery. WSJ
- Tech stocks put in a mixed early trading performance Tuesday, with Apple Inc. AAPL -1.08% and VeriFone Inc. PAY +7.53% among the advancers. Apple's shares edged up by 80 cents to $439 despite Peter Misek of Jefferies cutting his price target on the stock to $420 from $500. VeriFone Inc. PAY +7.53% was one to the leading gainers, with its shares up 6% at $21.68 after the payment-technology company replaced Chief Executive Doug Bergeron. The Nasdaq Composite Index COMP -0.27% was off by 7 points at 3,246. mw
-J.C. Penney: CEO Ron Johnson not resigning
-MARKETS – AT A GLANCE
10:18 a.m. EDT 03/12/13Major Stock Indexes

10:17 a.m. EDT 03/12/13Treasurys

10:08 a.m. EDT 03/12/13Futures

10:18 a.m. EDT 03/12/13Currencies
-What a Criminal Joke, UK 'Reforms' FSA
http://dealbook.nytimes.com/2013/03/11/responding-to-financial-crisis-britain-overhauls-its-regulators/
About as much reform  there at the BBC after the Jimmy Savile Paedophile scandal. Instead the Queen wants to make child sex 'ok'. How about BP's corner in Brent you lying English or how about that fractional LBMA gold  riggers assoc or  the rigged BDI.
-Boeing is likely to seek approval from its board as early as next month to start taking orders for an updated version of its 777 passenger jet, industry officials said Monday.The company plans to add lightweight carbon-composite wings and new engines to the popular model to take advantage of new technologies that it developed for its 787 Dreamliner and to cut fuel usage by perhaps 20 percent. The 777 holds a sweet spot in the growing commercial plane market. It seats more than 300 people, but with only two engines, it is cheaper to operate than the largest planes, like the Boeing 747 or the Airbus A380.All 50 of the 787s delivered so far have been grounded after two incidents involving smoke and fire from new lithium-ion batteries, and no decision has been made about which batteries would be in the new 777s.But the long-awaited decision to upgrade the planes would be an important moment for Boeing as it tries to hold onto its recent dominance in sales of twin-engine planes, which represent the middle of the size range for commercial jetliners.Airbus, Boeing's main rival, is building the A350-XWB, its first jet making substantial use of composite parts, to compete with both the 787 and the larger 777. Boeing also plans to build two larger versions of the 787.Boeing would like to deliver the first of two new models of the 777 to customers by 2019.The first model would probably seat about 400 people, while the second one would hold about 350 passengers and be ready in 2021.Boeing's plans to seek board approval soon were first reported by Aviation Week. It said Boeing was trying to decide whether to offer engines from both General Electric and Rolls-Royce and might make G.E. the sole supplier.Boeing is already working on an extended 787, called the 787-9, and some analysts had expected the company's board to approve an even longer 787-10 before authorizing the 777 upgrade.But while Boeing works to fix the 787 batteries, airlines have been pushing harder for a decision on the new 777. Boeing has also been talking to airlines about design plans for 787-10. But its board has not yet approved that jet for sale.NYT
-U.S. STOCKS OVERVIEW
9:47 a.m. EDT 03/12/13Major Indexes

9:47 a.m. EDT 03/12/13Markets Diary

| | | | |
| --- | --- | --- | --- |
| Issues | NYSE | Nasdaq | NYSE MKT |
| Advances | 1,073 | 889 | 136 |
| Declines | 1,646 | 1,212 | 156 |
| Unchanged | 158 | 127 | 37 |

| | | | |
| --- | --- | --- | --- |
| Issues at | | | |
| New Highs | 106 | 76 | 7 |
| New Lows | 7 | 5 | 2 |

Share Volume
Total
240,716,932
150,961,446
7,277,087
Advancing
112,376,228
45,654,058
4,548,361
Declining
122,156,386
102,536,205
2,429,165
-Germany's central bank has warned the euro crisis is not over and more reforms are needed by governments to get on top of it. The Bundesbank reported a significant strengthening of its risk buffer.German Bundesbank President Jens Weidmann on Tuesday urged eurozone governments to tackle the roots of the protracted debt crisis with bold reforms. "The crisis is not over despite the recent calm on financial markets," Weidmann told reporters in Frankfurt.The central bank chief added he sensed a big deal of uncertainty about restructuring endeavors in Italy and Cyprus, but also expressed doubts about the French drive towards budget consolidation. "The reform course in France seems to have floundered," Weidmann commented during a presentation of the bank's 2012 earnings report.The report showed the Bundesbank increased its annual surplus by 21 million euros ($27.3 million) to 664 million euros last year. But the figure was less than half of what German Finance Minister Wolfgang Schäuble had been hoping for.Bundesbank chief Jens Weidman explained it increased its risk buffers by 6.7 billion euros to a total of 14.4 billion euros, meaning that transfers to the federal government remained at a relatively low level for the second straight year despite significantly higher interest rate income in 2012.The German central bank addressed what it called heightened financial risks which the ECB had taken on to help lenders through the debt crisis, for instance by accepting lower-rated assets in return for cash, exposing it to larger losses, if a bank failed to repay.Berlin was expected to pass some of the Bundesbank profit on to Greece in line with an agreement reached among eurozone finance ministers and the International Monetary Fund (IMF).Although precise figures were not given on Tuesday, the Bundesbank generated a great deal of its 11-billion-euro interest income from Greek bond holdings, with some resources to go back to Athens to help with the country's debt servicing. DW
-Market Monitor
9:40 a.m. EDT 03/12/13Major Stock Indexes

9:39 a.m. EDT 03/12/13Treasurys

9:30 a.m. EDT 03/12/13Futures

9:40 a.m. EDT 03/12/13Currencies
-Global Warming Smacks Socialist Global Warming Eurotrash in the face
A heavy late-winter snowstorm battered northwestern Europe on Tuesday, causing massive disruptions including the closure of Frankfurt airport and the suspension of trains between Paris and London.The unseasonable snowfall — coming only eight days before the official start of spring — also knocked out power to thousands of people in France and left hundreds of motorists stranded in their cars.France was worst affected but Germany, Britain, Belgium and The Netherlands also reported major disruptions.Frankfurt airport, Europe's third-busiest hub, announced it had been forced to close due to heavy snow, with more than 200 flights scrapped by late morning. An airport spokesman was unable to say when it would be able to re-open.The Eurostar high-speed train between London and Paris was also suspended after heavy snowfall on the tracks in northern France and Belgium. Eurostar said it expected services to resume on Wednesday.Nearly a third of France's regions were on alert and the government activated a ministerial crisis group.Weather service Meteo France described the snowfall as "remarkable for the season" and warned that alerts would probably remain in place until at least Wednesday.More than 2,000 people were stranded in their cars overnight as heavy snow paralysed roads in Normandy and Brittany, with many spending the night in emergency shelters.About 80,000 homes in the north and northwest of France were without power, following snowfalls of up to 60 centimetres (24 inches).The snow caused major disruptions as it moved into Paris, with authorities urging the seven million commuters who use public transport every day to stay home. Several major roads around the capital were closed.The city's two main airports, Charles de Gaulle and Orly, said they had cancelled up to a quarter of flights and the nearby Beauvais airport, serving mainly low-cost airlines, cancelled all flights.At Orly, a Tunisair flight carrying 140 people from Djerba skidded off the runway on landing but no one was injured, an airport source said.A traffic accident near Lille injured 14 people and a 58-year-old homeless man was found dead, presumably from the cold, outside a building in the town of Saint-Brieuc in Brittany.Hundreds were also stuck in their cars overnight in Britain, some for more than 10 hours as ice, snow and freezing winds descended on southeastern England.Police, rescue services, snow ploughs and gritting lorries battled to help the motorists in temperatures as low as -3 degrees Celsius (26 degrees Fahrenheit), with some areas under 10 centimetres (four inches) of snow.Public transport in Berlin was affected with several regional trains cancelled or severely delayed. There were also a spate of crashes on icy German roads with several people seriously hurt and one death, according to police.In Belgium, the snowstorms caused massive traffic disruptions, with vehicles backed up on 1,600 kilometres (1,000 miles) of freeways due to snowdrifts and ice.Buses and trains were cancelled or delayed in Brussels and other towns and the high-speed Thalys service linking Paris and Brussels was suspended.Long traffic jams because of snow and ice also snaked along motorways in the southern Netherlands, hampering travel to and from Belgium after an unseasonal fall of more than 10 centimetres (four inches) of snow overnight. AFP
-931 USA Open
-Asia Close
Asian markets tanked in the last 90 minutes of trading.
-PIMCO, El Erian No sign as of yet of this great rotation" out of bonds & into stocks. Bonds are artificially valued by FED (CNBC)
-Greece is locked in talks with international creditors in Athens about shrinking the government workforce by enough to keep bailout payments flowing.Identifying redundant positions and putting in place a system that will lead to mandatory exits for about 150,000 civil servants by 2015 is a so-called milestone that will determine whether the country gets a 2.8 billion-euro ($3.6 billion) aid instalment due this month. More than a week of talks on that has so far failed to clinch an agreement. BBN
-German Zionist getting their wish as Italian business gutted? GS blowhard Mario Monti working with Draghi to take Italian Small-Med businesses under for communist Chinese factories?
But among Italy's estimated six  million companies, businesses of all  sizes have been going belly up at the rate of 1,000 a day over the  last year, especially among the small and midsize companies that  represent the backbone of Italy's 1.5 trillion euro, or $2 trillion, economy. One in two small companies cannot pay its employees on time, according to CGIA di Mestre, a research institute. With layoffs surging, unemployment rose to 11.7 percent in January. Youth unemployment has jumped to 38.7 percent."In one and a half years, everything changed," Mr. Tedeschi said. "People started feeling afraid, and they stopped spending money. All the promises Monti made to relaunch the economy and help us enhance productivity never materialized."Lorenzo said he had no choice but to be optimistic. "I still have my life ahead of me," he said. "I have to believe that things will get better."Mr. Tedeschi interrupted his son. "What has been happening is humiliating," he said. "If I fail, and businesses like mine fail, then everything else fails."Ms. Tedeschi put her hand on her husband's shoulder. "We are going through a financial war, which is burying us," she said. "Will there be any survivors (NYT article).
-Futures
Futures Index
Value
% Change
Open
High
Low
Time
Americas Futures
DJIA INDEX FUTURE Jun13
14,363.00
-0.13%
14,378.00
14,383.00
14,351.00
08:52:20
S&P 500 FUTURE Jun13
1,548.10
-0.15%
1,550.20
1,550.80
1,546.90
08:53:22
NASDAQ 100 FUTURE Jun13
2,798.25
-0.26%
2,804.75
2,805.50
2,797.50
08:53:21
-No Cheerleading for the Dear Leader on Main Street
The National Federation of Independent Business on Tuesday said its small-business confidence index edged up 1.9 points to 90.8% in February, but it remained low by historical standards. Companies cited weak sales as the biggest problem. Some 33% of small-business owners said sales were lower in the past three months compared to the prior three months, while only 19% reported higher sales in the same span. The earnings outlook was unchanged in February at -26%. And credit was still hard to obtain for many small businesses. "While the Fortune 500 are enjoying record high earnings, Main Street earnings remain depressed," said NFIB chief economist Bill Dunkelberg. MW
-OPEC members said Tuesday that demand for their oil in 2013 will be 100,000 barrels a day lower than previously forecast as growing output from non-member countries, particularly North American shale oil, eats into their market share.The Organization of Petroleum Exporting Countries cut its forecast of demand for its oil this year in line with its revised expectation that non-members will produce an extra 100,000 barrels of oil a day, compared with last month's forecast. Its outlook for overall global oil demand remained unchanged.For 2013, non-OPEC supply is expected to grow by 1 million barrels a day in total, due mainly to production in the U.S. where output is forecast to hit its highest level since 1985, OPEC said. MW
-Satan's People, Wall Street and Washington
JPM places its dyke Anglosaxon Attorney White to replace Schapiro at the SEC
-I've been covering a bit in the morning on the DIA/SPY, going long the open, then reestablishing the shorts higher as the DIA grinds up on the faked jobs report.
-American's trying to beat roaring inflation by buying in bulk
Tuesday, Costco reported that total same-store sales were up 5% for the period, excluding currency fluctuations and inflation in gasoline price. Same-store sales increased 5% in the U.S. and 4% internationally excluding these.For the quarter ended Feb. 17, the company reported a profit of $547 million, or $1.24 a share, versus a year-ago profit of $394 million, or 90 cents a share. The latest quarter included a $62 million, or 14-cents-a-share tax benefit in connection with the portion of a special cash dividend paid by the company in December.Total revenue jumped 8.3% to $24.87 billion. Analysts polled by Thomson Reuters expected earnings of $1.06 a share on $25.03 billion in revenue.Revenue from membership fees rose 15% to $528 million. In November of 2011, Costco raised membership fees by 10% in the U.S. and Canada, the first increase in five years.Operating margin narrowed a hair to 97% from 97.1%. Merchandise costs increased 8.1%, while selling, general and administrative expenses rose 8.4%.
-840 European Credit Markets
ESM action
German 10y 1.48-0.04, 2.61%
Italy 10y 4.56-0.02, 0.38%
Spain 10  4.72-0.04, 0.74%
U.K. 10y 1.96-0.06, 2.86%
(NL) Netherlands Debt Agency (DSTA) sold €3.48B vs. €2.5-3.5B indicated range in 0% 2016 DSL Bonds; Avg Yield 0.395% v 0.318% prior
(ES) Spain Debt Agency (Tesoso) sold total €5.83B vs. €4.5-5.5B indicated in 6-Month and 12-Month Bills . Sold €1.98B in 6-month Bills; Avg Yield: 0.794% v 0.859% prior; Bid-to-cover: 3.22x v 2.88x prior; Max Yield: 0.820% v 0.880% prior; Tail: 2.6bps v 2.1bps prior. Sold €3.85B in 12-month Bills; Avg Yield: 1.363% v 1.548% prior; Bid-to-cover: 1.85x v 1.97x prior; Max Yield 1.400% v 1.580% prior; Tail: 3.7bps v 3.2bps prior
(IT) Italy Debt Agency (Tesoro) sold €7.75B vs. €7.75B indicated in 12-month Bills; Avg Yield 1.280% (highest since Dec) vs. 1.094% prior; Bid-to-cover: 1.50x v 1.38x prior

-831 Europe
Economic Release Summary
So much for Cameron/Osborne and all the lies they have told.
(DE) Germany Feb Final Consumer Price Index M/M: 0.6% v 0.6%e; Y/Y: 1.5% v 1.5%e
(DE) Germany Feb Final CPI EU Harmonized M/M: 0.8% v 0.8%e; Y/Y: 1.8% v 1.8%e
(DE) Germany Feb Wholesale Price Index M/M: 0.1% v 0.3% prior; Y/Y: 1.4% v 2.3% prior
(FR) France Jan Current Account: -€5.0B v -€3.8B prior
(ES) Spain Jan House transactions Y/Y: 18.9% v 2.3% prior
(HU) Hungary Feb Consumer Prices M/M: -0.1% v +0.2%e; Y/Y: 2.8% v 3.1%e
(EU) ECB: €24M borrowed in overnight loan facility vs. €15M prior; €131.6B parked in deposit facility vs. €134.1B prior
(SE) Sweden Feb CPI Headline Rate M/M: 0.4% v 0.4%e; Y/Y: -0.2% v -0.2%e; CPI Level: 313.39 v 313.14e
(SE) Sweden Feb CPI Underlying Rate (CPIF) M/M:0.5% v 0.5%e; Y/Y: 0.9% v 0.8%e
(IT) Italy Feb Final CPI (nic Tobacco) M/M: 0.1% v 0.1% prelim; Y/Y: 1.9% v 1.9% prelim
(IT) Italy Feb Final CPI EU Harmonized M/M: -0.2% v -0.2% prelim; Y/Y: 2.0% v 2.0% prelim
 (UK) Jan Industrial Production M/M: -1.2% v +0.1%e; Y/Y: -2.9% v -1.1%e 
(UK) Jan Manufacturing Production M/M: -1.5% v 0.0%e; Y/Y: -3.0% v -1.0%e
(UK) Jan Visible Trade Balance: -£8.2B v -£9.0Be; Total Trade Balance: -£2.4B v -£3.2Be; Trade Balance Non EU: -£3.8B v -£4.5Be
(GR) Greece Jan Industrial Production Y/Y: -4.8% v -0.5% prior
(ZA) South Africa Q4 Current Account Balance (ZAR): -212.6B v -203.1Be; Percentage to GDP: -6.5% v -6.3%e
(TR) Turkey Jan Current Account: -$5.6B v -$5.3Be
(JP) Japan Feb Consumer Confidence: 44.3 v 43.0e
(IN) India Jan Industrial Production Y/Y: +2.4% v +1.3%e
(IN) India Feb CPI Y/Y:10.9% v 10.6%
-Japan's Nikkei Average ends 0.3% down at 12,314.81
-Abba is making a comeback
I always thought they were satire about Eurotrash, until I found out they were Eurotrash. Hard to understand all the followers these occult bands have. I will bet Merkel dances to Abba's Dancing Queen.
The DT thought this was a front page story, beyond me.
http://www.telegraph.co.uk/culture/music/music-news/9922686/ABBAs-Agnetha-Faltskog-I-couldnt-say-No-to-comeback.html
-I will be up for the EU Opening, but probably done blogging until the USA trading morning. Will add newslinks if any come up. Not a ot going on with the important nations in the EU, mainly bond auctions  are the main course on Europe's economic plate today.
-Futures
Futures Index
Value
% Change
Open
High
Low
Time
Americas Futures
DJIA INDEX FUTURE Jun13
14,368.00
-0.09%
14,378.00
14,383.00
14,368.00
01:51:04
S&P 500 FUTURE Jun13
1,548.70
-0.12%
1,550.20
1,550.80
1,548.70
01:49:25
NASDAQ 100 FUTURE Jun13
2,801.50
-0.14%
2,804.75
2,805.50
2,801.50
01:47:56
Europe, Middle East & Africa Futures
EURO STOXX 50 Mar13
2,720.00
-0.26%
2,722.00
2,726.00
2,705.00
03/11/2013
FTSE 100 IDX FUT Mar13
6,491.00
+0.01%
6,493.50
6,499.50
6,486.00
01:50:47
DAX INDEX FUTURE Mar13
7,988.00
+0.08%
7,985.00
7,999.00
7,955.00
03/11/2013
-138 Asia Economic Release Summary
Japan
Nikkei reported that BOJ Govenor Nominee Kuroda may call an extraordinary meeting his first day on the job and announce fresh round of easing; Pushing forward the start of unlimited asset buying and expanding the asset purchase program to longer-dated JGBs still seen as the most likely policy actions. The Y/D surged on the news to 96.5. BOJ Feb meeting minutes said the BOJ consider variety of further easing steps, including expansion of risk assets, maintaining ZIRP until 2% CPI in sight (Miyao), and introducing open-ended asset purchases immediately.- BOJ Dep Gov nominees Iwata and Nakaso testifying in front of Parliament upper house; Iwata says not considering an interim policy yet; Nakasa noting BOJ should emphasize easing not to finance government debt. 
 Mitsubishi Heavy Agrees to union's request for an annual bonus averaging ¥1.74M - Yahoo Japan said it would  raise wages by 5%.  TM plans to increase new hires for FY13; first increase in two years.
China
Besides the horrid economic data over the weekend and the news that the new government had the PBOC hawks on a tight reign, 2,800 dead diseased pigs went floating by the financial district in Shanghai  on the Huangpu river. The Chinese government said, not to worry, the drinking water from the river was safe.  PBOC Deputy Gov deflects the weakness in lending data and high CPI, citing impact of Lunar New Year. Former PBOC Advisor Yu Yongding said the PBOC has room to widen yuan trading band further this year. PBOC Advisor Yi Gang said Feb. new yuan loans were in line with normal levels after New Year celebrations and t hat Feb CPI was higher due to the spring festival.  China PBOC Dep Gov Yi Gang, reiterates G20 nations should stick to their commitments to avoid competitive devaluation and avoid currency wars.
Korea
Bank of Korea (BOK): Jan household loans fell by biggest margin on record, falling KRW3.6T m/m to KRW656.2T . BOK likely to keep rates unchanged at its upcoming rate decision - Hana Institute of Finance.
Australia and New Zealand
Australia Treasurer Swan said the government will not exceed debt cap limits set in 2012/13 budget. NAB revises monetary policy easing expectations for RBA and now sees 50bps in cuts vs 75bps prior.
New Zealand Fin Min English said widening drought will be clearly a setback to prior projections of a NZ$66M surplus in FY14/15 and the  government cannot rule out return to recession. Latest polls suggests  economists are split on whether the RBNZ will start to raise rates in Q4 of 2013 or Q1 or 2014.
—————–
(CH) China Jan-Feb Passenger/Commercial Car Sales Y/Y: +14.7% to 3.39M vehicles
(AU) AUSTRALIA FEB NAB BUSINESS CONDITIONS: -3 V -2 PRIOR; NAB BUSINESS CONFIDENCE: 1 V 3 PRIOR (3-month low)
(AU) AUSTRALIA JAN RBA CREDIT CARD BALANCES: A$48.7B V A$49.9B PRIOR; RBA CREDIT CARD PURCHASES: A$19.8B V A$22.4B PRIOR
(NZ) NEW ZEALAND REINZ FEB HOUSE PRICE INDEX: 3,554 V 3,488 PRIOR; HOUSE SALES M/M: +1.6% v -1.0% PRIOR; Y/Y: 8.1% V 21.1% PRIOR
(JP) JAPAN JAN TERTIARY INDUSTRY INDEX: -1.1% V -0.2%E (biggest decline since Mar 2011)
(JP) JAPAN Q1 BSI LARGE ALL INDUSTRY Q/Q: 1.0 V -5.5% PRIOR; Y/Y: -4.6% V -10.3% PRIOR (second consecutive decline)
(JP) JAPAN FEB DOMESTIC CGPI M/M: 0.4% V 0.3%E; Y/Y: -0.1% V -0.1%E (smallest decline in 11 months)
(PH) PHILIPPINES JAN TOTAL EXPORTS: -2.7% V 6.1%E; TOTAL MONTHLY EXPORTS: $4.0B V $4.0B PRIOR
-Schapiro Is Nominated to G.E. Board
General Electric announced on Monday that it had nominated Mary L. Schapiro to serve as one of its directors. She will stand for election at the company's annual meeting on April 24. Deal Book
Crown's whore and Destroyer of Markets gets plum job on Crown firm.
-It Is Only $60 Billions – Nothing Honorable About It
If one is to look at facts on the ground in Iraq and Afghanistan one can see the biggest international failures and fraud in US history. Not only did the military fail big time but the "rebuilding" of Iraq and Afghanistan was a total disaster.
The recent report issued by the US Special Inspector General for Iraq Reconstruction released few days ago is an indictment of the failures of Congress, the White House, the Pentagon and the State doing their job and the mishandling of reconstruction with over $60 Billions simply wasted. Add to this the over $90 Billions for reconstruction of Afghanistan, with Afghanistan looking worst now than before the invasion.
This is not a few millions here; this is $60 Billions, no small sum of money by any mean. This report coincided with the BBC-The Guardian recent report of US military partnership and management of training sectarian militias that simply killed, murdered and tortured Iraqis engaging in systematic torture that should have sent military commanders including Pentagon officials right to the Hague.
It seems the Pentagon of the Axis of Evil (Bush-Cheney-Rumsfeld) could not do any thing right. They enlisted war criminals who managed the "dirty wars" in Central America to manage the "insurrections" in post occupied Iraq and invited a bunch of crooks to manage the reconstruction. The US action sowed the seeds of a corrupt, sectarian and criminal regime in Iraq no different from that of the late Saddam Hussein.
According to Bob Adelmann of the New Americans the costs of the war when officially ended on December 15, 2011
"It is estimated to have costs American tax payers more than $800 billions in direct expenses and another estimated $1 trillion in additional health costs for those wounded in the war."
Joseph Stiglitz co-author of the " The Three Trillion War" arrived at $ 3 trillions as a conservative estimate.
Every American citizen should imagine perhaps using a calculator what a $60 Billions can do for their community, for their state certainly for their cities…
http://www.veteranstoday.com/author/jadallah/
-Germany Sec. General of the CSU (ruling coalition member) party Dobrindt: Reiterates Greece is still the primary risk to the euro zone and may still have to leave the euro – German press
- German Fin Min Schaeuble: UK exit from the EU would be catastrophic – Austrian press
-105 Asia
Bonds
U.S. 10yr 2.07+0.01, -0.30%
Japan 10yr 0.65-0.03, 4.12%
Gold/Silver ETFs
GLD ETF :SPDR Gold Trust ETF daily holdings fall by 3.0 tons to 1,236.7 ton (lowest since 1233.6 in Oct of 2011)
-A state judge stopped the Bloomberg administration from banning the sale of large sugary drinks at restaurants and other venues, a major defeat for the mayor. NYT
-Zionist Shylock Greenberg to Sue USA Taxpayers for not giving him enough money for his bankrupt firm
Starr International Co., headed by former American International Group Inc. chief executive Maurice Greenberg, will be able to pursue its case against the U.S. government as a class action, The Wall Street Journal reported Monday. Starr — which was one of AIG's biggest shareholders — has alleged that elements of AIG's bailout were unconstitutional, the report said.  MW
-For the second time in history, federal regulators have accused an American state of securities fraud, finding that Illinois misled investors about the condition of its public pension system from 2005 to 2009.In announcing a settlement with the state on Monday, the Securities and Exchange Commission accused Illinois of claiming that it had been properly funding public workers' retirement plans when it had not. In particular, it cited the period from 2005 to 2009, when Illinois also issued $2.2 billion in bonds. NYT
- One in four Germans would be set to vote in September's federal election for a party that wants to quit the euro, according to an opinion poll published on Monday that highlights German unease over the costs of the euro zone crisis. Reuters
-Intense lobbying by central government agencies and debt-laden local governments is keeping People's Bank of China hawks in check after inflation jumped to a 10-month high, forcing the central bank to keep its monetary policy setting in neutral.Official data showed China's anemic pace of economic recovery from the slowest year of growth since 1999 may have paled early this year with a cooling in the domestic demand the new government has promised will lead the revival.Beijing's concerns over growth are leaving the central bank with little choice but to toe the line and help to keep the expansion going, senior sources with knowledge of the situation said.One area of government pushing hard for growth is the country's powerful planning agency, the National Development and Reform Commission (NDRC), said one source."The NDRC must make sure that the economic growth goal will be achieved," said the source, an NDRC researcher who is involved in drafting policy and who takes part in internal discussions of policies. "We cannot see any room for policy tightening right now." Data at the weekend showed that industrial output rose 9.9 percent in January and February, less than expected. Retail sales rose 12.3 percent, the weakest pace for the combined months since 2004. The figures disappointed some who had hoped for a stronger pick up in a recovery that only started in the fourth quarter following seven straight quarters of a slowdown.Reuters
-Confidence in U.K. credit is declining the most in the global sovereign-debt market on concern the economy will fall into its third recession in five years and force the government to increase borrowing.Credit-default swaps insuring gilts rose 76 percent from a more than four-year low of 26 basis points on Nov. 1, the most among 67 governments tracked by Bloomberg. The swaps cost 10 basis points more than contracts on German bunds, the 17-nation euro-area's benchmark debt securities, compared with 34.5 basis points less in June. Rising swap prices signal a deterioration in investor sentiment. BBN
-Residents of the Falkland Islands voted almost unanimously to stay under British rule in a referendum aimed at winning global sympathy as Argentina intensifies its sovereignty claim, results showed on Monday. DT
-Afghan War Falling Apart at the Seams
Hagel, Karzai Meet in Private, as Anger Grows at Occupation Forces
by Jason Ditz, March 11, 2013
After their press conference was cancelled yesterday over "security concerns," Afghan President Hamid Karzai finally met with Secretary of Defense Chuck Hagel today,albeit in private. Hagel put a brave face on the situation after the meeting, downplaying differences with Karzai, who has accused the US of "colluding" with the Taliban.
But even putting aside that rhetorical issue, Hagel's visit has coincided with a series of incidents that suggest the US occupation, nearing its 12th full year, is flying apart at the seams, with insider attacks and popular opposition once again on the rise.
Yesterday, Afghan university student Abdul Qayum detailed his kidnapping and tortured at the hands of an apparent CIA strike force, while protesters in the Wardak Province todayblasted US special forces for ignoring a deadline to withdraw from the province after being caught in a series of "disappearances" and murders of their own. Some villagers are threatening an outright revolt if the troops remain, while the US seems opposed to removing them.
The dirty war behind the Afghan occupation has always been smoldering just under the surface, but is becoming more and more obvious and ugly, with US commanders openly refusing to ever hand over detainees held without charges unless the Karzai government promises never to give them trials. Officials maintain the detainees are "dangerous," but concede they don't have the evidence to ensure them being convicted in an actual court of law.
Death tolls also seem on the rise today too, with a pair of US soldiers killed in an insider attack in Wardak, and then another five killed in a helicopter crash.
Each of the issues and many more have been brewing for a long time, but with so many coming to a head at once, it seems that official claims of "progress" in the war are getting more and more farcical, and the sustainability of the war in serious doubt.
www.antiwar.com
-Geopolitical Headliners
| | |
| --- | --- |
| | Updated March 12, 2013 – 12:16 AM EDT |
-There were no releases for Econometrics in for the USA on Monday
-Monday Economic Releases Europe Session
(CY) Cyprus Q4 Final GDP Q/Q: -1.1 v -1.0% prior; Y/Y: -3.4% v -3.1% prior
(PL) Portugal Q4 Final GDP Q/Q: -1.8% v -1.8% prelim; Y/Y: -3.8% v -3.8% prelim
(RU) Russia Feb Light Vehicle & Car Sales Y/Y: 2% v 0%e
(DE) Germany Jan Current Account: €11.3B v €10.5Be; Trade Balance: €13.7B v €13.9Be; Imports M/M: 3.3% v 0.7%e; Exports M/M: 1.4% v 0.5%e
(DE) Germany Q4 Labor Costs Q/Q: 0.8% v 0.2% prior; Y/Y: 2.9% v 2.9% prior
(FI) Finland Jan Preliminary Trade Balance: -€425M v -€772M prior
 (FR) France Jan Industrial Production M/M: -1.2% v -0.2%e; Y/Y: -3.5% v -2.7%e 
 (FR) France Jan Manufacturing Production M/M: -1.4% v -0.2%e; Y/Y: -4.5% v -3.3%e
(HU) Hungary Jan Preliminary Trade Balance: €317.9M v €384.0Me
(CZ) Czech Feb CPI M/M: 0.1% v 0.2%e; Y/Y: 1.7% v 1.8%e
(CZ) Czech Q4 Avg Real Wage Y/Y: +0.9%% v -0.5%e
(CZ) Czech Q4 Final GDP Q/Q: -0.2% v -0.2%e; Y/Y: -1.7% v -1.7%e
- (DK) Denmark Jan Current Account (DKK) 4.7B v 5.0Be; Trade Balance (ex shipping): 6.6B v 6.0Be
(DK) Denmark Feb CPI M/M: % v 1.2%e; Y/Y: 1.2% v 1.2%e
(DK) Denmark Feb CPI EU Harmonized M/M: 1.0% v 1.0%e; Y/Y: 1.0% v 1.0%e
(EU) ECB: €15M borrowed in overnight loan facility vs. €206M prior; €134.1B parked in deposit facility vs. €129.1B prior
(CH) Swiss Jan Real Retail Sales Y/Y: 1.9% v 5.1% prior
(IT) Italy Q4 Final GDP Q/Q: -0.9% v -0.9%e; Y/Y: -2.8% v -2.7%e
(NO) Norway Feb CPI M/M: 0.7% v 0.7%e; Y/Y: 1.0% v 1.0%e
(NO) Norway Feb CPI Underlying M/M: 0.7% v 0.8%e; Y/Y: 1.1% v 1.1%e
(NO) Norway Feb Producer Prices incl.Oil M/M: 0.5% v 0.0% prior; Y/Y: -2.8% v -2.4% prior
(GR) Greece Q4 Final GDP Y/Y: -5.7% v -6.0% prior
(UK) UK FEB LLOYDS EMPLOYMENT CONFIDENCE: -44 V -45 PRIOR
-Monday Economic Releases Asia Session
(CN) CHINA FEB CONSUMER PRICE INDEX (CPI) Y/Y: 3.2% V 3.0%E (10-month high), M/M: 1.1% (13-month high); PRODUCER PRICE INDEX (PPI) Y/Y: -1.6% V -1.5%E
(CN) CHINA FEB NEW YUAN LOANS (CNY): 620B V 750BE (v 711B y/y)
(CN) CHINA JAN-FEB RETAIL SALES Y/Y: 12.3% V 15.0%E (multi-year low)
(CN) CHINA JAN-FEB INDUSTRIAL PRODUCTION Y/Y: 9.9% V 10.6%E (slowest Jan-Feb 2-month start to the year since 2009)
(CN) CHINA JAN-FEB URBAN FIXED ASSETS YTD Y/Y: 21.2% V 20.7%E (1-YEAR HIGH)
(CN) CHINA FEB M2 MONEY SUPPLY Y/Y: 15.2% V 14.9%E (19-month high); M1 MONEY SUPPLY Y/Y: 12.4% V 9.5%E
(CN) China Feb Aggregate Financing (CNY): 1.07T v 1.50Te
(JP) JAPAN JAN MACHINE ORDERS M/M: -13.1% V -1.7%E (1st decline in 4 months; biggest decline in 8 months); Y/Y: -9.7% V -0.3%E
(NZ) NEW ZEALAND FEB NZ CARD SPENDING RETAIL M/M: 0.8% V 0.5%E; TOTAL M/M: 0.8% V 0.4% PRIOR
(IN) India Feb Trade Balance: -$14.9B v -$20.0B prior; Imports Y/Y: 2.6% v 6.1% prior; Exports Y/Y: 4.3% v 0.8% prior
(JP) Japan Feb Preliminary Machine Tool Orders Y/Y: -21.5% v -26.4% prior
-Luke7-6,7
6 Then Jesus went with them. And when he was now not far from the house, the centurion sent friends to him, saying unto him, Lord, trouble not thyself: for I am not worthy that thou shouldest enter under my roof:7 Wherefore neither thought I myself worthy to come unto thee: but say in a word, and my servant shall be healed.
Newslinks
-Europes Accounting rules destroying banks
http://www.bloomberg.com/news/2013-03-11/europe-s-accounting-rules-are-destroying-its-banks.html
-Chevron says it expects to generate more than $50 billion in cash by 2017
-Jews now fixing Austrian election as pro Zionist candidate elected in Austria Heartland
http://www.guardian.co.uk/world/2013/mar/12/austria-far-right-election-result?CMP=twt_gu
-EU targets Iranian judges, media bosses with sanctions
http://news.yahoo.com/eu-targets-iranian-judges-media-bosses-sanctions-110756917.html
-House Plan would slash deficit Quickly
No chance of passing Senate, as it cuts Obummer care.
http://www.marketwatch.com/story/house-budget-plan-would-slash-deficit-quickly-2013-03-12

-Barroso Urges Europe to Keep Cutting Debt
http://www.nytimes.com/2013/03/12/business/global/barroso-urges-eu-to-keep-cutting-debt.html?src=recg
-"Der Minister": "Angela Merkel war mal sehr, sehr hübsch" http://on.welt.de/YplwKd
-Greece Faces 150,000 Job-Cut Hurdle to Aid Payment: Euro Credit
http://www.bloomberg.com/news/2013-03-12/greece-faces-150-000-job-cut-hurdle-to-aid-payment-euro-credit.html
-On the Brink in Italy..
http://www.nytimes.com/2013/03/12/business/global/12iht-euitaly12.html?ref=business&_r=1&
-Vladimir Putin's quest to rebuild the Soviet state  http://fam.ag/16jpoEb
-Former U.S. President Bush's Brother to Invest in Singapore Firm
http://www.bloomberg.com/news/2013-03-12/former-u-s-president-bush-s-brother-to-invest-in-singapore-firm.html
-Gold Sales From Soros Reveal 12-Year Bull Run Decay: Commodities
http://www.bloomberg.com/news/2013-03-12/gold-sales-from-soros-reveal-12-year-bull-run-decay-commodities.html
-Italy may delay stability plan due to politics – source
http://uk.reuters.com/article/2013/03/11/uk-italy-eu-delay-idUKBRE92A0KA20130311
-US expands NorthKorea sanctions http://bbc.in/X1znXP
-With new group, Obama team seeks answer to Karl Rove
http://www.reuters.com/article/2013/03/12/us-usa-lobbying-carson-idUSBRE92B06E20130312
-Paulson Said to Explore Puerto Rico as Home With Low Tax
http://www.bloomberg.com/news/2013-03-11/paulson-said-to-explore-puerto-rico-as-home-with-low-tax.html
-Yen Declines for Fifth Day as Iwata Signals BOJ Easing
http://www.bloomberg.com/news/2013-03-11/yen-drops-to-3-1-2-year-low-before-boj-releases-minutes.html
-Japan Begins Test Production of Frozen Gas Locked Under Seabed
http://www.bloomberg.com/news/2013-03-12/japan-begins-test-production-of-frozen-gas-locked-under-seabed.html
-India Car Sales Poised for First Fall in Decade on Demand
http://www.bloomberg.com/news/2013-03-11/india-car-sales-poised-for-first-fall-in-decade-on-demand.html
-Banks saved, but Europe risks "losing a generation"
http://www.reuters.com/article/2013/03/11/us-eu-parliament-crisis-idUSBRE92A08W20130311
-French Industrial Output Tumbles as Recession Looms
http://www.bloomberg.com/news/2013-03-11/french-industrial-production-tumbles-as-recession-looms.html
-Bernanke Provokes Mystery Over Fed Stimulus Exit
http://www.bloomberg.com/news/2013-03-11/bernanke-provokes-mystery-over-fed-stimulus-exit.html
-Italy's Grillo Says He Quits If Members Back PD Government
http://www.bloomberg.com/news/2013-03-11/italy-s-grillo-threatens-to-quit-politics-if-members-support-pd.html
-China politics keep central bank hawks at bay, for now
http://www.reuters.com/article/2013/03/11/us-china-economy-policy-idUSBRE92A11P20130311?feedType=RSS&feedName=businessNews&utm_source=feedburner&utm_medium=feed&utm_campaign=Feed%3A+reuters%2FbusinessNews+%28Business+News%29
-Britain Loses to Germany as CDS Rise Most in World: U.K. Credit
http://www.bloomberg.com/news/2013-03-12/britain-loses-to-germany-as-cds-rise-most-in-world-u-k-credit.html
-Intrade Shuts down
http://mobile.businessweek.com/articles/2013-03-11/whats-behind-the-mysterious-intrade-shutdown
-Shanghai races to clean river where 2,800 dead pigs were found http://bloom.bg/ZEKI1J
-Boeing 787 : l'enquête américaine se concentre sur la fabrication des batteries http://lemde.fr/12Kgb8I
-U.S. calls North Korean threats hyperbolic as Kim inspects units http://bloom.bg/ZBnE66