Headliners
-600 Barclays banksters make more than $1.5 million a year.
-Jack Lew moves to Senate floor for assured approval. Rigs Markets for Bernanke's testimony today and Obama's sequester fail.
-UK is sprinting toward Junk Bond Status -London Eye
-Pimco chief Bill Gross says credit markets are overheating, but he wouldn't abandon ship just yet
-FAA obstructing Boeing Fix
-Van Cliburn dies In Texas
-Italians have big Fail to form Government today as acrimony break out in force.   Bersani says 'et tu' to Grillo and the Berlusconi says 'et tu' to the Watermelons and Bersani
-Russia threatens to use nukes if NATO gang interfere in Syria
-Obama  administration threatens to shut camp-sites unless he gets infinite money
-Italians test the Debt market, 10 years at 5.80 % plus
-USA Durable goods decline 5.2 % in Jan as Boeing comes to halt
-Putin warns of foreign threat, vows non-stop military reform
-Regierungskrise in Rom: Steinbrück lästert über Italiens zwei "Clowns"
-Iran said to plan Counter Offer, to Ashton Lead Non-starter proposal. Iran talk end with promises of more talks
-Mexico Demands Physical Audit of Sovereign Gold Holdings stored in London
-Gold Miners said to focus on Operating margins and not Gross Margins
-Greedy Jamie Dimon of JPM to Cut 17,000 Jobs to fatten His Bonus Paycheck
-Hagel Confirmed at Defense- AIPAC Defeated
=================================
Commentary
-WS/ESF celebrating Jack Lew the Dirty Market Rigging Rabbi's ascension to the UST money printing temple. Ha, ha, what utter ESF /FED/UST bull manure, wall to wall on the tape today. The 'muscle' guys. My overnight bias is to give at least 1/2 of this back. Ive loaded my short selling gun accordingly.
4:00 p.m. EST 02/27/13Major Stock Indexes

3:59 p.m. EST 02/27/13Treasurys

3:50 p.m. EST 02/27/13Futures

4:00 p.m. EST 02/27/13Currencies
-1553 Still selling DIA short.
Major Stock Indexes
-Bill Gates Continues 'God's Work', Third World Vaccine Workers Shot Dead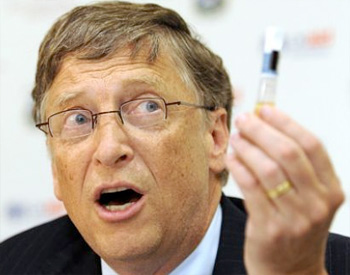 http://www.infowars.com/bill-gates-continues-gods-work-third-world-vaccine-workers-shot-dead/
Anglosaxon, hyper-rich, blueblood Laywer father, Jewish, hyper rich, bankster family mother. 'Made man' as Mother's best friend IBM CEO Lou Gerstner gave him DOS contract for PCs. Two adjoining mansion in London in Kensignton parkarea. Rothschilds, Prince Charles vaccine murderer, combing his and Buffets fortune for the Anglo-Zionist world order, demanding other Billionaires give their fortunes to him with veiled threats. Largely a semi-autistic Engbrew vampire. Pray  his evil is stopped and he and his evil Anglosaxon wife are brought to Justice. The preferred bloodline of the Illuminati is Anglosaxon-Jewish with royal ties.
-Goldman Sachs head etrader ends up at GETCO.
-Greeks on the Brink
Daniel McAdams
Lew Rockwell Blog
Feb 27, 2013
The usually reserved waitress at our favorite Greek-owned Sunday breakfast place approached us in dismay. Her daughter and son-in-law were escaping Greece for the US. Even middle class professionals were finding themselves digging in the garbage for food to eat, she said. You cannot imagine just how bad it is in Greece, she told us, with tears in her usually stoic eyes.
What has happened in Greece is as Ryan McMacken quotes Mark Thornton in a recent LRC blog, about what passes in popular parlance as "austerity": "The…idea of raising taxes on individuals to pay off international banksters…[which] is bad economics and is not real austerity."
As the always enlightening Daily Bell website pointed out earlier this year:
"In fact, the Greek Parliament is voting today on a new tax bill that broadens the tax base to raise another 2.5 billion euros, and also introduces new annual income thresholds for salaried taxpayers. It does away with tax breaks for the self-employed.

"Entrepreneurs have emerged as the latest 'bandits' in Greece's ongoing efforts to bleed the wretched Greek carcass of its last available drop of revenue. Government benefits have been slashed, taxes raised and Greeks are being pursued with maniacal determination for taxes, paid or not."
But, the Daily Bell notes, this austerity does not apply to the elites:
"Not long ago it emerged that the IMF had in its possession a list of top Greek pols and other officials who had illegal Swiss bank accounts. …The IMF handed over the list to the Greek government, which promptly sat on it."
Squeezed to the point of total economic and psychological collapse, Greeks are responding with desperate measures to the domestic and international elites who have destroyed their country: they are getting restless and violent. There have been more than a dozen armed incidents in the past couple of weeks and matters look to get far worse.
Former Greek career diplomat Leonidas Chrysanthopoulos is quoted in the New Statesman this week warning about the chilling turn in Greece — and an even more chilling government response:
"'It is an escalation of activities,' he worries, adding that he expects the 'explosion' to occur sooner rather than later. He predicts the spark will be when new, retroactive and sizeable tax bills come due in the coming months that people simply cannot pay. 'There will be further increases in armed actions. There will be bloody demonstrations.'"
Greece is about to turn on its own people but to continue the transnational elite's "austerity" measures the Greek government needs to use some of that elite's muscle:
"Chrysanthopoulos says that the government has hired Blackwater, the American private military firm infamous for its activities in Iraq, which now goes by the name 'Academi', along with five other international for-profit security outfits. Explaining why this has happened, he says bluntly: 'The Greek government does not trust the police whose salaries have also been cut.'
Coming soon to the US?
www.lewrockwell.com
-Bizarre, Queen Elizabeth relative and liar, HPQ CEO  Meg Whitman
Chief Executive Meg Whitman, who ran for California governor about two years ago as an opponent of same-sex marriage, says she has changed her mind. In a statement, Whitman acknowledged that as the Republican candidate she "supported the majority of Californians who voted for Proposition 8 and against same-sex marriage." "After careful review and reflection since then, I have come to embrace civil marriage for same-sex couples," she continued. "I have personally concluded that there is no legitimate reason for denying same-sex couples the same rights that are available to opposite-sex couples, and I hope the Supreme Court will affirm the judgment of the Ninth Circuit Court of Appeals."
—————-
Clearly the New Testament does not matter to her. Her husband is a Jewish Doctor at Stanford Medical /University.
-House Majority Leader Eric Cantor Wednesday did not express any optimism that a deal will be reached to avert the sequester ahead of Friday's deadline. "We are going to be mired in some of these fiscal issues for the foreseeable future — the next several weeks, months," the Virginia Republican said at the Credit Union National Association's Governmental Affairs Conference in Washington. "I'm hoping we get to a resolution." Cantor didn't actually use the word "sequester" in his remarks. Besides the looming sequester, Congress will need to pass a continuing resolution by the end of March to avert a government shutdown.  MW
-English Banksters, the curse of the world!!

Barclays to reveal as many as 600 staff earn more than £1m a year
http://www.guardian.co.uk/business/2013/feb/26/barclays-to-disclose-pay-details-all-staff
Gold riggers, libor riggers. How do you think they pay all those outrageous salaries?  These guys create nothing but financial piracy.
-1429 USA Closer
The USA markets were marked like the European markets by the hidden hand of covert intervention today. The USA markets went Wall to Wall up, as of this report, as Bernanke was speaking and as the Obama/Boehner square off on the for sure to be hit Sequester that starts on Friday and Lew the dirty money grubbing Jew was front and center in the Senate. It was a busy day for Lew the Jew and his ESF /FED just like it was a busy day for Regling and ECB rigging the markets.
The Durable good orders stunk in  Jan with Durable Goods Orders: -5.2% v -4.6%e; Durables Ex Transportation: +1.9% v 0.2%e; Capital Goods Orders Non-defense Ex Aircraft: +6.3% v 0.0%e. BBN would not even mention the headline negative order and instead pumped the 6.3  % number if you strip out Defense and Aircraft, which are two of the major 4 components of the USA real economy-Defense, Aircraft, Autos/Trucks/Tractors, and Technology. But there was no volume in the futures market when that number hit the tape. Ditto when the Jan Pending Home Sales M/M: +4.5% v +1.8%e; Y/Y: +10.4% v 8.2%e number hit the tape, the tape started to decline until the hidden hand emerged to start buying SP500 futures. Futures lead the shares higher. In addition we had the news filter out of JPM's intent to lay off 17,000 by 2014 and Dimon stated new loans were drying up at an investor conference.
Fed Chairman Bernanke was before the House this morning for his semi-annual Congressional testimony. In his opening statement and responses to Q&A, Bernanke hewed close to his comments to the Senate he made yesterday. He continued to reiterate his inflation fighting credentials, and gold simply could not go up a 2nd day in a row on one of the main gold riggers.
Gold started its decline in London anyways long before Bernanke started flapping his gums.  Below is the chart of the GLD (etf) and April Gold Futures contract. You can see someone dumped a lot of GLD on the market, and the Futures followed that. No one makes programmed trades like that when trying to sell a big quantity of shares. So manipulation by Jack Lew, the dirty filthy cheating Jew was paramount today to bolster Bernanke's cred and Obama 'cred' even as team Obama was threatening to shut down campsites. There is some type of emergency meeting on Friday at the White Hous, but the Washington Beltway gossips say sequester is unavoidable. You sort of knew a big whack job was coming in gold as the shares tanked at the opening 4 hours ahead of gold.
Lew will probably try and jam the shorts up through Friday. Given my DIA short was put on right, there, I'm prepared to box if I have to and short Lew the Jew higher. Lew had to sell nearly $30 billion in USA junk bonds today and with an up day in Equity he need money to come out of the commodity markets as well. It was also a big day for Lew the Jew as the Senate Treasury/Finance committee sent him to the Senate floor where his nomination is assured. April gold finished down $19.80 to end at $1,595.70/oz. The Talmudic  Jew is a cruel, cruel master, ask the Russians about Stalin, the few that are still alive.
Hampering gold is this demand from TM/NSANY (Toyota/Nissan) for 100 y/d but instructions from Jack Lew the Jew and the European to not let this happen too quickly. Until the Y/D is at 95-100 gold will be naked shorted with impunity by Lew the Jew.  A source I monitor in London said the naked shorting had gone too far and in particular in silver and he was buying silver with his personal cash and fund. He was talking in a semi- private web space to his greasy London pals, so I think that is good info I intercepted.
It was a big retail day in the USA markets.
Target lost ground in the premarket after the retailer's Q4 results fell on a y/y basis, although on an adjusted per-share basis they topped expectations. Sales gained y/y, in line with expectations, and the firm's guidance was in line.
For the quarter ended Feb. 2, Dollar Tree reported a profit of $228.6 million, or $1.01 a share, up from $187.9 million, or 80 cents a share, a year earlier. Revenue climbed 15% to $2.25 billion. The latest period included an additional week of sales.The company in November forecast per-share earnings of 97 cents to $1.02 on revenue of $2.2 billion to $2.26 billion.Gross margin rose to 37.9% from 37.8%.Same-store sales were up 2.4%, compared with a 7.3% increase a year earlier. At the end of the quarter, Dollar Tree had 4,671 stores, up from 4,351 a year earlier. The crux here is that same store sales are not keeping up with the real retail price inflation which is at least 4-5 pc. Packages just get smaller and smaller at these dollar stores and the merchandise older and staler and they move deeper into the Chinese slave labor gulags. The street loved the results and bid the stock up 3.5 pc after the release in the premarkets. In addition Walmart is targeting Dollar Tree customers with smaller retail outlets. The race to the bottom is on, and Chinese slaves and poisoned , junky products and welfare checks are a big part of that.
TJX was  up 1.5% after modestly topping expectations, although the firm's FY13 outlook was a soft.
Shares of Accretive Health are down more than 26% this morning after the firm postponed its Q4 earnings release due to revenue recognition problems.
BP continued to tarnish itself in testimony with the BP ,USA CEO at the time trying to say BP was not responsible for safety, this despite issuing  command to reduce costs at any cost. A settlement is expected before the end of the trial.
Bill Gross weighed in on the UST and Sovereign bubble but said he was going to ride it longer in his monthly missive.
I'm hitting the 'sell' button again on the DIA as I finish the last keystrokes.
2:29 p.m. EST 02/27/13Major Stock Indexes

2:28 p.m. EST 02/27/13Treasurys

2:19 p.m. EST 02/27/13Futures

2:29 p.m. EST 02/27/13Currencies
-Eric Sprott On Gold….
I've done a lot of work on the flow of metals. I come up with a net change of 2,300 tons a year in new buying in gold when the supply of gold hasn't even gone up in the last twelve years. And you keep wondering: Well, where's all this gold coming from? 
When I see China buying 95 tons of gold in December and I read that India bought 100 tons in the month of January, when we all collectively know there's only about 200 tons a month available –  you have to conclude that G6 Central Banks continue to sell their gold in a very non-transparent fashion.
One of the things we saw in December was that the U.S. Department of Commerce reported that U.S. exports of gold were $4 billion. We exported 2.5 million ounces of gold. And where it comes from, [only] God knows; the country only produces 8.8 million a nd most of that's used internally. So I don't know how you just come up with 2.5 million ounces that you're able to export. So I believe that even though it's described as non-monetary gold, my guess is that it is monetary gold.
There's lots afoot here in central banking to try to keep it organized. And I think one of those things is to keep the price suppressed.
But the non-G6 nations have been huge buyers of gold, and I think the more anybody looks at the system from outside looking in, they realize they have to have gold and silver, notwithstanding the nonsense that goes on in COMEX and the LBMA (London Bullion Market Association).
When I got involved in the gold market, it was assumed that the central banks had something like 36,000 tons of gold. And there was a great study done by Frank Veneroso where he suggests 18,000 those tons didn't even exist anymore. 
The [global] central banks are sellers of 400 tons in an overt fashion. Now we see buying of over 500 tons. That, just in itself, is a 900-ton change in a 4000-ton market, if I'm including recyclables here. And yet there's been no increase in supply.
So I have to assume that these central banks are running low, and the question in my mind is, do they just go down to zero and then give up?
Or do they look in the cupboards one day and say look, this is just not going to work because the intensity of buying by people, like China in particular, has just gone absolutely bonkers. And it looks like India, notwithstanding putting a surtax or excise tax on gold, the demand seems to be very firm. And as you mentioned, mint sales have been amazingly strong here.
So I think there's enough element of the world who get it that the pressure's going to continue to be on the price of gold going higher. And yes, there's nothing we can do in terms of what's going on in the COMEX and the LBMA, but we keep seeing more and more people asking for delivery, even in the COMEX. So I think that the day can't be far off. We can't predict when it's going to be, but the natural stage should be that the price of gold is going up, and we're in such a tremendous financial crisis that it hasn't been allowed to manifest itself because they're putting out fires all the time.
- Berlusconi demands grand coalition with him holding Senate and the economics portfolio. Bersani's party and Berlusconi's party both have a common interest of strangling this strange Jew Grillo.
-Goldman's Electronic Trading Head to Leave Bank
Goldman Sachs Group Inc. partner and head of electronic trading Greg Tusar will leave the firm at the end of May, according to a memorandum issued to employees on Tuesday. WSJ
-Exxon Mobil has won a legal victory in its effort to fight damages of about $1.5 billion stemming from a 2006 gasoline spill in Maryland. WSJ
-Secretary of State John Kerry said the Obama administration and its allies are "developing ways" to hasten the ouster of Syrian leader Bashar al-Assad. WSJ
-USA Session, Economic Release Summary
(US) MBA Mortgage Applications w/e Feb 22nd: -3.8% v -1.7% prior
(US) Jan Durable Goods Orders: -5.2% v -4.6%e; Durables Ex Transportation: +1.9% v 0.2%e; Capital Goods Orders Non-defense Ex Aircraft: +6.3% v 0.0%e
(US) Jan Pending Home Sales M/M: +4.5% v +1.8%e; Y/Y: +10.4% v 8.2%e
(US) Weekly DOE U.S. Crude Oil Inventories: Crude: +1.13M v +2.5Me; Gasoline: -1.86M v -1.0Me; Distillate: +560K v -1.5Me; Utilization: 85.1% v 82.9% prior
(BR) Brazil Jan Nominal Budget Balance (BRL): 7.6B v 25.2Be; Primary Budget Balance: 30.3B v 22.5Be
-What a loss
Van Cliburn became an international cultural hero when he won a Cold War-era piano competition in the former Soviet Union and rocketed to unheard-of stardom for a classical musician in the U.S. He died at age 78 in Texas. WSJ
-Market Watch
I sold some more DIA short here. I was long in the pre markets the DIA and sold that position just now. Hey Bernanke is flapping his gums and Jack Lew is trying to rig the markets as the USA heads into the sequester on Friday. If you did not expect a big bounce in the markets today after the big crush from the Italian elections and the EU/ESM and FED/UST/ESF, there is little hope for you as a trader. I don't put all my trades out there. This is a traders market with this type of volatility if you can keep from getting caught off-sides. Short selling is for professional investors only. It either takes a five years of costly money to do it, or you have a knack for it. If Bill Oneill of IBD one of the greatest, maybe the greatest trader in history can't do it and make money, you should seriously consider if you can. I happen to have a 'knack' for it. The higher the gain of your Zionist Market BS detector, the better the short seller you will be. Without understanding the mindset of the Jewish traders and how they collude and manipulate markets you're going to fail as a short.
12:37 p.m. EST 02/27/13Major Stock Indexes

12:36 p.m. EST 02/27/13Treasurys

12:26 p.m. EST 02/27/13Futures

12:37 p.m. EST 02/27/13Currencies
-The president and congressional leaders plan to meet at the White House on Friday to discuss the $85 billion in cuts set to start the same day. WSJ
-Europe Closing Summary
Europe enjoyed a moderate dead-cat bounce as the Italian government tested the bond market today. Coverage was adequate, but the 10 year yields soared to 4.83+ % at auction. Italian banks are loaded up with Italian debt and took a big haircut today. The ECB floated a massive, $ tender to alleviate stress in the French and Italian banking systems of $380 billion for one week at .65 %. That more than anything buoyed European markets today.
Clearly no coalition is going to emerge quickly from the Italian election. The German clown Steinbruk was boxed about the ears by the Italian clown Napolitano.Italian President Napolitano says Italy respects Germany and demands the German respect.   Grillo called Bersani a stalker and implied he was a queer and should resign on this twitter account. Here is what he said
Bersani is a political stalker. He's been pestering the Five-Star Movement for days with indecent proposals, instead of resigning as everyone else would do in his situation."

"Over the past twenty years, [Bersani's] Democratic Party was in government for ten years, and over the past year-and-a-half it even took part in the grand coalition government with [Berlusconi's] PdL party, backing any sort of junk proposed by Rigor Montis [Grillo's nickname for Mario Monti]."

"The Five-Star Movement won't give any confidence vote to the Democratic Party or others. It will support in parliament only the laws that mirror its programme – whoever proposes them.
This included a  list of comments which Bersani made about Five Star Movement during the campaign-
"There's little democracy in the Five-Star Movement." 
Five-Star Movement people are "web fascists. Come out call us zombies."
"With Grillo, we will end like Greece."
"Lenin is not even nearly as bad as Grillo."
"Grillo leads to disaster."
"Grillo makes promises like Berlusconi."
"If Grillo wins, the country will be in trouble."
"Grillo? He can take us out of Europe."
"Grillo takes people out of democracy."
"Grillo is a third-rate autocrat"
London's big money guns weighed in that the EU was headed for a break up, although Reuters London, killed the interview after it aired. The BOE floated the idea of negative real interest rates for large banks.
The UK 4Q GDP came in at -.3 % and was unrevised from the first estimate m/m.
• UK services sector shrank by 0.1% in October-December
• Construction output rose by 0.9%
• Industrial output tumbled by 1.9% and manufacturing output by 1.3% –both the steepest falls since the first quarter of 2009
The U.K.'s economy grew by 1% in the preceding quarter, upwardly revised from a previously reported 0.9%. Year-over-year, U.K. economic growth expanded at a rate of 0.3% in the fourth quarter from a year earlier, up from a preliminary estimate of no growth and compared to expectations for a flat reading.
Bank MP was not going to get its bailout before the new government was formed, then someone must have gotten on the phone to Mario Monti, and told him to rush the bailout through now.
The Pope took his last ride in the Pope-mobile.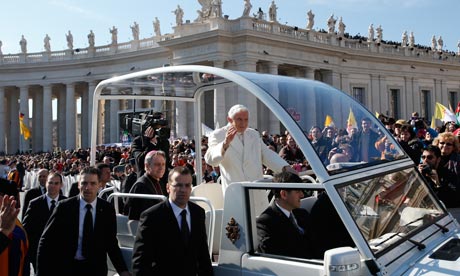 The UK 4Q GDP came in at -.3 % and was unrevised from the first estimate m/m.
• UK services sector shrank by 0.1% in October-December
• Construction output rose by 0.9%
• Industrial output tumbled by 1.9% and manufacturing output by 1.3% –both the steepest falls since the first quarter of 2009
The U.K.'s economy grew by 1% in the preceding quarter, upwardly revised from a previously reported 0.9%. Year-over-year, U.K. economic growth expanded at a rate of 0.3% in the fourth quarter from a year earlier, up from a preliminary estimate of no growth and compared to expectations for a flat reading.
Matt Lynne of Marketwatch.com (owned by the WSJ), put out an excellent article that English Gilt was on a runaway freight train to junk status. Given the BOE and its member firms control the markets, don't get tempted to short Gilts.
Tony Blair was in the English press complaining about how no one loves him for starting the Iraq war. Say Tony, well job you're doing on the Palestine/Israel peace process.
France is going to apply to the EUC for relief on meeting its deficit targets and slipping until 2014 before it reduces them to 3 % of GDP. Hollande has a serious jobs problems in France, the deficits will be larger than the 3.7 % he says, and he won't make 3 % next year either.
The Eu plutocrats, autocrats, and kleptocrats are in a panic over the election results with Von Rompuy flapping his gums today insisting the Italians move forward with Troika demands, , and Barroso is setting up and emergency meeting with Mario Monti tonight. The EU gang reiterated the need for more psuedo-Federalism citing the unpredictable nature of election of all things. Brussels is like the UN, pure evil and controlled by London. Get Baroness Ashton drunk and if you got a lesbian friend get her in bed and tape her and she will tell you clueless Eurotrash the way Europe really runs.
Showing you how decadent Germany is, they held a naked sledding competition today. The Zionist love to make buffoons of their marks.
The Germans were largely silent today, having to close their mouths after Steinbrucks faux pas. The Germans are going to join the 'kill by Drone', Anglo-Zionist west. I don't understand this German, 'we are better than Americans mentality'. Sure your better than the English filth who  control you, but morally and financially your in worse shape having been 'chosen' by London to carry the welfare deadbeats in Greece and England on your back and the Banks of France, Italy and Spain.
The "Troika " is back in Athens this week and with  eyes on Italy, Greece feels it has little to worry about, but important reforms have stalled and the government's belt-tightening efforts are paralyzed. Politicians are playing for time and hoping for fresh money from the ESM.
Lady Ashcroft, er Baroness Ashton's Iran talks fell apart today with promises of more talks and the Baroness proved once again to be one of the most worthless EU politicians in history, unless you're from England and want the USA destroyed in WW3. Russia issued a warning to NATO/US they risk a nuclear war if they interfere in Syria. The Kerry/Lavrov meeting was reported to have gone well over Syria and other issues. This despite the English Crown's press lackeys and Cameron's gods demanding regime change now.
Opps, I took 45 minutes to summarize the EU action, 15 minutes more than that dump is worth. Asia and Latin America are worth spending a lot more time on than the EU , but the spoiled complaining Eurotrash child gets all the attention.  I went long some DAX at the opening expecting a bounce and sold the close and let my mighty DAX short ride. The DAX is going down Regling,  the Eurotrash you have to support will drag it down.
Europe
-Gold Bugs Need to Replenish the Hive-WSJ
No mention of the panic CB gold intervention. WSJ hit piece on gold to go with Goldman Sachs yesterday that did know good. Bernanke and his partner at the ESF, Jack Lew the other evil Jew took gold down least Bernanke become a laughing stock on Capitol hill. The perception of power and control to the Jews is the key to their power and control. At least until God intervenes to stop their madness. Jews love to sell other Jews or their allies the gentiles gold cheap.
http://blogs.wsj.com/marketbeat/2013/02/27/gold-bugs-need-to-replenish-the-hive/
-1130 Europe Closes, thank goodness,  the socialist swine, aka Eurotrash  are done for the day. Europe is always holding the world hostage, from London or with its highly geared banks in France, Italy and Spain and worse transparency even than USA banks.
-Anglo-Zionists Launching Assault on Swiss Gun Rights
Several people have been killed and seriously injured during a shooting at a factory near the Swiss city of Lucerne, police said on Wednesday.Swiss police said in a brief statement that several people had been killed and injured at a shooting at around 9 a.m. (0800 GMT) at a wood processing company called Kronospan in the town of Menznau.. Police said the emergency services were on the scene and the area had been largely cordoned off, but gave no further details, saying only they would give further updates later in the day. Reuters
Lots of Zionist  Shrinks in Switzerland to dope someone up and program them and launch them at a target, or possibly just another Zoloft shooter.
-Russia says  leader of anti-Putin protests Alexei Navalny has fraudulent lawyer's license.
That is a felony in the USA.
-60 years ago today, countries including Greece, Spain and Italy agreed to write off half of Germany's debts after the defeat of the Nazi regime. How short the German's memory is.
- Italy's president, Giorgio Napolitano, has cancelled a meeting with German politician Peer Steinbrück  for joking yesterday that the Italian election had been won by a couple of clowns.
-Bersani rules out alliance with Berlusconi as Italian Watermelons scuttle deal
The junior partner in Italy's centre-left coalition on Wednesday rejected forming a governing alliance with the centre-right after neither side won enough seats to govern in this week's election."No grand coalition," said Nichi Vendola, leader of the Left Ecology Freedom party, after a meeting with centre-left leader Pier Luigi Bersani.In a statement, Vendola said he hoped populist leader Beppe Grillo did not want a right-left government either.  Reuters
-Bill Gross on Bond Bubble
http://blogs.wsj.com/marketbeat/2013/02/27/bill-gross-credit-markets-somewhat-exuberantly-priced/
-Cyprus has enough funds to last until May, says outgoing FinMin Vasos Shiarly
-MP/Draghi  snaps Mario Monti to action…
Italian Treasury Working To Meet March 1 Deadline For Granting Of Monte Paschi State Bailout-Source Close To Matter..Italian press
-Unrepentent, Zionist controlled, pederast Pope bids farewell
Pope speaks of "rough seas" of papacy at emotional farewellhttp://reut.rs/XFI7CY
You're going to hell Ratzinger for the damage you did to Christianity if you don't truly repent. The bible says repentance is a 'gift', and clearly Ratzinger did not get it.
-German companies are more negative on the euro's prospects over 12 months than any time since July, says Commerzbank survey. German financial press
-Market Watch
10:17 a.m. EST 02/27/13Major Stock Indexes

10:16 a.m. EST 02/27/13Treasurys

10:07 a.m. EST 02/27/13Futures

10:17 a.m. EST 02/27/13Currencies
- John Kerry (Kohn) forced to back down on Zionist/London demands over Syria to Lavrov/Putin.
Russia has called on the United States to press the Syrian opposition to hold direct talks with Damascus, saying President Bashar Assad's opponents must appoint negotiators.
The crisis in Syria made up "the bulk of the conversation" between Foreign MinisterSergei Lavrovand U.S. Secretary of State John Kerry at talks in Berlin late Tuesday, U.S. State Department spokeswoman Victoria Nuland said.
After talks that she characterized as "really serious and hard-working," Moscow and Washington sounded a rare note of accord over efforts to launch talks to end the nearly two-year-old conflict, in which 70,000 people have been killed.
Lavrov, who called the talks "constructive," also seemed to find common ground with Kerry on Russian concerns over alleged ill treatment of Russian children adopted by U.S. parents, concerns that Kerry promised to address…
http://www.themoscowtimes.com/news/article/lavrov-and-kerry-find-common-ground-on-syria-and-adoptees/476168.html#ixzz2M73UmHY9
-Acura Survives Near-Death to Seek Salvation in Supercar
The Acura is a designed and made in the USA car. TM Lexus has the volume. TM also has  a design studio in socal. Designers are not who you think they are, they are typically people with PHD or Masters in engineering. You don't go to an art school to design cars. German cars are punk , especially if your normalize for the cost per unit of quality/performance compared to the Lexus or Acura. Germans still can't do car electronics well. There steel is still pretty good. Their innovative engine designs come from the USA. VW has the hot hand wrt to profit per vehicle. Enginering and quality is not there to justify the price if you want to put 250k miles on the car. VW repairs would bankrupt a lawyer over the life of a car.
http://www.bloomberg.com/news/2013-02-26/acura-survives-near-death-to-seek-salvation-in-supercar.html
-Chairman Bernanke presents the Monetary Policy Report to the House Financial Services Committee
-1001 U.S. January pending home sales rise 4.5% from prior month. Not much reaction from tape
Major Indexes 1001
Major Indexes 1003
-Russia Threatens to use Nukes if interference in Syria
Great job by Larouche.
Hopefully Kerry won't be a complete patsy of David Cameron, or Putin won't blame the USA people and will nuke London, NYC, Tel Aviv and Washington DC. Can't say I would care if he did. I would love to see the entire Rothschilds-Windsors-Rockefeller (Bush-Clinton junta) brought to justice.
-Broad USA markets
-Did he have to swear in on the Talmud to get the Job?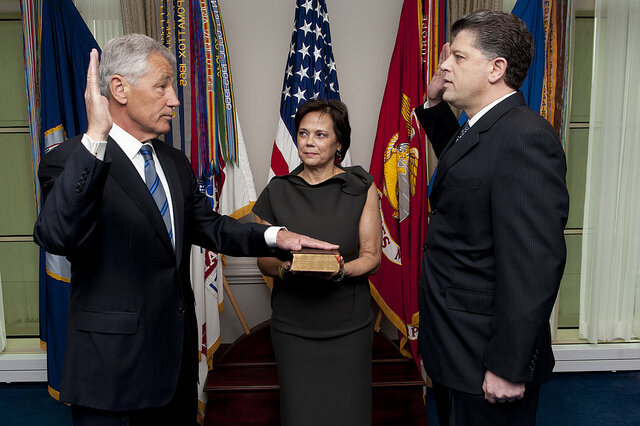 -Dankse Bank on What is next for Italy
http://danskeanalyse.danskebank.dk/abo/ResearchItalianelections270213/$file/Research_Italian_elections_270213.pdf
-Live blog link to Bernankes 2nd day on the Hill. No one has time to watch it on C-Span.
http://blogs.marketwatch.com/election/2013/02/27/live-blog-of-bernankes-second-day-of-testimony-before-congress/
-World Jewry and Hollywood Furious as Iceland considers banning Pornography.
Freedom of speech is not freedom of pornographic extension. I favor taxing the heck out of it to compensate rape victims and people who die, simply as banning it won't be effective. Time to move to Iceland? I could go back to work on the fishing boats I guess.
-Hackers target European governments via Adobe bug: researchers
After the OS, browsers are the most insecure part of your system, then applications, like this crummy WP software.
-Grillo just called Bersani a 'stalker'..lol
Major Indexes
-Mario Monti's caretaker government is considering postponing a 3.9 billion-euro ($5.1 billion) bailout for Banca Monte dei Paschi di Siena SpA, leaving the final decision on the payout to the next government, two people familiar with the discussions said. BBN
-922 Newslinks are updated
-From the MBA: Mortgage Applications Decrease in Latest MBA Weekly Survey
The Refinance Index decreased 3 percent from the previous week. The seasonally adjusted Purchase Index decreased 5 percent from one week earlier and is at its lowest level since the week ending December 28, 2012.
…
The average contract interest rate for 30-year fixed-rate mortgages with conforming loan balances ($417,500 or less) decreased to 3.77 percent from 3.78 percent, with points increasing to 0.48 from 0.40 (including the origination fee) for 80 percent loan-to-value ratio (LTV) loans.
From calculated risk blog
-UN former chief weapons inspector Hans Blix: "starting of the Iraq war was a tragic and terrible mistake" bbc
A bit late for that since the UK owned UN greenlighted that deal Blix and you kept silent as the Brits feed their stooge Powell/Bush that phony Downing Street memo lie.
-I inadvertently hit the mute button on BBN-TV. Happier now.
-Chuck Hagel sworn in as new U.S. defense secretary, to address Pentagon employees later in day. Wires
-Grillo calls Bersani "dead man talking". I guess he won't be forming any alliance with any dead men. Bersani tells him to make complaints in Parliament.
-France will ask EU to delay 3 % defict target until 2014
-0843 Futures
-UK Sprinting towards Junk Bond Status
Something we have been saying about these Rotten liars in England for quite some time. The pound is going to parity with the dollar. Soon the brits will come on their knees to the Germans begging for a loan. It may bankrupt the Germany taxpayer, but they will pay for the deadbeat Englishman, and just think England's 20 year housing bubble and 30 year finance/derivative bubble have not burst. They love socialism and the grift in the UK. A nation of Gypsies.
http://www.marketwatch.com/story/uk-is-sprinting-toward-junk-bond-status-2013-02-27
-803 U.S. durable-goods orders drop 5.2% in January!
Durable orders minus defense decline 0.4%
Durables orders minus transportation rise 1.9%
Commercial aircraft orders sink 34% last month
Core capital goods shipments dip 1.0% in January
Core capital goods orders jump 6.3% last month
Boeings importance to the USA economy can't be understated.Boeing had 2 plane orders this month compared to 183 in Dec.
- BOE's Bean : no plans to introduce negative interest rates immediately, though nothing to stop BOE in principal
- German Gov't Econ Advisor Feld  warned that Italy election results could bring back the eurozone crisis "with a vengeance". German press
-Europeans Have no shame.
U.S. beer drinkers have filed a $5 million class action lawsuit accusing Budweiser-parent Anheuser-Busch InBev BE:ABI for watering down 10 of its beer brands, including Budweiser and Michelob, the law firm running the case said late Tuesday. The complaint alleges that the beer maker "employs some of the most sophisticated process control technology in the world to precisely monitor the alcohol content at the final stages of production, and then adds additional water to produce beers with significantly lower alcohol content than is represented on the product labels." Peter Kraemer, vice president of Brewing and Supply at Anheuser-Busch, said in a statement that the claims were completely false and that the lawsuit is groundless. "We proudly adhere to the highest standards in brewing our beers, which have made them the best-selling in the U.S. and the world," he said. MW
————-
Must be some Dutch or French  Jews that own Inbev or the Royals.
-European Credit Markets
Italians pay the price for their election choice in the markets paying a 4.88% coupon for 10 years. Italy sells at the upper end of the indicated range in auction of 5 and 10-yr bonds; pays higher yields (10-yr yield highest since Oct), saw higher bid to covers Regling sits on his hands. Must be a lot stress in the EU banking as the ECB floated a staggering $380 billion dollar line to its pals. Spanish and Italian banks continued to buy sovereign debt in January.
German 10y 1.44-0.02,1.15%
Italy 10yr 4.77-0.06, 1.25%
Spain 10yr 5.29-0.06, 1.12%
U.K. 10yr 1.95-0.02, 0.77%
(IT) Italy Debt Agency (Tesoro) sold €2.5B vs. €1.75-2.5B indicated in 3.5% Nov 2017 BTP Bond; Avg Yield 3.59% v 2.94% prior; Bid-to-cover: 1.61x v 1.30X prior.
Italy Debt Agency (Tesoro) sold €4.0B v €3.0-4.0B indicated 4.50% New Nov 2023 BTP bonds, Avg yield 4.83% bid to cover 1.65x.
(EU) ECB allots $380B in 7-Day USD Liquidity Tender at fixed 0.65% vs. $0.0M prior
(EU) ECB allots $6.79B in 3-month USD Liquidity Tender at fixed 0.64% vs. $302M prior
(EU) ECB allots €8.33B in 3-Month Refinancing Tender at fixed 0.75% vs. €3.7B prior
-Europe Session Economic Release Summary
(DE) GERMANY MAR GFK CONSUMER CONFIDENCE: 5.9 V 5.9E
(FR) FRANCE FEB CONSUMER CONFIDENCE: 86 V 86E
(EU) EURO ZONE JAN M3 MONEY SUPPLY Y/Y: 3.5% V 3.2%E; M3 THREE-MONTH AVG: 3.5% V 3.4%E
(UK) Q4 PRELIMINARY GDP Q/Q: -0.3% V -0.3%E; Y/Y: +0.3% V 0.0%E
(EU) EURO ZONE FEB BUSINESS CLIMATE INDICATOR: -0.73 V -1.02E; CONSUMER CONFIDENCE:-23.6 V -23.6E
-Target Corp. (TGT) said Wednesday that its fiscal fourth-quarter profit fell 2% to $961 million from $981 million. Per-share profit increased to $1.47 a share from $1.45 a year earlier after a 2.8% increase in shares outstanding. Sales rose 6.8% to $22.37 billion while credit-card revenue was up 1.8% to $356 million. Excluding items, Target said it earned $1.65 a share. Analysts surveyed by FactSet estimated the Minneapolis-based company would earn $1.47 a share, though it's not clear if analysts also excluded the same items. Target sees adjusted profit this year of $4.85 to $5.05 a share, excluding a 45-cent dilution tied to its Canadian segment and an accounting impact of 30 cents a share tied to the sale of Target's entire credit card receivables. It forecast profit of $1.10 to $1.20 a share in the first quarter. Analysts were looking for profit of $1.05 a share in the first quarter and $4.87 a share for the year. Target shares rose 1.6% in premarket trading. MW
-806 Europe
EADS rallied 7.7 percent as the parent company of Airbus also forecast profit will rise in 2013. Bouygues surged 11 percent as the French builder predicted profitability at its phone division will increase. Kabel Deutschland Holding AG fell 2.5 percent after Vodafone Group Plc (VOD) was said to have put on hold potential takeover plans.
-I have items to attend to. I will pick it up in the USA trading morning sometime.
-Le Figaro Front Page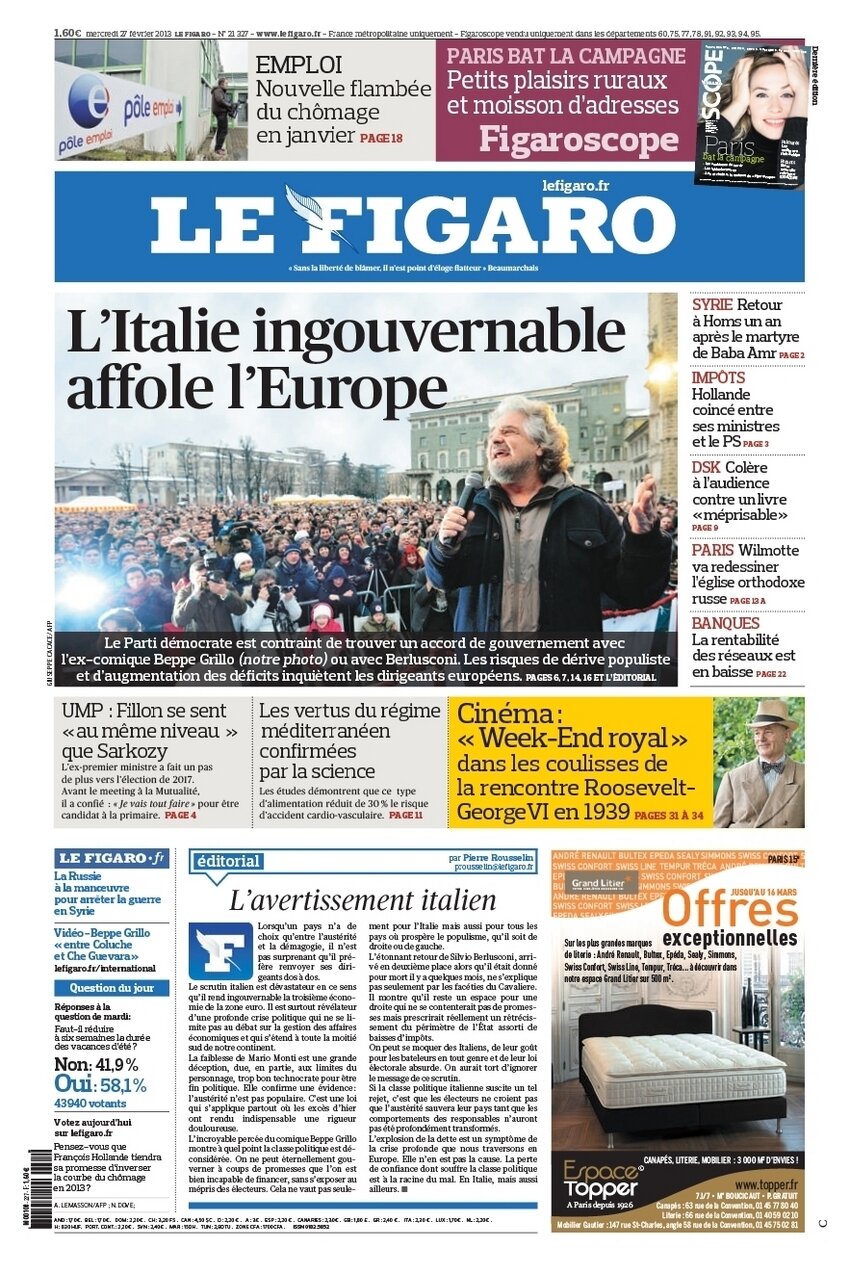 -USA trading Day ahead
Bernanke heads over from the Senate to the lower House to repeat his dog and pony show today.
MBA Purchase Applications
7:00 AM ET
Durable Goods Orders 
8:30 AM ET
Ben Bernanke Speaks 10:00 AM ET
Pending Home Sales Index 
10:00 AM ET
EIA Petroleum Status Report 
10:30 AM ET
7-Yr Note Auction
1:00 PM ET 
Richard Fisher Speaks 4:30 PM ET
-300 Europe Opens
Bonds
German 10y 1.46+0.00,- 0.23%
Italy 10yr 4.87+0.04, -0.82%
Spain 10yr 5.35, 0.00, 0.00%
Equities
German DAX 30 index up 0.5% to 7,635.17
MIB index up 0.9% to 15,698.77
Stoxx Europe 600 index up 0.3% to 285.43
FTSE 100 index up 0.4% to 6,293.15
French CAC 40 index up 0.6% to 3,643.87
Comm./FX
-Research group Gfk said that its index of Germany's consumer climate rose to 5.9, from 5.8 in the preceding month.Analysts had expected Gfk consumer climate to rise to 5.9 last month.INSEE said that French Consumer Confidence remained unchanged at 86, from 86 in the preceding month.Analysts had expected French Consumer Confidence to remain unchanged at 86 last month.
-German Pols  just don't know when to shut-up..
Germany's Steinbruck: "To a certain extent, I am appalled that two clowns have won in Italy"
This guy has to be taking a dive for Smirkel, or they have the goods on his sexual escapades.
-China Close
We got a strong rally into the close by the mainland.
-Thessaloniki eyes 'Alexanderland' theme park
Too funny, but better than Anglo-Zionist Disneyland
-Russian banks are increasingly selling bonds in the offshore renminbi market as growing investor demand allows them to borrow at cheaper rates and a chance to diversify their funding base.Investors say they are keen to buy the bonds because they are often issued by state-backed, high-profile Russian banks and offer an attractive yield and exposure to the Chinese currency.Russian banks–including JSC VTB Bank, Russian Agricultural Bank OAO and Russian Standard Bank ZA–have already sold the equivalent of $480 million of the bonds this year, compared with just $309 million in the previous three years. Gazprom bank OAO, the financing arm of energy giant Gazprom, also issued yuan debt.The trend illustrates the growing prominence of the offshore renminbi market, which Standard Chartered expects to be worth between 320 to 350 billion yuan ($50.8 billion to $55.6 billion) in issuance this year, up from last year's record issuance of 267 billion yuan. The bank expects yuan issuance to rise in 2013 on further regulatory liberalization and a more constructive outlook for the currency. WSJ
-Resent English Donkey Faced Baroness Ashton
Unelected Donkey Faced, Barroness Ashton of England, starting WW3 in front our eyes? Hopefully London and the palaces therein will burn to the ground along with the wretched people of that dark isle if that happens. Burn, England, Burn.
http://www.nytimes.com/2013/02/28/world/middleeast/iran-nuclear-talks.html?partner=rss&emc=rss&utm_medium=twitter&utm_source=twitterfeed&_r=0
-MEXICO'S FEDERAL AUDIT DEMANDS PHYSICAL INSPECTION OF SOVEREIGN GOLD HOLDINGS (95 pc abroad, and 99 p of the 95  pc in London)
-S&P say Italian ratings are not immediately affected by election results where as Moody's say the inconclusive outcome is credit negative
-Futures
Should see quiet opening in Europe and the USA
| | | | | | | |
| --- | --- | --- | --- | --- | --- | --- |
| DJIA INDEX FUTURE Mar13 | 13,856.00 | -0.02% | 13,876.00 | 13,876.00 | 13,854.00 | 01:27:34 |
| S&P 500 FUTURE Mar13 | 1,491.10 | -0.09% | 1,493.30 | 1,494.20 | 1,490.70 | 01:54:37 |
| NASDAQ 100 FUTURE Mar13 | 2,707.50 | -0.01% | 2,710.50 | 2,712.25 | 2,706.50 | 01:27:34 |
| | | | | | | |
| --- | --- | --- | --- | --- | --- | --- |
| FTSE 100 IDX FUT Mar13 | 6,258.00 | +0.06% | 6,263.50 | 6,263.50 | 6,254.00 | 01:40:05 |
-The gold-mining industry, which has underperformed the precious metal for each of the past six years, is pledging to report costs more accurately as part of its efforts to win back investor confidence.Barrick Gold Corp. (ABX) and Goldcorp Inc. (G), the two biggest producers by market value, have begun reporting "all-in sustaining costs" for the first time. The new measure averaged $941 an ounce between the two companies in the fourth quarter. That's 50 percent higher than the $626 average so-called cash cost they disclosed in the preceding three months. BBN
————
operating margins now versus gross margins
-103 Asia
Japan's Nikkei finished down 1.3% at 11,253.97. The Y/D dropped after it was reported that the Democratic Party of Japan, the main opposition party to Prime Minister Shinzo Abe's LDP, may not approve Kikuo Iwata for one of the two open deputy governor slots at the Bank of Japan. Japan Chief Cabinet Sec.  Suga said PM Abe is looking to submit BOJ nominations tomorrow if Diet schedule allows.
Japanese authorities will urge residents to stay indoors if the level of toxic smog that is spreading to Japan from China  exceeds twice the allowable limit set by the central government, officials said.Mitsui Engineering & Shipbuilding Co. said will convert its emissions-fighting technology for use in factories, the firm aims to market the technology to companies in China, where air pollution has become a big problem and is becoming a secondary problem in California and Japan.
TM (Toyota) reports Jan domestic output -5.7% y/y  and NSANY (Nissan) reports Jan domestic output -26.4% y/y.  NSANY's CEO  Sees Jan-Feb sales in China falling as much as 20% y/y. TM announced plans to export USA made SUVs to China and Russia.
China Foreign Ministry spokesperson said  Buoys placed near the disputed Diaoyu (Senkaku) islands in the East China Sea are to monitor ocean conditions.
In China , China state economist sees Q1 GDP at about 8.0% v 7.9% in Q4, and the CPI is seen at about 2.6% .
According to Soufun.com, Shanghai discounted housing projects to amount to 175 in March, down from 189 m/m and 204 y/y .China Ministry of Land and Resources looking to accelerate plans to grow land supply to keep housing prices stable; May unveil new national plan in April.
PBOC refuses short term liquidity request for key China banks  and the PBOC is gauging demand for reverse repos. USA Treasury  assistant  Wolin said the Yuan is still undervalued and China needs to do more despite the progress made.
While American firms are not investing at home members of the American Chamber of Commerce in South China expect their investment budgets to total more than $16.5 billion over the next three years.
Hong Kong Financial Sec.  Tsang unveiled 2013 budget: Budget measures to boost GDP by 1.3%; sees 2013 GDP 1.5-3.5%; inflation  at 4.5%; Acknowledges large downward risks in economy.
The Shanghai Composite is up .17 % and the Hang Seng is down -.26 %.
In Korea  BOK Director Cho said current account will likely remain in surplus in February. President Park met with USA envoys on Tuesday to discuss the North Korea situation. Standard Charter, the big English money center bank. is under fire for strong -arming small businesses in Korea.
According to the ROK Financial Services Commission (FSC) Tuesday, SC Bank and its CEO Richard Hill were reprimanded last week for allegedly forcing corporate clients, especially small firms, to sign "uncommitted loan agreements" to make it easier to recover loans. The Kospi is up .23 %.
In Oz, Australia's  PM Gillard said Australia public finances are strong. S&P warns there is a number of possible scenarios that may weigh on Australia's sovereign rating, given its a large amount of offshore and household debt; Sees risks mitigated for now by recovering Chinese economy.  The Australian Bureau of Statistics said fourth-quarter construction spending there fell to -0.1% on a seasonally adjusted basis from 1.9% in the third quarter-analysts expected the fourth-quarter reading to fall to 1.5%. Total construction work done in the fourth quarter, including residential and commercial real estate rose, 1.8% from the third quarter. However, engineering work, including that related to Australia's mining industry, declined 1.3%.The ASX finished up .66 % lead by the miners after Bernanke's testimony on Capitol Hill in Washington, DC.
New Zealand's NZX 50 finished up  0.88% even after Statistics New Zealand said the country's January trade balance fell to a seasonally adjusted NZD-305 million from NZD486 million in December. In racist Anglomason dominated New Zealand the Anglo -masonic courts ruled against the indigenous Maori in their bid to block sale of their ancestral lands by the state.
Economic Release Summary
(US) API PETROLEUM INVENTORIES CRUDE: +905K V +2.5ME; GASOLINE: -1.44M V -1ME; DISTILLATE: -1.74M V -1.5ME; UTILIZATION: 84.4% V 83.7% W/W
(NZ) NEW ZEALAND JAN TRADE BALANCE (NZ$): -305M V +125ME; EXPORTS: 3.35B V 3.6BE; IMPORTS: 3.65B V 3.5BE
(NZ) NEW ZEALAND JAN NET MIGRATION: 350 V -80 PRIOR
(AU) AUSTRALIA Q4 CONSTRUCTION WORK DONE Q/Q: -0.1% V 1.5%E (1-year low)
(KR) SOUTH KOREA JAN CURRENT ACCOUNT: $2.3B V $2.1B PRIOR; GOODS BALANCE: $2.6B V $1.9B PRIOR
(KR) SOUTH KOREA FEB CONSUMER CONFIDENCE: 102 V 102.0 PRIOR
(JP) JAPAN JAN RETAIL TRADE M/M: 2.3% V 0.9%E; Y/Y: -1.1% V -1.5%E; LARGE RETAILERS' SALES Y/Y: -3.5% V -0.8%E
(HK) HONG KONG Q4 GDP Q/Q: 1.2% V 1.4%E; Y/Y: 2.5% V 2.4%E; YTD 2012 GDP 1.4% v 1.4%e
(TH) THAILAND JAN CUSTOMS TRADE BALANCE: -$5.5B V -$2.1BE
Commodity/FX Markets
Bonds
U.S. 10yr 1.87-0.02. 0.85%
Japan 10yr 0.67-0.02. 3.44%
CDS (CMA data)
-The Magik Man.. Can..
Senate Majority Leader Reid  Moves to hold a vote on Thursday to replace $85B in spending cuts with alternative to shift some of the extra revenue on the wealthy – financial press
-Fatman , Anglomason Gov. Christie Patsy of Zionist Gaming Interests
New Jersey Gov. Chris Christie signed a bill that legalizes online gambling in the state, allowing Atlantic City casino companies to take bets online. WSJ
=====================
This fat pig just got his share of the 60 billion dollar bailout from the rest of the USA along with NYC.
-0037 Major Stock Indexes
-USA After Hours
BBY: Founder Schultze's efforts to take the company private appear to be stalling because of financing complications ; -2.2% afterhours
FSLR: Reports Q4 $2.04 v $1.75e, R$1.08B v $1.32Be; -11.0% afterhours
EIX: Reports Q4 $1.79 v $1.04e, R$3.06B v $2.18Be; +4.1% afterhours
PCLN: Reports Q4 $6.77 (adj) v $6.54e, R$1.19B v $1.18Be; +3.8% afterhours
-After a bruising political fight, PresidentBarack Obama finally got Chuck Hagel confirmed as defence secretary by the Senate even as a new controversy erupted over his nominee's "distorted views" on India.The final 58-41 vote fell nearly down party lines, with only four Republicans voting for the former Nebraska senator and a fellow Republican, the smallest margin for a defence secretary since the position was created in 1947, according to Senate records. INS
-Nutty Anglo-Aussie out promoting Titanic Myths and Fable with real life replica
Australian mining entrepreneur Clive Palmer unveiled blueprints for Titanic II, a modern replica of the doomed ocean liner, although he stopped short of calling the vessel unsinkable. Reuters
The Titanic was sunk by the English Crown after the bankers aboard had refused a request  to form a private Central Bank for the USA in partnership with the BOE. Anglo-Zionist elites love to fool the masses and make money off of them to further their propaganda empire.
-Pratt & Whitney is 99 percent sure the fan blade problem that grounded the Pentagon's 51 new F-35 fighter jets was not caused by high-cycle fatigue, which could force a costly design change, according to two sources familiar with an investigation by the enginemaker.Company engineers have concluded that a 0.6 inch-long (1.5 cm) crack found on a turbine blade in the engine of an F-35 jet at Eglin Air Force Base in Florida was almost certainly caused by lesser issues, such as high heat exposure or a manufacturing problem, that would be easier to solve, the sources said. Reuters
-So much for Bernanke's testimony today…
J.P. Morgan Chase set plans to eliminate 17,000 jobs by the end of next year and slash expenses by at least $1 billion annually. WSJ
-FAA acting as obstructionists in B787 retrofit.
The Federal Aviation Administration (FAA) said it is not close to approving test flights of Boeing (NYSE: BA -) 's 787 Dreamliner with a proposed fix for the plane's troubled batteries, denying news reports that such tests could start as early as next week."Reports that we are close to allowing 787 test flights are completely inaccurate," spokeswoman Laura Brown said on Tuesday in an email to Reuters. Boeing declined to comment. Reuters
-26,121 MIA in Gun Free Zone of Mexico in their Drug Wars
 An official count shows at least 26,121 people were reported missing during the term of President Felipe Calderon, who launched the country's offensive against drug cartels,Mexico's new administration said Tuesday.Lia Limon, the Interior Department's subsecretary for human rights, said the list used data from local prosecutors across Mexico, and includes people reported missing for any reason during the previous administration. It doesn't include information collected after November 2012. AP
-Tatooed Freak , has been Dennis Rodman pimped to North Koreans as a  Diplomat
-Germans turn to murderous Anglo-Zionist Drone Killers
Bowing to pressure from the German armed forces, the Bundeswehr, the federal government in Berlin is preparing to deploy armed, unmanned drones in foreign conflicts. In an answer to an official query made by the far-left Left Party, which has been obtained by SPIEGEL ONLINE, the German government wrote that its experience in foreign combat operations has made it clear that reconnaissance vehicles must be armed "in order to provide protection against sudden and serious changes in the situation."
Der Speigel
-Geopolitical Headlines
| | |
| --- | --- |
| | Updated February 27, 2013 – 12:00 AM EST |
-Scripture for the Day
Matthew 6:5-15
King James Version (KJV)
5 And when thou prayest, thou shalt not be as the hypocrites are: for they love to pray standing in the synagogues and in the corners of the streets, that they may be seen of men. Verily I say unto you, They have their reward.
6 But thou, when thou prayest, enter into thy closet, and when thou hast shut thy door, pray to thy Father which is in secret; and thy Father which seeth in secret shall reward thee openly.
7 But when ye pray, use not vain repetitions, as the heathen do: for they think that they shall be heard for their much speaking.
8 Be not ye therefore like unto them: for your Father knoweth what things ye have need of, before ye ask him.
9 After this manner therefore pray ye: Our Father which art in heaven, Hallowed be thy name.
10 Thy kingdom come, Thy will be done in earth, as it is in heaven.
11 Give us this day our daily bread.
12 And forgive us our debts, as we forgive our debtors.
13 And lead us not into temptation, but deliver us from evil: For thine is the kingdom, and the power, and the glory, for ever. Amen.
14 For if ye forgive men their trespasses, your heavenly Father will also forgive you:
15 But if ye forgive not men their trespasses, neither will your Father forgive your trespasses.
-Global Calendar
======================================
Newslinks
-Monti Government Mulls Delaying Monte Paschi Bailout
http://www.bloomberg.com/news/2013-02-27/monti-government-said-to-consider-delaying-monte-paschi-bailout.html
-Wall Street Junk Kings Selling Debt Poised to Lose Value
http://www.bloomberg.com/news/2013-02-27/wall-street-junk-kings-selling-debt-poised-to-lose-value.html
-SEC Shines Light on Derivatives-Backed Notes: Credit Markets
http://www.bloomberg.com/news/2013-02-26/sec-shines-light-on-derivatives-backed-notes-credit-markets.html
-JPM to cut up to 17000 Jobs
http://www.reuters.com/article/2013/02/27/us-jpmorgan-jobs-idUSBRE91P0GX20130227
-Hollande Jobs Pledge Turning Into Achilles Heel as Claims Rise
http://www.bloomberg.com/news/2013-02-26/hollande-jobs-pledge-turning-into-achilles-heel-as-claims-rise.html
-Bernanke Defends Asset Buying
http://www.bloomberg.com/news/2013-02-26/bernanke-defends-asset-buying-as-benefits-outweigh-risks.html
-World from Berlin: 'Europe Can't Afford an Ungovernable Italy
'http://bit.ly/13WivVl -Der Speigel
-Putin warns of foreign threat, vows non-stop military reform
-City of London- EU to breakup
http://insider.thomsonreuters.com/link.html?cn=uid343617&cid=1040186&shareToken=Mzo5ZTIwMWNiOC0yMzNlLTQwMzktOGQzMC0wZDM1YWYxYWI4MDE%3D
-Regierungskrise in Rom: Steinbrück lästert über Italiens zwei "Clowns"
http://www.spiegel.de/politik/ausland/deutsche-erhoehen-druck-auf-italiens-politik-a-885781.html
-Russia to start intervention into wheat market http://bit.ly/ZzKoBO
in russian
-Japan's Abe aims to polish reform credentials with TPP trade decision. http://reut.rs/WhbKPL
-BP Profit Push 'Root Cause' of Gulf Spill, Witness Says
http://www.bloomberg.com/news/2013-02-26/bp-profit-push-root-cause-of-gulf-spill-witness-says.html
-Patt in Rom: Italien-Wahl nährt Angst vor Bruch der Euro-Zone  http://on.welt.de/YUE7yl
- Italy halts austerity plan leaving EU in turmoil  http://gu.com/p/3e4b2
-Chinese duties on EU X-ray gear violate global rules, according to WTOhttp://bloom.bg/129yxjf
-Gold Miners Come Clean on Costs After Lost 6 Years: Commodities
http://www.bloomberg.com/news/2013-02-27/gold-miners-come-clean-on-costs-after-lost-6-years-commodities.html
-Wal-Mart's Sales Problem—And America's
http://online.wsj.com/article/SB10001424127887323384604578324742262321694.html?mod=WSJ_hp_mostpop_read
-Olive Oil Diet Curbs Strokes
http://online.wsj.com/article/SB10001424127887324338604578326160736614012.html?mod=WSJ_hp_mostpop_emailed
-Election Chaos: 'The Whole of Europe Is Afraid of Us'
http://www.spiegel.de/international/europe/analysis-of-italian-election-outcome-a-885740.html
-Germany Plans to Deploy Armed Drones
http://www.spiegel.de/international/germany/germany-plans-to-deploy-armed-drones-in-combat-abroad-a-879633.html