Newslinks
-Lance Armstrong sued for over 12 million in Tour De France Win Money
-FED expands Balance sheet to $3.016651 Tln, up 6.28 bln w/w
-Brennan hearing interrupted by Zionist Run Code Pink. Softball questions for CIA stooge.
-Obama tells Democrats he wants big deal to close Deficits.
-Chancellor Osborne calls for looser BOE monetary policy to increase economic growth
-Carney Talks out of both sides of mouth-Plays Hawk, 'no helicopter drops',  drops hard inflation target in 3 hours of nonsense, 'flexible' inflation targeting now in fashion.
-Cameron threatens to veto EU budget that is 'too high'
-Iran Mullahs Reject Nuke Deal/Talks with USA
-French Economy DOA, as Nuke Power True Costs come rippling through
-Jim Rogers-Short Long Dated USTs
-ECB And BOE Hold Rates
-Australia elite sports corrupted by Mob (Askenazi) and Doping
-'Historic Winter Storm' Moving Toward U.S. Northeast
-Ireland Liquidates Nightmare from Hell/London/Rothschilds Anglo-Irish Bank
-ROK Considering First Strike on PRK.
-USA continues to hammer Iran with Sanctions that punish children and families
-PBOC moves back into Inflation watch/fight mode
-India Q1 Advance GDP 5 % y/y v 5.5%e, Slowest Growth in Decade
===================================================
 Commentary
-NY Fed argues against Capital Controls..
NY Fed Paper Argues Against Capital Controls http://on.wsj.com/YHCvdc
The Anglo-Zionist want to get their money out, then impose them on you!! Sir Dudley is a liar, like Sir Bernanke.
- Iceland outlook revised to stable from negative by Moody's-wires
-Russia's Yandex overtakes Microsoft in world wide searchinghttp://on.rt.com/pv3la4
-Anyone seen Arnie Rothschilds In LA this afternoon?
New details on manhunt for former LAPD cop who killed three and caused widespread panic in Los Angeles http://on.rt.com/94937t 
-David Einhorn: "several hundred dollars per share would be unlocked if  AAPL were to follow through on this"
Ha, ha, what a big one!!
-After hours..
787 Ferry Flight – Feb. 7, 2013
Pilots flying the 787 that was ferried from Fort Worth, Texas to Everett, Wash. this morning monitored the battery status page throughout the flight and indicated that the flight was uneventful. Boeing press story.
-USA Close
You had to expect with the criminal and politically troubled Mario brothers in Deep trouble in Europe, and at the ECB. and with the Clown Prince Carney up and Dirty Mervyn, and their stooge at the CIA, the ECB/FED would defend the tape and shove the people it wanted shoved around today for profit for insiders in Frankfurt, Basel, Paris, London, and NYC.
Odd to watch USA equities start a roaring comeback at the close  as oil and gold stood completely still. Markets don't work that way, unless NOT 'free' and NOT 'transparent' and NOT 'fair "(unrigged markets). I sold the close in the DIA and am short the DAX and SPY. Completely disjointed, and faked markets today across the asset spectrum from Italian and French Bonds, to CDS, to Commodities, to Equities to stuffing the guys Jim Rogers pulled offside saying to short USTs.
I went flat the Euro ahead of the ECB but covered some of the 1.36 short at 1.33 . I expect the E$ to retrace to 1.30 or so before it launches again. I'm going to spread trade it until it is above 1.40. Draghi took the winds out the Euro bulls who raised their targets to 1.45 on the ECB/Germans fake out chatter  yesterday. One day of selling is not enough, typically you need 3 days of sells before currency markets clear. The Euro $ bull will be back as long as Draghi contracts and Bernanke expands, at least until the next Euro crisis point. It is going to take some serious money printing to stop the Euro dollars rise, although we sort of got that in Ireland today, Spain is next in line for free money and Zero Coupon bonds that come due after everyone is dead.
What events did we have going on today….
-Spains expanding PP government scandal of Secret Swiss bank accounts, not covered by anyone but El Pais.
-The Irish getting their debt relief. I presume the long  bond is a zero coupon bond they got. A pyrrhic victory for some English money center bank as the Euro dollar will be toilet paper before the Irish pay the English money center one shekel, er farthing er.. Eurocent.
-The Commies surging into the lead in Greece. Berlusconi closing the gap with Bersani in Italy.  The Greeks in a panic over their failure to collect more taxes after raising them. The rise of the Golden Dawn nationalist parties in both Germany (lots of greeks there now) and in Greece.
-The UK Treasury Select Committee and Mark Carney Freak Show, probably the most important event of the day.
-The Draghi ambush of Euro dollar longs and carefully rehearsed defense of his crooked role in the MP scandal, as well as more revelations and some minor confessions of the cash amounts.
-Mervyn Kings BOE meeting.
-Brennan CIA meeting before the Senate.
-The EU war over their 1 tln to spend over the next seven year budget food fight.
-India growth slowing and the PBOC going back into the inflation fighting mode.
-The Iran  Mullahs giving the USA the finger.
-Lots of deaths in Mali, including to French troops we can infer. Lots of deaths in Syria as the British State department demanded all brits leave syria immediately.
-Poor USA jobs data.
-The DELL And Apple theater as Jewish money grabbing was front and center and Dell was sued for ripping shareholders off with a low ball offer. and Eichhorn determined to squeeze value and money out of APPLs coffers. Tim Crook throwing in the towel before the ink was dry on the lawsuit from Eichhorn.
-Due to CBs and Federal Treasuries, the markets are no longer tradable or even investable and they move so fast, some limited computer programming is required. It is a cruel, cruel world under the 'whip' of Rothschilds and his filthy hoard.
-The FED out lamenting the corporate bond bubble they created and threatening to burst it.
-The NTSB, illuminati act to try and blame Boeing and the Battery complete with the troll Jewish school bus driver and her black and white illuminati uniform. Meanwhile Boeing saying a battery redesign is required, probably just a more robust case to cover up a mathematically certain sabotage job probably done at Hollande /Camerons order. A clean test flight by Boeing.
-The perfect gold take down  on the Draghi speech to 1666. Ho, ho, the ESM/ECB computer programmers are running the same program as the FED/UST(ppt, aka ESF).
-We had poor top lines out of the big german cement giant and the mexican/usa cement giant.
-In Europe the Scandinavians are the only one telling the truth about how bad it is in Europe and there is no turn around at all, and that Europe's rots is now up from France to their door. Europe , rotten to the core and now beyond to the far, far north.
-The French are desperate and hoisted on their own petard, as 1 billion dollar to build nuclear plants now cost 5 billion to replace or 3 billion to shut down and France simply cant afford another generation of Nuclear power. So dangerous reactors will be kept running and panic resource grabs are the order of the day for the feckless Hollande. The Japanese neatly have sewed up USA LNG to replace their dying nuclear industry.
-Obama and Rubio are practicing their con lines for the State of the Union. Rubio is a well known Sephardic Jews name. He is 'heir apparent' in 2016, not the volatile fatman Christie, or maybe Rubio  will run with Jeb Bush.
-Finally the FED did some modest printing. As of Wednesday the 6 of Feb , the FED balance sheet is at 3.016651 tln up , 6.281 Bln from the prior week and up 86.08  bln y/y. A very modest monetary expansion is in place, at best.
4:01 p.m. EST 02/07/13Major Stock Indexes

4:00 p.m. EST 02/07/13Treasurys

3:51 p.m. EST 02/07/13Futures

4:01 p.m. EST 02/07/13Currencies
-Bad news Eurotrash
Greece PublicIssue poll: SYRIZA 29% ND 28.5% GoldenDawn 11.5% IndependentGreeks 8% PASOK 7% DemocraticLeft 6% KKE 5.5%
Commies in the lead in Greece. KKE , is that the Kike party..lol. Just kidding Jews. Stop calling me a goy and I will stop the Kike name calling.
-Selling some more SPY here.
-1545. ..Here comes the PPT into the close.
Apple says in talks about returning cash to holders; shares rise

Apple says it will evaluate Einhorn's preferred-stock ideahttp://on.mktw.net/14VPVXc
-Brennan on intel leaks: "I engaged in discussions with reporters… but… I know the importance of keeping those secrets secret."
-Economic Release Summary USA Session
Grabbed the yesterdays file by mistake . Here it is.
(IS) Israel Jan Foreign Currency Balance: $78.4M v $75.9B prior
 (RU) Russia Gold & Forex Reserve w/e Feb 1st: $533.5B v $530.7B prior
(RU) Russia Jan Official Reserve Assets: $532.2B v $533.6Be 
(DE) Germany Dec Industrial Production M/M: 0.3% v 0.2%e; Y/Y: -1.1% v -0.5%e
(ZA) South Africa Dec Manufacturing Production M/M: -2.2% v -0.8%e; Y/Y: 2.0% v 2.6%e
(BR) Brazil Jan IBGE Inflation IPCA M/M: 0.9% v 0.8%e; Y/Y: 6.2% v 6.1%e
(CL) Chile Jan Trade Balance: +$244.0M v -$120Me; Total Exports: $6.9B v $7.7B prior; Total Imports: $6.7B v $6.2B prior
(CL) Chile Jan Copper Exports: $3.8B v $4.7B prior
(UK) Bank of England (BOE) lefts both Interest Rates and Asset Purchase Target unchanged at 0.50% and £375B respectively (as expected)
(EU) ECB left Main Refi Rate unchanged at 0.75%, as expected
(US) Q4 Preliminary Nonfarm Productivity: -2.0% v -1.4%e; Unit Labor Costs: 4.5%% v 3.0%e
(US) Initial Jobless Claims: 366K v 360Ke; Continuing Claims: 3.224M v 3.197Me
(US) Weekly EIA Natural Gas Inventories: -118 Bcf v -130 to -135 bcf expected range
(CA) Canada Dec Building Permits M/M: -11.2% v +5.0%e  (CA) Canada Dec New Housing Price Index M/M: 0.2% v 0.1%e; Y/Y: 2.3% v 2.2%e 
 (MX) Mexico Jan Consumer Prices M/M: 0.4% v 0.3%e; Y/Y: 3.3% v 3.2%e (15-month low); CPI Core M/M: 0.4% v 0.3%e 
(UK) Jan NIESR GDP Estimate: 0.0% v -0.3% prior
(HU) Hungary Jan YTD) Budget Balance (HUF): -2.5B v -607.5B prior  (PL) Poland Jan Total Official Reserves: $108.0B v $108.9B prior
-Aliens to 'what ' generation?
37% of 2nd generation  Hispanics & 27% of 2nd gen AsianAmericans most often describe selves as Americans.
Pew Research.
-SNB balance sheet : AAA assets down to 78% Q4 from 86% Q3. AA rating 17%, up from 10%. SNB has not reduced foreign currency holdings. EUR up, small declines in JPY and USD
-MI6 Lackey approved prop piece on the 'clever' Mark  Carney ..rofl.. even MI6 admits he is stooge, but will print on demand…
Let's make the most of the Bank of England's new Governor, the clever Mark Carney: Mark Carney gives George Osborne..
But he exudes a certain worldly wise confidence and openness to debate which has been sadly lacking at the Bank in recent years, and much of what he told MPs was extremely encouraging. A large part of successful central banking is simply about getting the body language and the messaging right, and on this front, Carney looks as if he's going to be a dab hand.
- S&P case to go before Judge David Carter, a former prosecutor, appointed by President Clinton..
Anglomason, Crown Loyalist. Fake trial and fake justice. Fake, fake, fake. Lie, lie, lie. Deceive. Now I know why the Mossad went to MI6/London for their seminal training.
-Opps, Politico fake out, Brennan meeting is back on in the Senate. I should have watched on another feed.
-Einhorn the Jew, versus Tim Crook, the Anglomason
Lol, which one is the Jew?  First cousins at the very least if not blood brothers. I know , I know reality is tough, so deal with . The Arab Jobs was just used and burned up for the Crown to loot, if he was not murdered with  multiple pancreas virus injections by the Anglo-Zionist establishment at his check ups after beating Cancer with organics. Einhorn has the white hat  here, not the greasy options grabbing country-club WASP, Tim Crook.
http://www.marketwatch.com/story/apple-sued-by-einhorn-over-stock-proposal-2013-02-07?dist=countdown
-Charge it to your FED owned VISA account..  U.S. December consumer credit rises $14.6 billion, says FED.
-Black Jewess Demands Demon showing photos be pulled.
-
Got the  hooked nose that blacks who were fathered by Jewish slave owners have. I guess now I understand. She says she is a devout christian. Well Lucifer believes in Christ as do the Jews, but that does not make them followers of Christ. Filthy Beyonce. Shame on you slut.
-Troika response to Ireland
Under the terms of the deal, first reported by Reuters on Wednesday, Anglo's promissory notes, with an average maturity of between seven and eight years will be exchanged for government bonds with an average maturity of over 34 years. The first principal repayment will be made in 2038 and the last in 2053. Kenny rushed through emergency laws to liquidate Anglo Irish in the early hours of Thursday morning, the first part of a plan to avoid having to keep paying 3.1 billion euros annually on the Anglo Irish promissory notes.That annual payment was equivalent to more than 670 euros for every single person in the country.
http://uk.reuters.com/article/2013/02/07/uk-ireland-bank-ecb-idUKBRE9151EQ20130207
-Keystone pipeline on agenda as Kerry, Canadian minister set to meet
-Code Pink, the Jewish lead fake antiwar organization demonized antiwar protesters and their Jewish co-conspirator in war, Feinstein  had they thrown out and Capital hill locked down for the  CIA goon Brennan. Jews always lead the opposition from the front like the Anglomasons at Greenpeace out of London.
-Market Watch
2:20 p.m. EST 02/07/13Major Stock Indexes

2:19 p.m. EST 02/07/13Treasurys

2:10 p.m. EST 02/07/13Futures

2:20 p.m. EST 02/07/13Currencies
-EU Closing Prices
Okay writing up closing summary now..WIP
Americans were treated in the early morning to a rare bit of insight on a slip up on Bloomberg TVs London channel where a member of the Treasury Select Committee of the Crown government said the BOE was the most powerful Central Bank in the world and Carney would operate the most powerful position in the world. You can scroll through the blog and see if BBN-TV puts up that video replay or not.
The UK has no natural resources (except in its empire in the USA, Australia, Canada), sold most all of its gold and by total debt the English are the most indebted people in the world relative to their GDP, so how can it be the most Powerful central bank given not many pounds are floating around the world compared to Dollars and Euros? . So what is the 'magik' behind the throne of the BOE to make it the most powerful since it has no 'book'.
Well known other than 'hidden' from the Public is the $1 trillion dollar a year global drug trade of which 750 billion is pure profit, or higher and which all flows to London, if only through Israeli and offshore English money center banks and drug laundries in Holland and Spain and that has been going on for over 200 years. And the conjoined finances of the House of Windsor-Rothschilds worth some 250 Trillion, or more, from centuries slavery, war profiteering and central banking.
As the ZGR has observed when a Jew is extraordinarily wicked and corrupt they move from Israel or the Middle East and become an English Lord and often take an English wife, like Jacob Rothschilds. The most prominent American examples the masses would be aware of would be the Satanic Jew, Angie Jolie and her WASP-Blue blood husband, Brad Pitt, now living in London. Sir Al Gore now living in London. Bill Gates the Anglosaxon blueblood married into Jewish banking money, now with two massive homes in the Kensington park area, and the Bronfmans who moved to London recently, the Canadian bootleggers and drug runners and booze peddlers and now 'media' giants.
Europeans seem without a clue the BIS/IMF/WB were almost all the brainchild of Keynes and the London gang and are merely captive banks designed to loot the USA and Europe and are unaudited like the ECB and FED .
This UK Treasury select committee man was boasting openly of what the BOE runs in Europe. Europeans are so spiritually darkened, and godless and well just plain naive, an American has to explain this to them. I know, I had to explain it in depth to my Kin in Italy and Austria  before they understood it. Nothing in Europe impresses me that was not done 200 or more years ago. The place is a spiritual and moral wasteland and very 'closed' system and they don't like Americans much there ex in Italy, the Slavic Countries and France, and Ireland.
The English revile us as intractable Europeans and former slaves  who reject their gods of Darwin, Russell, Huxley, Prince Charles, Rothschilds, and Keynes. The English elite are very aware that America is only 8 pc Anglosaxon and only 2 pc relatives of the English elite and that 85 pc of the people who kicked the redcoats and George the 3 rd out were European Americans and ex slaves. The English are still trying to reconstruct how they failed in 1776. Filthy English and the filthy English people for lying to Europe and the USA about what they are up to with their first cousins the Jews to rule us all with the mailed fist of the banker and their stooges in the military and police forces. Scorn to all of England for its nasty brutality and living high on the slave, drug and wars they cause.
Europe moves now in Line with London thinking as this miserable Anglosaxon-Jewish version of LesMis is showing us in Paris. So Europeans will be 'rewarded' at least for now, while Americans must be punished for being 'bitter clingers' as the Black Jew and MI6 agent Obama calls us. Europeans spit upon the bible and AK47s. Russians are sort of like Americans, they love their bible and AK47s, and maybe vodka too much, so in London's eyes  Russia and America are 'rouge' states and should be pitted against each other and destroyed is I am sure Oxbridges thinking. The ZGR says Russian and American power should contain China and Crush London and contain the German madness to march and redirect it towards something useful like making good Strudel or good cars. Germans need a lot of direction like the Japanese and Americans could probably best provide it if we could get some real Americans in power and not this illuminati , British-Israel cult.
Carney got his job at the BOE, only because he is Oxbridge and was 'tapped' by MI6 there and is a complete Goldman Sachs Whore married into a very high level English royal family who were loyal slavers and drug traders. The man is  a complete whore. Computers should run monetary policy using Taylors rule a real unemployment number and constrain monetary growth to be equal to real GDP growth, not CB whipsawing the markets for fun and profits.
Here is the fawning the press and so called intelligentsia  gave the 2nd coming  of the (anti) Christ,Mark Carney who will run the BIS/BOE/FED/BASEL AND ECB behind the scenes in secret meeting and convey the Windsor-Rothschilds wishes to their stooges.
The incoming Bank of England governor charmed the scrutinising UK parliamentary committee. He dodged hard questions and backtracked on his one mildly radical policy suggestion. But he didn't sound ready to deal with big fiscal deficits or the British fixation on house prices. (reuters)
Mr Carney clearly views himself as a communicative, listening but also authoritative, team leader. He conveys power by his forward lean, direct gaze and emphatic hand gestures. He often uses a hands-off, palm-facing-target gesture and downwards palm pressure indicating both 'stop' and 'I will keep it under control'.However, this is softened by direct smiles at the questioner and a head-leaning-to the side stance which is a traditional appeasement gesture. 
Professor Odonnell, cited in the DT, from the University of Glasgow proving Psychology is the profession of the Jews and devil. Imagine having to pay this quacks salary if you're a frugal and hardworking Scot. Revolting.
On a side note, here is the new Watermelon WASP Sally Jewell that is going to throttle  NG, Coal and oil on federal lands least Americans tap the $300 trillion of wealth and pay our debts off at the USA Interior department. Is she a Jew or a WASP, I cant tell. Is she even a human? Or Homo Anglo-Judica-luciferianicus,  only the DNA sample will tell. She exudes like Carney pure evil.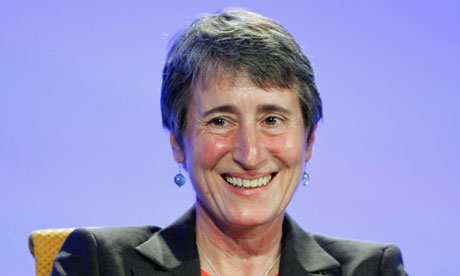 Now Carney who is ostensibly Irish, but is probably Anglo-Irish got where he is by marrying into English royalty and being  a willing stooge who will probably be told to direct hyperinflation in England, Europe and the USA. There have been plenty of Irish sellsout to the Crown and that is what all  the guys at the Central Bank of Ireland are who enabled the Anglo-Irish bank take down by London.
(The EU budget meeting was delayed until 830 PM GMT so they will do the dirty deals in the dead of night like thieves in Brussels but it is only E1 tln over 7 years so more of a local food fight between states and Brussels. ).
Carney deftly deferred to the privy Council….
Carney said others should decide if reform of the Court of the Bank of England is needed:
I hesitate as a foreigner coming in and suggesting changes to the longer traditions of the [Bank of England]. Others should make those judgments rather than me.
So the same old opaque privy Council, Rothschilds-Windsors will run the show the same way they have since the Private Bank of England was founded. No one knows who really owns the BOE shares or the FED shares today.
Carney used a lot of CB weasel words to walk the hawk/dove line and keep markets off balance (ex the insiders at the Crowns bank), quotes from the FT, DT, Guardian, Economist.
The flexible inflation-targeting framework should remain broadly in place, but details need to be reviewed and could be changed. 
There are distributional consequences of QE. All monetary policy has distributional consequences. The response to those is [someone else's job] (TSC/Privy Council/BOE staff) ( a real mumbler here). 
In these exceptional economic circumstances, with inflation above target, it would be useful to have a shared understanding of what is the optimal timeline to return [to the target] and why. There is merit to considering the Fed-style threshold-based guidance.Does one make that [threshold] time-contingent, or state-contingent, [i.e.] is it around a specific economic variable?My view is that the best framework remains flexbile inflation targeting.
Carney says he is "far from convinced" that the bank should move to nominal GDP targeting, but says it is a valid part of the debate if one is looking at a framework.
I cannot envision any circumstance where I would support [helicopter money].
The bank is very well informed on not just the conduct and the effectiveness of the current remit. The bank can play a role in informing that debate. If the bank were invited to question its remit, it is reasonable to respond.Active questioning of that remit can make it less effective. Once a remit is given then the bank's job is to execute against that. (we will hit whatever target of inflation the privy council and court of the bank of england and the UK treasury department wants us to hit)
So the little Weasel was reigned in from his Helicopter Ben act he had going on at the Bank of Canada and said he will sit down and shut up and not reform the opaque Bank of England and be the good little #1 million a year Goldman Sachs/Royal stooge they want him to.  This guy gets fed the questions in advance. The entire thing is a freak show much like Congress grilling Bernanke or Greenspan with lots of conspiratorial winks.
Here is what Rothschilds boys at the Economists Blogged:
Irrespective of who heads the Bank of England, ultra-loose monetary policy in the UK will persist in some form for a long time to come, given the structural weakness of the economy and because the government views it as a necessary counterbalance to its protracted fiscal austerity programme.
Some changes to the inflation-targeting policy framework are, however, likely to be considered once Mark Carney succeeds Mervyn King as governor in July, since the Canadian appears to hold a more optimistic view than Mr King that there is more that monetary policy can do to stimulate the economy at the "zero lower bound" (when nominal policy rates are close to 0%).
Initially, this is likely to focus on adopting a more flexible inflation-targeting framework, which could include providing more "forward guidance" on the future path of monetary policy (for example, an explicit commitment that rates would remain at 0.5% for a stated duration) and/or threshold rules similar to those recently adopted by the US Federal Reserve.
A major shake-up of the Bank's remit in the near term, such as a move to target nominal GDP or earnings, seems unlikely, but could still occur over time. Events could well force Mr Carney's hand, should traditional monetary policy tools (including QE) continue to disappoint and the UK economy continues to stagnate."
Hey he is 'the man' at the most powerful Central bank in the most powerful position in the world. I'm sure Ben is disappointed as is Draghi. As Jews are put under the thumb of the Anglomason and the Jew Mervyn King is shown the door for being too stubborn and not listening to the Royals. Don't worry dirty Mervyn probably has his trips to Disneyland all lined up with the boys Choir at Eaton.
You English are totally disgusting, your TSC committee are all crooks and liars and your "Court of the Bank of England' are just drug runners, and war criminals. Your Emperors Chuck and Jacob are just naked Anglo-Jew satanist. This entire process, oozed evil. Carney oozes grease out of every slick pore. And the 'Irish' will get the blame when Hyperinflation comes. Carney is as Irish as Sir Bono.
Draghi is a slick Jew like Greenspan, but he talks too much and slips up too much compared to the Maestro of lies Alan Greenspan. The ECB and Germans set the E$ 140 crowd up by pointing to a E145 target yesterday to have Draghi soft talk it down while trying to walk the German Euro is a hard currency despite is garbage balance sheet exceeding the FED and the Euro forever crowd was forced to sell. He had a prepared answer for the Irish and German journalist who were the only ones to go after his corruption at MP at BOI. He used fellow Jew Lagarde at the IMF and the BOI to exonerate himself and his 'not a cop' line. So corrupt bankers exonerate corrupt bankers and the taxpayers will pay for their crimes. Just standard Central bank fare and bull manure. Draghi gave the bulls what they wanted their '2nd half recovery' but refused to say when it would happen. The DAX was up nearly .7 pc when he was pumping that lie, so I sold it hard. At best as Axel Weber said the EU will have no growth this year and there will be no 2nd half recovery, at least not unless Carney tells the FED to take their balance sheet to $ 4 trillion and Obama can steal enough money between here and May 15 and the BOJ does what the FED tells it to do. Draghi kept stressing the 'accommodative' monetary policies and his 'anchoring' of inflation expectations. So markets could be pumped and gold dumped. And despite the best efforts of the ESM, European markets crapped on the BOE/ECB show today. That would be short sellers like me. The Euro bull should be back as  Bernanke is told to really print and the ECB continues to bring down its balance sheet at least until the Greeks or Spanish implode. The  news fakers refused to translate all the slimy details that emerged of secret swiss bank accounts of Rajoys party, least it disturb bond auctions.
A lot more went on today but I'm out of time. Loose ends I will put into the USA close , although I want to note, Berlusconi is moving up every day now in the polls. The return of Napoleon, and the English-Jews will sideline him like Napoleon or Al Qauddafi, pdq. Monti has capitulated and will run the Italian Senate it appears.
Europe is a freak show if you know the Royal freaks that are on the Privy Council and everyone knows what a freak Prince Charles and Phillip are and crazy Liz and crazy Kate. Eurotrash, baby, Eurotrash as far as the eye could see.
Nice move by the Irish ex they did not really bankrupt Anglo-Irish but are keeping some bond holders in London whole for some ESM cash and other gooodies the Irish elites want out of the EU. The Irish turned the press conference into a free for all. I'm sure Draghi will get some of them kicked out. Jews don't like the impertinent Irish anymore than the English elite do. Thanks to the polite German journalist that tried to put the screws to this Jewish crook. You Germans fail for not getting all of his held in German on your soil, instead the English rule with their sordid language. When the ECB conference switches to German, you will know Europeans and not Jews and the English are in charge of the ECB and EU future. Shame on the Germans for not forcing Weber or Weidmann into the ECB position.
Bonds
U.S. 10yr 1.94-0.02, 1.24%
German 10y 1.61-0.03, -1.57%
Italy 10y 4.52+0.01, -0.33%
Spain 10y 5.40-0.02, 0.44%
U.K. 10y 2.10+0.00, -0.01%
-1152 Finally got a meaningful break on the SPY and doing some covering here., eg profit trading. Spread trading the SPY/DIA with a short bias and remaining short the DAX and selling that incredible pump job by the ESM/ESF(UST) was the right trade. Euro trading was a bit sloppy, but you cant win them all fully.
-Fed Gov. Jeremy Stein gave a pretty stark assessment of the corporate bond market Thursday.Yes, he says, the spread between junk bonds and government bonds isn't terribly stark – about 400 basis points, just above the median of the pre-financial-crisis distribution.

But Stein is seeing worrying signs in the types of issuance (see graphic) – of payment-in-kind bonds, covenant-lite loans, dividend recapitalization loans, and average debt multiples of large corporate leveraged buyout loans."My reading of the evidence is that we are seeing a fairly significant pattern of reaching-for-yield behavior emerging in corporate credit," Stein says.Even so – the broader financial system is not at risk, he insists.That's because not much of this issuance is financed by short-term demandable claims that can be pulled back quickly when things go bad."There appears to be only modest short-term leverage behind corporate credit, which would seem to imply that even if the underlying securities were aggressively priced, the potential for systemic harm resulting from deleveraging and fire sales would be relatively limited," Stein says.But even here, Stein sees some reasons for caution, pointing to inflows of mutual funds and exchange-traded funds that hold high-yield bonds."If investors in these vehicles seek to withdraw at the first sign of trouble, then this demandable equity will have the same fire-sale-generating properties as short-term debt," he says.Stein says the lesson is the Fed may have to get involved to prick some bubbles. "In some cases, it may be that the only way to achieve a meaningfully macroprudential approach to financial stability is by allowing for some greater overlap in the goals of monetary policy and regulation," Stein says. MW. 
Gold is always a bubble. But not the UST market. Hey these people created the Corporate bond bubble with their negative real interest rate. Who would not borrow money (sell debt) at 2 pc , 2 years out when the real inflation rate is closer to 5 pc than the Fed's faked 2 pc number.
-1130 EU closes on this note… Hollande wants €960bn ceiling but Merkel €940-5bn as deadlock sets in. Monti threatens veto. Long night ahead.
-Bill Raising Drinking Age to 21 Submitted to Duma http://tmt-go.ru/475228
About time. Next they need to stop the Jewish mob from flooding the place with Heroin. Hard to say if death by Vodka is more painful than death by heroin as I don't drink and have never done drugs. Infernal Anglo-Zionist crown and its lackeys and its damnable heroin trade. The Royals , the Windsors-Rothchilds-Juan Carlos-Beatrix -Bush-Rockefeller families look at every heroin addict or alcoholic as an annuity. Jews own most of the big Alcohol firms, ex the beer peddlers although those maybe Jewish owned as I have not checked since the Germans brought Budweiser out.
-1120 Tiny, 5 foot tall, smirking Jewess, at the NTSB. Totally disgusting and unprofessional presentation by the School bus driver in her black and white illuminati out. Conference call is over. Q/Q. Big con job to cover what is a mathematical certainty sabotage job. I can't wait until Christ comes to put these people to their death for their lies and destruction. Women are power mad and should never hold political power. Most all witches are women and those that are not are homosexuals or at least bisexuals like Winston Churchill and self admitted Druid priest. USA government is full of satanic Anglo-Zionist filth. You cant fool mathematicians which is why Oxbridge wants all engineers/scientist/mathematicians 'chipped' for the 'safety' of society. Hitler had the name of every chemist, engineer, physicist and mathematician in the Reich. He knew who to 'gag' ASAP. Don't publish is my rule. Smart people who are not part of the banker-lawyer, political cult get murdered at some point by the illuminati, now or in the future.
-Market Watch
I covered my DIA short completely, left my SPY largely open. Took some profit on my Dax Short I added after the Draghi pump. Sold some of my long- short EU and added to my long EU position to move to a neutral position on the E$ , still looking for a run to 1.40. Still have plenty of DAX and SPY shorts. I dumped my long SPY/DIA positions shortly after the opening after listening to Draghis crap. Busy trading morning for sure. Europeans are very rude to have their crappy EU meeting just as major Econometric data is releasing and as our markets are opening. Lazy people, should get up earlier and do their thing long before the USA markets open, like the USA waits until after Europe close. Eurotrash.
11:07 a.m. EST 02/07/13Major Stock Indexes

11:06 a.m. EST 02/07/13Treasurys

10:57 a.m. EST 02/07/13Futures

11:07 a.m. EST 02/07/13Currencies
-Evil Jewess of NTSB is wearing her black and white illuminati outfit.
-EU bond Auctions today 
(ES) Spain Debt Agency (Tesoro) sold total €4.61B vs. €3.5-4.5B indicated range in 2015, 2018 and 2029 Bonds  Sold €1.948B in March 2.75% 2015 Bono bond; Avg Yield 2.823% v 2.476% prior; Bid-to-cover: 2.21x v 2.07x prior; Maximum Yield 2.889% v 2.58% prior; Tail 6.6bps v 11.1bps prior. Sold €2.07B in Jan 4.5% 2018 Bono Bond; Avg Yield 4.123% v 3.770% prior; Bid-to-cover: 2.24x v 2.32x prior; Maximum Yield 4.169% v 3.808% prior; Tail 4.6bps v 3.8bps prior . Sold €593M in 6% Jan 2029 bonds; Avg Yield: 5.787% v 4.86% prior, bid-to-cover 2.02x v 2.22x prior; Maximum Yield 5.822%; Tail 3.5bps
(FR) France Debt Agency (AFT) sold total €7.98B vs. €7.0-8.0B indicated range in Oats. Sold €1.77B in 2.5% 2020 Oats; Avg Yield 1.83% v 2.91% prior; Bid-to-cover: 3.64x v 3.99x prior. Sold €3.02B in 2.25% Oct 2022 OAT; Avg Yield 2.30% v 2.07% prior; Bid-to-cover: 3.09x v 1.72x prior.  Sold €3.19B in 2.75% Oct 2027 OAT ; Avg Yield 2.85% v 2.56% prior; Bid-to-cover: 1.79x v 3.53x prior
(HU) Hungary Debt Agency (AKK) sold total HUF50B in 2016, 2018 and 2023 Bonds
It looked to me like the ESM was all  over the CDS traders in London as Spain and Frances auctions went off. Spain was particularly egregious rigging as a major scandal about greasy Spanish polls taking bribes/kickbacks and stuffing them in Swiss banks emerged in El Pais, in fact the hard copy of the paper sold out. The Zionist press wont translate this story into German or English until after the EU close. Scandalous.
-The EU budget fight is over only E1Tln  a year. So it is hardly worth following. Mainly a food fight among the EU with each trying to get a bigger share than they are entitled to. The goal is to move all of the EU budgets to Anglo-Zionist , England-France controlled Brussels.
-1053 Coming up: LIVE STREAM the NTSB update on Dreamliner investigation http://bloomberg.com/live-stream
This is the Zionist whore and school bus driver with the degree in political science and 'conflict' management doing the EU dirty work for the Rothschilds-Windsor-Juan Carlos-Beatrix grime and crime gang. No fan of the Eurotrash plants in the USA government.
- BOE Governor-Designate Carney commented to lawmakers that BoE must exit unconventional policy and improve monetary and macro prudential coordination. Needed to maintain GBP currency integrity. Absence of currency target did not mean BoE should be indifferent to FX price movements and the BoE could intervene on currencies as needed. Up to G20 to ensure that all important FX adjustments were appropriate.
- Luxembourg PM Juncker commented that he saw an agreement on the EU's 2014-2020 budgets today as countries posiions have neared. He noted that EU President Van Rompuy would need to reduce the budget again but there are lower limits.
- Chancellor Osborne called for looser monetary policy to increase economic growth noting that decisive moves by govt on deficit meant that BOE monetary action should continue to support the economy.
- France Fin Min Moscovici: There must be reform of global monetary system; Must not put pressure on the ECB but added that the Euro at current levels could cost France GDP 0.3%.
- France Trade Min Bricq: Hopes for an European foreign exchange policy; If Euro rises through 2013 if would have a clear export impact (Note: in line with French President Hollande comment.
- Norway Fin Min Johnsen: Reiterates that the European situation remains serious and has edged closer to the Nordic region.
- PM Monti might be appointed to Senate Speaker after Italian elections (country's second higest political post). This would make him potentially making him to succeed President Napolitano when his term expired later in 2013. (election capitulation).
- Japan Vice Fin Min Nakao stated that deflation meant that Japan was suffering from high real interest rates and the govt central goal was to get out of deflation
- India Central Bank (RBI) Gov Subbarao had no comment on interest rates (following weaker GDP data) but did noted it would take into account advanced GDP numbers when making policy decisions. He also added that he was taking note of Govt fiscal consolidation efforts
- India Fin Min Chidabaram: Will continue to take measures to revive economic growth - Finland PM Katainen: Not supportive of the France President Hollande's call for an FX rate policy; reform is necessary to increase competitiveness.
-  ECB's Coeure : Bank regulation can improve quality of monetary policy .
- Germany Deputy Fin Min Kampeter: We may use its healthcare fund surplus for up to €4.0B to help balance the 2014 budget – State bank KfW could contribute to the effort to consolidate the budget. Rheinische Post;
-Greece Fin MIn: 2013 to be a difficult year; Economic recovery can start at end of 2013 as investors and savers regain confidence; Not easy to change bank recap terms
- Greece Fin Min Stournaras: the high level of the euro is concerning. EK/TV
- Ireland Fin Min Noonan: There is still no ECB deal on Anglo Irish promissory Notes ; There will not be a fire sale of Anglo Irish assets. Irish Press
- (IT) Bank of Italy lent almost €2B to Monte dei Paschi in 2011 – WSJ
-Monte Paschi : Reports final derivatives loss €730.3M v prelim estimate €720M – update
-  OECD: Inflation risks are low in the UK, BOE should purchase more bonds and fiscal policy flexibility should be increased; Forecasts 2013 GDP at 0.9%

-Euro talking heads time coming up…
-HFT trading for the ECB won in the WTI pits this morning. Inflation expectations are well anchored by the ECB/ESM HFT traders. Computer rigged markets. And the FED/ECB are in the thick of it, the spear point really. I have not looked up the FEDs repo float today but I will bet it was big to rig the markets. It was the same story in gold and silver. Coordinated 'hit' by the cartel.
-Only 1 hour or so before the Eurotrash go home. What a madhouse in Europe today. Amazing no one is translating into English the story of all the money grabbing and stashing away in Swiss banks the loot the PP doled out. I guess they did not want to mar Draghis defense of his corruption, while more corruption was going on. I have a lot of notes to put up on Europe still.
-1018 Going to make some money on our DIA shorts today, its down nearly a 100 pt from where I put the short on. The SP is a tough nut to crack. Sold some more DAX short on the Draghi pump job.
10:17 a.m. EST 02/07/13Markets Diary
| | | | |
| --- | --- | --- | --- |
| Issues | NYSE | Nasdaq | NYSE MKT |
| Advances | 992 | 735 | 153 |
| Declines | 1,825 | 1,455 | 166 |
| Unchanged | 128 | 104 | 32 |
| | | | |
| --- | --- | --- | --- |
| Issues at | | | |
| New Highs | 164 | 88 | 4 |
| New Lows | 6 | 6 | 0 |
-DHS Purchases 21.6 Million More Rounds of Ammunition
Mass Murderers, And LGBTs-, Churchill(B), Stalin(B), Hitler(H), W. Bush(H), Tony Blair(B-H), Gordon Brown(B-H), David Cameron(B), Janet Reno(T), Janet Napalitano. (Dyke)
-http://www.infowars.com/dhs-purchases-21-6-million-more-rounds-of-ammunition/ …
-958 Nice Hit Job on Gold and Silver By ECB. All that talk about inflation expectations being well anchored on both ends translates to the cartel naked shorting gold and silver. Nice touch, 1666.
-944 Global Major Stock Indexes
-Europe
-941 APPL up as Einhorn said he was long before opening to 464, then slammed to the mat not at 458
-935 ECB's Goldmans Sachs Thug and MP Criminal Done Speaking.
What an amateur hour these ECB press conference are. Corrupt Orthodoxy defending corruption, and little more. He did what he could to talk down the Euro. Target is still 1.40 to 1.45 from the currency mob as he did not cut rates. I sold a bit of my long-short ETF that I put on at 1.36+.
-933 Market Watch, Draghi on Last Question
9:33 a.m. EST 02/07/13Major Stock Indexes

9:33 a.m. EST 02/07/13Treasurys

9:23 a.m. EST 02/07/13Futures

9:33 a.m. EST 02/07/13Currencies
-931 Major Indexes
Opens while Draghi is still blabbing away.
-928 Draghi Still Blabbing away..amazing. what a blowhard. ..a lot to hide.
Draghi: changes in the exchange rate 2day are not deliberate as we saw many years ago, they are they effect of macro policies to revamp economy
-The Federal Reserve's bond-buying program is an "energy bar" to get the economy off to a fast run, said Charles Evans, the president of the Chicago Fed Bank, on Thursday. Comparing the economy to a half-marathon, Evans said the $85 billion per month of asset purchases is needed to get the run started. "We're loading up with carbs, energy bars. We're going to do that until we're clear that the labor market outlook has improved. It might be a half a year, it might be a whole year, could be longer," he said in an interview on CNBC. Evans said he is optimistic that momentum will pick up this year. He forecast growth at a 2.5% rate this year. But he said that the unemployment rate would still be close to 7% by the end of 2014.  MW
- European Central Bank President Mario Draghi on Thursday called the euro's recent rise a sign of improving confidence in the shared currency but said the central bank will want to see whether the appreciation affects its inflation outlook. In his monthly news conference, Draghi reiterated that the exchange rate isn't a policy target and said the euro's nominal and real exchange rate remained near long-term averages. Asked about a call by French President Francois Hollande for an exchange-rate policy that Hollande said was needed to shield the euro from market mood swings, Draghi said it was important to remember that the ECB is independent. Draghi also said the best way to judge remarks on currency rates by various officials around the world is "to see what the market makes of these statements." The euro EURUSD -0.6121% traded at $1.3474, down 0.4% from its level on Wednesday. MW
-JPMorgan Chase & Co., the biggest U.S. bank by assets, reclaimed the No. 1 title by market value as the impact of last year's wrong-way bet on derivatives fades and investors wager on an investment-banking rebound.JPMorgan shares rose 1.6 percent this week, valuing the bank at $184.9 billion through yesterday. That eclipsed the $184.2 billion for Wells Fargo & Co., which slipped to No. 2 on Feb. 5 after being the most valuable since Oct. 28, 2011, according to data compiled by Bloomberg  BBN
-918 Draghi Still Blabbing away..
Draghi: we are following from a distance national developments on bank regulation, we welcome the Liikanen report
Draghi: its quite obvious we can't afford to go in with separate legislation, we will need one rule for euro area and possibly the EU
BOI is helping him!!
FTSEMIB 16,800.83 +1.19%
'Accomodative'  , Euro weakens
-U.S. productivity sinks 2% in fourth quarter
For all of 2012, USA productivity rose 1.0%, slightly faster than the 0.7% increase in 2011 but well below the 3.1% gain in 2010. Over the last 40 years, productivity growth has averaged about 1.9% a year.In the fourth quarter, the amount of goods and services produced, known as output, edged up 0.1%. Yet the number of hours employees worked rose a much sharper 2.2%.As a result, unit-labor costs spiked 4.5% in the fourth quarter. That number reflects how much it costs a business to produce one unit of output, such as a cubic foot of fertilizer or a barrel of bourbon. For the full year unit-labor costs rose a much smaller 0.7%, however.Hourly pay for American workers rose 2.4% in the fourth quarter, but adjusted for inflation, wages only increased 0.3%.What's more, inflation-adjusted wages actually fell 0.4% for the full year, following a 0.5% decline in 2011. The dropoff largely reflects a surge in gasoline costs, especially in 2011, that pushed up inflation.
-Draghi: we will comeback to this (in terms of the Irish deal), not the last word
-Finally a direct question on MP and sweeping it under the Rug to thug Draghi
See BOI account. Claims IMF gave BOI a clean bill of health on BOI (bankers covering bankers). Canned answer reading IMF response. Says BOI not the cops.
Ha,  ha. ESM Active
After Speech
Before Speech
-850 QA Starting
First question on Anglo-Irish liquidation, and On Euro Strength , and what times does EU recover
-Wont say on when  so called recovery comes in
-Says contact ireland central bank. no comment. Sounds unhappy
- Appreciation is sign of return of confidence of Euro. Exchange rates above averages, should  reflect fundamentals. Important to price stability. FX rate not part of policy. Monetary markets to be monitored. Considered effects on growth. 
-839 Draghi speaking.
http://www.ecb.int/press/tvservices/webcast/html/webcast_130207.en.html
ECB — Draghi Press Conference
Mario Draghi, President of the ECB,
Vítor Constâncio, Vice-President of the ECB,
Frankfurt am Main, 7 February 2013
Ladies and gentlemen, the Vice-President and I are very pleased to welcome you to our press conference. We will now report on the outcome of today's meeting of the Governing Council.
Based on our regular economic and monetary analyses, we decided to keep the key ECB interest rates unchanged. HICP inflation rates have declined further, as anticipated, and are expected to fall below 2% in the coming months. Over the policy-relevant horizon, inflationary pressures should remain contained. The underlying pace of monetary expansion continues to be subdued. Medium to longer-term inflation expectations for the euro area remain firmly anchored in line with our aim of maintaining inflation rates below, but close to, 2%. Overall, this allows our monetary policy stance to remain accommodative. The economic weakness in the euro area is expected to prevail in the early part of 2013. In particular, necessary balance sheet adjustments in the public and private sectors will continue to weigh on economic activity. Later in 2013 economic activity should gradually recover, supported by our accommodative monetary policy stance, the improvement in financial market confidence and reduced fragmentation, as well as a strengthening of global demand. In order to sustain confidence, it is essential for governments to reduce further both fiscal and structural imbalances and to proceed with financial sector restructuring.
With regard to the liquidity situation of banks, counterparties have so far repaid €140.6 billion of the €489.2 billion obtained in the first of the two three-year longer-term refinancing operations (LTROs) settled in December 2011 and March 2012. This reflects the improvement in financial market confidence. Repayments are provided for in the modalities of the three-year LTROs and are at the discretion of the counterparties, who must appropriately assess their funding situation, their ability to provide new loans to the economy and their resilience to shocks. We will closely monitor conditions in the money market and their potential impact on the stance of monetary policy, which will remain accommodative with the full allotment mode of liquidity provision.
Let me now explain our assessment in greater detail, starting with the economic analysis. Euro area real GDP declined by 0.1%, quarter on quarter, in the third quarter of 2012, following a contraction of 0.2% in the second quarter. Available data continue to signal further weakness in activity in the fourth quarter and at the beginning of 2013. This weakness reflects the adverse impact of low consumer and investor sentiment on domestic expenditure, as well as subdued foreign demand. However, financial market sentiment has improved and the latest survey indicators confirm earlier evidence of a stabilisation in business and consumer confidence, albeit at low levels. Later in 2013 a gradual recovery should start, with domestic demand being supported by our accommodative monetary policy stance, the improvement in financial market confidence and reduced fragmentation, and export growth benefiting from a strengthening of global demand.
The risks surrounding the economic outlook for the euro area continue to be on the downside. They relate to the possibility of weaker than expected domestic demand and exports, slow implementation of structural reforms in the euro area, as well as geopolitical issues and imbalances in major industrialised countries which could both have an impact on developments in global commodities and financial markets. These factors have the potential to dampen the ongoing improvement in confidence and thereby delay the recovery.
According to Eurostat's flash estimate, euro area annual HICP inflation was 2.0% in January 2013, down from 2.2% in November and December and from 2.5% in October. On the basis of current futures prices for oil, inflation rates are expected to decline further to below 2% in the coming months. Over the policy-relevant horizon, in an environment of weak economic activity in the euro area and well-anchored long-term inflation expectations, underlying price pressures should remain contained.
Risks to the outlook for price developments continue to be seen as broadly balanced over the medium term, with upside risks relating to higher administered prices and indirect taxes, as well as higher oil prices, and downside risks stemming from weaker economic activity and, more recently, the appreciation of the euro exchange rate.
Turning to the monetary analysis, the underlying pace of monetary expansion continues to be subdued. The annual growth rate of M3 decreased to 3.3% in December 2012, from 3.8% in November. Shifts from overnight deposits to short-term time deposits led to a decrease in the annual rate of growth of M1, which declined to 6.2% in December, from 6.7% in November, and outflows from marketable instruments dampened overall M3 growth. A further strengthening in the deposit base of MFIs in a number of stressed countries took place in December, in combination with further capital inflows into the euro area, both of which continued to reduce fragmentation.
The annual growth rate of loans to the private sector (adjusted for loan sales and securitisation) remained negative in December. This mainly reflected ongoing negative annual growth of loans to non-financial corporations, which was -1.3% in December after -1.5% in November. However, annual growth in MFI loans to households remained broadly unchanged at 0.7% in December. To a large extent, subdued loan dynamics reflect the current stage of the business cycle, heightened credit risk and the ongoing adjustment in the balance sheets of the financial and non-financial sectors. In line with these developments, the bank lending survey for the fourth quarter of 2012 confirms the weakness in credit demand and the continued effect of credit risk considerations on the tightening of credit standards. At the same time, the survey confirms the positive impact of Eurosystem measures on banks' overall funding and liquidity situation. In particular, banks reported improvements across all funding categories in the fourth quarter.
In order to ensure adequate transmission of monetary policy to the financing conditions in euro area countries, it is essential to continue strengthening the resilience of banks where needed. Decisive steps for establishing an integrated financial framework will help to accomplish this objective. The future single supervisory mechanism (SSM) is one of the main building blocks. It is a crucial move towards re-integrating the banking system.
To sum up, the economic analysis indicates that price developments should remain in line with price stability over the medium term. A cross-check with the signals from the monetary analysis confirms this picture.
As regards other policy areas, structural reforms and fiscal adjustment can complement each other, thereby improving the outlook for job creation, economic growth and debt sustainability. Past policy action is bearing fruit, in terms of both the unwinding of existing fiscal imbalances and the reduction of current account deficits. In particular, in several countries with particular adjustment needs, contained growth in unit labour costs signals greater price competitiveness and exports are performing better. Governments should build on the progress achieved in fiscal consolidation, strengthen competition in product markets and continue with labour market reforms. This would boost the euro area's growth potential, reduce high structural unemployment and improve the adjustment capacities of the euro area countries.
-The Bank of England refrained from adding to stimulus as policy makers kept focus on a credit- boosting program to aid the recovery.The Monetary Policy Committee led by Governor Mervyn King said the target for its bond purchases will remain at 375 billion pounds ($589 billion). All 43 economists in a Bloomberg News survey forecast no change. The BOE also said it will reinvest proceeds of 6.6 billion pounds from gilts it holds that mature next month. The bank also said that inflation will exceed the 2 percent target for the next two years. Rates were left unchanged.
-Mexican cement and building materials company Cemex SAB (CX, CEMEX.MX) said Thursday that it reduced its net loss in the fourth quarter as it increased it operating profits, with sales unchanged from the fourth quarter of 2011.Cemex, of Monterrey, reported a net loss of $489 million for the October-December period, compared with a loss of $761 million in the year-earlier quarter. Sales were unchanged at $3.71 billion, while operating cash flow measured by earnings before interest, taxes, depreciation and amortization, or Ebitda, rose 13% to $611 million from $540 million.Cemex said its global cement sales volume fell 3% to 15.8 million metric tons, ready mix concrete volumes fell 2% to 13.7 cubic meters, and aggregates volume rose 4% to 40.5 million metric tons.In a release, Fernando Gonzalez, Cemex's executive vice president of finance and administration, described 2012 as a year of recovery for the company."During the year, we achieved the highest EBITA generation and operating EBITA margin since 2009 and the fourth quarter was the sixth consecutive quarter with a year-over-year EBITA increase," he said.For all of 2012, Cemex's EBITA rose 10% to $2.6 billion, while sales slipped 2% to $15 billion.Cemex had a significant turnaround last year in the U.S., with cement volumes up 9% in the fourth quarter, ready mix up 10% and aggregates 20%. Cemex USA reported fourth-quarter EBITA of $13 million and full-year EBITA  of $43 million, following two years of Ebitda losses.In Mexico sales volumes fell slightly, partly as a result of a slowdown in home construction, and also a decline in remittances from Mexicans living abroad which affected demand for cement in the informal sector, Cemex said. MW
- 831 USA WeeklyJobless claims 366k. Futures unchanged at +.1
New applications for unemployment benefits fell by 5,000 to a seasonally adjusted 366,000 in the week ended Feb. 2, but the small decline indicates there's been little change in a modestly improving U.S. labor market. Initial claims from two weeks ago were revised up to 371,00 from an original reading of 368,000, the Labor Department said Thursday, based on more complete data collected at the state level. Economists surveyed by MarketWatch expected claims to drop to 360,000. The average of new claims over the past month, meanwhile, edged down by 2,250 to 350,500, marking a nearly five-year low. The four-week average reduces seasonal volatility in the weekly data. Also, Labor said continuing claims increased by 8,000 to a seasonally adjusted 3.22 million in the week ended Jan. 26. Continuing claims reflect the number of people already receiving benefits. MW
-The European Central Bank left interest rates unchanged even as a stronger currency threatens the euro area's recovery from recession. Policy makers meeting in Frankfurt today kept the benchmark rate at a record low of 0.75 percent.
 http://www.ecb.int/press/pr/date/2013/html/pr130207.en.html
7 February 2013 – Monetary policy decisions
At today's meeting the Governing Council of the ECB decided that the interest rate on the main refinancing operations and the interest rates on the marginal lending facility and the deposit facility will remain unchanged at 0.75%, 1.50% and 0.00% respectively.
The President of the ECB will comment on the considerations underlying these decisions at a press conference starting at 2.30 p.m. CET today.
European Central Bank
Directorate General Communications and Language Services
Press and Information Division
Kaiserstrasse 29, D-60311 Frankfurt am Main
Tel.: +49 69 1344 7455, Fax: +49 69 1344 7404
Internet: http://www.ecb.europa.eu
-European Session Economic Release Summary
(ZA) South Africa Jan Gross Reserves: $51.2 v $51.0Be; Net Reserves: $48.1 v $48.0Be
(CH) Swiss Jan SECO Consumer Confidence: -6 v -12e
(FI) Finland Dec Preliminary Trade Balance: -€735M v +€180M prior
(FR) France Dec Trade Balance: -€5.4B v -€4.2Be
(TW) Taiwan Jan Total Trade Balance: $0.5B v $3.5Be
(HU) Hungary Dec Preliminary Industrial Production M/M: -2.5% v -0.4% prior; Y/Y: -3.4% v -4.0%e
(DK) Denmark Dec Industrial Production M/M: -3.8% v 0.0%e; Industrial Orders M/M: -14.4% v +5.9% prior
(CH) Swiss Jan Foreign Currency Reserves (CHF): 427.0B v 428.3Be
(ES) Spain Dec Industrial Output WDA Y/Y: -6.9% v -6.9%e; Industrial Output NSA Y/Y: -8.5% v -7.0% prior
(EU) ECB: €2M borrowed in overnight loan facility vs. €105M prior; €162.1B parked in deposit facility vs. €178.0B prior
(SE) Sweden Dec Average House Prices (SEK): 2.160 v 2.091M prior
(SE) Sweden Jan Budget Balance (SEK): -96.3B v -79.3B prior
(SG) Singapore Jan Foreign Reserves: $258.9B v $259.3B prior
(CZ) Czech Jan International Reserves: $45.8B v $44.9B prior
(HK) Hong Kong Jan Foreign Currency Reserves: $321.0B v $317.3B prior
(DE) Germany Q4 Wages Y/Y: +3.2% v 3.0% prior
(UK) Dec Industrial Production M/M: 1.1% v 0.9%e; Y/Y: -1.7% v -2.0%e
(UK) Dec Manufacturing Production M/M: 1.6% v 0.8%e; Y/Y: -1.5% v -2.4%e
(UK) Dec Visible Trade Balance: -£8.9B v -£8.9Be; Total Trade Balance: -£3.2B v -£3.2Be; Trade Balance Non EU: -£4.2B v -£4.2Be
(ZA) South Africa Jan SACCI Business Confidence: 94.0 v 93.0 prior
UN Foods and Agricultural Organization (FAO): Jan Food Price Index: 210.0 v 209.0 prior
-The real man of the day, Brits.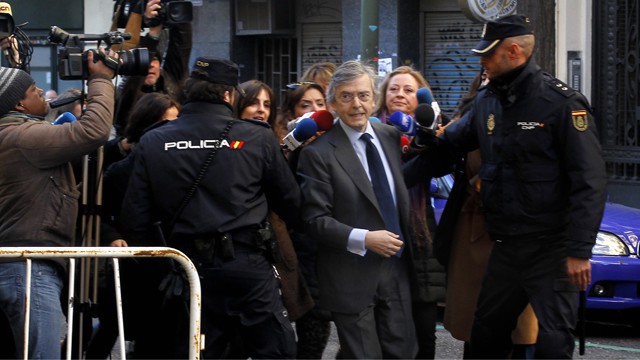 -Carney is Yapping. Good point to take the break. # 1 million a year salary. GS scum. Married to a very wealthy, high level English Royal.
Carney expresses  concern about long term unemployment and suggests aggressive monetary policy should be used to counter it…
I'm sorry, these english pols on the TSC, ooze, sleaze and evil and make you want to vomit. Not very bright and asking stupid questions. Are the English Pols even Human beings, like the rest of us? Ug what a creepy, creepy, downright evil lot of people in England. Europe should fill  the Chunnel up, blockade them and starve them to death. It is your only hope. At least the ZGR caught their boast they are the most Powerful Central bank in the world and Carney will occupy the most powerful position in the world. In reality the Rothschilds will tell him what to do. He sold his soul a long time ago, it just matters how much evil he can do while sounding 'posh' to fool the idiots who think they have the inside line on the CB. No questions on gold loans, swaps or options or sales. ha, ha. Skirting the derivative issues, and the all the crime and grime london engages in won't come up. No wonder Mick Jagger wears his 'beast' t shirt. you know Jagger, is LSE and would have been a better choice than this greasy oxbridge/GS goon. what great job in canada, his easy money policies created a massive housing bubble and his predecessors sitting on top of bank home loans made him look good. he had the 'family' connections for the job, that was it. Cut the BS out about his qualifications , and experience for the job. He is rothschilds main bagman, and water boy and a complete whore. at least king felt bad about the evil he did. carney won't bat an eye.
-A Chinese Foreign Ministry spokeswoman Thursday accused Japan of creating tension and tarnishing China's image.
-FRANCE SELLS EU3.02B 2022 BONDS AT 2.30% V 2.07% ON JAN.
-Greece failing again, trying to squeeze blood out of turnips
Alarm bells are ringing at the Finance Ministry following January's serious shortfall in state revenues. The government will need to find ways of bolstering the public takings as last month they were 7 percent lower than the target set in the budget, according to provisional figures by the ministry. EK
-446 European stocks were little changed as firms  from Sanofi to Vodafone  posted results and markets awaited policy announcements by the ECB and the BOE  . Sanofi fell the most in eight months after saying that profit may retreat this year. Alcatel-Lucent  surged to its highest price since April after its CEO stepped down. Vodafone rallied after confirming its forecast for the year through March.The Stoxx Europe 600 Index rose 0.24 percent to 284.76 . Futures on the Standard & Poor's 500 Index expiring in March slipped 0.1 percent.
SPAIN Sells 2018,  €4.61 BLN Bonds VS target of  €4.5 BLN, despite this scandal of Swiss Bank accounts of government officials breaking in the Spanish Press (El Pais ) this morning. Spain's CDS unchanged at 291bps (+1) after positive auction results (ESM probably buying), bid/cover 2.2 vs. Prev. 2.3, Yield 4.123% vs. Prev. 3.770%.
-China Gold Association : China's gold output increased 11.66 percent from a year earlier to hit a record high of 403.05 tonnes in 2012.
-UK:  Between November 2012 and December 2012 manufacturing output rose by 1.6%.Over Q4 as a y/y, output was still down -1.3% for UK manufacturing and -1.9% for UK industry. Biggest drops since Q1 2009.
-Monte dei Paschi lost E730m on structured deals in 2012
-Deep-water oil exploration has been disrupted from the Gulf of Mexico to Brazil by the discovery of faulty bolts used in safety equipment less than three years after the worst-ever U.S. maritime crude spill.Energy explorers such as Chevron Corp., Royal Dutch Shell Plc and Transocean Ltd. said they have been directed by U.S. regulators to suspend work aboard rigs that employ General Electric Co. devices connecting drilling tubes to safety gear and the seafloor. The equipment must be retrieved so defective bolts can be replaced, the U.S. Bureau of Safety and Environmental Enforcement said in an alert issued on Jan. 29.Installing new bolts and resuming drilling may take as long as three weeks for each rig, Credit Suisse Group AG said. For oil companies paying upwards of $600,000 a day to rent the most- sophisticated deep-water vessels and another $500,000 a day to staff and supply each of them, the delays could be significant, said Craig Pirrong, director of the University of Houston's Global Energy Management Institute. BBN
Sabotage or Chinese bolts. How would the government know the bolts were bad? This equipment does not have lot code traceability, but is tested extensively. GE, owned by the English Crown. I suspect Chinese bolts. This is a notorious problem with the garbage they put out, some supplier mixes it up or ships the chinese bolts to make a profit as high tensile, stainless steel when they are just chinese junk. I have never seen anyone cheat like the Chinese on bolt manufacturing and they flooded the USA market driving all but Mil-Spec bolt manufacturers out of business. They should have used Mil-Spec bolts. The Chinacoms  are destroying America, one industry at time. I spent 2 hours looking for a  high quality stainless steel bolt today, and finally had to settle for one made in Taiwan. America, disappearing before my eyes thanks to the 'globalists', that is London.
-Euro is gaining ahead of Spanish bond auction @ 9.30 GMT , ECB conference @ 1.30 GMT . Pound is gaining ahead of Carney speech @9.45 GMT probably on BOE intervention. Big events for Eurotrash today in London. What CB don't rally their currencies before they speak. The EU press is even more supine than the USA newsfakers. Maybe a German can use the WSJ journal to take that crook Draghi to the task over MP.
-406 John Thuroso, UK Treasury Select Committee: Mark Carney/BOE most powerful Central Bank in the world -BBN-TV interview
What a choice catch, an English banker-pol  thug slips up!! Few Americans know the BOE is the real CB of CB and gives the FED its marching orders!
-Daimler AG, the world's third-largest maker of luxury vehicles, forecast unchanged 2013 profit as spending for new models and a revamp of the automaker's operations eat into earnings.Earnings before interest and taxes in 2012 from ongoing business fell 10 percent to 8.1 billion euros ($11 billion), the Stuttgart, Germany-based automaker said in a statement today. Profit on this basis in 2013 will be on the same level as last year, Daimler said today.Fourth-quarter EBIT rose 6.7 percent to 2.32 billion euros, the automaker said today. That missed the 2.35 billion-euro average estimate of eight analysts surveyed by Bloomberg. Profit was pushed up by a 709 million-euro gain from selling a stake in planemaker Airbus SAS's parent company.Daimler, which forecast revenue gains for the group in the next two years after posting an increase last year of 7.3 percent, is targeting higher Mercedes car deliveries in 2013 and 2014. The shares climbed as much as 1.09 euros, or 2.5 percent, to 44.10 euros and traded up 1.9 percent as of 9:13 a.m. in Frankfurt. The stock has gained 6 percent this year, valuing the German company at 46.8 billion euros.
-Tokyo Electric Power Co., operator of the devastated Fukushima Dai-Ichi nuclear power plant, plans to buy liquefied natural gas from the LNG terminal in Cameron Parish, Louisiana, raising expectations Japan will tap into the U.S. shale gas boom. SFgate
-ICAP Plc, the world's largest broker of transactions between banks, said it expects full-year earnings of as much as 305 million pounds ($478 million) after trading volumes increased in January.Pretax profit for the year through March will be between 280 million pounds to 305 million pounds in line with analyst estimates, the London-based firm said in a statement today. While third-quarter trading conditions were "challenging" and group revenue fell an annual 13 percent, electronic trading volumes jumped 17 percent in January, it said. BBN
-Ireland's red-eyed lawmakers have voted to dissolve one of the country's "bad banks" in an emergency measure designed to pave the way for a new debt-repayment deal with the European Central Bank.Lawmakers in both chambers of Ireland's parliament overwhelmingly voted to liquidate the Irish Bank Resolution Corp., or IBRC, at the conclusion of debates that started just after midnight and concluded just before 6 a.m. Thursday, London Time. SFgate
-German cement maker HeidelbergCement AG said Thursday fourth quarter earnings rose, boosted by demand in North America, Asia and Africa, where that trend is expected to continue this year. Fourth quarter revenue rose 6.5% from the year-earlier period to 3.5 billion euro ($4.74 billion). Operating income was EUR455 million in the quarter, up 11% from a year earlier, while the income margin rose to 13.0% from 12.5%.The company sees higher demand for building materials in North America, particularly from residential construction and the raw materials industry.Sales in North America contribute around 25% of the company's total revenue.Positive demand in Asia and Africa is likely to be sustained this year, it said.Around 60% of HeidelCement's cement capacities are based in emerging markets.The company raised its three-year cost savings target to EUR1.01 billion from EUR600 million previously. MW
-Alcatel-Lucent reported losing (EURO)1.37 billion in 2012, compared to a (EURO)1.1 billion gain a year earlier. CEO resigns(fired).
-Italy's Monte dei Paschi received secret central-bank loan in 2011, even as execs were saying bank was healthy. http://on.wsj.com/XWIAQ8
-325 Europe
-Obama Is Said Close to Choosing Pritzker for Commerce (another fanatical Zionist Jew)
-China produced the most gold in the world in 2012, making it the largest producer for the sixth straight year, data showed. Xinhua
-American Airlines parent AMR and US Airways are hashing out the last major details of a merger agreement that would create the world's largest airline and are racing to finalize a deal. WSJ
-Reliance Steel & Aluminum Co. RS +8.59% has agreed to buy Metals USA Holdings Corp.MUSA +12.84% for about $772 million in cash, its largest acquisition to date."Metals USA is an excellent fit," Reliance Chief Executive David H. Hannah said. "We believe that the combined company will be well positioned to continue to outperform the broader metals service center industry."Reliance, which operates processing and distribution centers in North America, Europe, Asia and the Middle East, will pay Metals holders a cash price of $20.65 a share, a 13% premium over Tuesday's closing price.
-Jim Rogers: "I'm short long-term government (USA) bonds.. "I plan to short more. That's not a bull market, that's a bubble."
-Credit Suisse AG CS +0.75% said Thursday that robust markets and cost savings helped it return to profitability in the fourth quarter, results that underscore the bank's continued reliance on investment banking operations to drive performance.Buoyed by rising stock markets around the world, revenue at Credit Suisse's investment bank more than doubled to 2.66 billion. The bank also reported a sharp increase in revenues from fixed-income sales and trading, as well as from advisory services.Credit Suisse reported a fourth-quarter net profit of CHF397 million, compared with a net loss a year earlier. Revenue, which includes interest income, fees and trading proceeds, rose 29% to CHF5.8 billion.Switzerland's second-biggest bank by assets also said it was making progress toward implementing stringent capital standards to strengthen its ability to absorb losses, meeting criteria set out by global and domestic regulators.Credit Suisse said it cut risk-weighted assets by CHF55 billion in 2012 and achieved CHF2 billion in cost savings.The bank lifted its cost savings target to CHF4.4 billion, from a previous target of CHF4 billion by 2015."We took significant steps to adapt our businesses and our organization to new regulatory requirements, changing client demands and the current market environment," Chief Executive Brady Dougan said in a statement. MW
-SPAIN DEC. WORKDAY ADJUSTED INDUSTRIAL OUTPUT DROPS 6.9% vs  exp -6.6% prev -7.2%
-300 EU Opens
Italy MIB OPEN 16,642.29 +0.24%
France CAC 40 index down 0.1% to 3,638.75
Stoxx Europe 600 index flat at 284.55
FTSE 100 index down 0.2% to 6,284.29
Bonds
German 10y 1.63-0.01, 0.35%
Italy 10yr 4.54+0.03, -0.77%
Spain 10yr5.47+0.05, -0.85
-Asia ahead of EU Open
*close
-The lazy Euros are drifting in for the start.
-Palestinians' cool response to upcoming Obama visit to Israel, West Bank, reflects their lack of hope for peace deal. Haaretz
-The ECB will keep its benchmark rate at a record low of 0.75 percent when policy makers meet in Frankfurt today, according to all 60 economists in a Bloomberg News survey. The decision is due at 1.45 p.m. and Draghi holds a press conference 45 minutes later. BBN(London times).
-Australia faces Armstrong moment as probe reveals widespread doping in elite sports facilitated by organized crime
-"After a few weeks of EURphoria, we eventually came down to earth. Using the model from 2010-2012, we would now be setting up for dramatic spread widening and a big drop in the Euro. But 2013 is different, and we would not expect risk premium effects to be as powerful a driver in the current environment. Zero risk premium was a bit extreme; and we got very close to there on Friday on our models for the Euro. But risk premium spikes will be more moderate this year than in the past, so we should not be carried away either. The Euro cross-trade will be more about calling a regime shift: away from risk premium compression, to a focus on growth concerns."
Jens Nordvig, Global Head of FX Strategy at Nomura
-Heavy fighting has broken out in Damascus as Syrian rebels clashed with President Bashar al-Assad's forces. DT
-Greece FinMin Stournaras:  Sees Greek Recovery as Cash Returns
ROFL
-Amerikaner kapern die deutsche Investmentbranche
Americans capture German Investment Business.
http://www.welt.de/finanzen/geldanlage/article113432318/Amerikaner-kapern-die-deutsche-Investmentbranche.html?wtmc=social
Silly Germans , it is just the big Anglo-Zionist, illuminati firms. Americans have not captured anything, we are no longer capable of that. We are Zogged, just like you silly Germans. This is typical German propaganda. The Germans own PIMCO, not vice versa, or the German-Jews, I should say.
-Greece  Government Said to Set $35 Million Minimum Price in London Home Sale
-Sony Corp., Japan's biggest consumer- electronics exporter, unexpectedly reported an eighth consecutive quarterly loss on waning demand for TVs and consumer preferences for Apple Inc. and Samsung Electronics Co. devices.The net loss narrowed to 10.8 billion yen ($115 million) in the three months ended December from 159 billion yen a year earlier.
-Daimler says net profits in 2012 rose 8%. It sold 2.1M cars.
-208 Futures
| | | |
| --- | --- | --- |
| FTSE 100 IDX FUT Mar13 | 6,249.00 | -0.06% |
| | | |
| --- | --- | --- |
| S&P 500 FUTURE Mar13 | 1,505.70 | -0.07% |
-101 Asia
The Y/D took a pause in its meteoric ride and ex Japan we had pretty glum economic indicators across Asia, and the PBOC decided to throw cold water all over the equity party by talking tough on inflation ahead of the FEDs' and BOJ's monetary wave, should it hit.
Asian markets were in a broad sell off and profit taking head of the Chinese New Year holiday coming up on the 9th that is a week long. Traditionally Japan does not celebrate it, but in fact they do as well as the official Jan 1, Western New Year. Not only are Chinese trading desks vacant so are most across Asia and the ones in Japan are thinly manned as Asian celebrates by eating moon cake and making long trips from the city back to ancestral lands. It is a fun time to be in Asia that is for sure as it is one of the few times they are not working and relax, unlike the Europeans who hardly ever work, and when they do they tend to be surly unlike Asians who like to work, if they are not living for it.
The Nikkei finished down nearly 1 pc at 11357. There were some interesting developments in Japan tonight. Econmin Aso said that Germany was the only one accusing them of currency rigging. Which is risible given the 3 trillion dollar print by the ECB and the ESM slush fund and that without the PIIGs, the Euro would be at over 200 Y. The Japanese at PP are a fierce competitor, especially their higher quality cars to the Germans. This is more German sour grapes. The Germans remind me of Children wanting their cake and eating it too. PM Abe said monetary policy can fix deflation, deflecting dealing with Japan's aging population that needs to save. Inflation and Central banks are the cruelest of whips upon the old. Japan's defense minister said Thursday China's recent use of weapons-guiding radar on a Japanese Maritime Self-Defense Force vessel in the East China Sea could be considered a threat of military force by the United Nations, but urged dialogue to prevent a recurrence, and Panetta urged the Chinese to chill out, essentially. Japan saw a surge in core Machinery orders in December of 2.8 pc.easily topping the consensus estimate calling for an increase of 0.7%. That comes on the heels of a 3.9% increase in November and is  the third consecutive month of higher machinery orders.  Japan LDP seek exemptions in first TPP trade debate; majority of LDP ministers seek an 'immediate withdrawal' of TPP bid. Japan's leaders are wary of free trade with currency rigging China, Vietnam, Taiwan, Singapore, all of whom maintain currency vastly below purchasing parity.
China PBoC to conduct CNY410B in 14-day reverse repos; Weekly total marks the largest reverse repo liquidity injection on record in order to ensure the ATM machines and banks don't run out of cash ahead of the Lunar New  Year break.  China Iron and Steel Agency (CISA) sadi  China late-Jan crude steel production was  1.906M tons, -0.4% from mid-Jan. In order to slow down the Chinese real estate freight train some major cities are going to slow down new building permits. China will extend tax cuts to help small businesses as well as reduce tariffs on some imported goods this year amid measures to bolster the economy, according to the Ministry of Finance.The ministry may expand a regional value-added tax trial this year to include transport companies and some service sectors nationwide, Minister of Finance Xie Xuren said in an article published on the ministry's website yesterday.Lenovo's CEO is  said to have reduced his long position to 8.88% stake; Sold 7.9M shares between in Feb 1st and 4th according to the HK press. The Shanghai composite is down .76 % to 2415, and the Hang Seng is down to 23, 206, – .22 %.
It was a bad economic night for Oz. Only the job market is holding up down under, and the place is coming unglued at the seams as they geared up for a forever boom from Asia and as India showed us tonight, Asia is not booming merely treading waters. Margins set prices. The Australian banks, the big 4 Mortgage banks are the biggest short sale I can recall seeing. You just don't know when that sordid, rotten to the core economy is going to implode due to its housing and derivative bubble, but it will no matter what the RBA does. Think of the Australians you have met and ask yourself if you would trust them more than their non-felon kin in England., much less invest in one of their firms? The entire country is a short sale. Nevertheless they rallied their markets (ASX)  up .3 pc,  on the jobs news. You have never met cocky and rude person until you have met an Aussie in the surf line- up. I'm sorry if you're an Aussie, your reputation precedes you when you want to get into a fight everywhere you go on the face of the planet or rip roaring drunk and picking on the natives. That bubble won't last forever, best to sell your home, save your money,  rent and sober up and wait for the housing crash. Markets crash when the last fool is in,  and the shorts show up to go to work. England has vowed they will take Oz down to make a profit before they will let their home prices fall, so I would be on my toes down under. You're just another profit center for the big London shorts when the time comes. You love Prince Charlie and the evil Kate Middleton, and you're just a short sale to him and a profit center to exploit for the Crown.
The Kospi is flat. President park is calling for a bipartisan meeting on how to deal with the North Korea Nuclear test threat. The JCS of the Korean military was hinting of a preemptive strike to stop the test. This greasy Jew is advising the ROK on how to handle the PRK/PROC, so we have a lot to worry about. Rothschilds agents all over the world and in your face. Looks like a young Henry Kissinger, eh.
Economic Release Summary
(IN) INDIA Q1 ADVANCE ANNUAL GDP GOVERNMENT ESTIMATE FOR FY12/13: 5.0% V 5.5%E  V PRIOR YEAR 6.2% Economic Release Summary Asia Trading Session  
(AU) AUSTRALIA JAN EMPLOYMENT CHANGE M/M: 10.4K V 6.0KE; UNEMPLOYMENT RATE: 5.4% V 5.5%E; FULL TIME EMPLOYMENT CHANGE: -9.8K V -13.9K PRIOR; PART TIME EMPLOYMENT CHANGE: 20.2K V 10.0K PRIOR
(AU) AUSTRALIA JAN PARTICIPATION RATE: 65.0% V 65.1%E (lowest since Aug 2012)
(AU) AUSTRALIA Q4 NAB BUSINESS CONFIDENCE: -5 V -2 PRIOR (lowest since Q1 of 2009)
(AU) AUSTRALIA JAN AIG PERFORMANCE OF CONSTRUCTION INDEX: 36.2 V 38.8 PRIOR (3-month low)
(NZ) NEW ZEALAND Q4 UNEMPLOYMENT RATE: 6.9% V 7.1%E; EMPLOYMENT CHANGE Q/Q: -1.0% V +0.4%E (biggest decline since Q2 of 2009); Y/Y: -1.4% V +0.2%E; PARTICIPATION RATE: 67.2% V 68.4%E (multi-year low)
(JP) JAPAN DEC PRELIMINARY LEADING INDEX CI: 93.4 V 92.1 PRIOR; COINCIDENT INDEX CI: 92.7 V 90.2 PRIOR (first rise in 9 months)
(JP) JAPAN JAN TOKYO AVERAGE OFFICE VACANCIES M/M: 8.6% V 8.7% PRIOR
(JP) JAPAN JAN OFFICIAL RESERVE ASSETS: $1.267T V $1.268T PRIOR
(JP) JAPAN DEC MACHINE ORDERS M/M: +2.8% V -0.8%E; Y/Y: -3.4% V -3.9%E;
(TH) THAILAND JAN CONSUMER CONFIDENCE: 81.7 V 80.2 PRIOR
Equities, Commodities, FX, Bonds, and CDS
CDS
-Alcatel-Lucent CEO Ben Verwaayen Will Step Down
- PBOC :"An economic recovery and demand expansion may pass into CPI in a relatively fast manner.."Monetary easing in major economies including the U.S. and Japan "may make global capital flows more volatile, push up commodity prices and generate a greater spillover effect on emerging economies"
-Nasty  Anlgomason-Zionist fatman
New Jersey Governor Chris Christie responded angrily on Wednesday to a former White House physician's comment that he could die in office if he does not lose weight, calling the doctor a "hack" for offering advice without examining him.Connie Mariano, a doctor in the White House medical unit from 1992 to 2001, said in an interview on CNN that Christie, a blunt-spoken Republican who is seen as a strong contender if he decides to run for president in 2016, risks a heart attack or a stroke if he does not slim down. Reuters
Personally, I'm planning on buying him all he can eat dinners of cheeseburgers and cokes between here and 2016. Looks like a fat Chabadnik, yes?
-Boeing Co will be allowed to conduct a one-time ferry flight of a grounded 787 Dreamliner from Texas to Washington, the U.S. Federal Aviation Administration said on Wednesday.The FAA said the plane would have a minimal crew, which would have to continuously monitor the battery's status and land immediately if the flight computer displayed any battery-related messages. Reuters
Boeing is working on design changes to the lithium-ion batteries used in its 787 Dreamliners as an interim fix to get the grounded jets flying again as it pursues a longer-term fix. WSJ
-President Barack Obama's nominee to head the Central Intelligence Agency, John Brennan, is expected to face tough questions on U.S. spy activities, from waterboarding to the use of drones, at a Senate confirmation hearing on Thursday
-After Hours USA
AKAM: Reports Q4 $0.54 v $0.50e, R$378M v $381Me; authorizes $150M extension to buyback program; -15.7% afterhours
GMCR: Reports Q1 $0.76 v $0.65e, R$1.34B v $1.33Be; -7.0% afterhours
NWSA: Reports Q2 $0.44 (adj) v $0.42e, R$9.43B v $9.26Be; -4.3% afterhours
ZUMZ: Reports JAN SSS +2.6% v -3.1%; Q4 SSS -1.0%; FY12 SSS +5.0%; +5.2% afterhours
DV: Reports Q2 $0.87 adj v $0.56e, R$505.2M v $497Me; +14.0% afterhours
-Britain Moves in to Secure Libyan Oil for  BP and Crown
Greedy, evil colonialist devils at it again, trying to control North Africa and round the horn from Algeria to Somalia and the Sudan.
http://www.guardian.co.uk/politics/2013/feb/07/britain-military-co-operation-libya
-Geopolitical Headliners
| | |
| --- | --- |
| | Updated February 7, 2013 – 12:15 AM EST |
| | | |
| --- | --- | --- |
| | | Media Complicit With Government Requests for Secrecy |
| | | What if It Were Bush's Drone Policy? |
| | | US Drone Strikes Kill Five in North Waziristan |

| | | |
| --- | --- | --- |
| | | Asia Surge: US Marines Heading to Vietnam, Cambodia |
| | | White House: Defense Firms Will Be Hurt if Sequester Hits |
| | | Hagel Vote Delayed After Republicans Demand More Information |
-Meditation of the Day
Death and life are in the power of the tongue: and they that love it shall eat the fruit thereof.
Proverbs 18:21
================================================
Newslinks
-Renault's European recovery in jeopardy as Russian auto market slows
-Wall Street success selling mortgage-backed securities to German banks boomerangs
-Deutsche Welle – Montenegro may have to give up using the euro up in order to join EU and then re-adopt it later http://bit.ly/VZh5b1
-BOE Refrains From More Stimulus as Officials Assess Credit
http://www.bloomberg.com/news/2013-02-07/boe-refrains-from-more-stimulus-as-officials-assess-credit-1-.html
-ECB Holds Rates as Stronger Euro Threatens Economic Recovery
http://www.bloomberg.com/news/2013-02-07/ecb-holds-rates-as-stronger-euro-threatens-economic-recovery.html
-Draghi Counts Cost of Saving Euro as Currency Rebounds
http://www.bloomberg.com/news/2013-02-07/draghi-counts-cost-of-euro-s-salvation-as-currency-rebound-bites.html
-Carney Says BOE Policy Exit Must Be Smooth When Time Comes
http://www.bloomberg.com/news/2013-02-07/european-stock-index-futures-are-little-changed.html
-EU investment spending seen sacrificed in clash over bloc budget
-India predicts lowest growth in Decade
http://www.bloomberg.com/news/2013-02-07/india-predicts-growth-at-decade-low-as-investment-slows.html
-Euro Crisis: Anglo Irish Bank To Be Liquidated
-China Top Gold Producer of 2012
http://www.chinadaily.com.cn/china/2013-02/07/content_16213138.htm
-Iran's supreme leader rejects US offer of talks on disputed nuclear programme: http://bit.ly/Ww2dTg
-Der starke Euro wird vor allem für Frankreich und Italien zum Problem. Sie hoffen jetzt auf Draghi: http://on.welt.de/WxosGK  

-Panetta back at it with 'cyber Pearl Harbor' fear mongeringhttp://on.rt.com/ieovk9
-Eye-Stinging Beijing Air Risks Lifelong Harm to Babies
http://www.bloomberg.com/news/2013-02-06/eye-stinging-beijing-air-risks-lifelong-harm-to-babies.html
-Dell Directors Sued Over $24.44 Billion Management Buyout
http://www.bloomberg.com/news/2013-02-07/dell-directors-sued-over-24-44-billion-management-buyout.html
-U.S. Halts Drilling on Gulf Wells With Flawed Bolts
http://www.bloomberg.com/news/2013-02-06/u-s-halts-drilling-on-gulf-wells-with-flawed-ge-bolts.html
-Jim Rogers Warns on USTs.
http://www.bloomberg.com/news/2013-02-07/u-s-30-year-bond-losses-pass-5-as-fed-price-gauge-rises.html
-Hollande draws French industry ire as nuclear-energy edge fades
-Singapore aiding Italy in soccer match-fixing probe
-Ireland awaits ECB debt call; liquidates Anglo Irish
http://uk.reuters.com/article/2013/02/07/uk-ireland-bank-ecb-idUKBRE9151EQ20130207 …
-Barclays said to dismiss traders amid 275 job cuts in New York
-Carney steals show as BOE seen refraining from further stimulus
-Students 'need £20k postgraduate degrees to get a job'-DT
-Credit Suisse posts quarterly profit missing estimates, boosts cost-cutting goal
-Draghi counts cost of euro's salvation as currency rebound bites
-White House to release legal rationale for drone killings
-Libor accords leave banks facing 'massive' state claims
-USPS to Drop Sat. Delivery
http://www.bloomberg.com/news/2013-02-06/u-s-postal-service-says-it-plans-to-end-saturday-mail-service.html
-PBOC Signals Inflation Concern as Economy Rebounds
 http://www.bloomberg.com/news/2013-02-06/china-s-growth-momentum-to-remain-strong-.html