Headliners
-Dreamliner B787, Report Weeks Away-WSJ
-America loses major Mega-fab from USA firm Qualcomm to currency rigging , Taiwan
-REI Watermelon CEO, Ms. Jewell (Anglosaxon-illuminati) replaces the Greasy Salazar (Sephardi Jew ) at Interior in the USA
- ECB's Liikanen: ECB has no exchange rate target
-Greek Seaman Strike Broken by Government. Fights breakout over food shortages.
-USPS To Drop Saturday Delivery
-Fitch Warns On USA
-RBS fined $612 Million for manipulating Libor by USA
-Germany Green- lights Cyprus Bailout by ESM
-BP claims now seen as being up to $90 Bln -FT
-Abe Blasts China over Radar Lock
-Malone's Liberty Media  buys Virgin Media for  $16  Bn
-White House: Drone Killings "Ethical and Wise" (Insane)
Commentary
-USA Close
I went neutral my DIA, and SPY shorts after some profit taking but then sold the SPY at the close as the tape was painted to by the PPT to go to some net short. The Bulls failed to use the Disney earnings to take the markets higher, although they put out some outrageous targets from 1575 to 1675 for the SP for FY13 and painted a green number in the last seconds. In lousy economic times movies and movie firms perform well as do 'distractions' like Disney world as people 'charge it'. Disney is run  by Zionist Jews and it is a very, evil corporation designed to inculcate satanism and Zionism into the youth and debase them morally, so I'm a perma- bear in Disney due to their complete amorality. Insiders are big sellers of USA stocks that said they are not good at picking tops, although they are good at picking bottoms. We have not had the real market break in the USA like we managed to catch in Europe, so caution is the word still in shorts in  the USA until the down trend is established.
USA stocks were weighed down by the Republicans digging in hard despite the Martin-Lockheed CEO gang meeting with the Obama administration today to complain about the March Squester and as the USA eyes the Euro mess. At least the Europeans have a fund for the lost generation. The USA economy was like this in the mid 70s to early 80s and I had to go to Africa and Iraq to find a job or go back to work cutting timber for a living. Not everyone can do that. It took until the early 90s where you could come back to the USA to work and find good employment opportunities as an engineer or scientist outside of the University or military industrial complex. That same trend is back in place as the loss of the Qualcomm fab to Taiwan was a spit in the eye to the American people who 'made' Qualcomm through funding it founders research at the University of California. USA CEOs are bullish on pumping more immigrants into the USA, despite shipping factories to China. Motorola which is a complete shadow of its former self having been gutted by Zionist operators is leading the charge. Just more Chamber of Commerce insanity to reduce PHDs in science and engineering to commodity units like factory workers, and keep their salaries low and to get more Chinese and Jewish and English spies into key research positions by offering to work at salaries 20 pc lower.
The dog stock of Yelp was the big performer on the markets today. Showing you what a garbage market this is and hyped. If you have used Yelp and know how it operates and has no barriers to entry that is saying a lot. It is a true .bomb stock if only in time.  It tanked by nearly 5 pc after hours, after the shills touted it today. I opened a short in it at near the close. I will keep some long term. There was no volume today despite the pumps and tape paint. It was a high risk trade to put on and a thin trade so I did not put it out there.
To be frank after watching my out-sized DAX short most of the night, I fell asleep at my keyboard for a few hours before waking up so I missed some of the tape action in the USA today. If the Jews running Europe, Draghi, Cameron, Hollande and Merkel were stocks I would be permanently short them like a perma-short on Hitler, the Jew or Churchill the Jew or Stalin the Jew or the Jew FDR.  It is the same act all over again in Europe with Rothschilds agents, relatives or sexually or financially compromised puppets in place .
Late breaking news out of Europe was the slush fund for unemployed Jews, or the victims of Jewish monetary policy in the EU, and Total taking a major stake offshore Cyprus. Total is completely controlled by the DeRothschilds gang. It was a nothing oil firm decades ago  until it was brought on the cheap and suddenly it could get the same type of contracts as BP and control nations and initiate wars like BP, which is run by MI6 aristocracy. Total executives used to come from the Ecole Polytechnique but have been moving slowly towards the Jewish bean counter Rothschilds puts in place like at Schlumberger.
Gold was threatened with more taxes by the RBI, but reports of strong Chinese buying and imports from HK bouyed markets. The Y/D is getting near the end of the range where the USDX bulls (PPT), cant stuff the gold shorts at will. The ECB /ESM continue to be the big hammer on gold. All this 'death' to gold stocks and massive attack on gold started with Draghi running the ECB balance sheet up to $3.3 trillion. Although the BOJ for sure has had a hand in helping the Fed hold it down. At some point either Bernanke the Jew or Draghi the Jew will probably be told to take their balance sheets up another trillion. The banks as they have replaced their garbage paper with new FED money  have also been using that to rig gold, as all the UST primary dealers are bearish on gold and commodities and bullish on their nations bonds and currencies. From Credit Suisse, to RBS to HSBC to Goldman Sachs to JPM to DB, the call is the same, 'sell gold'. Gold commentators have been less than worthless if not complicit in throwing the marks into the maws of the CB and cartel. Now something maybe going on as the Chinese are licking their jobs at gutting Europe and may be willing to float their currency to gain access. Hard to say. CME reported results yesterday and was hammered today as trading thinned out as the market riggers have fewer marks to fleece in the Post Corzine , PPT/ESM/CB/Cartel era. CME Group's total revenue for the q4 declined 10.3% year over year to $660.9 million. It also fell short of the Zacks Consensus Estimate of $662 million. Yet the stock managed to finish down only 2.5  pc today.
Oil needs constant wars and to ZOG large oil holding nations like Libya and a Cartel to keep the price high, to keep the UK and Saudia arabia afloat and implement a defacto carbon tax on the masses. Americans  don't have mass transport systems outside of the Federal supported NYC and Washington DC, so this is a very cruel oil price and far above what it should be , even with dollar debasement, and oil firms are making money hand over fist, unlike the miners. Oil per the CEOs of XOM/RDS/CVS should be around $60 a barrel.
WW3 and the hyperinflation that could bring could be the Anglo-Zionist elites of London and Europes solution to their mess. Hard to say especially with Russia getting upset at the Anglo-Zionist desires to topple Syria and install a puppet. Don't put it pas the EU to make a grab for Syria due to it potential for enormous oil reserves. Eventually the Mossad will murder Assad, as that is the nature of London, and the English empire if they cant topple it with Al Qaeda.
The USA market trajectory going forward will depend on a big federal deficit this year and Bernanke moving the balance sheet up .5 tln to 1 tln. Merkel may be important enough to the Zionist bankers to goose the USA markets for her election. Europe and even China are not going to pull the sled along. Right now Japan and the USA might be tapped. No one tells me what Bernanke is going to do, so I have to 'feel the tape' , and watching his daily repo actions and weekly monetary moves.  to find the break or determine if I should cover. Market are run for the banks these days not pensions or investors.  Bringing Carney is who will give Bernanke what London wants indicates the big print maybe on, if Congress does not allow Obama to steal enough between here and May. Gold will move up despite what Goldman says that gold needs to wait for Merkel's election  to move up.
4:02 p.m. EST 02/06/13Major Stock Indexes

4:01 p.m. EST 02/06/13Treasurys

3:52 p.m. EST 02/06/13Futures

4:02 p.m. EST 02/06/13Currencies
-"Republicans are giving new meaning to March Madness by playing games with the budget. We should be finding common ground to avert sequester." Nancy. P. Lousy, Minority leader lower house of USA Congress
-Bill Gross PIMCO: Central Banks are where bad bonds go to die. You can own Treasuries & agency mortgages (we do) but not forever.
-BlackBerry CEO Thorsten Heins comments  that Z10 model UK sales almost 3x better than prev debuts, Canada sales 50+%
-Pentagon to extend benefits from the taxpayers to sodomite spouses. Chinese ROFL waiting for USA military programmed self destruct by feminist and satanic homosexuals. Pew Research news release on the Queers at the Pentagon and their 'spouses'. At least Patraeus was straight. Dyke Nation, Zionist Nation, Homosexual Nation, Satanic Nation, Anglomasonic Nation, Negro Communist nation. The nuts run the show.
-Senate Rats refuse to let Hagel vote to go to floor at Anglo-Zionist instruction. Aipac is desperate here. Hagel is seen as having enough votes per the Zionist operated Politico.
-Trading Break of the day
A cat survives travelling hidden underneath the car in Siberian winter – a 300km journey from Ukhta to Syktyvkar.  http://youtu.be/J_uDNHYaPR0
-France's president says French troops could start pulling out of  Mali by the end of March as the UN takes over (probably a big fat Zionist lie).
-Obama intentionally destroying USA industrial sector continuing Bush/Cheney policy of outsourcing clean tech-mfg.
Readers with a good memory will recall how we highlighted Andy Grove and Craig Barrett of Intel visiting Dick Cheney and trying to encourage him to develop an industrial policy. Cheney literally told them to shove off and that only 'defense' and IT software were wanted by the CFR (Rothschilds/Windsors/Rockefellers). I know a bit about semiconductor plants, having worked in process and design engineer. These are exactly the type of jobs and products the USA wants to retain. Taiwan is a notorious polluter and currency rigger like China. Taiwan has high priced electricity, little clean water and it remains a risk for losing the technology to Communist China. Obama and Biden every day spit in the faces of American workers and work to destroy them carrying on with the Cheney/Bush /Windsor/Rockefeller/Rothschilds policy of gutting and destroying the middle class and dollar. The USA has a  large trade deficit with Taiwan. The USA needs massive tariffs on imports of semiconductors from Korea, and Taiwan since their currency are so undervalued and it is technology developed at USA universities and research firms like Applied materials that is 'gifted' for the Asians to rip-off. Call your congress person to complain about this and the lack of balanced trade agreements.
http://www.marketwatch.com/story/why-qualcomm-picked-taiwan-over-us-2013-02-06?dist=countdown
-Defense CEOs met Obama aides on looming cuts
-Market Watch
3:06 p.m. EST 02/06/13Major Stock Indexes

3:05 p.m. EST 02/06/13Treasurys

2:56 p.m. EST 02/06/13Futures

3:06 p.m. EST 02/06/13Currencies
-Europe Close
EU bad boy, and rouge Jew, Silvio Berlusconi stole the headlines in Europe today from the usual Rothschild trolls. He polled within the margin of error of the poll of the communist Bersani. Berlusconi is a bit like Clinton, ex Clinton is not rouge,(he is a Rockefeller and is the NWO), the good times really rolled in Italy when he ruled despite having an administration rocked by sexual scandal like Clinton. People want the good times back, you can't blame them for not voting for Rothschilds boys can you? . The Mario brothers faded further into fourth place unable to gain on the Comedian that wants to contract with Al Qaeda to blow up the Italian Parliament. At least there are no porn stars running in this election.
A few notable economists managed to get some press that maybe things were not all that rosy in the EU with respect to economic fundamentals.
Around Europe went the round robin debate on the value of the Euro/$, and both the ECB and Germans closed ranks and told the whiners to get competitive. France is in a particularly bad position as its labor costs compared to other EU states is simply too high, the result of Unions, and they work too little. With  EU trying to ape the USA, there is little to stop a person from Bulgaria from moving to France and offering to undercut a Frenchman in a non -Union job ex the language barrier, and there is little to stop a factory from moving from France to Bulgaria. Europe is in the first step of Rothschilds plan, which is to reduce wages over all in Europe, and get Europeans to  consume less while Rothschilds and the Royals who run Europe, collect even fatter dividends from increased profit margins. After that the plan is to turn the communist Chinese vast gulag of slave laborers working in perpetual smog loose and further cut Europe by forcing competition with the USA and China under 'free trade' agreements that will soon get under way, especially as China says full convertibility of the Yuan is near, the sole barrier the EU has for keeping the Chinese hoards out. Europeans with no representative government in Europe/Brussels don't even get to 'throw the bums' out. The political structure is even more untenable then the financial structure in Europe.
The Greeks got the seaman to go back to work by threatening to arrest them. Ferry Captains  are sort of like the pilots of UAL in Greece. Their economy can't function without them as Greece's Island empire is so vast. Probably the best place in the world to sail over several years and go from Island to Island. The Greek government is meeting over the widespread industrial unrest. The Greeks simply now have too low of wages, taxes are too high, tax avoidance is required to not starve and pay the bills, and there are far too many government employees , and Greece is flooded with Turkish and Egyptian immigrants straining social resources and adding to their misery. The NYTs had a good article today on how Europe is really understating its true Debt/GDP by carrying the debt of the state enterprises and banks off book. Some of the peripheral nations like Slovenia, with good debt/GDP levels could have potentially catastrophic bank debts due to burst housing bubbles and they may need a ESM bailout as no one in Europe seems willing to shutter a bank like MP is showing us in Italy.
The European banks are only now starting to slowly delever and despite this massive bailout, housing bubbles are now present in not only England and France but have spread to other Northern European nations, including Germany and Switzerland. Fear of the Euro or the Euro-peg and cheap money is driving this. The USA at least burst the housing bubble by design of the very European Bilderbergs. Hard to say if they plan the same cruel housing burst to steal peoples wealth in Europe. I think the plan in London is simply to hyper-inflate if you look at all the billionaires buying property in London.
RBS got a hand slap fine of $612M in the Libor rig from the Feds in the USA. Yet they went after SP for 5 billion for far less sinister/criminal behavior. These fines are worthless, RBS executives and employees need 10 year jail terms and people like Goodwin need to have their entire pension and severance package clawed back. Civil suits remain. England won't nationalize RBS as the English would rather let the firm go belly up then pay what they ow for rigging trillion of dollars of Libor contracts. If every you wanted proof that USA was just a client state of the London banks, the RBS fine was it. From a government that let Mozilo the Jew walk from Countrywide and retain his hundreds of millions garnered by Fraud, what did you expect.
The English money center banks see the EU break up as very positive for the City of London, as neither Berlin nor Paris will be able to compete, but they are examining the effects on their broader economy. This is the Oxbridge boys IFS (Institute for Financial Studies) results.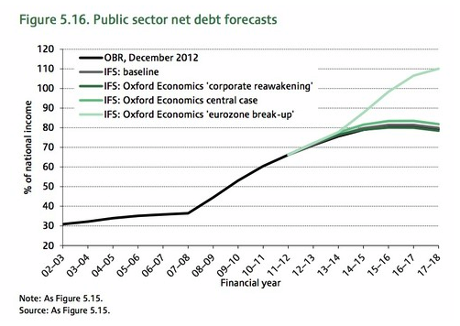 Ironic that an American, John Malone is on the attack in Europe and buying up the dog assets of Virgin Media and over paying for it. So Anglosaxon dominance of Europe through the cable and sky links continues with Murdoch and Malone , crown stooges . Watch the English make a move in about 10 years to make English the mandatory language of Europe. Malone paid far too much. Sir Richard Branson stands to make north of $300 million personally on the deal. He is laughing all the way to the bank. Malone is a PHD engineer from Yale/John Hopkins/NYU, founder of TCI. He never pays this much for an asset, so he was probably directed like HP board was directed to rescue the dog Autonomy by the Crown.
The world's largest steel maker Arcelor-Mital put  up horrid results that rivaled Arch coal but rallied in the early going by  promising a 2nd half recovery. The Financial media, swept that one under the rug, like Arch Coal and Dow Chemical. Hargreaves of the UK was the big winner on results. RBS managed to rally after the Libor announcement. Volvo earnings dropped over 80 % on weak European demand. Recall the Swedish bank has been the only major CB of Europe to say there is no signs of a recovery in Sweden or the EU. While they are blessed with not having the cursed Euro dollar, they do export quite a bit to the EU. Earnings before interest and taxes fell to 1.12 billion kronor ($177 million) from 6.96 billion kronor a year earlier. Profit missed the 2.47 billion-krona average estimate. Sales declined 2.2 percent to 303.6 billion kronor. They cut 2000 jobs in Sweden. Volvo present a bright future for their commercial trucks due to their Chinese partnership and said they would overtake Daimler in this market. Scania AB, the Swedish truck maker controlled by Volkswagen AG, reported a 29 percent plunge in profit in 2012 because of lower sales and production in Europe, which accounted for 45 percent of its deliveries.
Poland's central bank cut rates, and the Germans put out preliminary rules to reign in bank prop-trading, DB and others immediately said 'no'
There was not much action in Europe bondlandia today. Recall we covered in depth the nationalization of SNS Reaal, the Dutch bank, and 4th largest in Holland and thought that was a major issue, as Holland is the 'core' of Europe and AAA. The subordinate bondholders were written off to zero immediately which has caused a big uproar in Holland. Bond holders even unsecured ones, as not only are they often institutions, they are also held in the portfolio of the rich, are sacred cows. Imagine burning a Goldman Sachs hedge fund. Investors were  more upset still by a comment that Dijsselbloem made at the end of his announcement about the nationalization of SNS Reaal-he admitted that he had also considered burning senior bondholders and hoped they would be included in bail-ins in the future.  Burning senior bondholders has been taboo in Europe. For now, they appear to be safe, but pressure from taxpayers to  make them share the pain is growing.  Dijsselbloem holds significant clout in Europe, having just been placed at the helm of the EUs group of finance ministers. So far the USA has not haircut even Jr. bond holders, much less talked about burning Sr. Bond holders in its bailouts. Hedge funds, rich people like the Rockefellers and institutions have far too much clout in the USA. Europeans bonds became much less safe, someone might want to send Bill Gross a note.
In European Trading we took some profit on the DAX and now need to short more on a big up day. It was a good trade as far as shorting so heavily into the ECB/ESM mania top as lousy economic data and poor earnings report rolled in. Europe could have a severe dislocation from Greece, Spain or Italy at any time or one of the peripheral states like Cyprus and their banks. The Germans were forced to greenlihted  rich Cyprus but for sure their future oil /gas revenue will be securitized to tape the ESM with a German like Regling in charge.
Out of time today. Sadly in Europe with its hydra like 27×3 heads, there is only so much you can capture. Tonight I hope to report on the treasurer of the PP and what he said in testimony today about Rajoy and his cronies. Merkel really should not have backed him at all. The EU budget fight is heating up a bit.
Bonds
German 10y 1.64-0.01, 0.50%
Italy 10y 4.51+0.10, -2.35%
Spain 10y 5.42+0.07,-1.22%
U.K. 10y 2.10-0.02, 1.00%
Russia sold RUB10B in 2028 OFZ bond; Yield 7.10%
ECB allotted $1.0B in 7-day USD Liquidity Tender at fixed 0.63% vs. €1.0B prior
Sweden sold SEK3.5B vs. SEK3.5B indicated in 4.5% 2015 Bonds; Yield 1.0242% v 1.5172% prior
Germany sold €3.269 in 0.5% Feb 2018 BOBL; Avg Yield 0.68% v 0.53% (3-montn high); Bid-to-cover: 1.9x v 1.8x prior
-Market Watch
1:34 p.m. EST 02/06/13Treasurys

1:25 p.m. EST 02/06/13Futures

1:35 p.m. EST 02/06/13Currencies
-J.P. Morgan Chase & Co. JPM -0.42%is going to pay investment bankers and traders close to 3% less for 2012 than the year before, according to a person familiar with the situation. The decrease in compensation is a reflection of weakness in growth in the U.S. and Europe. Executives in asset management will get an average increase of 6% in salary and bonuses. Bonuses were relatively flat across the firm's businesses, said the person with knowledge of the situation. CEO Jamie Dimon's compensation for 2012 was cut by half to $11.5 million. The board of directors punished Dimon for a trading error that caused losses for the firm of more than $6 billion, now known as the London Whale. The trading error was in the firm's Chief Investment Office, which invests the firm's money. The news was first reported by Bloomberg. MW
-Market Watch
Took some short profit out of DAX short, covered 1/2 of DIA, SPY overnight position.
9:50 a.m. EST 02/06/13Major Stock Indexes

9:50 a.m. EST 02/06/13Treasurys

9:40 a.m. EST 02/06/13Futures

9:50 a.m. EST 02/06/13Currencies
-949 Major Stock Indexes
*closed
-Obama to nominate REI CEO Jewell for Interior
Watermelon appointment brought in to kill NG and Oil development and Mineral development on Federal Land. Job Killer.
- Italian stocks slumped for a second day this week on Wednesday, as former Prime Minister Silvio Berlusconi improved in polls ahead of the general elections, fueling fears of renewed financial instability in the country. The FTSE MIB index XX:FTSEMIB -1.64% dropped 1.5% to 16,456.60, with shares of UniCredit SpAIT:UCG -3.76% 3.3% lower and Intesa Sanpaolo SpA IT:ISP -2.91% down 2.8%. The losses came as Berlusconi in recent polls narrowed the gap to front-runner Pier Luigi Bersani to just 3.7 percentage points, Bloomberg News reported, citing a daily tracking poll by Tecne institute for SkyTG24. "There are clearly concerns that Berlusconi is going to be a big player in the election and markets are worried that it would be perceived as bad for the Italian economy," said Peter Dixon, strategist at Commerzbank. Berlusconi recently vowed to cut taxes if he gets elected, stoking fears that the country will diverge from its current reformist drive.  MW
-Merkel Spokesperson, Siebert: If you look at the historic context, the German government is of the view that the euro is not overvalued at the moment. There will certainly be a conversation about that … but the view of the German government is that exchange rate policy is not a suitable instrument to increase competitiveness…You only achieve short-term impulses through targeted devaluation. A long-term strengthening of competitiveness is not achieved in that way Our basic conviction is that exchange rates should reflect economic fundamental data. Reuters Wire Story
-931 USA Open Major Indexes
U.S. 10yr 1.98-0.02, 1.14
-Corporate insiders are aggressively selling their shares,this should be worrisome to stock investors. MW
-DB Suspends five traders in Libor Rate Scandal. Reuters
-Futures
Futures Index
Value
% Change
Open
High
Low
Time
Americas Futures
DJIA INDEX FUTURE Mar13
13,869.00
-0.29%
13,934.00
13,953.00
13,851.00
09:08:51
S&P 500 FUTURE Mar13
1,500.70
-0.35%
1,506.60
1,510.10
1,499.10
09:09:10
NASDAQ 100 FUTURE Mar13
2,740.00
-0.33%
2,751.25
2,756.50
2,735.75
09:07:57
-Paul de Grauwe, a professor at the London School of Economics and a two-time candidate for a seat on the ECB's Executive Board: "The crisis has never been over. If this reversal goes on we'll get a new stage and the ECB will have to act or it will lose credibility."
- Charles Wyplosz ,International Center for Money and Banking Studies in Geneva:  "I don't see how we avoid having another acute crisis now that governments are so pleased with themselves. The wave of optimism we had was unjustified. Key elements of the (Eu) crisis aren't being dealt with."
-JC Penny CEO ready to fire 3,000. BBN
-NYT: European Peripheral Debt much higher than advertised due to government guarantee of bank  and stated owned enterprise debt. E.G. Greece, listed debt/gdp 152 pc, actual if loan guarantees factor in, 191 pc of GDP.
-  President Obama: Threat of the sequester is already having an impact on business decisions; confirms proposal for smaller spending cut package to postpone sequester if Congress can't reach comprehensive budget deal before March 1; Full budget may not be finished before March 1 (when sequester starts).
- Luxembourg Fin Min Frieden: Euro strength is not yet of concern; EUR level reflects European economic data – Swiss press interview; Currency war issue is an exaggeration.
- German Economy Min Roesler: Countries must increase competitiveness and not weaken the Euro
- ECB said to be unlikely to address FX rate with monetary policy given little impact or risk expected on the economy – financial press
-  EU's Van Rompuy intends to announce a youth employment program for troubled regions on Feb 7th
-  Former PP treasurer Barcenas  appeared  before anti-corruption prosecutors today to answer questions regarding tax fraud and money laundering
-  Fitch revises Netherlands outlook to Negative from Stable; affirms AAA rating
- Economists believe that the Jan services PMI data reduced the likelihood of a "triple-dip" recession – London Telegraph- Fitch Sovereign Director Parker reiterated that it would cut US sovereign rating if no credible consolidation program take place this year and warned that any repeat of debt ceiling standoff would trigger sovereign cut. On European matters he noted that Fitch would review UK sovereign rating after its spring budget and that Spain was pivotal for the Euro Zone and could bring the whole region down. Lastly he expected Ireland to regain market access in 2013.
- French European Affairs Min Cazeneuve commented that President Hollande had no plans to bring up euro currency issue at upcoming EU leader Summit.
- Finland Center Party leader Sipilea (opposition) commented that the country might need elections in 2013 as he believed the six-party ruling coalition might collapse due to its inability to function.
- Germany Chancellor Merkle's Cabinet said to back draft law on proprietary trading. German BDB banking Assoc: Draft law on financial regulation weakens Germany's position and caused by the upcoming German elections in Sept.
- EU President Van Rompuy stated that he saw an urgent need for EU Leaders to agree on 7-year budget at upcoming Summit and set the basis for an agreement in his budget proposal from last November.
- EU's Barroso: Urges leaders to bridge differences over budget (worthless idiot)
- Russia Central Bank (CBR) First Dep Chairman Ulyukayev commented that inflation to slow down and might hit target of 5-6% in Q2 as it was close to peak levels. It might widen inflation target range. He did not see a risk of currency war but no clear trend yet. Lastly he added that the possibility of US debt default did not look real.
- UK business Secretary Cable: Small firms finding it harder to get credit; not predicting a triple-dip recession. FLS scheme is helping mortgage lending, not small companies.
- India Central Bank commented that it might consider gold import restrictions in extreme conditions and that fiscal measures to reduce gold imports might be revisited
-828 Europe
German 10y 1.62-0.03, 1.71%
Italy 10yr 4.48+0.07,  -1.67%
Spain 10yr 5.39+0.04, -0.66%
U.K. 10yr 2.09-0.03, 1.48%
-Europe Session Economic Release Summary
(UK) Jan Halifax House Prices M/M: -0.2% v 0.0%e; 3M/Y: 1.3% v 1.6%e
(CZ) Czech Dec Industrial Output Y/Y: -12.5% v -11.0%e; Construction Output Y/Y: -17.3 v -2.7% prior
(CZ) Czech Dec Trade Balance (CZK): 6.4B v 17.0Be
(EU) ECB: €105.0M borrowed in overnight loan facility vs. €116.0M prior; €178.0B parked in deposit facility vs. €176.2B prior
(AT) Austria Jan Wholesale Price Index M/M: +0.3% v -0.7% prior; Y/Y: 1.6% v 2.7% prior
(IC) Iceland Central Bank  left its 7-day Lending Rate unchanged at 6.00%
(UK) Jan New Car Registrations Y/Y: 11.5% v 3.7% prior
(IC) Iceland Jan Preliminary Trade Balance (ISK): 11.6B v 3.5B prior
-Ford Motor Co. and its joint ventures in China sold 61,475 vehicles in the country in January, up 98% from a year earlier, the U.S. car maker said Wednesday.Among the total, Ford sold 44,439 passenger cars–including imported vehicles–last month, an increase of 135% on year, it said in a statement. MW
-"British troops refused quarter and murdered them all. They 'dashed out their brains with their muskets and ran them through with their bayonets, made them like sieves.' As the Americans lay dying, the British troops brutally plundered their bodies with great violence."
-French Defense Minister French troops are fighting a "real war" with Islamist militants near Gao in Mali. French Press
I mentioned these hardliners in Mali were not going to be a walk over. Complete Censorship up until this point by the Hollande's government. The French just showed up and their desks. Sad.
-315 Europe
- Minimum wages in Guangdong province will be raised 19.1 percent on average. China Daily
-0300 Europe Opens
French CAC 40 index down 0.1% to 3,689.54
German DAX 30 index flat at 7,665.03
Italy, MIB opens 16,702.88 -0.06%
French CAC 40 index down 0.1% to 3,689.54
Stoxx Europe 600 index down 0.2% to 285.08
German 10y 1.64-0.01, 0.50%
Italy 10yr 4.43+0.02, -0.53%
Spain 10yr 5.37+0.02, -0.28%
-257 Asia
- Japan BoJ member Sato commented that scrapping the 0.1% floor on interest rates was an option but would look at both pros and cons of such a measure- seeking negative rates might destabilize markets but cutting rates on excess reserves was an option. BOJ can indirectly make the Yen less attractive as safe haven currency with monetary policy but was important to indirectly influence Yen currency. He stated that the BOJ alone could not achieve inflation target; efforts by various institutions were needed. Wage   growth is needed to achieve inflation target.
-Vince Cable: RBS in limbo and should have been fully nationalized. DT
-China's PBOC Head: "We aren't far from the goal" of capital account convertibility 

-Obama: Jobs Destroyer
http://www.veteranstoday.com/2013/02/05/obama-jobs-destroyer/
- ISPO poll by coalition: centre-left 34.9% centre-right 29.8% M5S 16.4% Monti/centre 12.5% Riv.Civile 3.9% FID 1%
Goldman Sachs man, and Blueblooded Crook!!
-Malone is overpaying for a garbage asset Virgin Media. Has he gone senile or for his Knighthood.
-ArcelorMittal, the world's largest steelmaker by volume and revenue, Wednesday said its net loss widened in the fourth quarter from a year earlier, but said it expects its steel-business profitability to pick up this year as conditions in the steel market improve.The company's earnings reflect the recent slowdown in European steel consumption, which has inflicted pain on steelmakers and led to closures of some operations.ArcelorMittal said its net loss was $3.99 billion in the three months to Dec. 31, up from a loss of $1 billion in the fourth quarter of 2011.Its net loss for the full year in 2012 was $3.73 billion, compared with a net profit of $2.26 billion in 2011, and was the company's first full-year net loss since it was formed in 2006."2012 was a very difficult year for the steel industry, particularly in Europe where demand for steel feel a further 8.8%," said ArcelorMittal Chief Executive Lakshmi Mittal in a statement. "Although we expect the challenges to continue in 2013, largely due to the fragility of the European economy, we have recently seen some more positive indicators, which combined with the measures we have implemented to strengthen the business, are expected to support an improvement in the profitability of our steel business this year."Fourth-quarter revenue fell nearly 14% to $19.31 billion from $22.45 billion in the same period a year ago, while earnings before interest, taxes, depreciation and amortization, or Ebitda–a closely watched measure of operating performance–fell 22.8% to $1.32 billion from $1.71 billion in the fourth quarter of 2011. The figure was in line with the $1.3 billion forecast by a company poll of 24 analysts.Over the full year in 2012, Ebitda fell 30% to $7.08 billion from $10.12 billion a year earlier.The steelmaker said it expects that as the economic situation in Europe improves, its Ebitda for the whole of this year should be higher than in 2012.ArcelorMittal expects its capital expenditure to be about $3.5 billion this year, and to further reduce its net debt. The company cut its net debt by $1.4 billion in the fourth quarter, to $21.8 billion, driven by improved cash flow from its operations. MW
-Futures
Futures Index
Value
% Change
Open
High
Low
Time
Americas Futures
DJIA INDEX FUTURE Mar13
13,949.00
+0.28%
13,934.00
13,949.00
13,930.00
02:08:25
S&P 500 FUTURE Mar13
1,509.50
+0.24%
1,506.60
1,509.50
1,506.20
02:08:36
NASDAQ 100 FUTURE Mar13
2,756.00
+0.25%
2,751.25
2,756.00
2,751.25
02:07:16
EURO STOXX 50 Mar13
2,654.00
+0.08%
2,654.00
2,654.00
2,651.00
02:03:47
FTSE 100 IDX FUT Mar13
6,253.00
+0.23%
6,246.00
6,254.00
6,243.50
02:04:07
DAX INDEX FUTURE Mar13
7,675.50
+0.14%
7,674.50
7,678.50
7,672.00
02:03:44
-Beijing vows to raise minimum wages .Analysts see inequality as threat to political stability. FT
- Wang Xiaoli, chief investment strategist at CITICS Futures Co., a unit of China's biggest listed brokerage. " "We see demand continuing to be robust into 2013. The economy will recover, albeit slowly, while real interest rates will remain low and central banks will continue to accumulate. These are all bullish for gold."
- Koichi Hamada, a retired Yale University professor who's advising Abe on choosing a new central bank chief. A run-up in other asset prices will "compensate for the loss of bond values." "Some people will lose because there is capital loss, but along with that the stock market will boom and the yen will devalue so foreign assets will increase," Hamada said in an interview yesterday. "In terms of the economy as a whole, we shouldn't worry too much about capital loss."(in JGBs). BBN
-An RBS unit will plead guilty to criminal charges as part of a deal with the U.S. Justice Department, a person familiar with the talks said. It's the third fine (783 M) to result from a probe into whether lenders rigged theLondon interbank offered rate, or Libor. Investment banking chief John Hourican also was expected to resign, the people said. BBN
Well Sir Fred Goodwin have to give back his Knighthood, and will his generous severance package be clawed back?
- Banca Monti Dei Paschi source denies reports that its derivatives losses come to €920m. .official figure due today. Reuters
-GS Yuasa Corp. , the battery maker at the center of the probe on fires that grounded Boeing Co. (BA) 787s, will maintain its production plan for car and aircraft lithium- ion cells even as the planemaker seeks approval for test flights.GS Yuasa doesn't expect any significant impact on sales from the grounding of the 787s and the company is cooperating with investigators, Toshiyuki Nakagawa, a director, told reporters yesterday in Kyoto, Japan, where the company is based. GS Yuasa, also a supplier toMitsubishi Motors Corp. (7211) and Honda Motor Co., kept its annual profit and sales forecast unchanged.Boeing said last month it's moving forward with plans to boost output and develop two new versions of its marquee jet even as the regulatory probe continues. The Chicago-based planemaker has sought the U.S. Federal Aviation Administration's approval to resume test flights of the Dreamliner, which would let the company study the 787's lithium-ion power packs in operations while 50 Dreamliners have been parked worldwide for three weeks."We see no major concerns," Jun Yamaguchi, an analyst at Credit Suisse AG in Tokyo, wrote in a report today. "Performance at domestic automobile batteries, domestic industrial batteries and power supplies, and overseas segments was largely in line with expectations."Shares of GS Yuasa rose as much as 2.7 percent to 340 yen and traded at 336 yen as of 9:20 a.m. in Tokyo today, trimming the year-to-date decline to 2.9 percent.
-Deputy Finance Minister Steffen Kampeter  (DE) said: Germany won't stand in the way of aid for Cyprus so long as the Mediterranean nation fulfills the criteria to qualify for help from Europe's bailout fund.
-Claims may push BP's spill bill to $90bn US states demand $34bn over Deepwater disaster. FT
So much for the Guardian story yesterday.
-Geopolitical Headlines
| | |
| --- | --- |
| | Updated February 6, 2013 – 12:37 AM EST |
| | | |
| --- | --- | --- |
| | | Justice Dept Memo OKs Drone Hits on Americans |
| | | Congress Considers Limiting President's Drone Authority |
| | | Does Obama's Power to Kill US Citizens Extend to Domestic Suspects? |
| | | Obama Drone Strike Killed 16-Year-Old Born in Denver |
| | | Brennan Nomination Exposes Targeted Killings and Secret Saudi Base |
- 0117 Asia
On the backs of the early resignation of BOJ Director Shirakawa and the BOJ member Sato calling for more JGB purchases (but no foreign bond buying yet), the Y/D surged to 93.80 and Y/Euro to 127.6, as Japanese traders priced in a more aggressive action plan by the bank of Japan to meet the 2 pc reflaton target  The Nikkei closed at  up 3.8% up at 11,463.75 on the weakening Y. Toyota boosted its profit forecast to a five-year high which also boosted Japanese exporters. PM Abe calls China naval radar targeting of a Japanese vessel a "one-sided provocation". Shirakawa will leave the BOJ on March 19, along with two of his deputies who also tendered their resignation to allow PM Abe to implement his economic plan. Abe said he would appoint the new BOJ director( after conferring with the USA ) after his visit to Washington on Feb 21, and 22.
There was little news out of China tonight as they ready for the Chinese New Year, and the Shanghai composite is flat, at 2434, and Hong Kongs, Hang Seng is up .76 to 23325. Although  China Commerce Ministry (MOFCOM) said the 2013 economic situation remains very severe, and global demand is not sufficient for China in the China press.
Australia's Bureau of Statistics said retail sales  fell for a third consecutive month in December. Australian retail sales dipped by 0.2% to AUD21.4 billion. That reading compares with a November reading which also showed a decline of 0.2%. Analysts expected a December increase of 0.3. The three month decline in Aussie retail sales is the longest in over 1 decade. Nevertheless increased Chinese demand for Australia's good boosted the ASX .78 pc to 4921. New Zealand was closed for some strange holiday I have never understood.
The Kospi is flat at 1937, after being up as much as .8 pc as Korean traders speculated the ROK Central bank would weaken the Won in response to the Yen.
Commodities are down slightly although gold managed to remain flat.
Asia Session Economic Release Summary
(AU) AUSTRALIA DEC RETAIL SALES M/M: -0.2% V +0.3%E (biggest decline in 5 months)
(AU) AUSTRALIA Q4 RETAIL SALES EX-INFLATION Q/Q: 0.1% V 0.3%E
(UK) UK JAN BRC SHOP PRICE INDEX Y/Y: 0.6% V 1.5% PRIOR
Equity
Bonds
Japan 10yr 0.79-0.02, 2.06%
U.S. 10yr 2.01+0.01, -0.35%
CDS
-USA After-Hours
DIS: Reports Q1 $0.79 adj v $0.76e, R$11.3B v $11.2Be; +2.7% afterhours
ZNGA: Reports Q4 +$0.01 adj v -$0.03e, R$311.2M v $214Me; +6.6% afterhours
PNRA: Reports Q4 $1.75 v $1.74e, R$575M v $575Me; +3.7% afterhours
CMG: Reports Q4 $1.95 v $2.01e, R$699M v $693Me; flat afterhours
XPE: Reports Q4 $0.63 v $0.65e, R$974M v $929Me; +5.0% afterhours
-Reflection for the Day
1 John 4
7 Beloved, let us love one another: for love is of God; and every one that loveth is born of God, and knoweth God. 8 He that loveth not knoweth not God; for God is love. 9 In this was manifested the love of God toward us, because  God sent his only begotten Son into the world, that we might live through him.
Newslinks
-Fed says internal site breached by hackers, no critical functions affectedhttp://reut.rs/VCWk2W
-McGraw-Hill "foolish" to not settle S&P lawsuit: former SEC head |http://bloom.bg/Uzug5v
-Basel Seen Rotten in Denmark as Banks Bypassed
http://www.bloomberg.com/news/2013-02-05/basel-seen-rotten-in-denmark-as-banks-bypassed.html
-Spain nips at France's heels in competitiveness race
http://uk.reuters.com/article/2013/02/05/uk-france-competitiveness-idUKBRE9140S120130205
-Euro Overshoot to Cause EU Tensions
http://www.reuters.com/article/2013/02/06/us-investment-euro-idUSBRE91506U20130206
-Obama proposes short term fix to eliminate squester. Republicans leaders object
http://www.reuters.com/article/2013/02/05/us-usa-fiscal-obama-idUSBRE9140RV20130205
-Europe Yield Backup Signals Complacency Bringing New Crisis
http://www.bloomberg.com/news/2013-02-06/europe-yield-backup-signaling-complacency-bringing-a-new-crisis.html
-Europes Hidden Debt Woes
http://www.nytimes.com/2013/02/06/business/global/lurking-state-guarantees-add-to-europes-debt-worries.html?ref=business&_r=0
-BOJ, Policy Tools Sufficient for now.
http://www.bloomberg.com/news/2013-02-06/boj-policy-tools-sufficient-for-now-deputy-finance-chief-says.html
-Hedge Fund Carried Interest Low Tax Rates back in Debate
http://www.reuters.com/article/2013/02/05/us-usa-tax-carried-interest-idUSBRE91418820130205?feedType=RSS&feedName=businessNews&utm_source=feedburner&utm_medium=feed&utm_campaign=Feed%3A+reuters%2FbusinessNews+(Business+News)&utm_content=Google+Reader
-The Founding Fathers versus the Zionist Machine
http://www.veteranstoday.com/2013/02/05/the-founding-fathers-versus-the-zionist-machine/
-Deficit to Shrink Below $1 Trillion, U.S. Agency Predicts
http://www.bloomberg.com/news/2013-02-05/u-s-deficit-to-shrink-below-1-trillion-agency-predicts.html
In their dreams.
-China's January Data Gap Vexes Economists
http://www.bloomberg.com/news/2013-02-05/china-s-january-data-gap-vexes-economists.html
-*RBS SEES 'SIGNIFICANT' SETTLEMENT PENALTIES AND SANCTIONS
-Hillary Clinton: Profile of Imperial Arrogance and Lawlessness
http://www.veteranstoday.com/2013/02/05/hillary-clinton-profile-of-imperial-arrogance-and-lawlessness/
-U.S. lawsuit casts a pall over S&P
http://www.reuters.com/article/2013/02/06/us-sp-lawsuit-idUSBRE91504S20130206
-Malone's Liberty to Acquire Virgin Media for $16 Billion
http://www.bloomberg.com/news/2013-02-06/liberty-global-to-acquire-virgin-media-for-23-3-billion.html
-China Gold Imports From Hong Kong Climb to Record on Wealth
http://www.bloomberg.com/news/2013-02-05/china-gold-imports-from-hong-kong-gain-to-all-time-high-in-12.html
-Danger Seen in Pension Fund Cuts on Abe Inflation
http://www.bloomberg.com/news/2013-02-05/danger-seen-in-pension-fund-cuts-on-abe-inflation-japan-credit.html
-RBS said to face up to $783M fine for manipulating Libor
-Boeing 787 Battery Maker to Maintain Output Amid Probes
http://www.bloomberg.com/news/2013-02-05/boeing-787-dreamliner-battery-maker-gs-yuasa-s-profit-declines.html
- Germany Won't Block Cyprus Aid If Conditions Met, Kampete
http://www.bloomberg.com/news/2013-02-05/germany-won-t-block-cyprus-aid-if-conditions-met-kampeter-says.html
-Scottish independence: 'Transition plan' outlined
http://www.bbc.co.uk/news/uk-scotland-scotland-politics-21331302